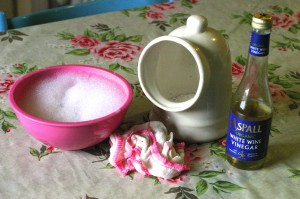 Take advantage of a bright spring day to get your home sparkling fresh and clean for the summer.
Let's get the hard work out-of-the-way first! Nothing is going to make more impact in your kitchen than a really good scrub and clean. It's amazing what a bucket of hot soapy water and a bit of elbow grease can achieve. It's a really good time to overhaul often forgotten parts of your kitchen; lightly washing down your paint work and kitchen cupboard doors, for example, instantly freshen up your kitchen.
Over time polished brass knobs and handles in your kitchen can become tarnished with grease and finger prints.
There are many dedicated brass cleaning products on the market, but a great natural way to restore their shine is to firstly wash them with warm soapy water, and then create your own gentle cleaning solution. Mix two tablespoons of salt and white wine vinegar with a pint of hot water and allow to cool slightly . Apply this mixture to your brass wear with a clean damp cloth. This should remove more stubborn stains and marks and reveal the sparking beauty of this stunning metal once more…
Continue reading