When our amazing design team produce the original drawings for a new product, it is rather exciting! We always adore them but we may be a little biased! So, we have no idea how they will be received, we just hope our customers love them as much we do.
Well our Bulkhead Outdoor Light has certainly not disappointed, it has been loved by everyone more than we could even imagine. We are thrilled to announce that is has already been shortlisted for the RHS Chelsea Flower Show Garden Product of The Year! We have had such an amazing time at Chelsea the past 3 years and it is a true honour to even be shortlisted for this award.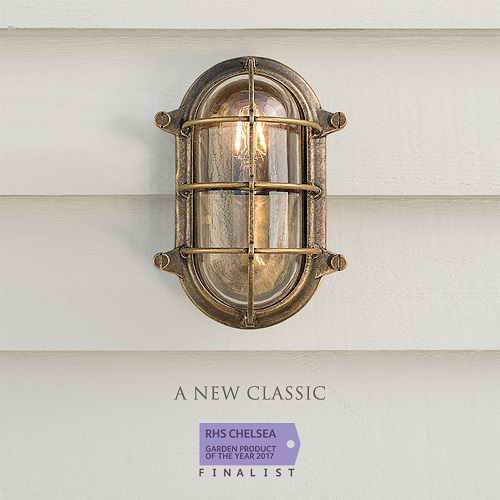 So what is this light all about? Well, Jim wanted to have something that could be both stylish and practical whilst concealing those rather unsightly exterior wires. This light offers just that when combined with our solid brass conduit kit – it is a rather smart design!
In true Jim Lawrence style, each solid brass light is hand finished with a light antiquing to give it that beautiful aging look that we love so much. This also means that there is no need to worry about this light not being able to handle our wonderful British weather, it is non-corrosive and will bring you many years of beauty.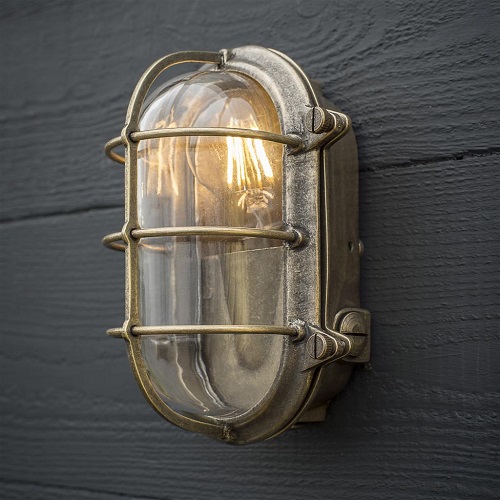 There really are no limits to this beautiful light, so why restrict it to just the garden? It is awarded an IP55 rating so it is also suitable for anywhere in your bathroom too! It would look truly magnificent in a nautical feel bathroom, so don't be afraid to take it out of its comfort zone.
It is also compatible with any of our beautiful LED bulbs which can last up to 7 years – bonus!
What do you think of our Bulkhead Light? We would love to hear your thoughts, please feel free to email them to press@jim-lawrence.co.uk. Keep your eyes peeled for even more beautiful new products this spring.