Ensure your is home warm and inviting during the winter months by using metallic copper tones as an accent colour in lighting, fixtures and fittings. Unlike silver or a brash gold, copper lends a subtle blush warmth to any interior. Our Heritage Copper is a natural durable metal with a stunning patina that looks fabulous in period and modern homes alike, which is why we've chosen to release a new collection of pendants in this stylish finish.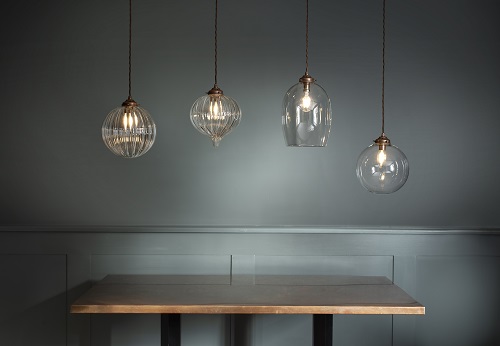 Our Fulbourn's, Ava's, Walcot's and Holborn's are now available in Heritage Copper, which paired with our hand blown glass shades creates a bright and airy sense of space that will give you year long delight. Which style will you choose?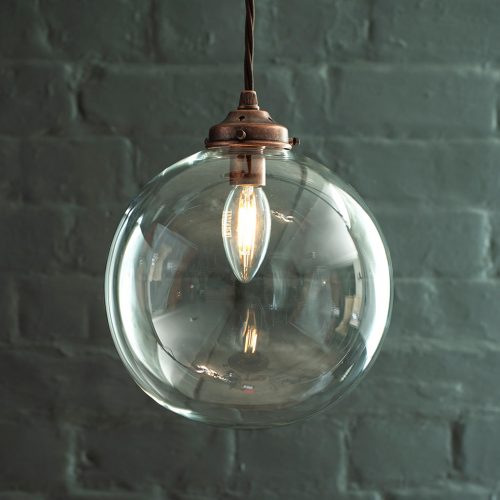 A home needs balanced lighting. Choose a solid spun shade to compliment a pendant within your home. If hand blown glass isn't right for you, a full copper shade is perfect for a room than needs a focal point, and a statement pendant will do this for you. For rooms that need a lift in hard to reach places, our copper spotlights are a practical, modern choice that still blend effortlessly into a period room. If you are after subtle hints of colour, then we have daintier wall light choices to ensure your house looks its best.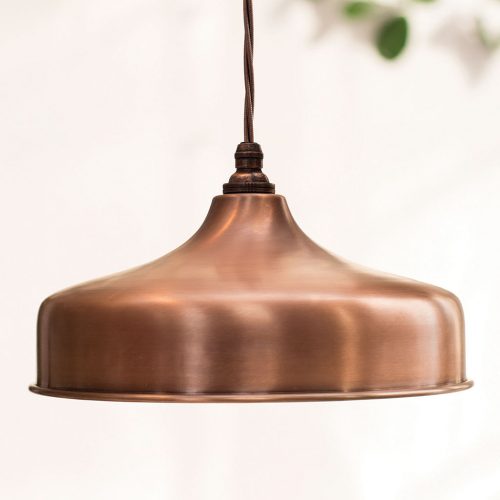 Copper fittings look fabulous when matched together, creating a chic uniform look with their soft, buffed patina. Combine woollen textures with copper detailing such as handles, switches and sockets for a softer, cosier winter look. Choose from plain and patterned tweeds woven exclusively for us by Lovat Mill. Each fabric colourway evokes the landscape of beautiful Scottish skies, rivers and lochs – allowing for a perfect modern country marriage when paired with the rustic nature of our heritage copper metalwork.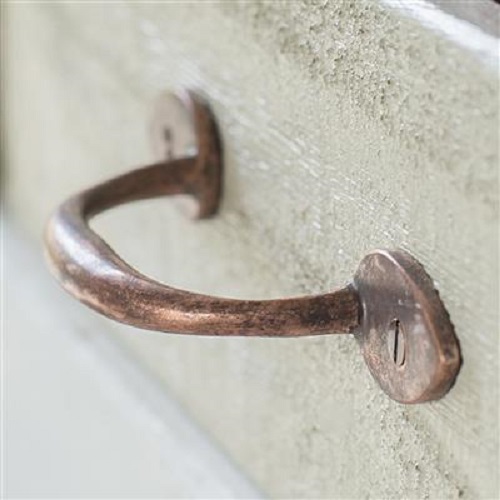 Our Heritage Copper products are created by our team of craftsmen who hand finish each solid copper piece with an antiquing solution to accelerate the natural process of tarnishing. This process produces our beautifully soft, heritage finish suitable for both indoor and outdoor use. A free metal swatch is available on request if you need a little help to decide!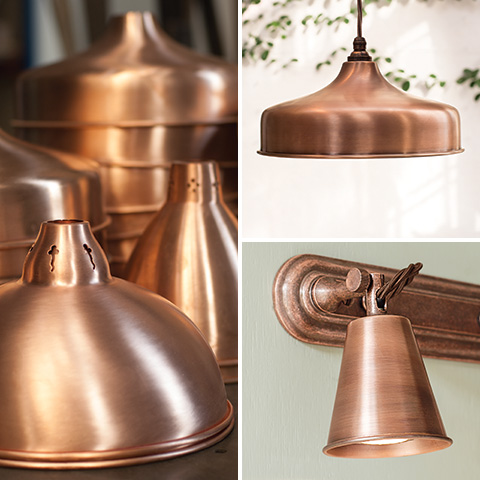 As our Heritage Copper products use natural, un-lacquered copper, it will continue to age and develop a darker dull patina over time in your home. This is particularly hastened in damp or harsh outdoor environments. To decelerate this aging process we recommend applying a good quality metal cleaning solution to the tarnished areas. Simply work the cleaning solution in by rubbing briskly with a soft cloth and then buff the copper to restore its original lustre. Please note that chemical polishes can strip away the original antiquing solution too so take care to use cleaning products sparingly to retain the aged heritage look of the product.
We are very proud of the quality of our workmanship and designs that we feel highlight the skill of our metal workers and their ability to make products that suit both contemporary and period properties. To learn more about how to take care of all of our unique finishes, click here.

For even more home interior and present ideas, keep up to date by following us on Instagram, Twitter and Facebook. Don't forget to tag us in your home updates– we love seeing our products in their new homes!
Our team is working extra hard in the workshop at the moment, and we will do everything we can to dispatch your items to you in time for Christmas, click below for further Christmas Delivery information.