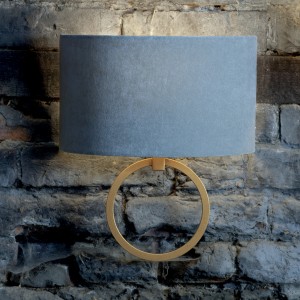 Moved by the incredible story of a local Cambridge resident, Julie Jones, Jim supplied four of our popular Harrington Wall Lights in Old Gold with Carlyle Shades in French Grey to the family.
The French Grey Carlyle half shades used in the show have a very similar look to the Frost Wardour velvet shade shown here. The Carlyle shade compliments the shape of the Harrington beautifully.
There's no doubt Julie deserved her amazing make over – already a single mother of three boys, she bravely took on the upbringing of five orphaned children when her best friend, widow Caroline Atkins, tragically died in 2010.
The DIY SOS team set to work to create a beautiful new space that would find enough room for everyone and give Julie the beautifully designed, comfortable home she and her whole family so richly deserved. We can't wait to see how they get on tonight at 9pm.