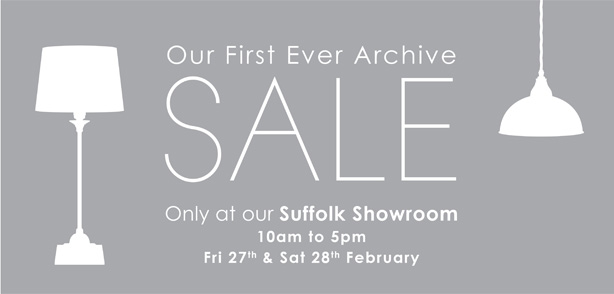 Our new workshop extension was finished late last year, and once everyone had moved and settled  into the new building we were thrilled to find there was a rather perfect space left in which we could hold our first ever factory sale.
Over the years, we have amassed a treasure trove of pieces from previous collections that have been discontinued or re-styled into slightly different designs. We have raided the Jim Lawrence attics(!) and put together a fantastic selection of pieces for this unique event: our first ever Archive sale. The sale items are from all areas of our range including lighting, switches, door handles, door furniture, window furniture, lampshades, home furnishings and soft furnishings – all at significantly discounted prices.
The sale will also include ex-display products from our photography and showroom that need to find new homes, and we will be offering a selection of unpainted lighting carcasses that you will be able to commission in a choice of 7 bespoke colours on the day. These items will then be finished and delivered to you within 2 weeks. All in all there's oodles of bargains to be had – it's an absolute must  for style loving bargain hunters…
Where and when is this amazing sale taking place ?!
The two day only archive sale will be at Jim Lawrence Lighting and Home, The Ironworks, Lady Lane, Hadleigh, Suffolk, IP7 6BQ from 10am-5pm on Friday 27th and Saturday 28th February. The archive sale will be located in our new workshop – to reach it simply come into the showroom as usual and we will happily direct you to the sale area.
Can I park nice and close ?
We have plenty of onsite parking organised for the sale and our helpful sales staff will be on hand to help you carry those lovely bargains to the car!
Is there anywhere to eat nearby?
We will be providing complimentary tea, coffee, and biscuits at the sale. For a more substantial refuelling we have a great sandwich shop over the road, The Daily Grind, that offers a wide selection of sandwiches and salads and for a real treat we are lucky enough to have The Hadleigh Ram, a stunning local boutique restaurant just ten minutes drive away.
If you have any more questions at all about the sale please don't hesitate to contact our helpful sales team on 01473 826963.
Look forward to seeing you there!
Please note that the items featured in this sale are not available online and will only be available for the two days of the sale itself.