1. First Impressions Count – make your wreath proud!
When you decorate your home's exterior this year, take a moment to look in detail at your door furniture. Replacing any tired and ill-matching items is a simple and affordable way revamp your home's exterior. A smart, newly fitted set of door furniture, will help to create the perfect first impression for your guests this Christmas.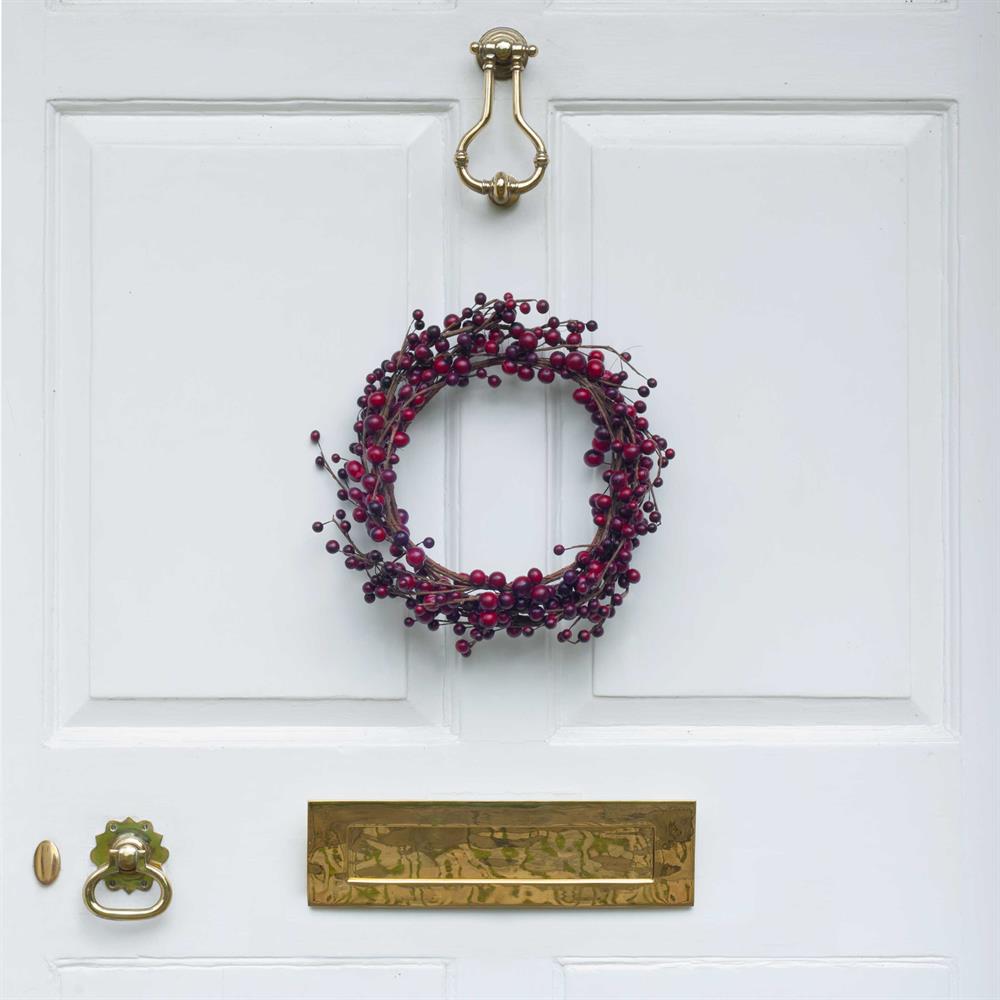 2. Layer your lighting to create a welcoming Christmas atmosphere
Compliment the glow of fires and Christmas tree lights, by dimming the main lights and building up more intimate pools of light, using a variety of candles. Candles are best grouped together – try varying the height of the candlesticks to build up an interesting shapes.
If you at all concerned about leaving your candles unattended,a practical and elegant solution is a hurricane lamp. Not only more contained, the candle flame will reflect beautifully in the glass and add even more glamour to your decoration
3. Introduce Glass Detailing
A clever way of adding sparkle to you room is to swap your usual curtain pole finals for glass ones, during the festive season.
All our glass finials are available in 4 different widths, they should fit to most standard poles. They bounce and reflect light across the room beautifully.It's a subtle but effective way of adding a really pretty extra layer of decoration to your room.
4. Little changes make a big difference
Integrating bold Christmas colours with your usual room scheme colour palette can often be a challenge at Christmas.
A neat way to overcome this is to exchange the accessories of the room, such as the cushions and throws, for complimentary Christmas colours. It's not only cushions that are simple to change – try changing the candle shades on your wall lights to further enhance your decoration.  Here, for example, you can see that by adding cheery red gingham candle shade to this mercury finished double star wall light the whole piece is instantly given a real festive feel.
5. Keep it Traditional
Period style is synonymous with Christmas and enhancing your rooms fine details is a great way to underline your festive styling .
Replacing your standard plastic light switches with vintage inspired dolly switches immediately creates a  strong period style – perfect over the Christmas period. Shown here in a nickel finish to reflect the shimmer of your and sparkle of your rooms design, these period style switches are also available in a range of finishes including antiqued brass, old gold and polished.
6. Be innovative with your lighting 
Within design circles in recent months there has been a real trend towards grouping complimenting odd numbers of pendants together, to create a stunning centre piece for your home.
This can be a really interesting way of using traditional style lighting in a modern way. Try suspending a group of complimenting glass and crystal pendants together in a hallway or stairway to create a stylish focal point. Why not adorn your pendants with big, hand tied, luxury red bows to add some real glamour to your home this Christmas?
To complete your dining room decorations this Christmas its worth bearing in mind that much of the look can be achieved by the addition of a beautiful pendant chandelier.
To find your perfect pendant, from simple and modern to ornate and luxurious simply click here to view our full range. As you can see the Devonshire Pendant shown, bedecked with clear glass beads and droplets, has the most stunning iridescent quality and creates a fantastically opulent effect.
With a chandelier of this style, keep you table setting simple-  good quality white linens and understated silverware work perfectly, and let the chandelier bring some serious glamour to your Christmas lunch.
I'd love to hear any of your tips for creating beautiful Christmas decor this time of year – please do add any comments below or drop me a line on cassie.rowland@jim-lawrence.co.uk and I'll post them for you.
FEATURED PRODUCTS: