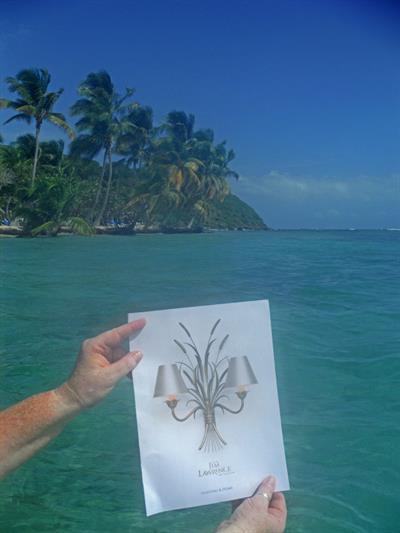 A huge congratulations to Rose Tabberer for her winning picture which made the Jim Lawrence gang extremely jealous!Rose captioned her beautiful picture by saying "it was lovely there and I really enjoyed having the time to really look through the brochure whilst lazing on my lounger with a cocktail."
This stunning picture of our 20th anniversary brochure soaking up the sun in Puerto Rico crowns Rose the winner of our 'What has your brochure been up to?' autumn competition.
We hope that Rose enjoys her £100 voucher and treats herself to something lovely this Christmas, perhaps from our gifts range or our sparkling glass pendant range.
A huge thank you to everyone else who entered our autumn competiton – keep your eyes pealed for our next give away! If you would like to receive our quarterly newsletter bursting with news of new products at Jim Lawrence, helpful styling tips, and of course great competitions, simply enter your email address here.