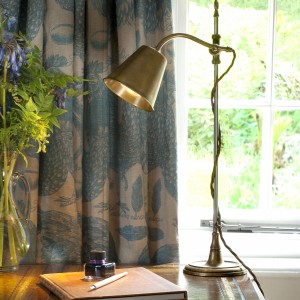 There is a real buzz at Jim Lawrence this week as we celebrate the arrival of our brand new brochure.
It's been a good 18 months since our last brochure and this 15th edition is bigger and better than ever!! With over 100 new products and lots of stunning photography we think this brochure is our best to date…
Here's a sneak peak of some of our favourite new images from the brochure …
Timeless Jim Lawrence styling.
This year the brochure includes some pretty innovative new lighting including our LED lights with an integrated bulb giving over 50,000 hours of use – meaning changing a light bulb will be a thing of the past.
Innovative LED bulbs make tricky light bulbs a thing of the past, but it isn't just lighting that has been re styled, we have introduced lots of exciting new products and images throughout the brochure …
Design your perfect shade with our new shade builder
Of all the new brochure's additions one stands out head and shoulders above all else – the newly created Lampshade Builder. Allowing you to choose from 20 styles, 100 sizes and over 200 fabrics to create a stunning and unique shade. In just a few simple steps you can build your perfect shade online. Our talented seamstresses will then create it in our Suffolk workshop and it will be delivered beautifully packaged within 3 weeks. With over 20,000 shades to choose from your search for the perfect shade is over! Oozing with style and inspiration, the new brochure is a perfect addition to your coffee table this autumn.
Simply call 01473 826929 or email sales@jim-lawrence.co.uk to request your free copy today.
The new brochure – best enjoyed curled up on your favourite chair, with a cup of tea and the phone on silent!
Got a favourite page ?
We'd love to hear what you think of it!
FEATURED PRODUCTS: