We feel it only natural to embrace our British heritage when it comes to our products. We are known for our hand crafted and hand finished detailing, and we wanted to create a product where we could truly showcase the standard of our craftmanship. Our largest light to date, the grand proportions of our ten arm Montgomery create a dramatic focal point in open plan living spaces.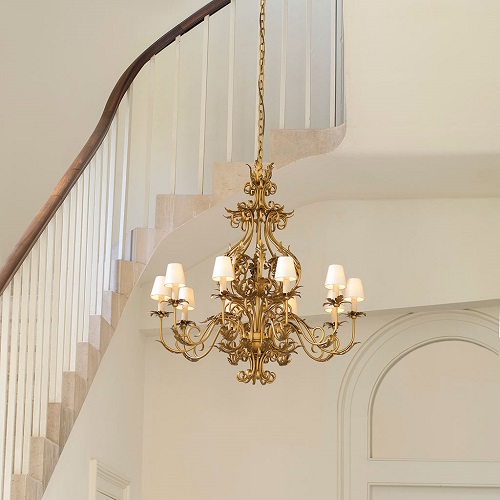 Perfect for high or vaulted ceilings in either a town or country home, our largest pendant enhances a period interior with its dramatic but delicately made qualities. With its beautiful Rococo style scrolled ironwork and delicate acanthus leaf design finished in old gold, its beauty is a testament to the skills of our Suffolk craftsmen. ⁠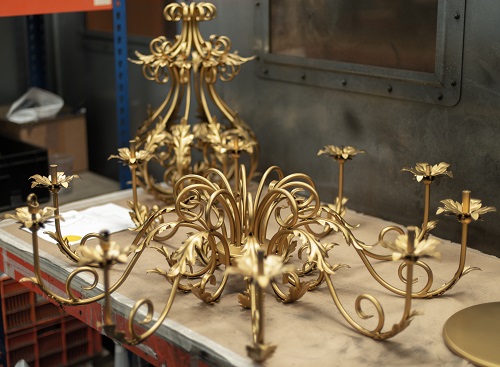 Named after the town of Montgomery in Wales, this Baroque design was influenced by the nearby Powis Castle, a medieval castle, fortress and country house now cared for by the National Trust. Housing an extensive and magnificent collection of paintings, sculpture, furniture and tapestries, there is a wealth of inspiration for all interior lovers.
Powis is one of the few Baroque gardens to survive almost intact since the 1680s. Lavish and expansive, we wanted to reflect these qualities in our own design. Wandering the halls of the castle itself you will uncover many treasures, notably the 16th century Roman Table inlaid with lapis lazuli and other semi-precious stones: the Pietre dure table. Golden-hued acanthus leaf unfurls across the stone and the gilded legs demonstrate stunning workmanship.
The Baroque style followed the Renaissance period of art, embracing exuberant detail and grandeur to guarantee a sense of awe. Many of our British stately homes feature baroque art and architecture, inspiring us right through to the modern age and encouraging us to enjoy elements of opulence in the every day.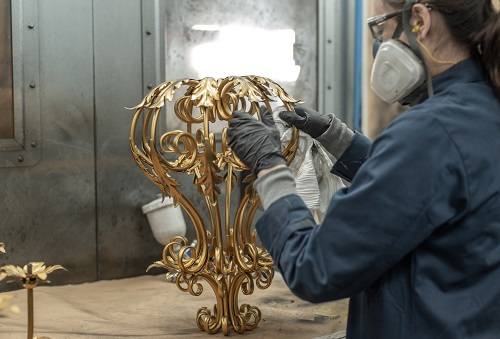 Our workshop Technical Lead Lee Saxby says the Montgomery is his favourite light to make. " It's a challenge", he says, "but it's far more interesting to work on than a light with a simpler design. I love welding the component parts together. The detail is beautiful and it feels great building all the parts so that it comes together."
It takes around 14 hours to make the Montgomery from scratch. First, the ten shade arms and all the intricate scrolled metalwork is bent and hammered into shape in the forge by our blacksmith, Tom. Then it is collected together with all the separate leaf details and given to the welders to put together. Using their technical drawings as a guide, the welders use a series of numbered 'jigs' or braces to hold the leaves and scrollwork in place so they can be welded together. Working from the bottom up, they assemble the light arm by arm, piece by piece, building it into larger and larger sections until finally, the whole thing is complete. "The most difficult part is the middle section where the shape of the light suddenly becomes a lot smaller," says Lee. "We spend a lot of time walking around it to make sure the shape is right and in proportion."
"It takes around two days to prep and paint the Montgomery once it has been made, "says Carrie Drake, our Paint Shop Team Lead. "The most time consuming part is making sure it is completely covered in gold paint. It's such an intricate light that it needs to be painted from lots of difficult angles to make sure it's properly covered. Itis just too easy to miss out a tiny bit. "Our aim is to replicate the aged gold you find in stately homes. When it's done it looks amazing. The embossed leaves pick up the gold beautifully. It really is a work of art."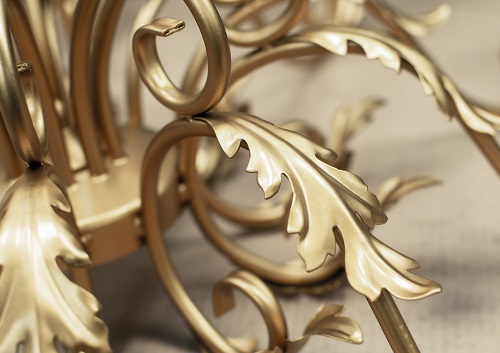 ⁠
When finished in the workshop, the Montgomery is put into a blasting machine to clean it up for the paint line where it is powder coated in matt black. The paint team then build up the old gold finish in layers; first, hand spraying it with wet, old gold paint; then dusting it with a layer of wet matt black paint that is wiped back with paint thinner leaving just the black that settles into the grooves and crevices of the detail so that it enhances the relief. Finally, it is hand sprayed with another dusting and flecks of matt black to mimic the aged, slightly mottled look of old gold. This is a very 'painterly' process that involves building up layers of paint and hand touching the embossed details to make them stand out.
To find out more about our painting process read our inteview with our Painting Team.
…Then you'll love these. For chandeliers on a smaller scale than the Montgomery but still creating an elegant statement, the Romana is an obvious choice. A beautifully handmade eight arm pendant light with an intricate design of gently curled fronds, this light is beautiful paired with our Classic Candle Shades.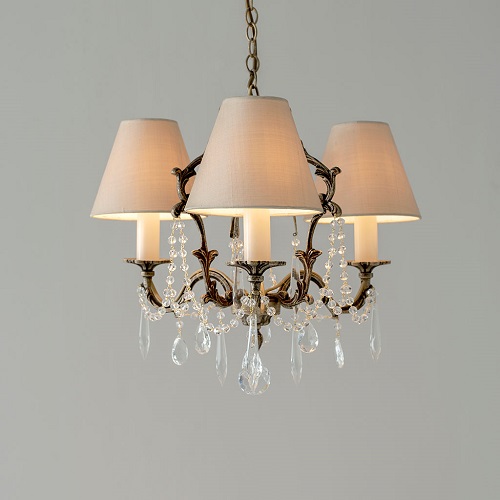 For something daintier that still packs a punch, our Rococo Pendant might be for you. With a lightly antiqued finish, it is a beautiful pendant light for over the dining table or in any bedroom. Although not truly tiny, this is our smallest chandelier, so perfect for creating the wow factor in a modest space.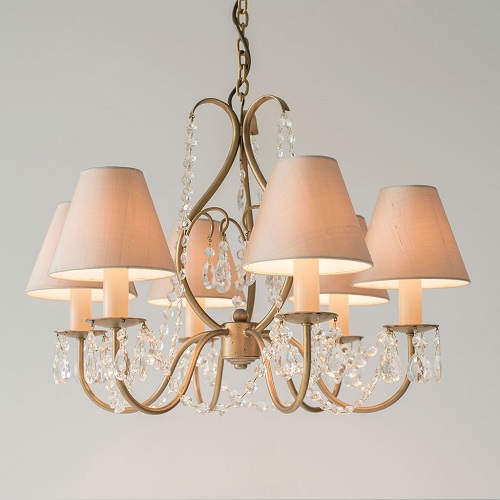 Create a stand-out space with our collection of luxury chandeliers – a sure way to invite an ornamental interest into your home. The chandelier has a long history, but it was during the 18th century where developments in glass manufacturing meant that lead glass was able to be made fairly cheaply, leading to the expansion in popularity of the crystal chandelier. Inspired by these historic designs, our most decorated droplet pendant is the Queensbury (shown above in Old Gold), delicately draped in droplets of glass to reflect and cast a magical glow around your home.
We love to see our lighting in your homes. Follow us on Instagram, Twitter, Pinterest and Facebook @JimLawrenceMade and be sure to tag us in your home updates.