With our new Bath showroom styled in our favourite modern country style, we thought we'd give the Jim Lawrence Suffolk showroom a bit of a makeover too.⁠⁠ We chat with Laura Mobbs and Laura Faulkner from our showroom team about their essential role in making your Jim Lawrence experience the best it can be. As Christmas is just around the corner, it felt like just the right time to show off our twinkling lights too…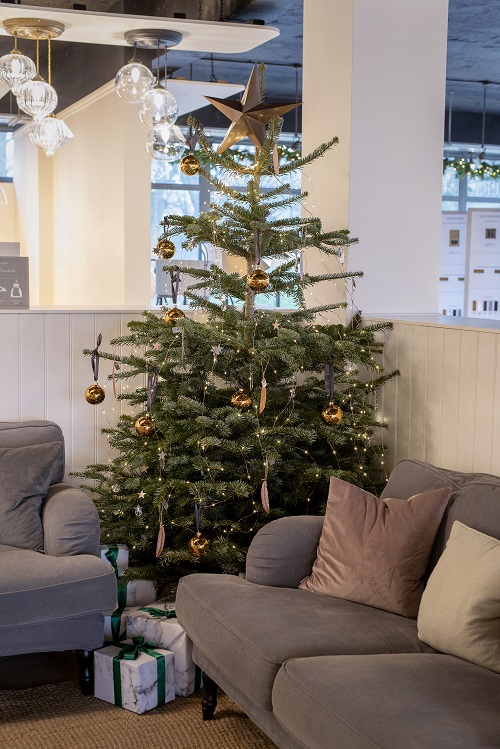 Hi both, can you tell us who makes up the Suffolk showroom team at Jim Lawrence?
Laura F: Alongside me there's Sophie Brouillet – our manager, Sarah Waskett, Laura Mobbs, Sharon Compton, David Smith, Charlotte Ruffles and Rachel Miller. We're all part of the Jim Lawrence Customer Services team, so as well as manning the showroom, we'll be on the phones taking orders and helping our customers with any advice they need or enquires they have.
Can you talk us through your typical day?
Laura F: Generally, we arrive any time between 8.30 and 8.45 and start getting the showroom ready for visitors. We turn on all the lights – checking the display lights are all working – and then the heating or aircon (in the summer!). We get the till and computers up and running, check the customer toilets are clean and tidy and turn on the coffee machine before opening the doors at 9am.
Laura M: Our customers are our first priority. Some will come straight over to talk to us if they need something sorting out, or else they'll want to browse, so we make sure we say hello and check if they need any help. We're often asked for advice on fittings and styles and as we are all part of the customer services team, when its quiet we'll be on the phones taking orders, helping customers with their enquires or catching up with our emails. We're also responsible for posting brochures.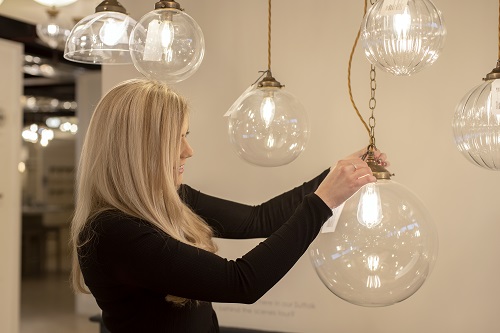 You have to have a lot of product knowledge to cover all the products here, what's the best part of helping people choose the items to style their homes?
Laura F: A lot of our customers come into the showroom to glean ideas for a new build or renovation project they are working on, so we do spend a lot of time discussing ideas and making suggestions which is great fun. I particularly like it when they bring in a photo of a kitchen, bathroom or extension they are building as you can really get into it. I had one gentleman who spent two hours with us. He wanted four floor lamps and needed help deciding on what size, shape and colour lampshades to choose.
A lot of shopping is conducted online now, so it's lovely we can still take a personal approach with customers in this way. Do you find people come from further afield than Hadleigh to see our products and get a feel for them in person?
Laura F: We deal with customers who have come from all over the world, particularly from Australia and New Zealand. Most of the time they will have a connection to the area, perhaps visiting family, but they make a point of coming to see us while they are here. Some customers drive hours to be with us. We have a lot of visitors from Cambridge and Norwich, which are both an hour away.
Laura M: We also get people from places like the Peake District, Cumbria and Yorkshire who want to see our products 'in the flesh' so they make a weekend of it, staying at a local hotel or B&B and visiting the wider Suffolk area while they are here.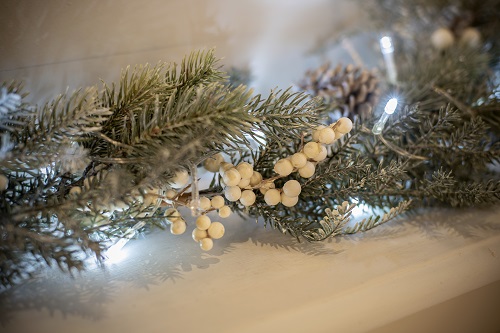 Going from a smaller farm forge, to our workshops here and now with our showroom in Bath, your roles and responsibilities must have changed. How does it feel to see the business grow beyond these four walls?
Laura F: I've been at Jim Lawrence for 15 years now. I've grown up with the company as I was only 16 when I started working full time in the sales office at the farm. Back then we were a sales/admin team of eight, now there are about 20 of us. I'm still working in the customer service team but the job is a lot more varied now as we different roles to fulfil between us. I'll be in the sales office one day, the showroom the next and sorting returns the one after, which is great.
It's really exciting to be part of a company that is successful and growing and to see how much it is appreciated by other people. I think that because everything is handmade, we invest a lot more it in – as do our customers. We know the people who design and make our products, so we know how much care and attention goes into them and that makes us feel proud of its success.
Of course we have many 'customer favourites' on display, but what's your favourite, possibly lesser known Jim Lawrence product that people might not have seen?
Laura F: I love the Harleston Table Lamp with fluted glass. I have one at home and it is just such a pretty lamp that reflects light everywhere.
Laura M: My favourite is the Cowley Pendant Light in Polished Lacquer because it's quite a 'raw' design with an industrial edge that is unusual for us.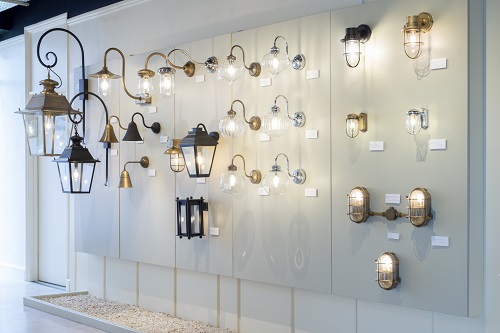 We're edging very close to Christmas now! Which Jim Lawrence item would you love to see under the tree this year?
Laura F: I would love to see a Heart Door Knocker under the tree. I think it is such a cute product that looks fab on a front door. But it's also pretty weighty and feels great to hold.
Laura M: I'd hope for the Walcot Pendant Light in Polished Lacquer. It's my favourite finish because it's a lovely dark grey with a slightly mottled pattern to it. I love the simplicity of the Walcot and know it would look fantastic in my kitchen!
Finally, many of our employees have been here long term, including most of you! What's the best part of working for a family business like Jim Lawrence?
Laura F: For me it is that I feel valued here. Although it is not the small family business it was when I joined, it still has a family feel about it and you work as part of a team where you know you have something to contribute and your contribution is important. People listen. I also appreciate the fact that we can bring our dogs in my Cockerpoo Biscuit loves coming to work with me, she sleeps under my desk all day.
Laura M: I like the fact that we all have time for one another, not just my for colleagues but for our customers as well. It is great being able to talk to customers face to face when they come into the showroom where you can engage them better than perhaps you can on the phone.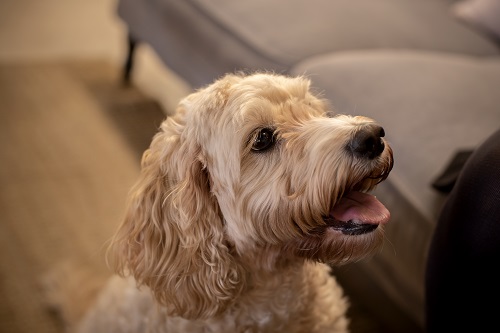 Using a selection of Farrow & Ball shades paired with our range of unique finishes, and new backdrops with Georgian-inspired detailing, we've created a subtly chic pared back look whilst embracing neutral tones and textures throughout. We've used Farrow & Ball across the board, in shades Wevet, Purbeck Stone, Pointing, Cromarty, Blackened and Bone. These chalky off-whites and grey variants are perfect for showing off the details of our finishes, and fresh enough to make the showroom feel invigorated and new.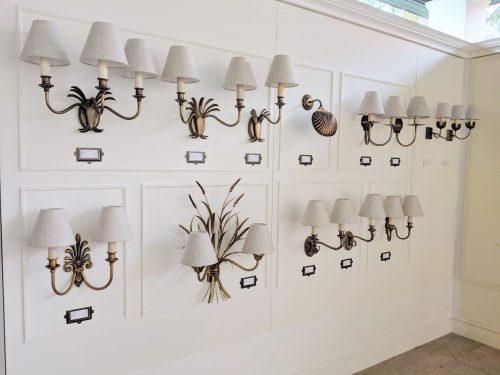 We were looking to create a simple, classically inspired back drop with neat panelling designs to underline the understated elegance of the wall lights. We know lots of you use Farrow and Ball paint to get that period look, so we thought it would be fun to marry a variety of tones of paint with some of our most popular candle shades in subtly coloured linens, velvets and cottons.
Embracing the natural patina of Antiqued Brass and the unrefined texture of the Isabelle Linen shades shows off our products in their best light, highlighting the quality craftmanship of our Suffolk workers. Our neutral linen and silk fabrics are also a great accompaniment, letting the lights themselves do the talking whilst complimenting each finish beautifully. We chose to use the Royal Oyster Silk and Cream Kilowen Linen together on these displays, as they lend themselves wonderfully to our antique, classic and botanical inspired collections.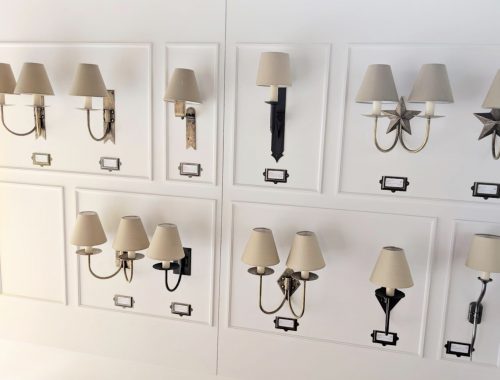 The Botanical Collection is inspired by the great British countryside we love. From hints of the coastline in our Scallop Wall Light and delicate strands of wheat in our Sussex Lights, the surroundings from which we built our brand upon are ever present in our design work. When it comes to period style, whether swaying towards classic or contemporary, we feel that what goes into a home should respect the history of the land and architecture – manmade or otherwise! We try to embrace this notion as much as we can when designing products to suit those homes.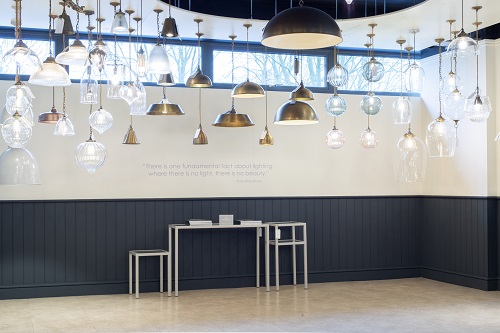 If you're inspired by our style, please do come and say hello at the Ironworks, Lady Lane, Hadleigh IP7 6BQ and browse our lighting and homeware to complete your look at home. Our showroom houses our entire range of over 8,000 products, and our team will be here Monday – Saturday to help you find your match. You can see how stunning our lights look in situ and use our displays to find inspiration for your window, door and bathroom accessories.  Happy shopping! ⁠