Sian is restoring her period home with a relaxed almost bohemian style, tinged with vintage-look items and a cool industrial edge. An expert in carefully-curated eclecticism, we wanted to find out more about Sian's history with interiors, and her advice on layering with textures that she does so well…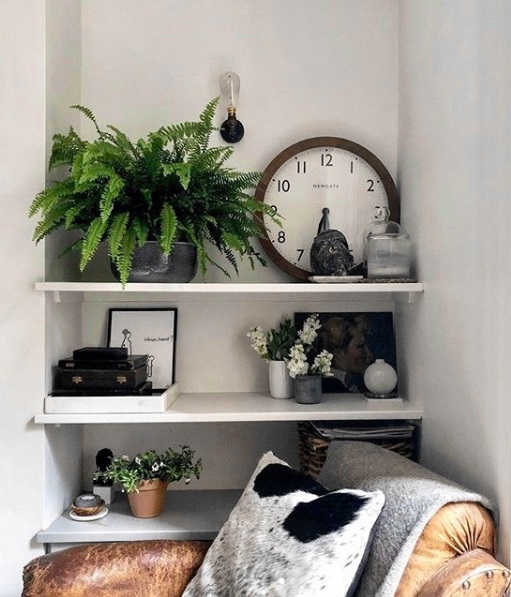 Sian, welcome to the style journal! We've been admiring your lovely home from afar for a while now – is this the first time you have refurbished a period property?
This property is the 13th house I've refurbished and they've all been period homes bar one which was a 1930s property but still with good bones and elegance. I suppose I'm a bit of a serial renovator which I do alongside my full-time job. I really miss it when I don't have a project on the go. My job as a lawyer is quite dry and stressful and so refurb gives me an outlet where I can get practical on DIY and creative on the design.
I absolutely love refurbing houses but really focus only on period homes. I love that we are only custodians of houses but can have a long-lasting impact on their future and value. Having restored a couple of listed homes from the Georgian and Victorian era, I've learnt so much about historical styles but also love the restoration element, bringing back the former beauty and elegance of period homes and features. It's so heart-breaking to see a building with beautiful bones that has been neglected or, worse, renovated badly. Restoring former elegance is what I love doing, but with a contemporary edge to bring it into the 21st century both technologically and operationally and also stylistically and aesthetically. I love how a mix of antique and modern works in harmony so effectively.
We know period homes can sometimes present unusual challenges when renovating. What's the key to perfecting a project like this?
I think the key is to respect the integrity of the building but accept that we need to live with 21st century developments. So I try to keep all period features and the basic structure and proportions but understand that electrics and plumbing, together with building work, needs to be functional and technologically advanced in order for us to live our lives optimally.
Conservation work does involve the occasional compromise but I do think it's possible to work around most challenges and restore whilst still updating and complying with modern building regulations. I've found local conservation societies and council planning and conservation departments to be very helpful. Planning authorities now tend to allow extensions to period properties which are actually a modern contrast to the old, acknowledging that often this contrast and juxtaposition is better than a bad attempt at melding or replicating the original.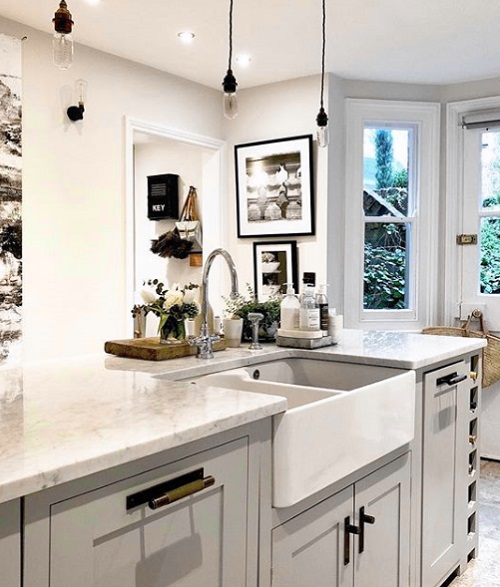 We first came across your Instagram feed when you started tagging us in all your lighting shots. When did you first come across our lighting?
I first bought from Jim Lawrence when restoring a 17th century village house in the Cotswolds. The brass finish I was looking for was readily available with all Jim Lawrence ranges as standard and I found this choice of beautiful products in the exact finish I wanted to be a major selling point. At the time this was really unusual and I saw Jim Lawrence as being a leader in this area. Once I'd received the downlighters and pendants I'd needed, and seen the quality and attention to detail, I then set about gradually replacing my lamps and ceiling lighting in other rooms! Since then I've used Jim Lawrence products in every refurb I've done.
I like the variation in your products, the fact that you can choose the metal finish and cable colour, and am impressed by the expanding and diversifying range, but the certainty of quality and customer service is the major point. I've sometimes been disappointed with other brands' products when they arrive and when you're working on a refurb project where a house needs dressing to a tight timescale, certainty of quality and service is essential. My electricians now refer to "Jim" having done well when they're fitting your lights!
You often opt for shade-less light fixtures, why is this?
I really like the vintage bulbs that are available now and the shadeless fixtures show these to full effect but they also add an industrial edge which I really like within period homes. It's a good contrast against the elegance of Georgian homes and the rustic nature of country/ cottage homes, without being too harsh and conflicting. It also means that the lights and fittings speak for themselves and you can then use other soft furnishings to introduce pattern and texture.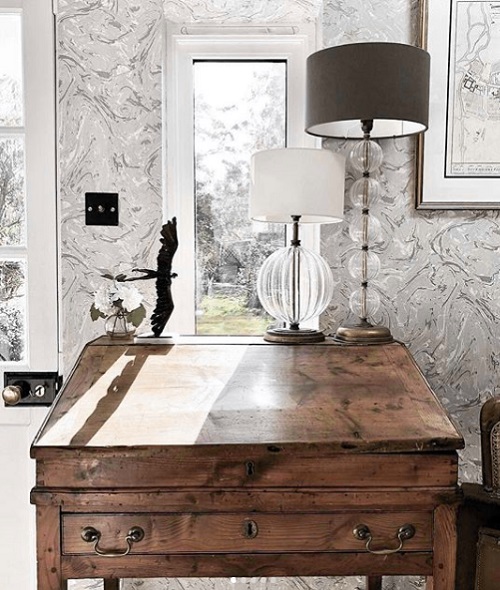 We like to think a home project is never really finished, as like our wardrobes, interiors develop and adapt for the seasons and how we feel. How do you refresh your rooms when they're in need of a 'quick fix'?
Oh gosh absolutely. I think that's one of the pleasures of interiors, that you can constantly tweak or majorly transform. And just changing some lamps or a throw can hugely alter the appearance and ambience of a room. Small changes which don't break the bank can be just as impactful. I think our homes are a constant evolution as we change and develop and alter our tastes. In the world of interiors there are never ending new possibilities and inventions and so there's constant inspiration and also temptation! My current passion is sustainability and it's so wonderful that now it's easy to buy wonderful products which don't skimp on style, at a reasonable price, but with the environment in mind.
Where do you find yourself sourcing most of your home inspiration?

It used to be interiors magazines and also look books like the Jim Lawrence one and other brands. Now I use Instagram and pinterest. I only joined Instagram as a way of storing my refurb photographs but soon discovered this amazing warm and welcoming interiors community with a never ending supply of inspiration. I love that you can follow and learn from top-end designers but also equally get amazing inspiration and tips from lovely people sharing their homes. And the search functions mean you can source what you're looking for and get new ideas so easily and quickly. this informs my thinking so much now but there's still nothing like flicking through a hard copy and being able to tear sheets for a pinboard though, so I still use magazines and lookbooks for formalising my ideas onto a concept or moodboard.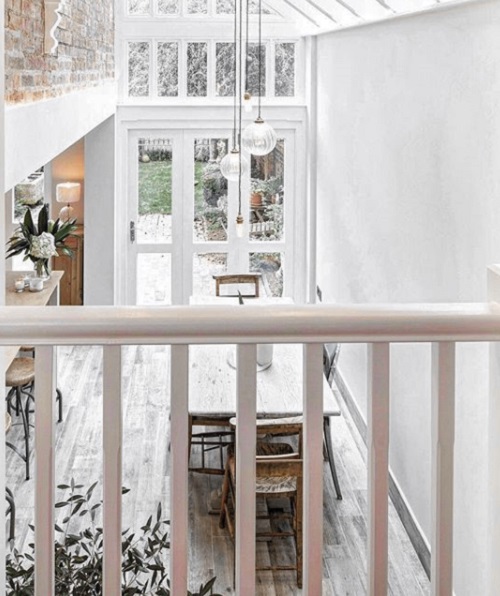 We really love your eclectic but carefully considered styling. What are three top three tips on how to layer up display areas like shelving and sofa cushions?
I would always say buy what you love. Whilst there may be a practical element needed, falling in love with items for your home is really important. Sometimes I'll fall for something and have no idea where to put it but always find a home for those items, and it's those things that add character and that you cherish and keep forever. That helps with the sustainability point too – buying vintage and recycling and upcycling is a great way of being sustainable and doing good. In terms of layering, I tend to stick to a neutral or monochrome palette and then add interest through texture and form. So I might have a black and white themed shelf display but it might include a vintage picture, a sculpture, photographs, candles and an ornament of some form. Variety can be pulled together into harmony through any number of ways but I tend to use neutral palettes to provide that harmony. I then also add plants or flowers to create some life and movement so it's not too static and also use tan leather quite a lot for a natural, earthy hint.
How do you stay true to your own style when choosing home furnishings?
Gosh, that's a difficult one. I've never really thought about it in terms of having my own style and therefore I don't feel constrained to stick to anything! I suppose I probably go for things that naturally work together because it's the same type of things that appeal to me. I think I tend to veer towards timeless, elegant pieces although I do have a mix of some very traditional elements and some highly contemporary. I think these can work together, it's just a case of trying and seeing as to what works where and with what. For me, it's really about having fun, and creating something that makes you smile or pause for thought every time you see it.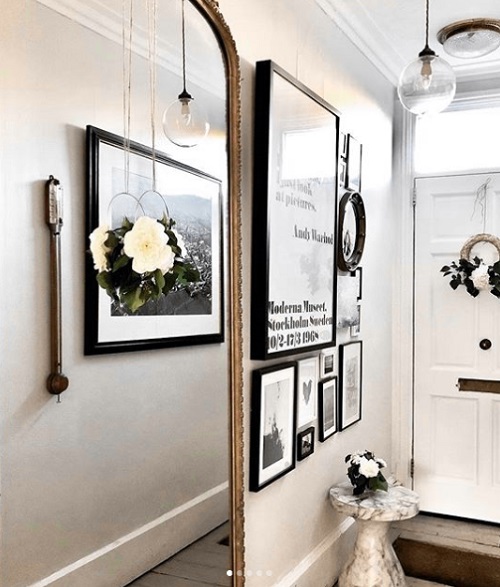 We love your vintage-inspired look, and as you know many of our own products are influenced by heritage designs. Do you have any truly unique old items in your home that you could never part with?
Oh yes so many! I have a love of brown furniture actually! Some pieces are from my parents and some from second hand stalls. The bureau, Davenport and bedroom chest of drawers are larger items I couldn't ever lose; a portrait in a heavy gilt frame that I bought when I was young; pretty much all the large antique mirrors in the house; and the antique chandeliers in the living rooms which are a pair. But also much smaller items which have meaning, even down to a set of old bone-handled knives! And my antique perfume bottle collection.
Finally, what's next for the Restored Home?
Exciting things I hope! I'm planning another refurb in the next 6 months. It'll be another period home, hopefully a Georgian one in the centre of Oxford. I've had 3 years refurb-free settling in my adopted son but now think he needs to experience the joy of a building site! He already has his hard hat and goggles, so we're ready and raring to go for the next one!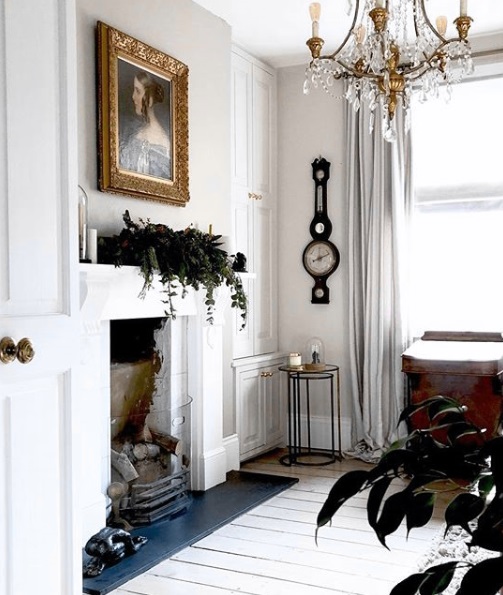 We hope to see a lot of Jim Lawrence in that refurb too! To follow Sian's home décor journey follow her Instagram account @restored_home. To stay up to date with Jim Lawrence, follow us on Instagram, Facebook and Pinterest. To view our full lighting and home furnishing collection, visit our website. Happy shopping!


Thorpe Wall Light, Pendant Lampholder, Harleston Table Lamp, Burford Table Lamp, Fulbourn Pendant Light