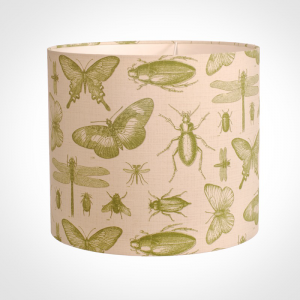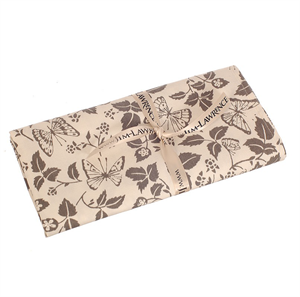 One of the big trends in interiors this summer is decorating with natural history inspired insect motifs and here at Jim Lawrence we have several beautiful examples.
Beetles and butterflies run riot on this wonderful cylinder shade in our quirky Entomology fabric. The shade has been created using our Lampshade Builder, where you can use our simple step by step guide choosing from a multitude of shapes, sizes and fabrics to create your perfect shade.
Imagine yourself in a summer meadow as you dry the dishes with this tea towel in Charcoal Octavia. The interwoven leaves and butterflies in this charming 30's inspired print will bring the outdoors right into your kitchen. Any of our full range of fabrics can be made into a beautiful tea towel, please see our fabrics to choose which one will fit in with your kitchen designs.
Adding splashes of colour with beautifully bold butterflies
Have fluttering butterflies brighten up your sitting room with a cushion in brand new Arboretum Linen. This delicate design of butterflies and botanical etchings on fabulous 100% linen is a must for layering your home with creature comforts.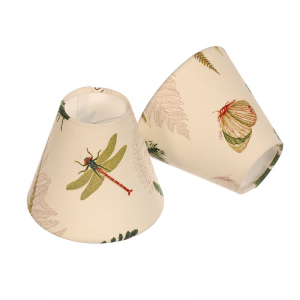 Kew Garden Candle Shades
Pick the perfect finishing touch with these candle shades in Kew Garden fabric and imagine yourself in the tropical atmosphere of a Victorian glasshouse.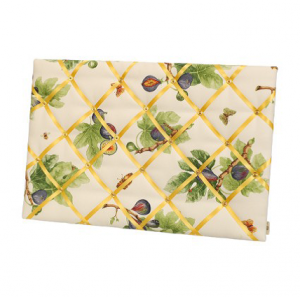 Be inspired to tidy your home with a wonderful notice board in Fig Gardenalia. This cheerful design with brighten any wall and provide the perfect place to store all those annoying, but essential, bits of paper that you can't quite throw away!
All our fabrics can be made into any shade, notice board, cushion and tea towel including many more  soft furnishings.
If you have any ideas about where to use any of the products featured here please post a comment below.
FEATURED PRODUCTS: