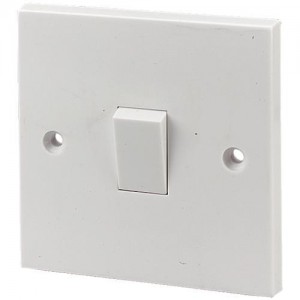 When decorating a room it is sometimes easy to miss the little extras that can add the design flare your room was missing.
A white plastic switch is a sight I'm sure we are all familiar with. But, switches and sockets don't have to be boring or unoriginal!
There is an array of variations in style, design and finish out there for you to choose from. From rocker switches to touch dimmers, master telephone sockets to sky and satellite sockets. Take our step by step guide on how to choose the perfect switch for you….
STEP 1 – Choosing Your Style
STEP 2 – Choosing Your Switch Design 
The design of the switch is often determined by its function. For instance, is it for a dimmable light? If it is, then there are two choices of switch, a rotary dimmer or a touch dimmer. There is a wide range of switches to choose from, including rockers, Dollies and Grid switches.
At this point there is also the option to have alternate switches. Perhaps you would like the best of both worlds by creating a dimmer switch and a dolly switch?
Often, the traditional edging used on a back plate would be a bevelled edge. A straight, slightly sloped edge, creating a sleek clean cut finish.
STEP 3 – Choosing the Design of Your Back Plate
The Hammered edge back plate has a more vintage feel to it. If you were looking for a more antique style for a period home, this would be the back plate style for you.
STEP 4 – Choosing the Finish.
Choosing the finish for your switch is the best part! The back plate finish can differ from that of your switch as you have seen in previous images. This creates a stylish contrasting effect.
Our solid steel finishes include polished steel or beeswax, or overlaid with a painted finish in plain ivory, old gold, old ivory, or matt black.
For a solid brass finish you could choose the beautifully traditional, antiqued brass or wonderfully contemporary nickel plated.
For an alternative look to iron or brass, you could choose a clear perspex back plate . This would be ideal if you had striking wallpaper that shouldn't be covered.
This guide is also suitable when choosing a socket! However a grid switch is supplied with all sockets as standard.
There can be countless options for you to choice from and here at Jim Lawrence we offer a massive variety to suit every need. Whether you're looking for a simple single switch or the more exotic audio and visual switches, we can make your perfect switch.
We'd love to hear if you have used our switches in your house …why not comment below and let us know where you put your perfect switch?
FEATURED PRODUCTS: