Many of us dream of living by the ocean, and if you haven't, you will now. Even a quick flick through Relaxed Coastal Style by Stylist Sally Denning has us lusting after driftwood accessories, flowing linen curtains framing a sea view and worn wooden panelled shacks. After delving deeper into the beautiful homes that Sally explores in her book, it has us positively besotted with beachside living.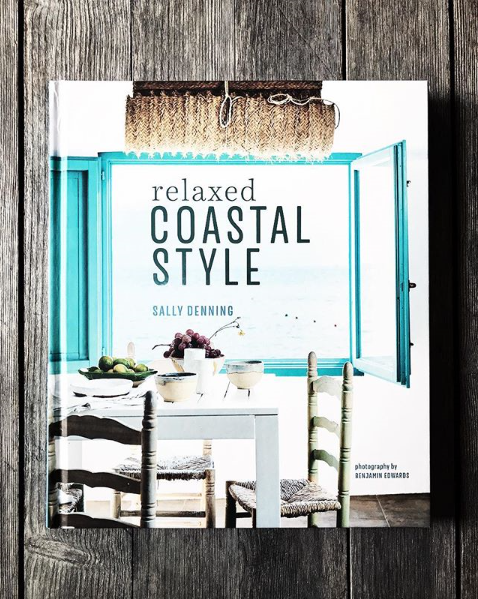 'Country coastal' is an interior style close to our hearts with the stretched out, pretty beaches of the Suffolk and Norfolk coasts a stones throw away. We love the laid back feel of the coastal homes that Sally explores, with the owners using locally sourced materials and beach-combed finds to kit out their rooms. These elements bring in on-trend style and an appreciative nod to the landscape around them…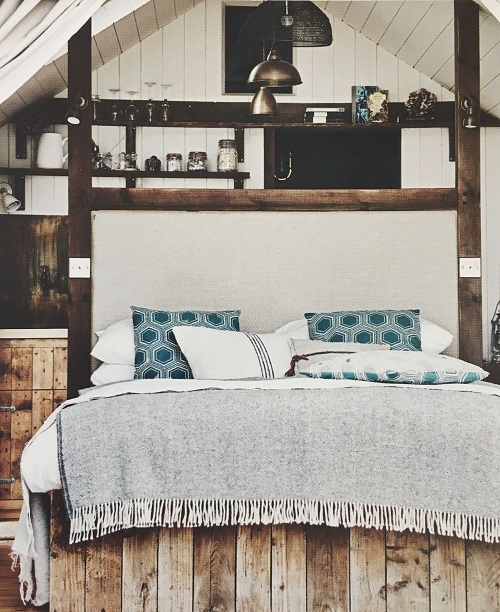 A key motif throughout the book is the use of wood. Wooden beams, wooden panelling, rattan furniture, woven baskets and driftwood accessorised into homeware. Think brightly coloured beach huts to washed out window shutters. Even if you don't live in an authentic wooden panelled house, there are many ways you can incorporate this look into your interior décor, such as faux-wood wallpaper, cleverly painted cupboard doors and preloved furniture. You can boost your external and internal vintage look by adding antiqued brass lighting and accessories like this modern rustic Isle of Sheppey beach hut.


Butler Pendant in Antiqued Brass, Barbican Pendant in Antiqued Brass, Edgeware Spotlight in Antiqued Brass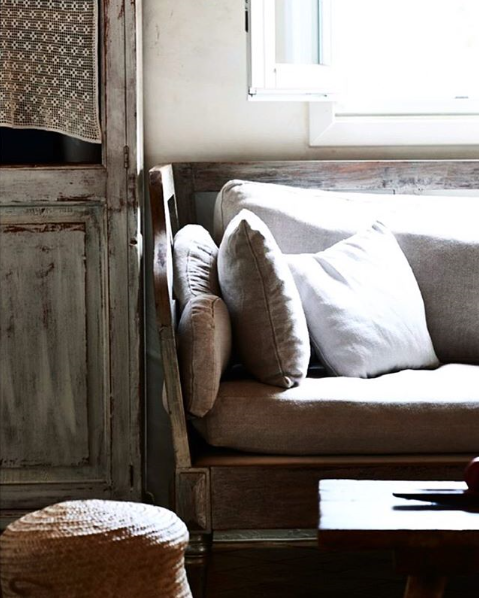 Beige, stone and sandy tones come naturally to coastal homes. You might as well incorporate it into the design! There is so much fabric inspiration here, even where you least expect it. Linen curtains and upholstered chairs, textured rope and cream crochet. Even netting. These textures add layers and depth by taking inspiration from the external surroundings – a key step in coastal style. Why not try our range of soft linens as shades or cushions to bring in some texture rich natural tones?
Natural Isabelle Linen Candle Shade, Putty Killoween Linen Candle Shade, Cushion Covers in Linen
A coastal existence isn't all sunshine and ice cream. Weather-beaten porch railings, rain and rust-stained tin rooves or fading paint and aged metal furniture make up a great deal of this book. Their existence is proof of their steadfast manufacturing, but evidence that living by the ocean can be tough and wearing. This is what we love about this book – the honesty. Sure, your interior can be as glamourous as you like, but it takes a certain kind of person to embrace an old property and make it their own in often remote and exposed locations. It requires great deal of hard work, but the character of such a place is an ongoing enjoyment for those who live there. To complete the look, add in other worn materials such as our Antiqued Brass or Polished light and handle fittings – a go to match for this faded look.
Erith Polished Cupboard Pulls, Pendant Lampholder in Matt Black with Braided Cable, Norfolk Drawer Pull in Polished
We've cheated a bit here, because this is Sally's own home (not featured in the book) which is too delicious to leave out. Decorating with the display items in a home can make or break a room. As is evident throughout the homes here, balance is the key. The Instagram hashtag #aquietstyle sums up the softness needed to pull off this look. It is immaculately considered, but executed in an understated manner. It is, in short, relaxed. Or rather it makes you feel relaxed. Using ancient bottles, hand-picked shells and wave-worn washed up glass might sound like clutter to some, but it's these cherished finds that bring in personality and make a house into a home. For a shell you haven't had to wash the salt out of, try our beautiful Scallop Wall Lights to bring a soft coastal vibe into your interior.
Scallop Wall Light in Antiqued Brass, Schoolhouse Drawer Pull in Polished, Chandler Hook Rack in Clay
Want to see more? Of course you do. You can order Relaxed Coastal Style, published by Ryland, Peters & Small, through Waterstones or Amazon. For a wealth of interior and exterior inspiration follow Sally's Instagram @Blackshorestyle. See more by the talented photographer Benjamin Edwards. A special thank you to Sally for featuring our lighting and for supplying the images. Follow our Relaxed Coastal Style Pinterest board for more laid back décor ideas.