At Jim Lawrence we believe that the exterior design of your home is as important as the inside. What you choose to put outside serves as a taster of the beauty within. What better ⁠place to start than the one place your guests reach for first? It can be hard to get a real feel for door furniture from a photo on your screen, but you'll have to trust us (and our other customers) that you will fall head over heels for the quality and finish. We've selected our favourite Jim Lawrence Autumnal door decor on Instagram paired with our knockers, bells, numbers and knobs to inspire you this season.
Serving as a warm welcome, wreaths are a fun and interchangeable way to liven up your home entrance all year round, but particularly enjoyed in the greyer months. And what a wreath this is! Dried flowers give off an antiqued feel, with a crisp golden 'patina' that is both seasonal and pretty in autumnal décor. We love the blend of red and pink, creating an autumnal crown for our Heart Knocker in Matt Black on customer Victoria's pastoral front door.
Another golden tinged adornment for the front door, this colourful homemade wreath bounces off the door furniture beautifully. We love this image inviting us inside to see a glimpse of our Bonham Lantern in Antiqued Brass. Deep blue hues are a gorgeous match for brass hardware. Always one of our go-to shades, customer Jess has mastered this classic 'blue and brass' look perfectly in her exterior design.
A successful harvest just in time for Halloween… This magnificent display from customers Pollyanna and Nick embodies everything we love about autumn itself. Crisp scattered leaves, plump pumpkins and another fabulous wreath ticks all our October door decor boxes. A grand entrance with or without the Halloween inspired styling, we always find ourselves admiring the use of our Putney Porch Light in their doorway…it looks like it was made to fit. For similar Antiqued Brass door accessories shop here.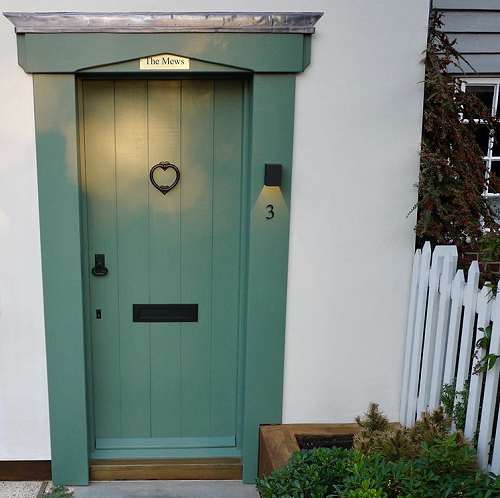 If florals aren't your thing, but function is…look no further. Minimal but impeccably stylish, our Matt Black door accessories matched with our Newport Downlighter will provide a smart silhouette in the daylight and a neatly illuminated, practical feel in darker evenings. This hard wearing, durable finish is the perfect choice for creating a timeless and sophisticated look all year round.
Our popular Antiqued Brass finish seen on the Melton Door Knocker, Regency Door Handle and Letterplate. A rustic posy of herbs is a lovely way to greet guests in terms of sight and scents, and can be popped into a vase later when you want to change up the display.
We would love to see more of your autumnal door decor, so don't forget to tag us on Instagram, Facebook and Twitter. For some ideas on autumnal décor inside the home, take a look at our interior Autumn Edit here. For a wealth of home décor and interior inspiration, view our Pinterest page. To view all of our lighting and homeware visit our website. Happy shopping!