A full-time mum, blogger, Instagrammer, freelance brand consultant, holiday rental property manager and events organiser. Sarah-Jane, or @justalittlebuild as you are likely to know her by, has an impressive roster of skills to her name. We talk to Sarah-Jane about her beautiful home, how to renovate in light of the pandemic and the best ways to translate your personality into an interior…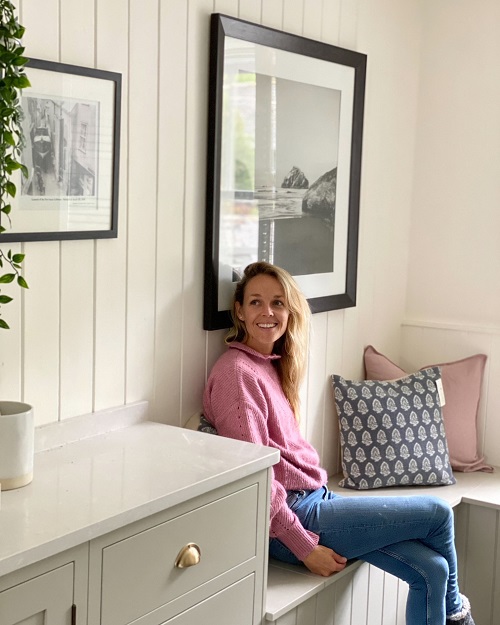 We've long admired your use of our Lovell Pendants in your coastal holiday property (@leathousecornwall) which continues to bring admirers to our website, and were thrilled with some lovely feedback you gave us recently about our lighting. We'd love to talk about what draws you to Jim Lawrence products in particular?
I am honestly so pleased with the Lovell Pendants that we bought for Leat House. Not only do they look great in situ during the day – like glistening jewels hanging from the ceilings – but they completely transform the room to an atmospheric dining space in the evenings, similar to the experience you would have in a high-end restaurant. I think its down to the way the light deliberately shines down on the table below, making it feel intimate and welcoming. Other pendants on the market can disperse the light all around the room through the sides of the glass shade, but these simply don't do that which makes them rather unique. We have them set up with dimmer switches which allows you to make the space feel more intimate as you can dim the lights right down for a more cosy dining experience.
Not only have you renovated your own home and Leat House, but you offer a design service for others who need the expertise. Have you always been interested in pursuing interior design?
I have always had a real passion for all things homes and interiors. From the early days of watching 'Changing Rooms' on the TV and more recently "Your Home Made Perfect', I enjoy nothing more than immersing myself in design-led makeovers and challenges! Seeing rooms transform into more desirable, welcoming and practical spaces is something I love to see and thankfully now, I have the ability to do myself in my own home(s), and in that of others.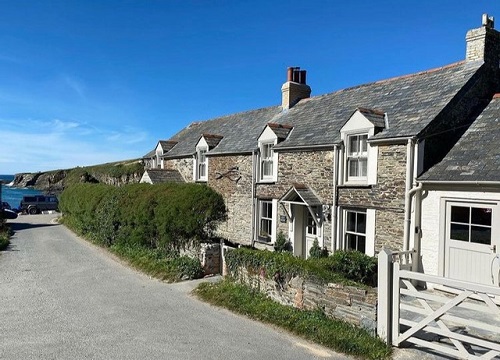 Many of our customers are led to us by their interest in period properties and English heritage, but we are always pleased to see our lighting and homeware tied into more contemporary schemes. Tell us how you blend different trends and styles to make the decor work as a whole?
With any room scheme, determining the overall feel you want to achieve is the best starting point. Do you want the interior design mix of old and new to feel elegant, fresh, lived-in, relaxed, classic or unorthodox? For me personally, I tend to lean towards a more fresh mix – marrying the old and new to give a new design perspective that allows each aspect to shine in its own right. I would say my style is fairly contemporary in design with a classic edge. A nod to the Transitional Design which borrows from both traditional and modern design to facilitate a space that is not "too much," in terms of one style or another.
Leat House is over 200 years old and has some beautiful original features such as a flagstone slate floor, some exposed wooden beams and a Cornish stone wall within the living room. These architectural aspects lend themselves to the 'old'. With some sympathetic pieces of furniture such as a large comfortable sofa, a Persian rug and a vintage coffee table, you can embrace the character of this more traditional look and then, (and this is the fun bit!), you can bring in some of the more contemporary aspects to elevate the space and to give a sense of 'freshness'. I like to do this by introducing some modern artwork that sits within a very simple frame, lighting that has a combination of glass and metal and an accent chair with clean, crisp lines.
Forgive us for mentioning the pandemic, but how do you think the experience of lockdown has changed how we view our homes?
Over the last year, the pandemic has transformed the patterns of daily life. Perhaps one of the most recognisable shifts has been seen in the way we view our homes. Where we once designed them for comfort and security – a safe haven to which we could retreat at the end of a working day – our homes must now take on a plethora of other roles providing space for work, education, fitness, social events and more. In smaller homes, or for homes naturally divided into small spaces, multifunctional rooms offer an innovative approach to creating an adaptive living environment. By combining different purposes into a single floor plan, multifunctional rooms can make small rooms go further – kitchens with islands doubling as workstations, or guest bedrooms that can be transformed into gyms or offices as required.
In a world where flexibility is becoming evermore essential to functional living, multipurpose spaces can allow us to comfortably adapt to whatever changes might appear on the horizon.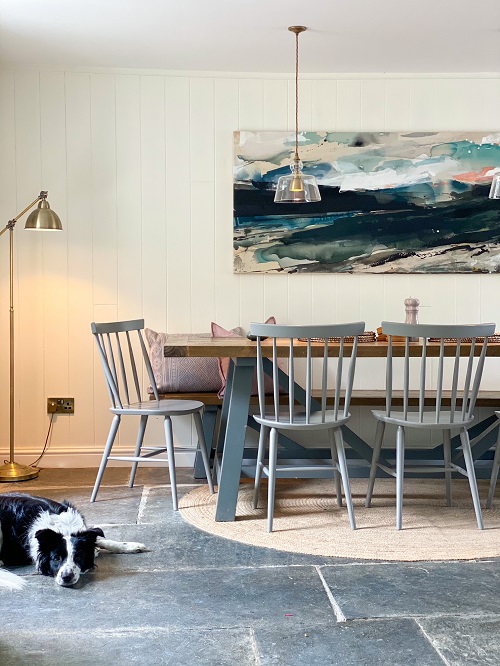 It is easy to incorporate our personality into our own interiors, but how to you help translate this for others when you take on a project?
There's really only one way to successful do this and that is to fully understand your client. Find out about their likes/dislikes, their hobbies, what they like to wear (this can be such a help when deciding on fabric selections for the home), what art they like (and what art they don't!), how they like to live and where they like to go etc. This will all help form an idea of how your client will want their home to serve them and how it should feel when they are in it.
Alongside this, you can inject some personality into a home by introducing a statement piece of art, some accent furnishings (perhaps an upholstered chair in a statement fabric or some contrasting cushions) and/or a unique item of furniture. These should be heavily influenced by the client to bring out their true personality and resonate with them individually.
You announced that you're moving from your current home into a new location. Using your experience, how will you take on this renovation differently from your other moves?
Over the last five years we have completed two renovation projects and in doing so have gained so much hands-on experience. The do's, the don'ts, the things to look out for, the things to not compromise on and the things to not get too worried about! It has been a real learning curve and I hope to take forward all the valuable lessons through to this project.
With our new home, we have the ability to design a space that really works for us. In our last house we were constrained by the square footage available to us so it was difficult to play too much with the space we had. Here though, I hope to create a home that not only provides us with what we want (we have a room checklist…!) but also allows us to have fun with the architectural design to bring in different design concepts, varying heights, textures and materials. And with reference to my answer above on how the pandemic has changed the way we view our homes, this will very much affect our design choices for this project. I think the project style will fall within the Transitional Design that I mentioned earlier but with a nod to a Scandinavian style.
What are your top tips for making a house a home?
Adding plants – they can can bring life, comfort and colour
Texture – it helps to break up the formality of a space, adds depth, comfort and reduces the need for lots of colours (if colour isn't your thing)
Mix of design elements – 'old & new' to give character and a sense style
What's your favourite room to design?
The kitchen, although it can be the most stressful! It's the heart of the home and where I like to be so for me, its the anchor point of any interior design project.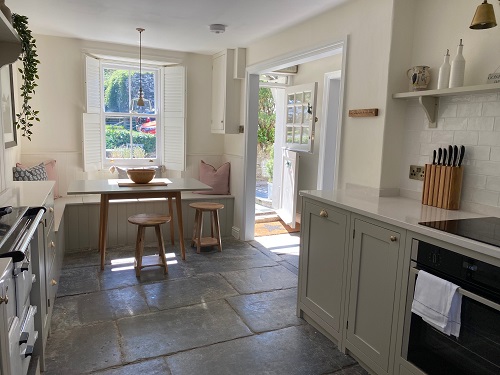 What's the staple homeware piece that every house needs?
Task and mood lighting. So often forgotten but extremely important! Not only for practically but for making a house feel/look like a home.
Your favourite Jim Lawrence product?
I love the simplicity of the Club Wall Lights which we also have down at Leat House and I have recently installed in a client's home.
Finally, what's on the cards for Just A Little Build in 2021 and beyond?
To fully immerse myself in our biggest renovation project to date!
We are so looking forward to seeing this new renovation unfurl. If you too are inspired by Sarah-Jane's advice and approach to design, for more of her interior styling and stunning home style follow @justalittlebuild on Instagram or the justalittlebuild blog. To stay up to date with Jim Lawrence, follow us on Instagram, Facebook and Pinterest. To shop her style, browse our website to see all of our hand forged and finished lighting and homeware. 
Lovell Pendant in Antiqued Brass, Schoolhouse Drawer Pull in Antiqued Brass, Club Wall Light in Antiqued Brass, Hunstanton Velvet Cushion Cover in Dusky Pink