A boot room, a porch, a utility room. These practical spaces might be where you stash your walking shoes and hide your coats to keep the rest of the house tidy, but there's no need to overlook this wonderful styling opportunity. For busy families, dog owners and anyone who enjoys the outdoor life, a well organised boot room is a must have space that will revolutionise your home. If you can keep your coats, shoes, wellies, dog leads, umbrellas, schoolbags and any other outdoorsy kit in one designated place, it will make a huge difference to the rest of your house.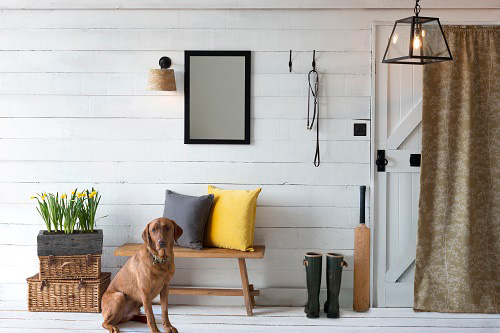 If this area is cluttered it's not actually serving its purpose. You want neat, space saving solutions to make the most out of a room that is designed to be a transitional storage space. Follow our simple tips to clear away clutter and add a few well chosen light, wall and door fittings and you can create a boot room to be proud of.
LIGHTING WITH UTILITY IN MIND
BROOKE WALL LIGHT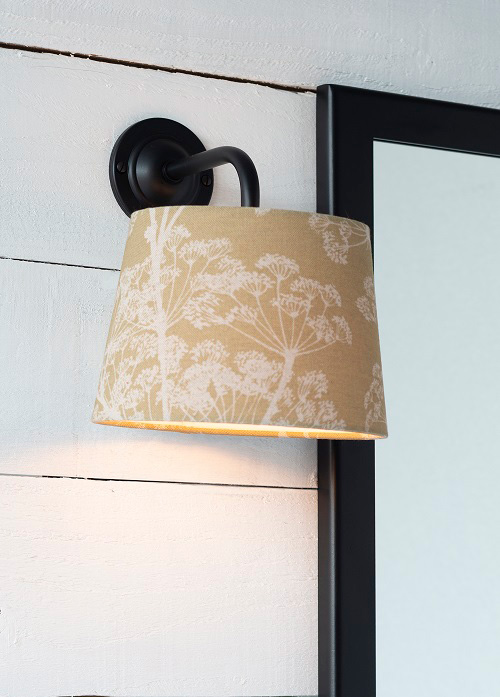 This is a sconce your home really can't live without! The Brooke Wall Light is versatile in that you can decide with orientation works best in your room…fix up or down depending on your preference.⁠ The Brooke is paired here with our 20cm medium Pendant French Drum Shade in Soft Gold Cow Parsley cotton. Known for its versatility, cotton is one of the most commonly used fabrics for lamp shade as it is lightweight, durable and has a softness which is ideal for diffusing light evenly around a room. Our cow parsley has a relatively large weave that gives it a wonderful texture akin to linen. It is uniform appearance and brings a rustic and understated beauty for a laid-back look.
STANTON PENDANT LIGHT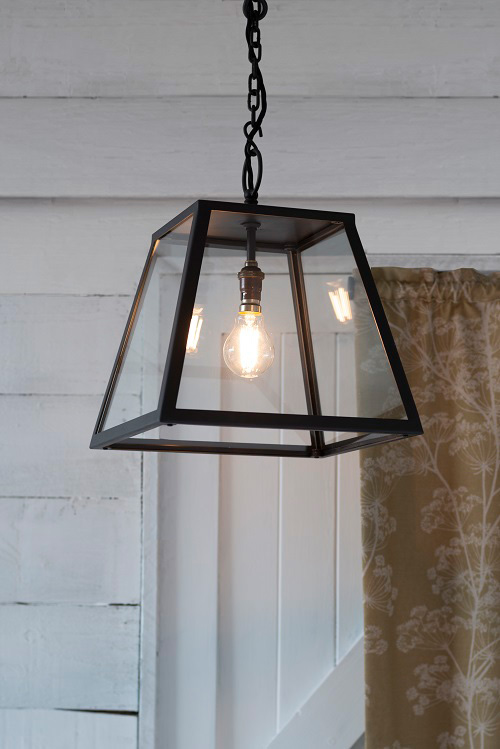 An on-trend, versatile pendant light with a minimalist design that shows off the beauty of the bulb inside, our
Stanton Pendant
is a popular choice for kitchens, hallways, boot rooms and bedrooms. The Stanton Pendant's slim and architectural lines are striking in a vatiety of finishes, but it's the bold contrast of Matt Black which invites an industrial inspired silhouette into this space.
HARDWEARING METALWORK FOR A HERITAGE FEEL
You don't need a lot of space, just some well thought out storage solutions to keep clutter at bay. If built-in cabinets are a non-starter, use a bench, chest, baskets or crates to store your kit and double up as somewhere to sit to pull off your wellies. Coat hooks are wonderful for keeping those essential coats, bags and leads handy but out of the way, while a mirror will make a small space seem larger. Those all essential wall and/or ceiling lights will create welcoming layers of light to illuminate your space all year round.
RAMSHOLT COAT HOOK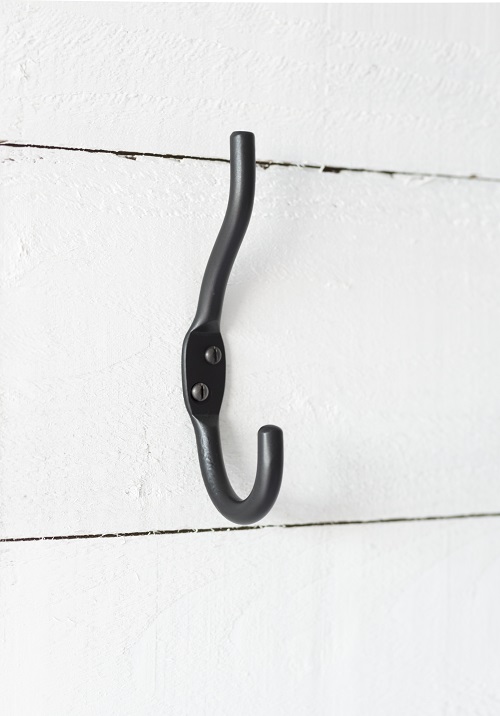 There's always something to tuck away, so you can never have too many storage solutions like wall hooks. ⁠⁠The Ramsholt Coat Hook is attractive traditionally forged double coat hook in a hammered matt black finish.
⁠⁠
We make plenty of hooks in a selection of our beautiful finishes and ensure they are straightforward to fit on the wall or door for whichever purpose you need. Using our hooks in the nook of fitted cabinetry in a cloakroom for example is a thoughtful solution, leaving the floor space free to feel open, roomy and uncluttered with plenty of tucked away storage for any necessities.⁠⁠
THORNHILL MIRROR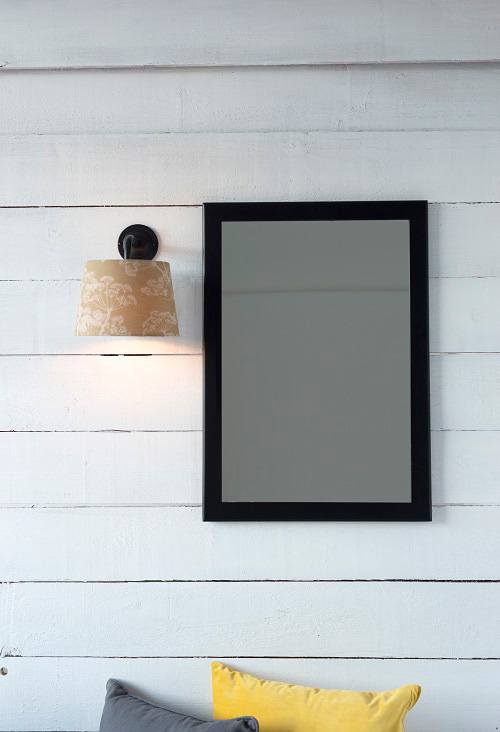 A beautifully hand crafted and generously sized mirror that will give the illusion of further space in a smaller room. All our mirrors are hand forged and high quality – an everlasting home accessory to enhance any home.
INTERNAL LETTER PLATE
Banish draughts by using an
internal letter plate
on the inside of your door. A wonderfully weighty piece in forged iron to complete the look of your door furniture.
FOXHALL DOOR HANDLE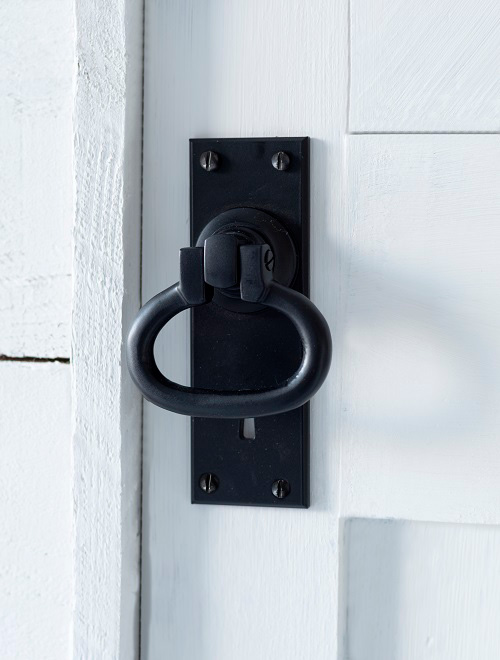 Transform your interior doors from just a utility into a feature you can admire. Our hand crafted brass and forged iron drop handles are made with an extensive collection of period and contemporary back plates to suit any home style. Match with our latch sets, locks and other home accessories to dress up your existing door and window furniture.
These delightful Foxhall handles are supplied in pairs with matching fixing screws and a spindle that can be cut down to the depth of your door. Sprung on one side and made by us in Suffolk, every detail has been meticulously crafted by our talented team in the workshop.
HANDMADE SOFT FURNISHINGS | CHOOSING COMFORT AND COLOUR
Useful as they are, boot rooms can be draughty and cold, so it is worth incorporating some draught excluding solutions into your scheme.
Our beautiful internal letter plates are designed with a flap to keep out unwanted draughts and a heavy curtain in wool or tweed hung from a portiere rod or pole above the door is a brilliant way to keep out the cold whilst adding a heritage touch to your room.
FABRIC IN SOFT GOLD COW PARSLEY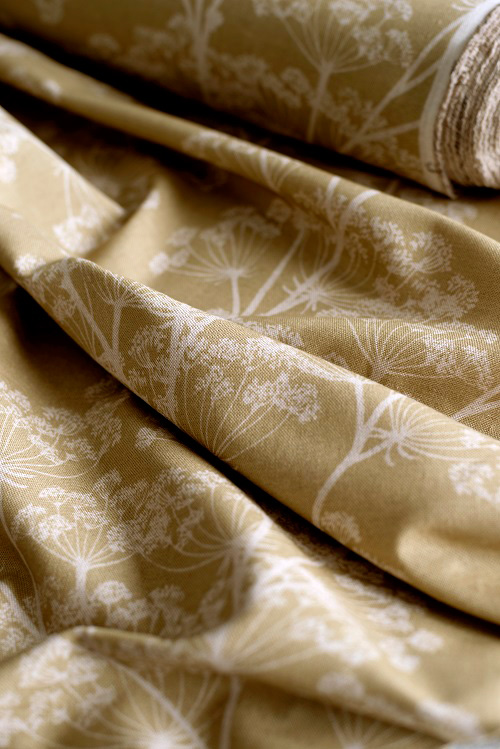 When it came to choosing a colour palette for our new Cow Parsley Fabric, it was clear that plucking Jim and Sheena's favourite views from their Suffolk farm would be translated into this new collection.⁠ An ode to the beautiful countryside we call home, Soft Gold is inspired by the glowing warmth of late September light, fire embers in December and the flourishing tones of daffodils come March. This collection conjures memories just like these: kicking off muddy boots at the doorstep and warming your hands on the radiator, admiring the first blooms of spring and the hum of wildlife in the trees. Our Cow Parsley collection neatly encapsulates all of these small seasonal joys into something you can admire all year round as part of your interior.
⁠
HUNSTANTON VELVET CUSHION COVER IN SAFFRON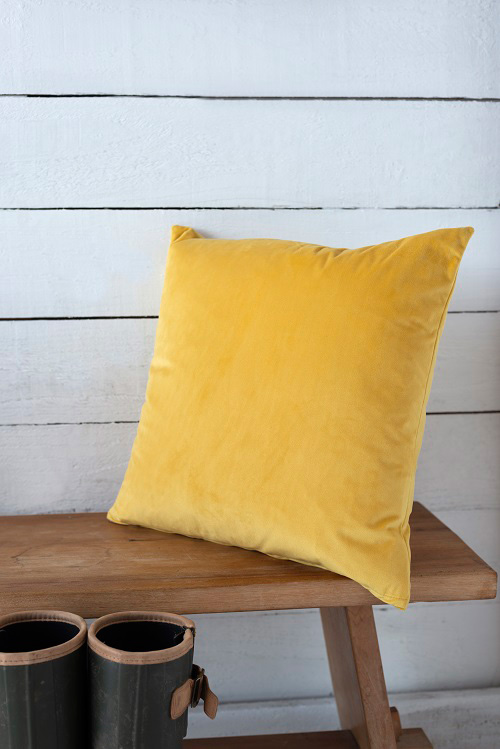 One for the maximalists. Our new
Saffron Velvet
is a highly pigmented cadmium yellow that adds drama and vibrancy to your decor. Choose from three lampshade styles and beautifully
plush cushion covers
to match.
WATERFORD CUSHION COVER IN ELEPHANT LINEN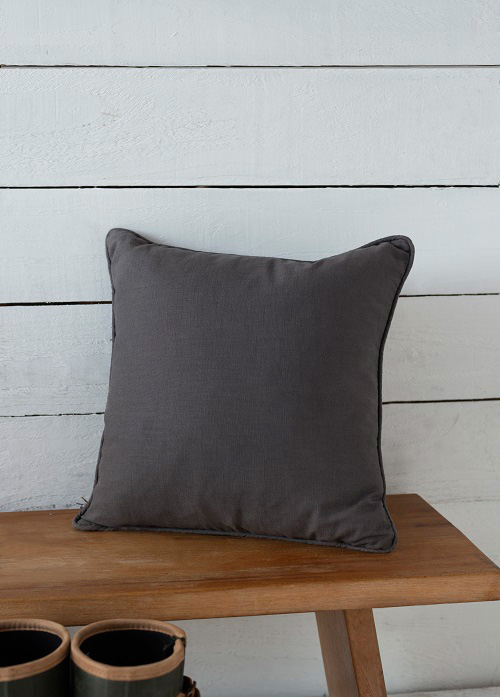 A softer take on matching with matt black, this charcoal coloured linen in Pewter has a gorgeous dusky tone. Our Waterford Linens are soft, tactile fabrics made up of a selection of gorgeous dusky tones that lend themselves beautifully to soft furnishings, whether curtains, shades or cushions. Linen is a beautifully soft yet tough natural fabric that is prized throughout the world for its versatility. Used everywhere from bedding to upholstery and lampshades, families would pass their linen to the next generation such is its durability and longevity.
2 GANG MODULAR GRID SWITCH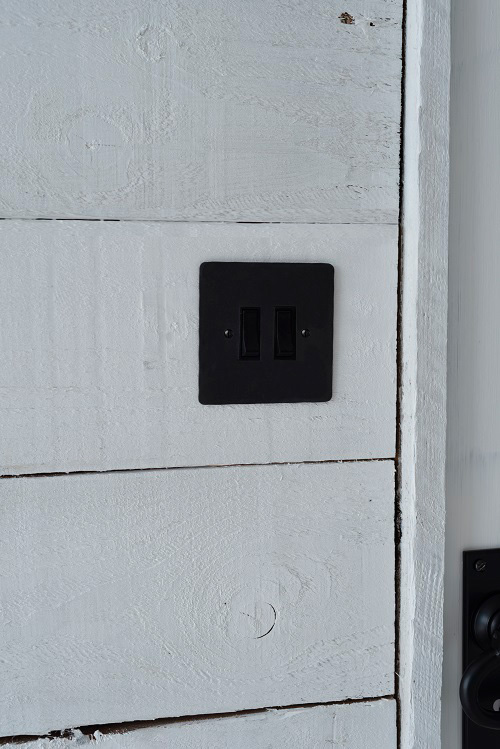 Give your room an instant update by accompanying your favourite Jim Lawrence products with our matching switches and sockets. When decorating a room it is sometimes easy to miss the little extras that can add the design flare your room was missing. A white plastic switch is a sight we are all over familiar with, but with us you can find a unique alternative and never have to forsake style for function.
This 2 gang black modular grid switch features a hand forged steel hammered plate, finished in matt black to complete the uniform look alongside your lighting and other accessories.
MADE BY US, LOVED BY YOU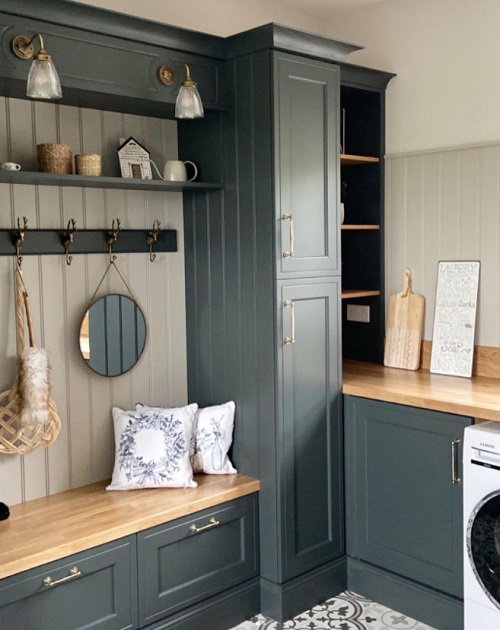 Do you want to see more? We are very proud of the quality of our workmanship and designs that we feel highlight the skill of our workers and their ability to make products that suit both contemporary and period properties. To view all of our home accessories and lighting visit our website.
For even more home interior ideas, keep up to date by following us on Instagram, Twitter and Facebook. Don't forget to tag us in your home updates– we love seeing our products in their new homes.