Optimistic as we are, the first week of full sun has us Brit's hauling compost bags and furniture out of sheds and throwing our windows open in delight. The prospect of garden parties and barbecues starts to drift into reality just like their smoky scent on the breeze…
With this in mind, we have compiled some of our favourite ways to refresh your exterior design this spring in preparation for the season ahead, helping you enjoy your exterior design even more in 2022.⁠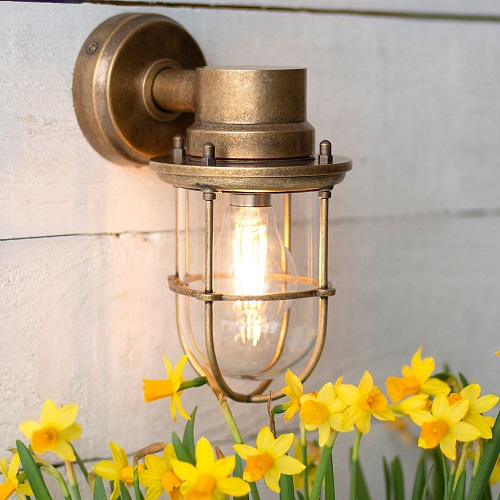 We've spoken a lot about the importance of your home exterior from a tidy, practical point of view in our conduit blog, but what about when you are simply looking for a stylish visual update? A beautiful and cleverly positioned outdoor light is exactly what you need to prepare your home for the season. We've picked 4 key areas in which you can refresh your exterior with a lantern, pendant, flush or wall light to add an instant a wow factor to your property.
1. UPDATE YOUR PORCH
If you only have a front garden, this is certainly a good place to start. Your porch and front door is the first thing yourself and your guests will notice when arriving. A large statement lantern like our Hackney Chain Mounted Lantern is an classic design for defining the entry to your home.  Traditionally styled on the carriage lanterns of the 19th century, it has a an elegant swan neck arm, gently tapering frame and hand blown glass sheets that gives it a beautifully robust and practical design that will lend your garden, porch or outbuildings a sense of timeless charm. Our wall mounted version of the Hackney Lantern is a handsome alternative.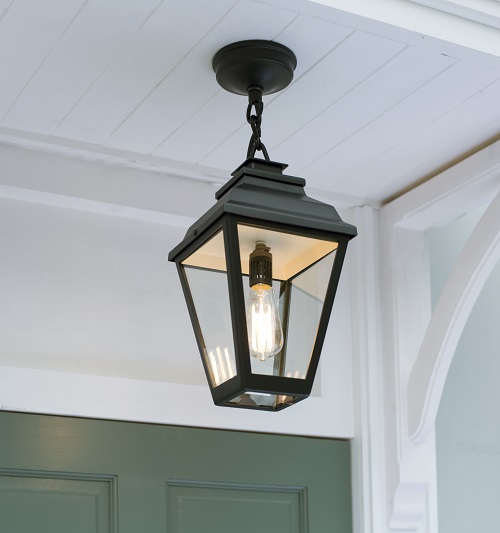 A pretty vintage-style forged iron lantern made for your porch, garden and exterior walls. The Georgian style Peacock Lantern is one of our most popular outdoor wall lights, the sweet detail of the back mirror reflecting light from the bulb at night and the beauty of your garden during the day. Hand crafted from solid natural brass, this Peacock has been lightly antiqued for a gently aged look. It also depicts a decorative peacock emblem stamped onto the cap. The Peacock Lantern is modestly sized so it will work well in a small space and it looks fabulous when hung in pairs either side of a doorway or in a row along a back wall. Available in Matt Black or with a vintage-style mirror.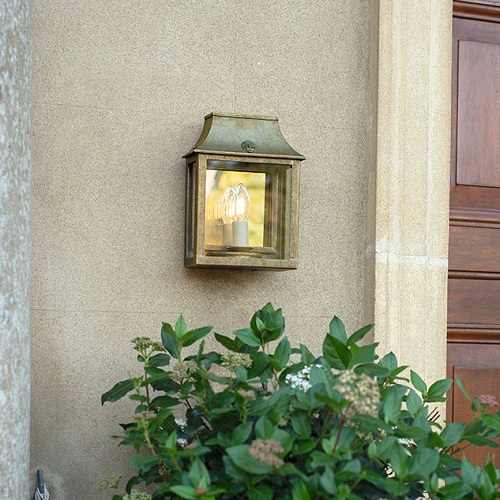 2. ENHANCING ATMOSPHERE
Candles should not be reserved for the interior. In fact, they can lend themselves beautifully to garden lighting. Our Hurricane Candle Sconce brings a touch of the past to the present. With its hand blown flared glass shade and elegant metal turnings, it is wonderful for adding a layer of soft light to walled gardens. Crafted from solid, natural brass and lightly antiqued for a subtle, aged look, the Hurricane is supplied with a hand blown, clear glass shade that will show off the gentle flicker of candlelight to its best effect. It will sit perfectly in any modern or period home wherever you would like to create a warm inviting atmosphere or where wiring is impractical.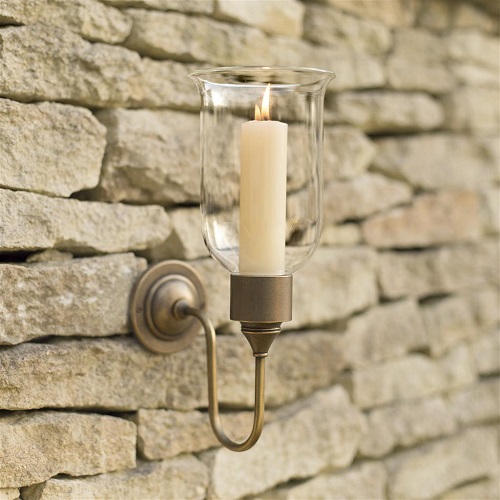 Sometimes garden lighting just needs to be pared back and simple, and there's a timeless element to the nostalgia that a campfire conjures…an enduring warmth that we can all relate to and enjoy.⁠ Our hand cast iron Oakham Fire Bowl creates a stylish focal point for outdoor entertaining, as well as a great source of warmth and light on chilly evenings. This bowl has been designed using a rough iron casting to look as rustic and rugged as possible, unlike most other fire bowls which use a thin metal spinning.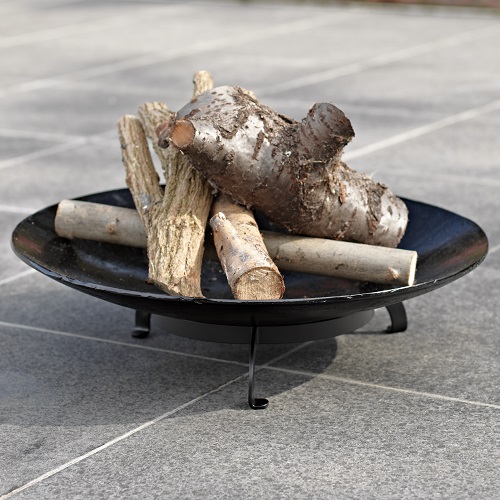 3. ILLUMINATE YOUR PATHWAY
Whether you need to light up an alley way beside your home or simply want to illuminate the darker corners of your home that face the garden, we have several solutions to suit your needs. Bring a designer touch to your garden by using our vintage-look brass outdoor Britannia Ship's Light to brighten up your pathways with the look of a salvaged, antique find.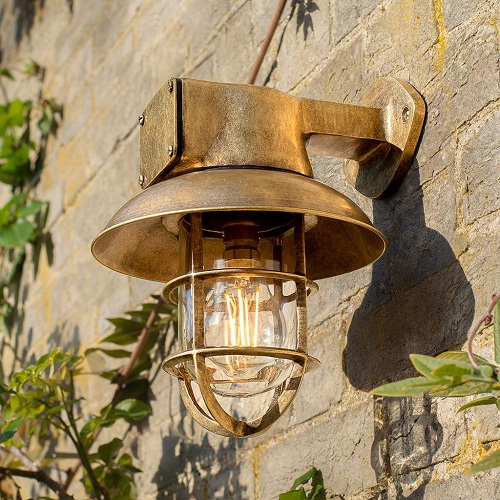 Inspired by the deck lights once found on ocean liners and steamboats, the Ship's Light is as stylish as it is hardy. Handcrafted and finished by us, they are made to last just like the high quality designs of days done by.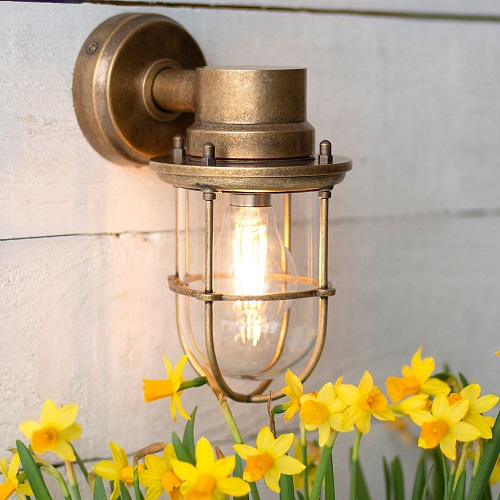 4. A FOCUS ON FUNCTIONAL OUTBULDINGS
This is where we like to get industrial. Whether a shed, garage, workshop or barn, we trust our industrial-inspired favourites will suit your needs. The Bulkhead Outdoor Light was designed with Jim's family farm in mind. He wanted to create a stylish and practical outdoor light that would also conceal ugly exterior wires at the farm. With its robust and vintage-inspired styling, it will be sure to weather any storm.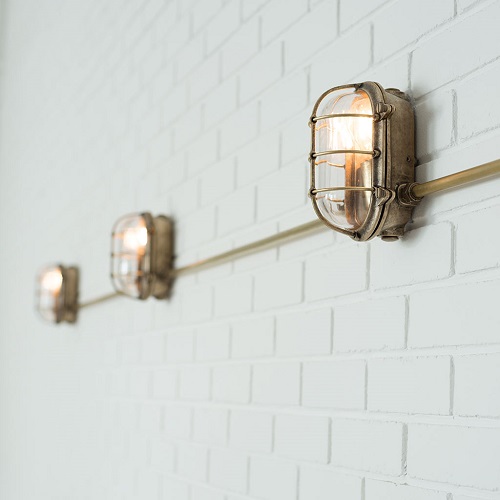 Our nautical themed Clipper Wall Light is designed for settings where a full scale lantern or wall light would be too large. It can also makes an excellent, subtle security light if used with a motion sensor. Similar in look to our best selling Ships Light, the Clipper's neater size lends itself to being used in a row or illuminating smaller architectural nooks.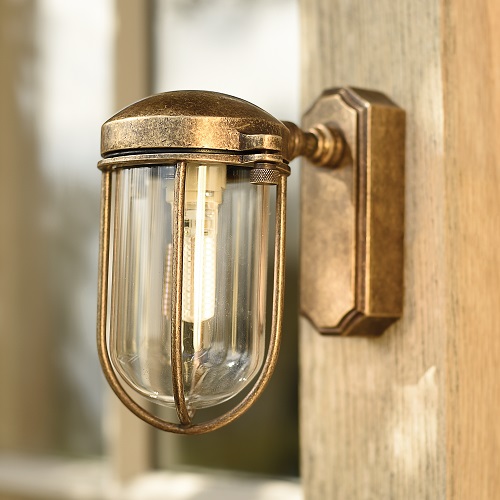 To browse all of our outdoor and garden lighting, click here. Don't forget to follow us on Instagram @JimLawrenceMade and tag us in your home updates – we love seeing our products in their new home!