Bedsides, hallways, sofas and even kitchen areas are always improved with a table lamp. But how to choose one? The question should really be, how do you want your room to feel? If you crave character, welcoming pockets of light and relaxed ambience then you're already on the right track.
Layering your lighting with table lamps is essential for adding depth and modifying the energy around you. Bringing in pools of light from different sources like table lamps is the key to a balanced atmosphere whilst giving you the option to dial up the cosiness. With us there's ample choice and, where shades are involved, an extensive catalogue of fabrics to bring a little texture and colour to your room too.⁠
We've picked our 5 bestselling designs to help inspire your next styling opportunity in your bedrooms and living areas.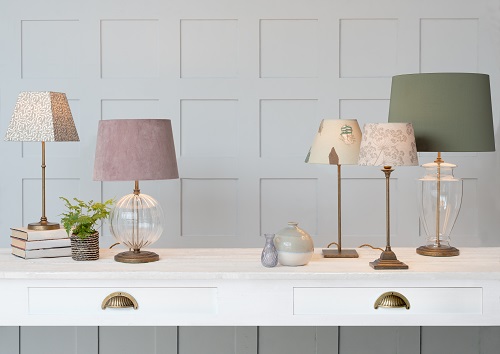 For the readers
Bedside table lamps generally sit on a fairly small surface, so you want a table lamp that doesn't take up too much room to leave space for your night time bits and pieces. The Mansfield is our bestselling bedside lamp and favoured for its elegant proportions but dainty size: perfect for propping on a bedside table to illuminate the pages of your favourite book. This is our popular Antiqued Brass version with a Cow Parsley 20cm Medium French Drum Shade in Reversed Soft Grey.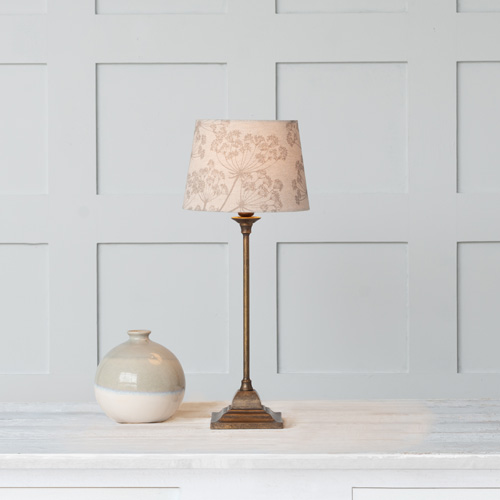 Unobtrusive whilst being simply stylish, perhaps our Hendon with its soft roundel detailing on the column might suit your style. Here we have used our delicate Grey Marl Arbour on a 25cm Square Sloped Shade to create an easy-to-achieve modern country look.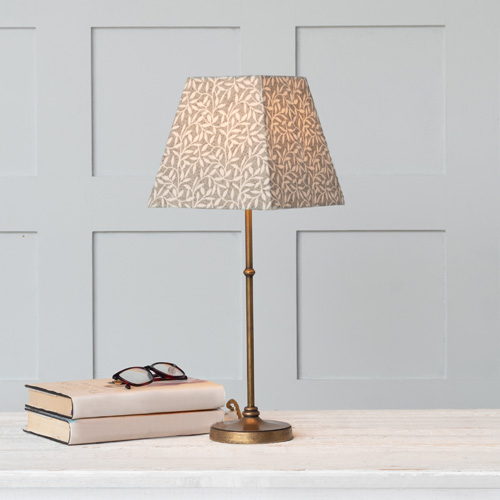 A smaller lamp that is ideal for placing on console tables and smaller side tables, the lovely Small Porter is oft found on side tables next to a plump armchair for practical but pretty task lighting. Also available in a larger table lamp size and a sofa lamp design for a cohesive look throughout the home. Paired here with a 25cm Empire Shade in our delightful Featherdown fabric in Stone, this lamp is an excellent base for showcasing patterned fabrics thanks to its pared back nature.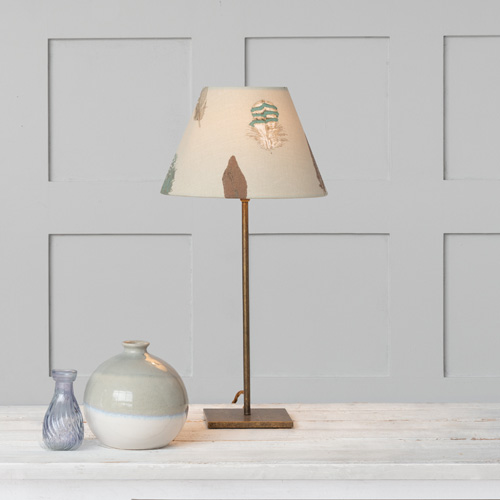 For the loungers
Living room lamps are often chosen for their visual impact as they make excellent decorative features in a room, as well as adding layers of light.  With its beautifully reflective hand-blown body, the Fluted Harleston is as much an ornament as a functional home accessory. Place in an area where you can appreciate its beauty at every hour whether switched off or on. For a soft but still sumptuous look, we have featured a 30cm Medium French Drum Shade in Dusky Pink Hunstanton Velvet with our warm Antiqued Brass.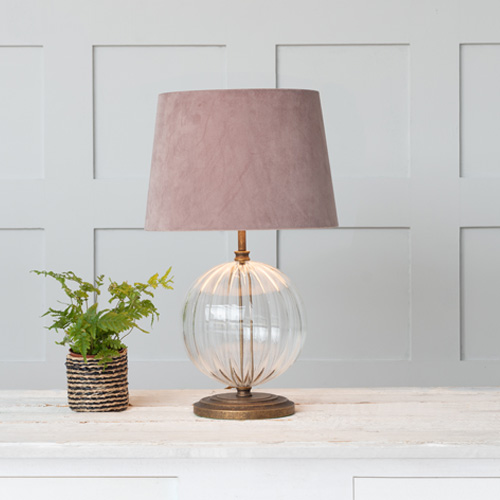 The sculptural Amersham is a wonderful option for living areas and bedrooms that requires a statement item without losing any sense of space. The hand blown glass base is elegant but sturdy enough to hold a large shade that will make a striking impact in your decor. We have combined the Amersham with a 40cm Medium French Drum Shade in Laurel Satin for a deep and dusky feel.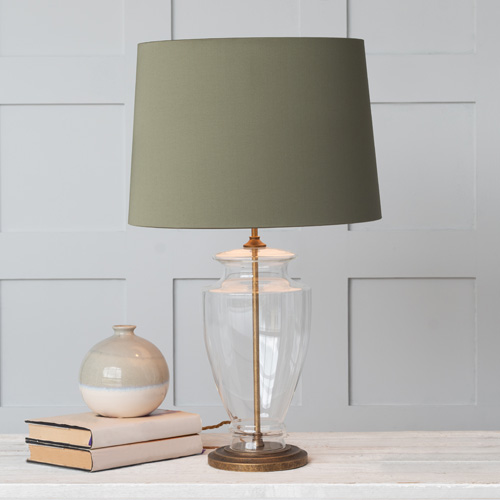 Choosing a shade
Before we delve into our guidelines, it's important to bear in mind there is no such thing as the wrong shade. If you love it – it's the right one. Experimenting with lamp shades in new fabrics, shapes and colours is great way to instantly update your home's style.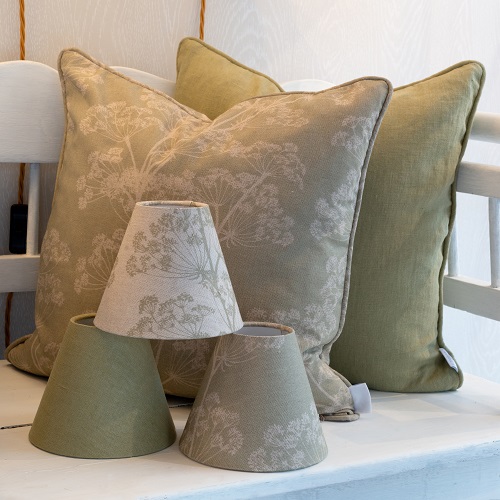 Table lamps come in all shapes and sizes so it is important to keep the shade proportional to the size and shape of the base . You don't want your look dwarfed by a huge shade or unbalanced by a small one. A perfectly fitting shade should hide the bulb holder underneath without encroaching on the lamp base itself.
Measurements
Lamp shades are sized by measuring cross the diameter at the bottom of the shade – so if the shade diameter measures 25cm across the bottom, then it is known as a 25cm shade. As a rule, you should be looking for 15-20 cm wide shades for a smaller lamp base, between 20-35 cm for an average lamp base and anything up to about 50 cm for a larger lamp base.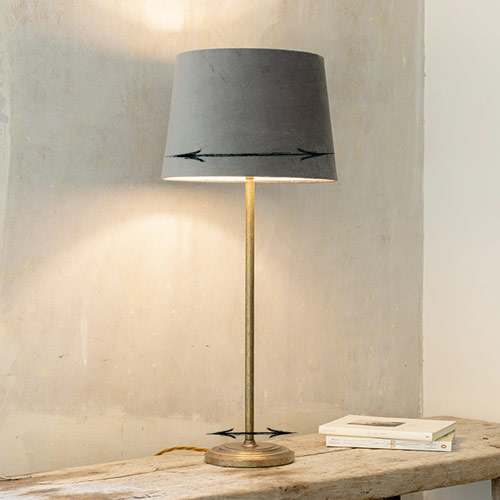 A rough guide to working out the size of shade you require is to measure the height of your table lamp from the bottom of the base to the top of the lamp stem just below the lamp holder. The shade you select should then have a diameter of plus or minus 5cm of this measured height. So, if you have lamp that is 40cm tall, you should choose a shade that is 35 to 45cm wide.
Shape
As a rule of thumb, we say the shape of the shade should reflect the shape of your lamp base. If the base is straight, square or rectangular, a similar shaped shade that mirrors its lines will look better than a round one. If your lamp base is round or tapered, a sloping or straight round shade such as an Empire, French Drum or oval shade will suit it. As always, there is an exception to the rule and in this case, it is column lamps which suit any shape of shade.
Colour
The fun part: which is entirely up to you. For some inspiration, however, we suggest taking a look at our latest fabric collections which now feature spicey linen tones and striking modern country patterns. Gentle greens and vibrant blues are just some of the brand-new hues ready to lift the darker corners of your home.
Made by us
All of our lampshades are handmade here in our Suffolk workshop by our talented soft furnishings team.
By focusing on quality of materials, craftsmanship, outstanding customer service and the well-being of the Jim Lawrence community, our mission is to create stylish, designer quality fixtures and fittings for the home made with natural materials. It is our belief that by selling directly to our customers, we can guarantee that every product we sell meets the exacting quality control standards we have set and for which we are renowned.
We have come a long way since our farm days and you may no longer have to bump down a track to find us. But our ethos remains the same: to provide individually handmade products and the highest possible levels of customer service. Read the whole JL story here.
Styled by you
Do you want to see more? We are very proud of the quality of our workmanship and designs that highlight the skill of our workers and their ability to make products that suit both contemporary and period properties. View all of our table and desk lamp designs here.
For even more home interior ideas, keep up to date by following us on Instagram, Twitter and Facebook. Don't forget to tag us in your home updates– we love seeing our products in their new homes!