The team behind Thatched Cottage Cotswolds have created a beautifully cool country holiday cottage with sophisticated brass details throughout. Quintessentially British complete with thatching, classic period features and located in the picturesque Cotswolds, it's a perfect home away from home.
We spotted some beautifully styled Jim Lawrence products amongst the sweet wooden panelling and stone walls, and wanted to delve a little deeper into this stylish cottage décor. We spoke to owner Vicky about the quirks of period homes and how to stay in tune with a cottage feel without becoming twee…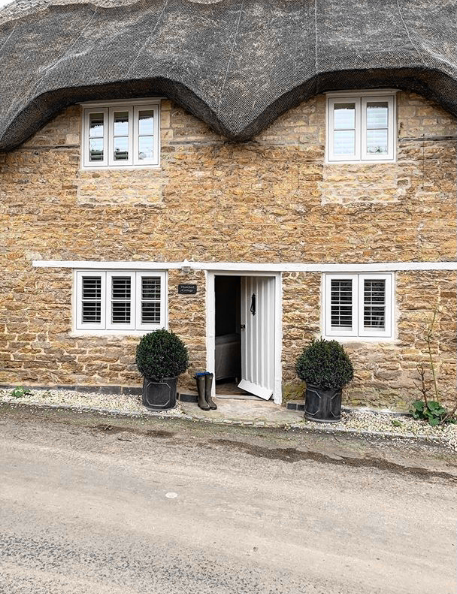 The first room we spotted of yours was the perfectly quaint double bedroom with shutters, beams and our dainty Curtis Spotlights. What made you choose these lights over a pendant or other styles?
When we were designing thatched cottage I knew the look we wanted to create. The cottage walls are mostly sloped so having the chance to add some panelling was very exciting too as I adore panelling. It has totally transformed that room. The tongue and groove in the kitchen actually slopes with the wall which I love!
I chose the Single Curtis Spot Lights because they perfectly fitted in with the beautiful panelling as a backdrop.
I particularly liked the traditional twist of the fabric covered wire, and they also can be angled to work perfectly as a bedside lamp.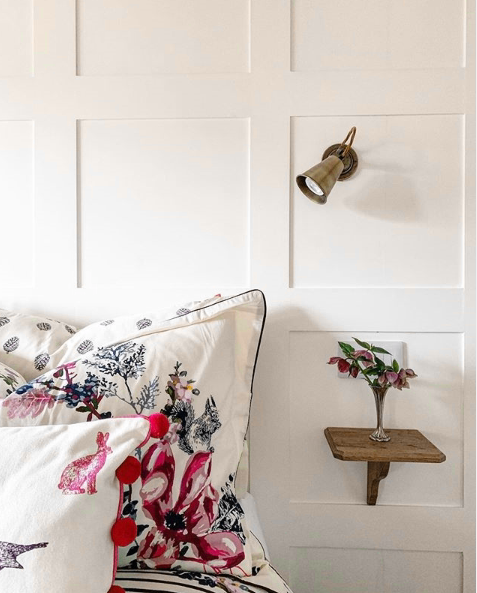 The cottage is a 17th century property, how does the history of the building effect your interior design choices?
To be the custodian of these beautiful buildings as we are, it's always the feeling of the building as well as the look: a quintessentially cottage feel but not twee. I think if a house looks good naked you've done well. A focus on floors, walls, windows and doors etc. I wanted to keep it light, timeless and uncluttered but cosy. A serene colour palette. I'm a huge fan of light white interiors adding colour with picture, cushions and throws.
Period homes have their quirks, so which room was the most challenging to style and why?
Probably the sitting room. The quirk here is the shape. Originally there would have only been one room up and down, with a ladder to reach the room upstairs. With the addition of stairs some years ago, this narrowed the room somewhat, so positioning furniture was key. Having a sofa and a separate reading nook works really well here, as the inglenook dominates the room that end which is a feature in itself. We added some old tin buckets re-purposed for wood and kindling, plus our gorgeous Harrods box found in an antique shop fits perfectly for a cosy coffee table. It's a great place to sit in the evening enjoying the fire and a glass of wine, or to cuddle up on the sofa and watch a film.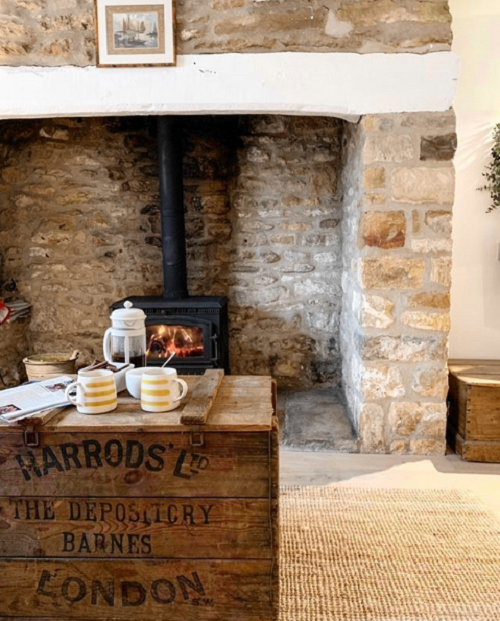 What are the main perks of your charming Cotswolds location?
We are in Whichford, a small village famous for its pottery so have regular visitors attracted to the area. There is a classic car meeting every third Thursday of the month too, and fortunately still a thriving village pub which is a rarity now in lots of villages. It's perfect if you like peace and quiet: no street lights and no traffic! The dulcet tones of the nearby St Michaels church are very soothing and feel classically English countryside.
Was it always your intention to set up the cottage as a holiday destination?
Yes, we love the area so much and will be using it ourselves more as our children grow up and we have more spare time.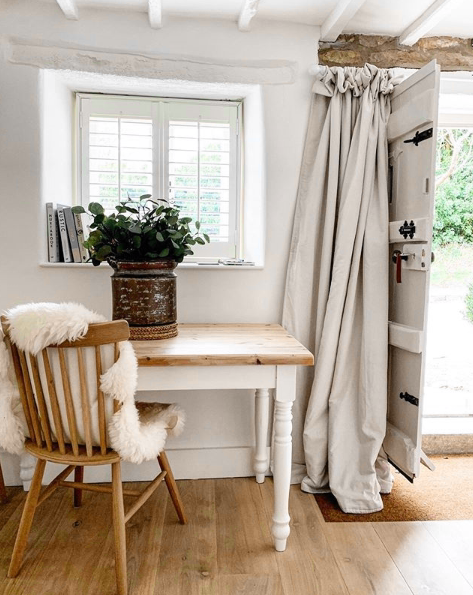 In your opinion, what are the three key ingredients for creating the perfect home away from home?
A great bed, great bedlinen and a great shower. And bath… That's four! Having travelled extensively in my time at BA these were the most important aspects of creating a home from home feel and this is where we started.
And you definitely chose a good bath! Talk us through the design process for that heavenly bathroom of yours.
I have always loved the idea of a bath in the bedroom so having the opportunity when we renovated the cottage was a dream come true. It is not for everyone, but when you are on holiday it's perfect. A bit different. A lovely little luxury. The single Barbican Pendant Light by the entrance is perfect too, we hooked it over to the side and it gives the perfect glow while relaxing in the roll top bath. A great spot to relax after a days exploring!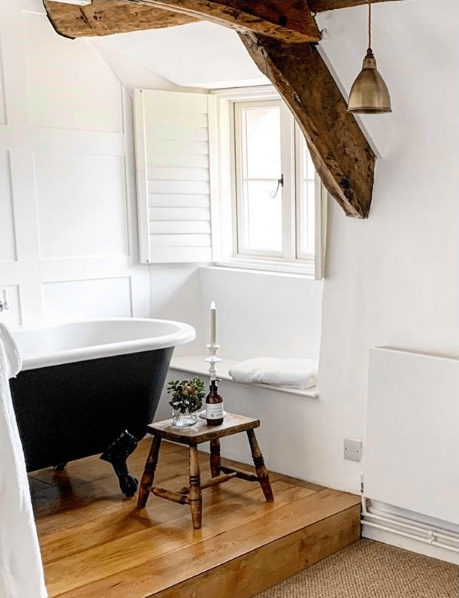 Of course we love your lighting choices, but where do you find inspiration for the rest of the décor?
My inspiration comes from the looks that I love on Pinterest and Instagram. There's some incredible talented people out there and these platforms have transformed the way we all live and design houses. For me personally I think stay away from trends, traditional and timeless elegance is key. Less is more.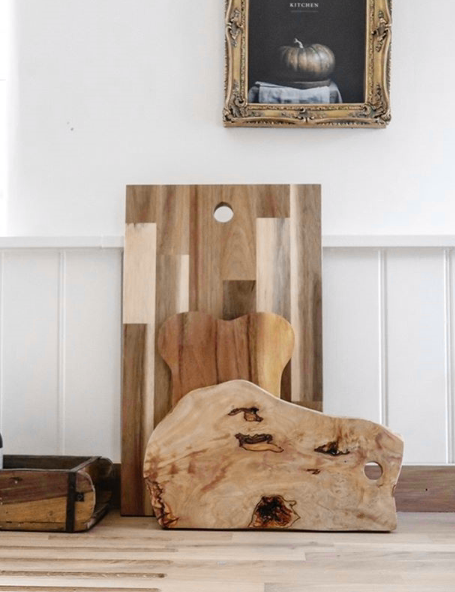 Thatched Cottage looks ideal for a cosy getaway in the autumn and winter months with its gorgeous fireplace. How do you recommend refreshing home interiors for the lighter summer months?
The summer months are really about throwing open the shutters to a garden abundant with shrubs, jasmine, honeysuckle and roses, feeling like the outside is coming in. The scent of these plants is gorgeous. We have added some beautiful slightly bonkers flowery armchairs  (a collaboration with Joules) for the summer months. In winter we have lovely leather chairs for a more muted palette.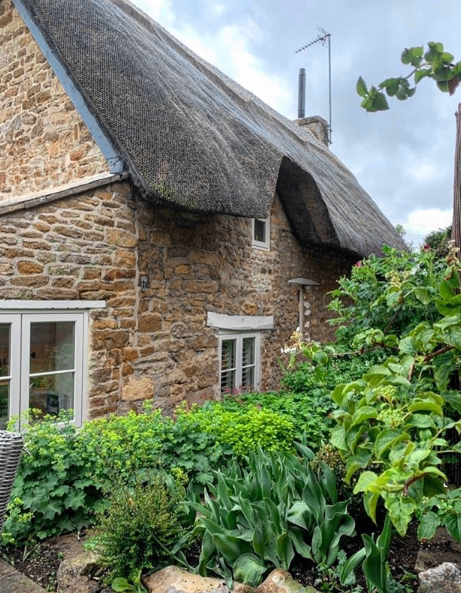 Last but not least…what's the next step for the Thatched Cottage?
The next step for Thatched cottage is to continue to be an inspiration for others. The amazing feedback we have from a followers on Instagram is heart warming, having inspired many other home owners doing up similar properties. We'd love to be featured in a Homes magazine one day, but our intention was to offer a boutique hotel room in a whole cottage was our ultimate goal which I feel we have hopefully achieved.
We think it's safe to say Thatched Cottage has exceeded this goal – but why not find out for yourself? Book a stay in this idyllic Cotswold's location here. To follow their décor journey, take a peek at their Instagram @thatchedcottagecotswolds.


Single Curtis Spotlight, Monkey Tail Forged Window Latch, Barbican Pendant, Bletchley Roll Top Soap Basket
To stay up to date with Jim Lawrence, follow us on Instagram, Facebook and Pinterest. To view our full lighting collection, visit our website. Happy shopping!