Adding a decorative shade will invigorate a room and enhance existing light fittings with contrasting fabric or a beautiful blend of colour. Easy to install Colourful Candle Clip Lampshades offer excellent versatility for all styles of wall lighting.
Handmade in Suffolk by our talented Soft Furnishings team, there is a wide offering of clip on lampshades in a classic candle shade shape, french drum or dainty tapered style. Expertly crafted to add a decorative touch of colour and pattern for livening up darker nooks of the home, these shades are easy to clip on and swap between fittings, allowing for greater personal choice and creativity.
FRENCH DRUM CANDLE SHADE IN COW PARSLEY, £24.38


Featuring an etched Cow Parsley design, this new fabric has a linen-look that brings understated elegance to any room when paired with the proportions of a French Drum Candle Shade. The gently rustic weave is available in the popular country colours of Duck Egg Blue, Soft Gold and Soft Grey, perfect for incorporating elements of the enduring country cottage trend into a lighting scheme.
TAPERED CANDLE SHADE IN PARCHMENT WITH TRIM, £14.73


More contrast than colour…available with either cream or black trim, these Tapered Candle Shades are hand crafted from thick parchment in a creamy off-white. The neutral colour makes them particularly versatile, complementing natural building materials as well as sitting bold against more colourful wallpapers and paints. A perfect choice for homes with limited space but those keen for their lighting fixtures to stand out against floral chintz or bright painted walls. Choose from Parchment with a Cream or Black Trim.
HUNSTANTON VELVET CANDLE SHADES, £18.40

A collection of Hunstanton Velvet Candle Shades comprised of contemporary tones inspired by the sea and skyscapes of north Norfolk, evoking the dramatic sunsets and vast, stretched out sands of Hunstanton and the surrounding coastline. This richly tactile velvet will create a sense of drama wherever it is used, adding a further touch of luxury to your existing light fittings. Shown here in Burnt Orange, Saffron and Teal, these are just a handful of the bold colours available.
LIMITED EDITION CANDLE SHADES BY LAURIE CRIPPS, £22.90


Enjoy printmaker Laurie Cripp's designs on a selection of our stylish modern country fabrics, available in a range of original classic Candle Shades exclusive to Jim Lawrence. A wonderful choice for the country cottage, they bring pretty country motifs into the home for those who want to highlight their light fittings in a playful way. Shown in Country Green Honey Bee and Duck Egg Blue Wheatfield, there are plenty more of Laurie's prints to choose from to suit your home.
LONGFORD GINGHAM CANDLE SHADES, £18.40

For the maximalists, checks are trending. Gingham and chequered decor is everywhere, bringing bold backdrops to homes in the forms of lampshades, upholstery and even wallpaper. These pretty clip-on shades embody the traditional detailing of country homes, made in in Stone Grey, Natural or an Azure Blue Gingham cotton so you can weave this enduring style throughout your home with ease.
BATHROOM CANDLE SHADES, FROM £23.50

Designed to adorn a selection of Jim Lawrence Bathroom Lights, these Bathroom Candle Shades come in a variety of Jim Lawrence fabrics to blend into or contrast with the rest of the space. With a broad choice of colours and textures, there is no need to forsake style for function now you can extend beautiful style into all rooms of the house. Shown in Stirling Check Lovat Wool, Hunstanton Velvet in Dusky Pink and a Blue Herringbone Lovat Tweed – proof you can find a fabric option to best suit you.
FLORAL CANDLE SHADES, FROM £18.40

Enjoying nature will never go out of style. We have designed a variety of botanical fabric lengths which led themselves beautifully to our classic candle lampshades. Choose from fabrics like our floral Blue Bloom, Red Isabelle Linen and Grey Marl Arbour to invigorate your wall sconces with a little pattern and colour.
MADE BY US, LOVED BY YOU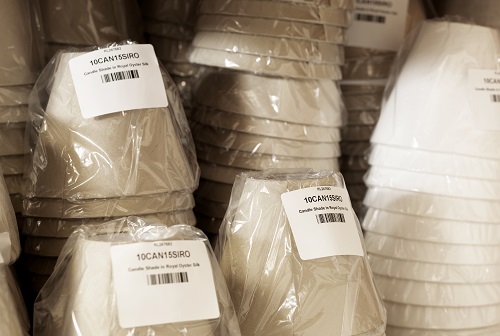 All of our lampshades are handmade here in our Suffolk workshop by our talented soft furnishings team.
By focusing on quality of materials, craftsmanship, outstanding customer service and the well-being of the Jim Lawrence community, our mission is to create stylish, designer quality fixtures and fittings for the home made with natural materials. It is our belief that by selling directly to our customers, we can guarantee that every product we sell meets the exacting quality control standards we have set and for which we are renowned.
We have come a long way since our farm days and you may no longer have to bump down a track to find us. But our ethos remains the same: to provide individually handmade products and the highest possible levels of customer service. Read the whole JL story here.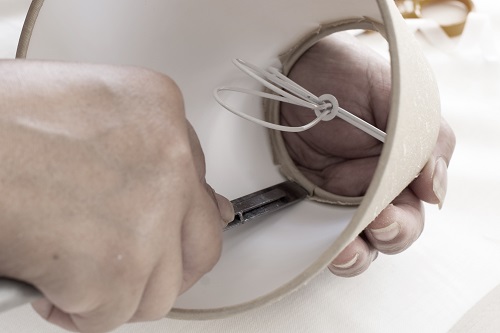 Do you want to see more? We are very proud of the quality of our workmanship and designs that we feel highlight the skill of our workers and their ability to make products that suit both contemporary and period properties. To view all of our home accessories and lighting visit our website.
For even more home interior ideas, keep up to date by following us on Instagram, Twitter and Facebook. Don't forget to tag us in your home updates– we love seeing our products in their new homes!