We came across the luxurious and refined Lympstone Manor Hotel through Meraki Design Studio, who have featured our lights throughout this beautiful contemporary country house hotel. Chef and hotel Patron Michael Caines holds two Michelin stars, and was keen for guests and diners at the Lympstone to experience the exceptional in every way.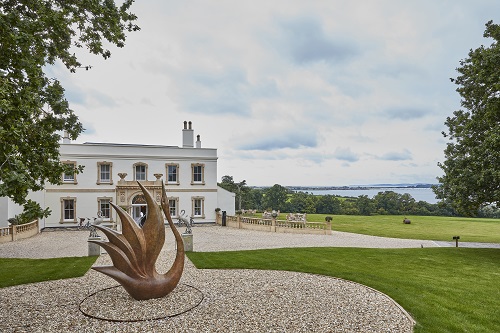 "When creating and designing a hotel and restaurant, lighting is a key part of the ingredients." says Michael. "Not only do you need to think about the practicality and its uses when it comes to the bedrooms, and the zoning of those rooms, but also how you set the ambiance of the restaurant too. At Lympstone Manor, we needed to create a cosy and comfortable environment for guests when dining, but also light appropriately so that they can read menus and also have the right atmosphere and mood."
The beautiful hotel features 3 restaurants and 21 guestrooms boasting panoramic views of the Exe estuary and surrounding Devonshire hills. We spoke to Meraki's designer Maria about transforming Michael's vision into a reality, and ways in which you can bring a touch of hotel glamour into your own home.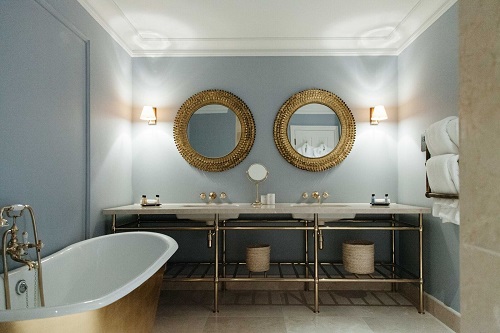 Firstly, we absolutely adore how you have styled our lights throughout the hotel. What's the first step you take when tackling a project of this size?
We initially did a lot of background research of the property – the grounds of the hotel as well as the area. This helps us establish a concept with an overall look and feel. We then broke down the project into 26 rooms and distributed it amongst five team members. Breaking up the project into smaller projects really does help make it less daunting and easier to manage.
The Lympstone exudes quality and finer living. How did you go about translating this through the décor?

We focused on the restoration of the original architecture of the building with all its ornate ceiling cornices, wall mouldings etc. The furniture is referenced to tradition but with plain contemporary fabrics focusing more on texture, such a luxurious velvets, soft linens in tonal earthy colours giving it a timeless look and feel.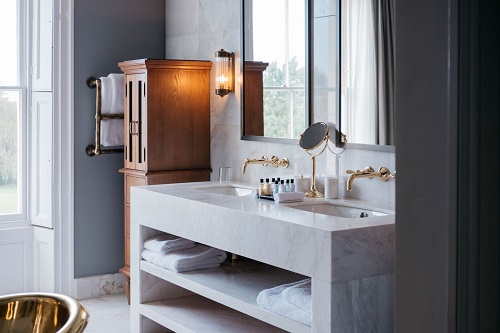 The bathroom ties in warm wood and brass for a timeless sophistication, paired with pearly marble for a luxuriously slick look. How can we bring these elements into our bathrooms at home without it costing an arm and a leg?
There are great quality printed marble tiles out there that cost a fraction of the cost of real marble but give the same effect. Consider using off the shelf furniture and adapting it to a vanity unity by making a hole at the top. eBay is a great place to look. You will land up with something unique and beautiful.
What would you say is the key to perfect bathroom lighting?

The option of downlighters, wall lights and some floor lights all on dimmer switches. This gives the best choice for optimum mood. We love wall lights next to mirrors as it is the most flattering and can be decorative as well as practical.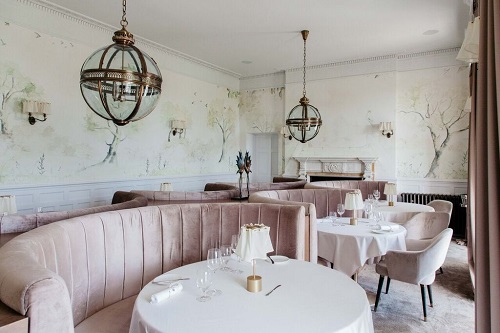 With Michael Caines Michelin star cuisine served throughout the several restaurants, we know the food alone would make for a perfect evening. The fine dining space features sumptuous blush taupe sofas, hints of gold and a pastel mural wallpaper which together accentuates the feeling of luxury. What do you think are the 3 must-have elements in creating an exquisite dining experience?
We try to create an environment that relaxes the rest of the senses to really allow one to focus on the food. The lighting is soft, the acoustics are well cushioned, the tables are spacious with comfy seating all in a similar colour palette of gold's and pastel tones. Nothing is visually overwhelming but the materials used all exude a sense of well established luxury.
At face value the Lympstone Manor House is show-stopping in its own right. How did the history and external features of the building come into play when designing a new interior?
The building was very rundown but there where elements of the original features still intact that we used as references for any restored or additional features. This kept the building authentic to its original design and reflected it's exterior.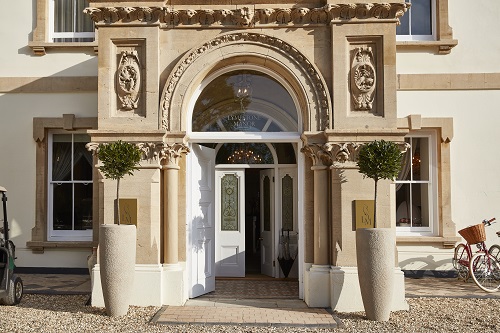 Which room of the hotel has been your favourite to design?

We loved all the rooms as they were each so different. Because the building wasn't a purpose built hotel, each room has a different layout with its own lounge area and unique bathroom.
What is next for Meraki Design Studio?
We are working on an amazing seven bedroom house in Wimbledon which is due to complete over the summer, as well as the phase 2 of the mill at Sonning and a 19th century flour mill converted to a bar, restaurant and theatre in the 70's. We completed the bar 3 years ago and now are undertaking the restaurant which will be completed by the end of the summer. We are also launching our very own products soon which is very exciting!
Inspired? Book a stay at lovely Lympstone here. To see more of Meraki Studio's deluxe design make sure to follow them on Instagram. If you want to pin these rooms and log them for inspiration later on, go to our Pinterest board. To get the Lympstone look, head over to Jim-Lawrence.co.uk.