Adding a decorative cushion or two is a quick and easy way to invigorate your bedroom or living room with colour and texture whilst keeping to your budget. Small changes can have a larger impact than you may think, helping to freshen up a sofa, bed, armchair or home office with a contrasting fabric or beautiful blend of colour. We've plucked our favourite cushion covers from our home furnishings collection and split them into different colour categories to help you achieve an easy home update that gives you lasting results.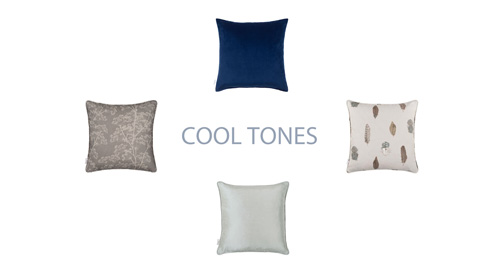 Darker jewel tones in rich blues might be colder in tone, but never fail to make a room feel like home. The colours of our Hunstanton Velvet Collection were influenced by the sea and skyscapes of north Norfolk. Wanting this range to evoke the dramatic sunsets and vast, stretched out sands of Hunstanton and the surrounding coastline, we had to include a deep, dusky Navy. Pair with greys or contrast with mustard yellow for a striking interior style.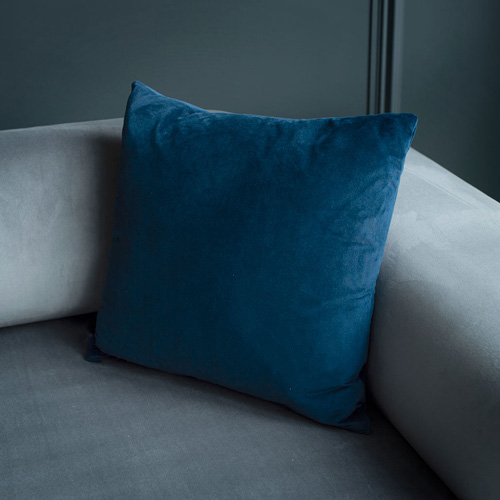 This natural cotton material is printed with our delicate 'Featherdown' motif on a pale Duck Egg or Stone background, a subtle nod to our agricultural heritage. Perfect for a quick restyle of your living areas and bedrooms, these cool cotton tones will bring a gentle hint of colour without disrupting your existing colour scheme. Shop the whole Featherdown Collection featuring lampshades and cut fabric lengths to complete this quintessentially country look.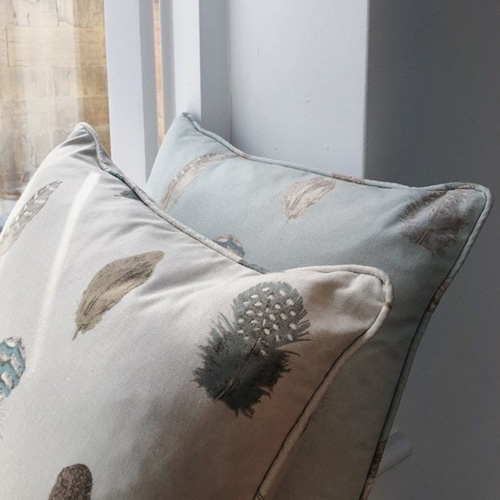 Can you get any more classic than a beautiful French Grey Silk? Our first choice for cooly turning up the elegance dial up on your bedspread, French Grey is not too relaxed but not too lavish. This is a fabric that can dress up any space with just the right amount of class. A pure silk dupion that works well in any colourway, it has a tightly woven texture that produces a crisp fabric with a highly lustrous surface and a prominent slub; perfect for plumping with a gorgeous feather pad inside.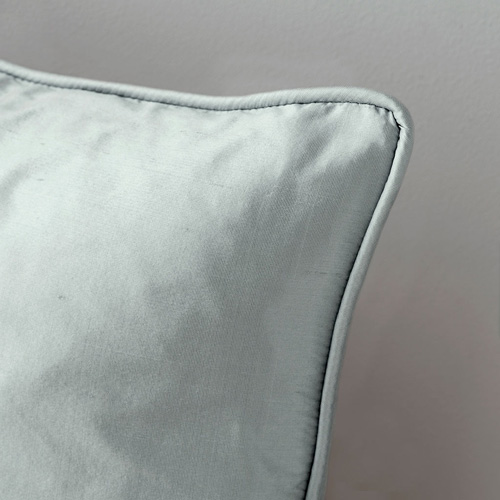 Our Cow Parsley collection is not only celebration of our story as a brand, but looks superbly pretty in the home. This fabric features an etched Cow Parsley motif that perfectly encapsulates our agricultural heritage. Still based on the farm where the business began over 20 years ago, Jim and Sheena are well versed in the landscape of rural Suffolk. In spring and summer, the familiar sight of Cow Parsley is laced through the hedgerows, dancing its way down the bumpy country lane customers once travelled down to find us. This Soft Grey cushion was created to emulate the fresh dew of early spring mornings, autumnal woodsmoke and the crisp frost of winter on the farm: sensory memories that transcend the seasons.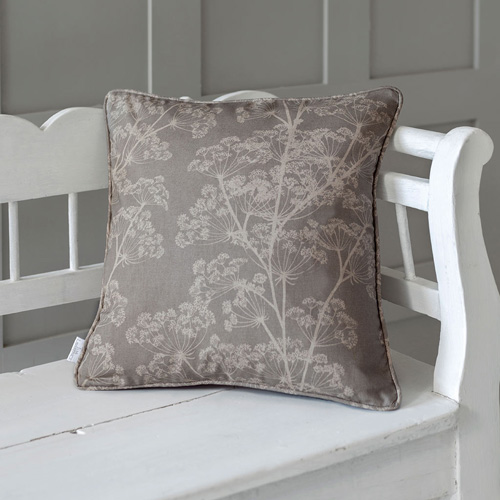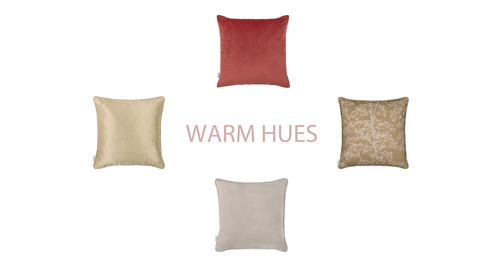 The Hunstanton Velvet in Burnt Orange is one for the drama seekers. This richly tactile velvet makes a statement wherever it is used, perfect for providing a touch of luxury to a sofa or armchair. Use to contrast with blues or blend with faded earth and gold tones if you prefer a more mellow look.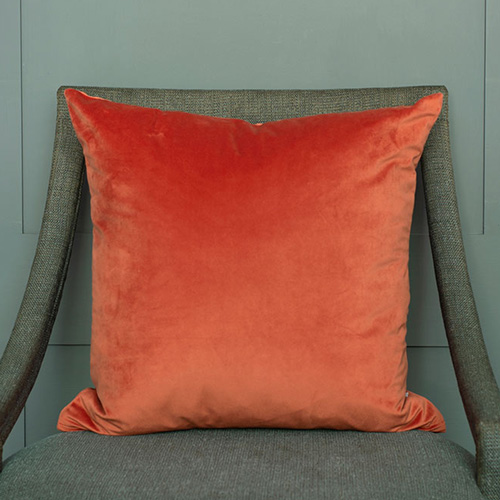 Cow Parsley in Soft Gold is for the modern country abode. Soft Gold is inspired by the glowing warmth of late September light, fire embers in December and the flourishing tones of daffodils come March. This cushion cover has a gently golden hue that will light up your home with the pretty details of rural England.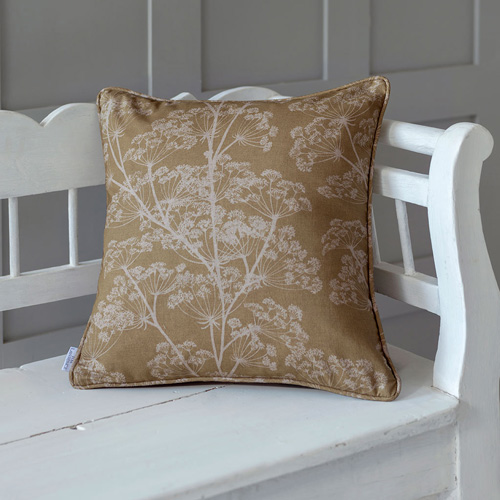 Our Waterford Linen is a beautifully soft, tactile fabric in a selection of gorgeous dusky tones. This Cushion Cover is shown in Limestone: one for the bohemians. Wonderful when blended with other raw, organic materials, natural neutrals complement eachother for a modern rustic feel in the home.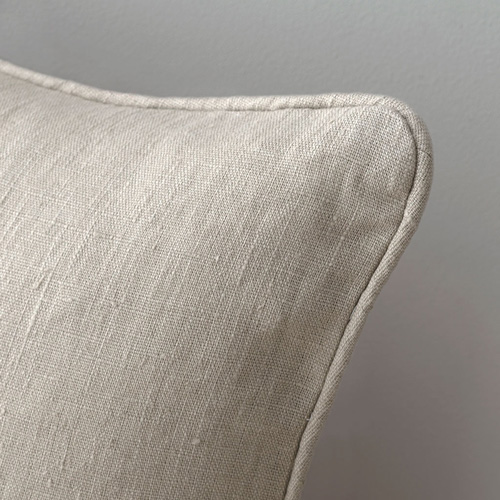 Our stunning Royal Oyster Silk Cushion Cover is a pure silk dupion in a beige cream colour that works with any colourway and suits any style of room. Our most popular fabric choice for a Candle Shade, why not mattch this look with your wall lighting? Silk is a uniquely beautiful fabric with a luxurious quality and richness that cannot be reproduced in other materials. It has a fabulous natural sheen and distinctive weave that makes it much sought after in both period and contemporary homes.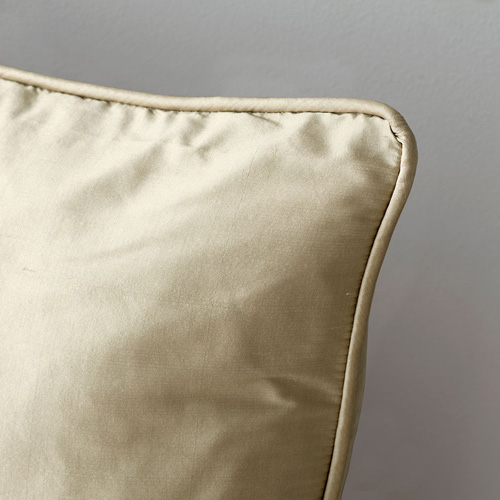 MADE BY US, LOVED BY YOU
All of our cushion covers are handmade here in our Suffolk workshop by our talented team of cushion makers – ready to be shown off with a plump feather pad.
By focusing on quality of materials, craftsmanship, outstanding customer service and the well-being of the Jim Lawrence community, our mission is to create stylish, designer quality fixtures and fittings for the home made with natural materials. It is our belief that by selling directly to our customers, we can guarantee that every product we sell meets the exacting quality control standards we have set and for which we are renowned.
We have come a long way since our farm days and you may no longer have to bump down a track to find us. But our ethos remains the same: to provide individually handmade products and the highest possible levels of customer service. Read the whole story here, and view our full collection of products.