Industrial design marries sleek modernity with old warehouse charm to create the perfect play of contrasts in your home. You don't need to live in a loft space, converted factory or even in an urban environment to achieve an industrial look – you just need to follow a few basic principles and you can completely revitalise your space.
If you are looking for lighting ideas, we have industrial style lighting in vintage and contemporary styles as well as pendant and wall lights influenced by reclaimed pieces and agricultural finds from Jim and Sheena's Suffolk farm.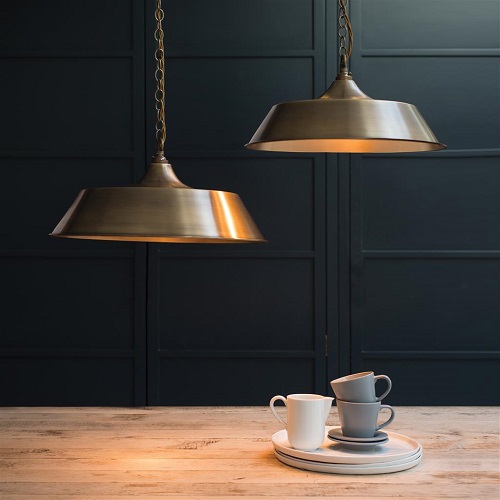 We're lucky enough to live in a country with a rich industrial history, whether it's the mills, steelworks, warehouses or factories of our cities, or the agricultural landscape of the countryside. What better resource to influence your design choices or creative thinking?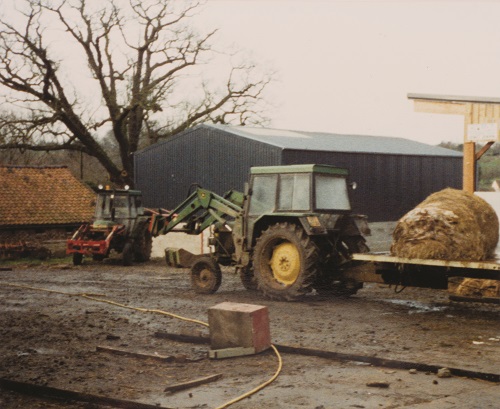 Use your surroundings to inspire you. At Jim Lawrence we often go back to our farming roots to find ideas for our lighting and ironmongery. Our Bulkhead Outdoor Light was originally designed with Jim's family farm in mind as he wanted to create a stylish and practical outdoor light for a converted cow shed. Similarly, our beautiful brass conduit kits were created to help Jim and Sheena tidy up exterior wiring on their barn. You can find out more about this clever accessory in our helpful conduit guide.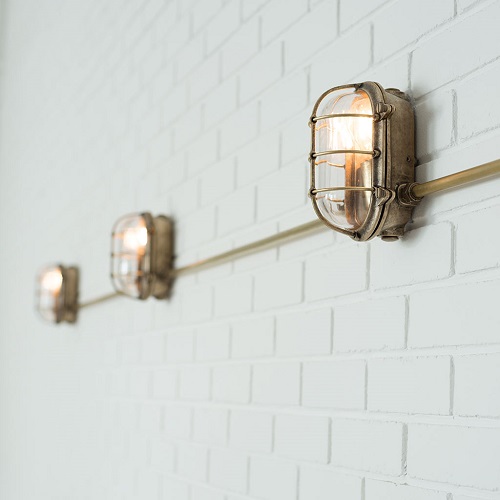 UNDERSTATED DESIGN
Industrial style lighting is all about practicality and versatility. Clean lines, simple forms and stark contrasts are a must, with an emphasis on natural materials and bare finishes. Made by us in our Suffolk workshop using traditional techniques, it's no wonder our designs lend themselves beautifully to these more rustic hand finished colourways.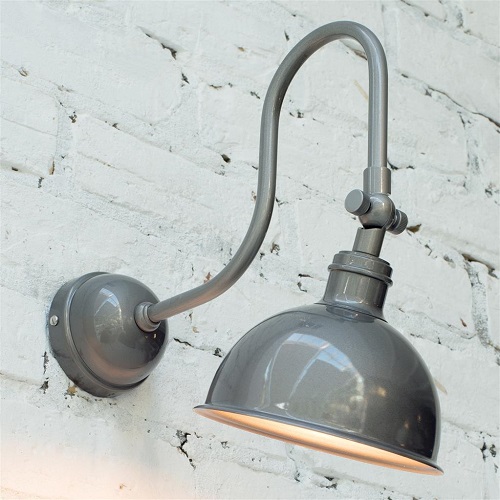 Our handsome, retro-look Aldgate Wall Light blends a classic lighting design with an industrial look to fit perfectly into the trend for stylish, vintage style lights for loft space living or kitchen lighting schemes. With its graceful swan neck arm and fully adjustable head that can be moved forwards and backwards, the Aldgate is the perfect combination of practical and stylish. Shown above in our contemporary Polished finish, this Aldgate is manufactured from solid high grade steel and polished to a deep, gunmetal grey.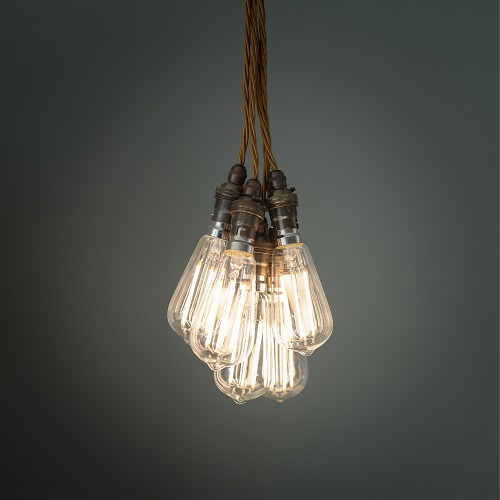 To truly get the industrial look, find fixtures where the inner workings of the light are on show, such as a metal lamp holder, visible or oversized bulb and lots of braided cable. Originally, our cage-like Cowley Pendant was made to show off the beauty of a bare Squirrel Cage Bulb that was made for illuminating the sparse brick rooms of an old piggery on the farm. Refined by our design team to blend into a manner of interiors, you can now enjoy it in your home too.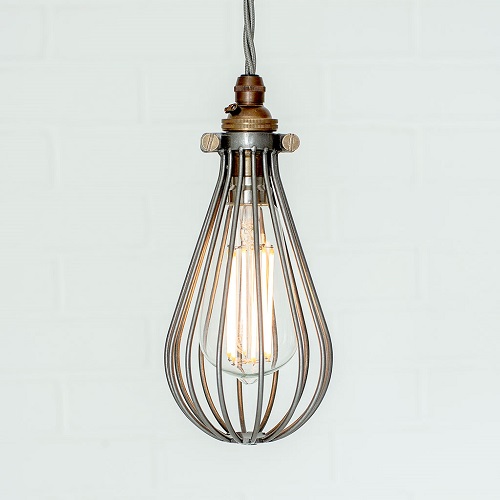 MAKE THE MOST OF MINIMALISM
Make the most of your space by creating a clean, uncluttered interior that focuses on practicality and ensures your attention is drawn to your fixtures and fittings where you can make an impact with the bare essentials. Hanging pendants are perfect for introducing character and individuality into a scheme while keeping a sleek minimalist design. Choose ceiling lights with a simple outline and in block colours to create a bold statement and don't be afraid to juxtapose modern designs with timeworn accessories for a great, layered lighting scheme.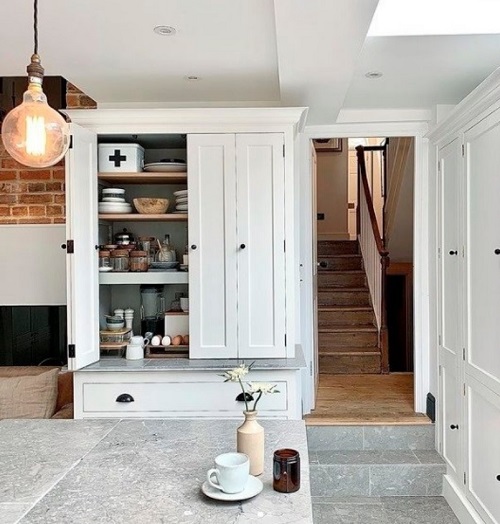 As an alternative, naked bulbs paired with our Pendant Lampholders allow you to make a real 'loft-inspired' feature in the home. You can enhance the natural light whilst making a statement with unique or oversized bulbs. This beautiful kitchen belons to Sian from @restore_home_. Read our interview with Sian, exploring more of her vintage-look home which is framed with a cool industrial edge.

You can still get creative even when taking a minimal approach. We offer a variety of cut to order braided cable colours to mix and match with your metalwork and paint colours.
COMBINE FUNCTIONALITY WITH ELEGANCE
Our glass pendant lights will bring some sparkle to a space as well as show off the beauty of a heritage-style bulb, while our hand forged hardware will help you turn up the rusticity.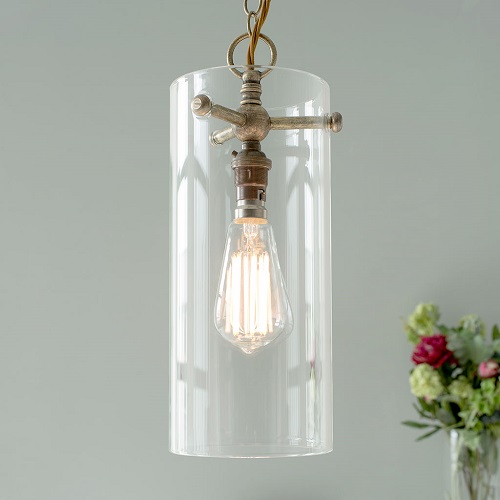 The Bellingham features a simple, cylindrical glass shade that is cleverly suspended from three brass arms, and a visible lamp holder for added dimension. Paired with our vintage-style chain and cable, these lovely pendant lights are made with kitchen island lighting in mind.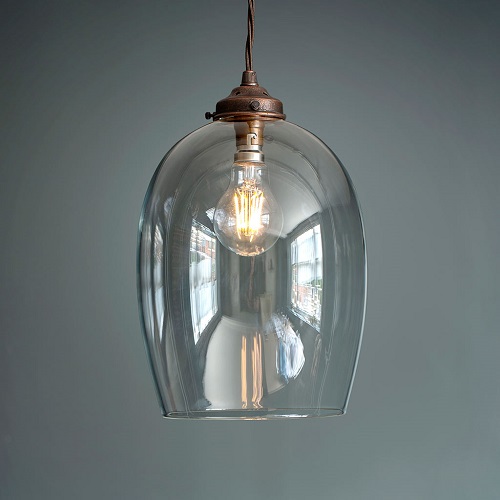 Clear glass shades bypass the visual imposition that can sometimes happen with weightier lighting and higher ceilings, allowing light to pass through whichever room you choose to place it. Pairing the beauty of these large hand blown domes with the blushing patina of our Heritage Copper is a sure way to marry elegance with a more rustic edge. Our Walcot Pendant in Heritage Copper is a popular choice for dining and living areas, inviting multiple levels of Great British Craftmanship into your decor.
FAVOUR METAL FEATURES
Handcrafted, metallic tones will complement natural building materials like wood, brick and plaster. Whether you want to dial up your rugged look or use something more refined, our collection of spun shades and hand forged accessories will do just the trick.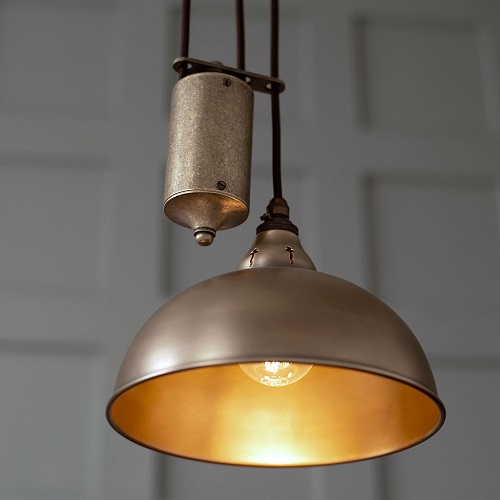 Wanting to create the perfect kitchen light using our Brass finish, we've taken one of our most popular pendants and given it a cleverly weighted pulley system so you can adjust its height to achieve the best light for tasking or entertaining. With its elegant silhouette and warm, on-trend antiqued brass tones, our Butler Rise and Fall Pendant Light is a classic kitchen pendant that will look fabulous hung above a kitchen table, island or breakfast bar. For a more pared back version, you will love the simple Butler Pendant Light.
OLD FASHIONED STYLING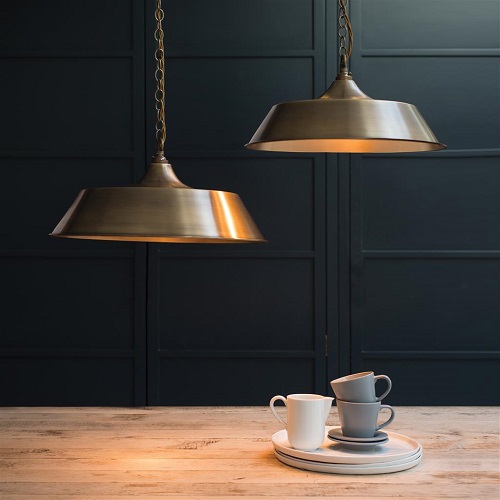 Beautiful against this deep panelled backdrop, get the look with our
Balmoral light in Antiqued Brass
: combining the best of old fashioned styling with contemporary design to produce a pendant light that's perfect for elevating a farmhouse kitchen. The Balmoral Pendants were designed with kitchen tables and breakfast bars in mind, with the shallow spun metal shade and vintage-look chain creating the perfect marriage of period style and industrial cool.⁠⁠
SLATE GREY FOR LOFT-STYLE LIVING
Our Heritage Copper and Antiqued Brass are classic industrial colours that will bring brightness and warmth to a scheme while our Polished Lacquer displays a beautiful steel patina and subtle pewter-like grey tone that is undeniably industrial in nature. For something unique that mirrors the feel of Brooklyn warehouse living, our Slate Grey finish is perfect for those of you after something a little different. Available in pendant hanging light designs and two of our most popular wall lights, this striking new colourway will instantly create a focal point in any contemporary or modern country kitchen or dining space.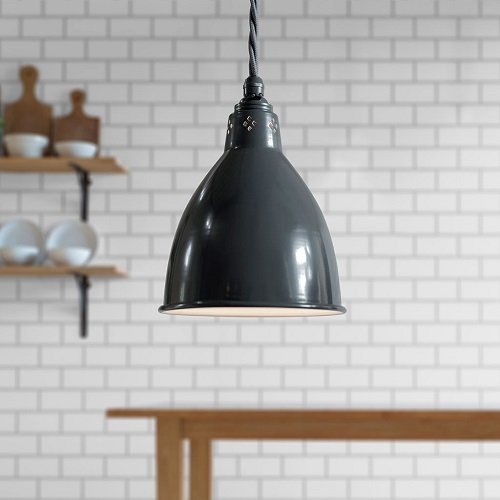 With our Slate Grey Lexington Pendants gracing the modern country kitchen of designer Sarah Farrington, it's clear this finish is not reserved for any one style. Experienced self builder, project manger and interior designer, Sarah of @farringtons_design is no stranger to a home renovation, and we love how our slate grey adds depth whilst invigorating her new build with character. We chat interior design, business and her plans for this incredible location here.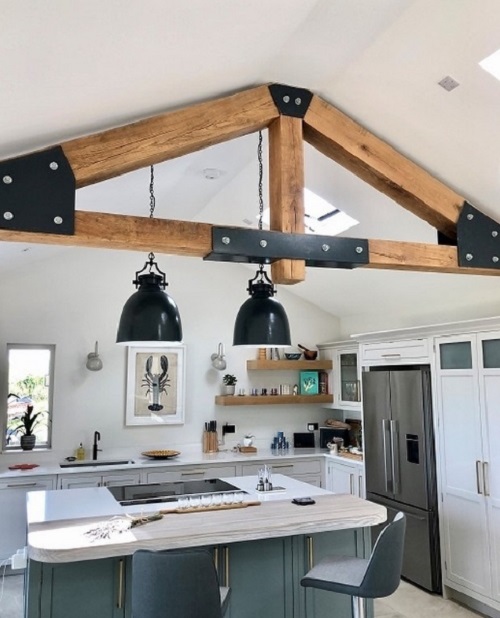 FACTORY INSPIRED WALL & SPOT LIGHTING
When it comes to colour schemes, designers often suggest sticking to a neutral palette in your home décor that is offset by fittings in moodier tones of black, grey and white. Our Matt Black, Slate Grey and Clay finishes are influenced by vintage factory lighting, offering smart uniform look to your lighting that works with any paint colourway.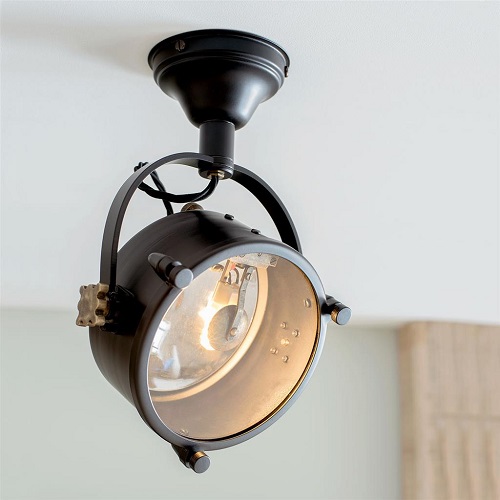 The Pinewood Spotlight (above) has a mighty presence. Able to hold its own in a large space, the Pinewood is ideal for rooms with high ceilings. It can be fixed to a wall or ceiling, creating the perfect task lighting and is fully adjustable. The cog at the side of the light enables it to be angled up or down and fixed in place, while the whole light can be rotated fully to each side. For more suble choices, our more traditional spot lighting is wonderful for downlighting kitchens, hallways or supplementing your living areas with an another layer of industrial style lighting.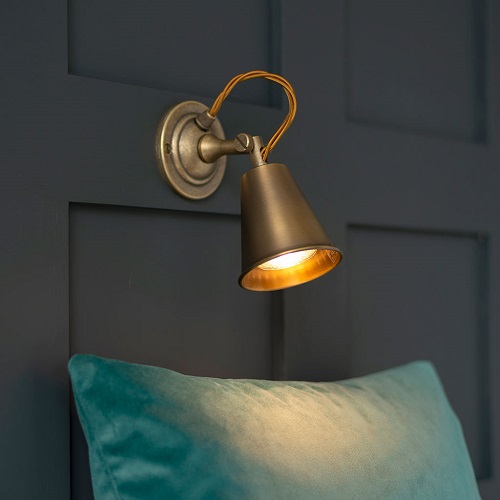 The Curtis Spot Light is an infallible choice. Traditionally styled and hand crafted, the Curtis combines the practicality of a spotlight with the beauty of our Club Wall Light with which it shares a similar spun shade.⁠ The Curtis is ideally suited as a down lighter for your kitchen, bedroom or living room. Its rustic finish and exposed braided cable gives it a retro feel which slips seamlessly into most interior styles.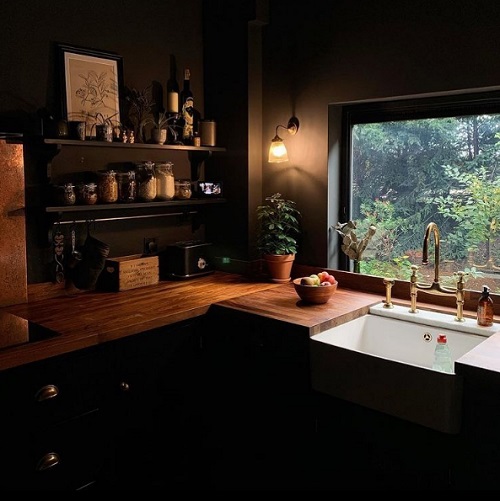 This is our Fisher Wall Light, adding a subtle and gently diffused warmth to the interior of @warehouse_townhouse. Dark walls and brass are a no brainer when it comes to adding a quality lustre to your moody, industrial inspired interior.
SHOP THE INDUSTRIAL EDIT
To see all of our Industrial Style Lighting, visit our edit on the website for the whole range of lighting and accessories.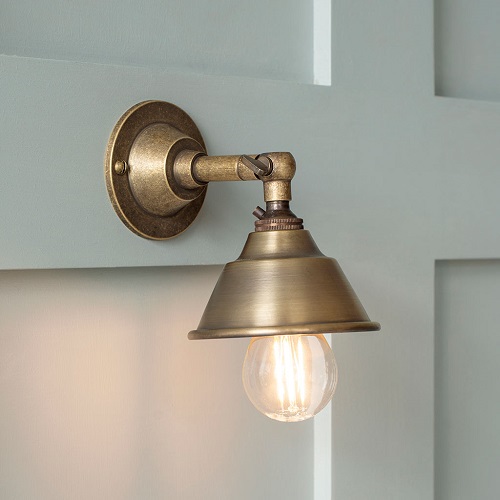 MADE BY US, LOVED BY YOU
Jim Lawrence has worked hard over the past 20 years to build up an international reputation for producing classic, high quality products. All our shades, curtains, cushions and blinds are hand made by our talented soft furnishings team here at our Suffolk workshop.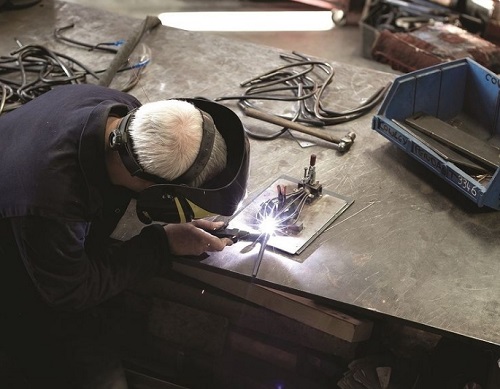 Do you want to see more? We are very proud of the quality of our workmanship and designs that we feel highlight the skill of our workers and their ability to make products that suit both contemporary and period properties. To view all of our home accessories and lighting visit our website.
For even more home interior ideas, keep up to date by following us on Instagram, Twitter and Facebook. Don't forget to tag us in your home updates– we love seeing our products in their new homes.