Experienced self builder, project manger and interior designer, Sarah Farrington is no stranger to a home renovation. Using Jim Lawrence lights in every room, she has just completed a new build called Gamekeeper's Lodge, backdropped by its own 3-acre woods and with two beautiful lakes with surrounding views of the Warwickshire countryside.
Naturally curious to see more, we spoke to Sarah about her interior design business Farrington's Design and her plans for this incredible location.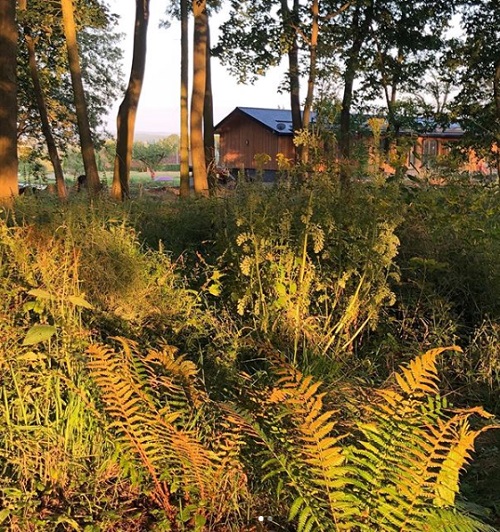 Thank you for agreeing to take part in our Beautiful Homes series, Sarah! You create many beautiful homes, but let's start by talking about the extraordinary Gamekeepers Lodge. What inspired you to take on this project?
The stunning location of the plot. It's idyllic and the thought of owning a woodland and lake with my teenage boys was very exciting. Despite living in London for the last twenty years, I'm a real outdoors girl at heart! The planning permission for the house was already agreed and I could see how the finished house should look and feel as soon as I saw the plans.
I'm a very instinctive person and although the cost of the land was more than I had budgeted for our entire self-build project I knew that the land was right and I was going to pull out all the stops to make it a success. After my previous eco self-build project in London it was the perfect next project for me, with the opportunity to design something contemporary, country and have a lot of fun.
Once the lodge is finished, what are your plans for the property?
I'm so glad you asked me that, as I've got some exciting plans for both the lodge and the beautiful woods that surround it. I designed a home to inspire both myself and my clients as I will run my interior design company from here. Seeing the products that I sourced in situ will hopefully help clients visualise how I can help their visions come together. So far, the big talking points include the elegant lighting, the calming effect of the electric blinds, how the porcelain tiles flow throughout and the beautiful bathrooms.
Gamekeeper's Lodge is not just about the interior though. The views stretch for miles over typical English countryside, there are meadows with a natural swimming lake and a fishing pond with carp, plus a beautiful 3-acre woodland with paths and glades that wrap around the back of the house. I'm looking at ways to provide an inspirational location for groups to come and work, whether that's a creative workshop for local artists, photography courses or even corporate hospitality events for companies looking for an 'away from it all' venue for the day. Essentially, space hosting for groups that want to increase productivity by working in a tranquil and special setting.
Finally, I've got a long-term back burner plan to diversify into the glamping business, albeit only on small scale. I'd like to be able to offer romantic, stylish woodland breaks in luxury bell tents. I have a lot of work to do in the woodland before that plan can be put in motion though so for now I'm looking to finish the garden landscaping, build my vegetable garden and get some free-range chickens roaming around!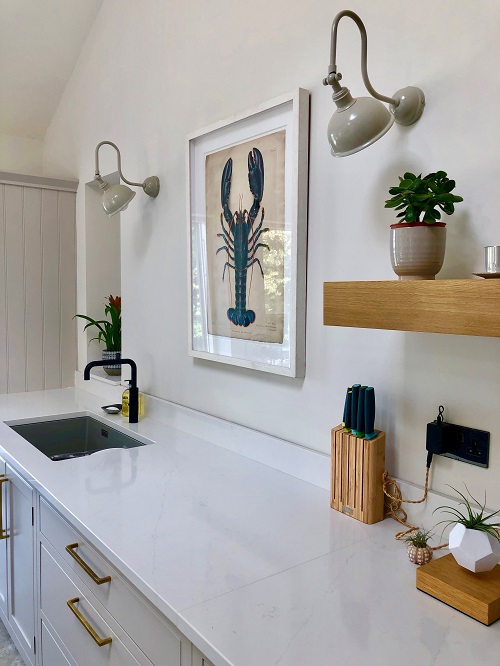 We are very honoured that you chose to use our products across the whole lodge. What made you decide to do this?
I like to source products that will stand the test of time. Jim Lawrence lights exude elegance and luxury, from the hand-blown glass pendants, to the weight and depth of colour on the Lexington Pendant I used over the kitchen island and of course I love that retro cabling. I also wanted my suppliers to be UK companies where possible, Harvey Jones for the kitchen, Crosswater for bathrooms and Millboard for composite decking on the balcony.
I did a similar thing copying the colour of the Clay Aldgate Wall Light either side of my  "Jono's Lobster" painting, with a pair of Clay Albion Spotlights either side of the mirror at the other end of the open plan space to unite both ends of this large room. The Aldgate is the perfect choice for task lighting over a kitchen worktop with an adjustable head. The Clay finish is a wonderful colour, really crisp and clean, complementing the colours on my hand painted kitchen in Cornforth White and De Nimes by Farrow & Ball.
When designing a room, at what stage do you first consider the lighting?
The earlier the better. The right lighting literally transforms a house, creating mood and atmosphere. In a new build the wiring takes place early on in the construction phase. You have a clean canvas to work on so the earlier you start to plan the more time you have to go through several iterations and get it right.
I create Pinterest boards for each room and one for lighting, pulling together images that inspire me. I transfer images to a mood board so I can see the overall effect coming together. Using photocopies of scale drawings of the room and the furniture that will be used, I play at moving this around as I think about how and what time of day the room will be used. Finally, I layer the lighting plan on top of that.
For example, I knew our snug lounge would be used for family board games in the afternoons and being East facing it won't get the afternoon sun so I hung one large and one slighter smaller Balmoral pendant over the coffee table to give this area plenty of task light. Hanging at slightly different heights they cast dramatic shadows against the vaulted ceiling and the brushed brass finish adds warmth to the room.
Clients often say to me that they need to see the finished room before they can even think about lighting but by looking at the natural light, using ceiling heights, thinking about where furniture will be positioned it soon starts to become obvious where the key lighting features should go. Just working through the various layers of lighting and uses of each space helps pull a plan together.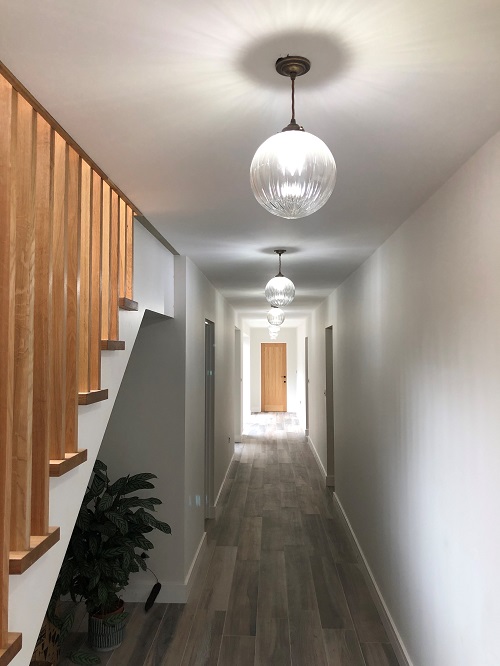 How did you manage to create the depth and comfort of a country home in a new building?
Including features and materials in the building structure that might appear in a more period country property can really help here, the exposed oak trusses were my starting point as they would normally appear in a barn conversion or traditional country house so I was certain these had to be included from the initial design stages. Later I added features such as the painted tongue and groove panelling in the boot room, easy to add, wood panelling adds instant impact and character.
The antique brass finish on the Jim Lawrence lighting adds a period feel. Whilst most of the lighting flows from room to room in beautiful neutrals of slate grey, clay or hand-blown glass for me it's the four Cranleigh Wall Lights that break up the long line of the upper hall with their soft fabric, Half Shades in Stirling Check Lovat Wool, that exude a very classic, country home feel to me.
A house in an English woodland definitely deserves to include warm colour and texture of oak. It resonates comfort and luxury. I chose solid oak internal doors, window ledges and staircase albeit all designed with a very clean contemporary style and then continued with coffee tables and my new Scandi divine dining table, which sits central to the house and brings all the family together.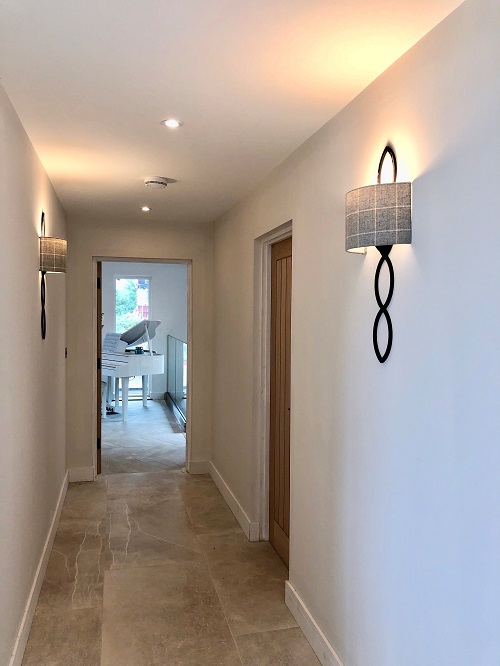 It can be overwhelming when looking at a room you want to change, but not knowing where to start. Talk us through your design process. If you want to tackle a single room redesign where do you begin?
How much light the room gets at different times of the day and the view from the windows is my first consideration as it will determine the best room layout and also colour choices. I like to present clients with several room layouts to discuss and see what will work best for how they intend to enjoy the space. I enjoy thinking about the key features of the room, any focal points to restore such as an old fireplace or ceiling cornice which maintain the history of the house. I always think about the existing furniture or art that will stay in the room. It's not financially viable or eco-friendly to just keep buying new things all the time. Old pieces add character and charm, can be up-cycled to provide a more contemporary edge but are part of the design story. My aim is to design elegant spaces, which are also comfortable and enjoyable. A home has to be approachable as well as astounding.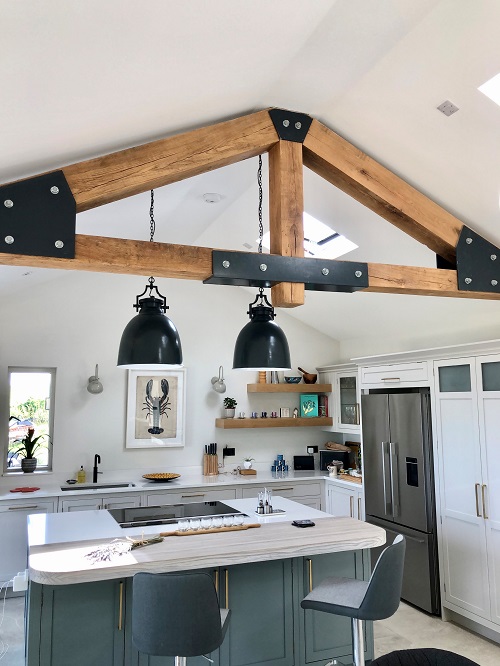 Of course you have to adapt per project according to the client, but how would you describe your own interior style in three words?
Contemporary. Country. Classy.
What advice can you give to those passionate about interiors wanting to turn their home décor skills into a job like yours?
Definitely do a professional qualification before you start. I did the National Design Academy Interior Design Diploma. It put a lot of what I already understood and practised, for example Colour Theory, into context and it gave me the confidence to move into areas where previously I was lacking technical expertise, such as window treatments. It included research into the history of design which is a great grounding for everything we do in design today. Very importantly it includes marketing and how to start a business. It's an intensive course and the tutors expect a high standard of work from you but I feel able to offer a more professional and complete service to clients as a result of completing it.
I'm lucky as my earlier working life as a chartered accountant and venture capitalist really helps with managing your own company so I would probably advise them to do some sort of business management course or at least a short book keeping course as it's not just about being able to design a beautiful room. Budgeting and project management skills help the whole process come together smoothly.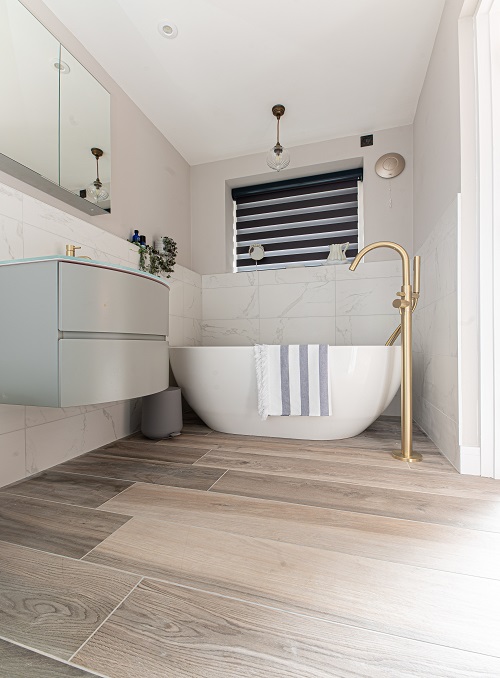 The Gamekeepers lodge certainly looks like anyone's dream project, but do you have a sort of 'bucket list' renovation in mind one day?
I would love to do a beach house in a coastal Hamptons style. I would include large floor to ceiling windows like at Gamekeeper's but opening out onto the beach with white washed wooden floors. Bright blue hues and crisp cream linens, textures of woven fabrics and distressed wood and of course jars of sea shells. Obviously, my favourite Lobster painting would be at home here too.
Locally I would also love to renovate and restore a Georgian style house, there are so many in Leamington, so that would be a fun project. I love bringing out the history of a house, it's always exciting discovering what's behind a plastered over fireplace. The 400 year old farmhouse I restored in Mallorca had a lot of those exciting moments where you find old wooden window ledges or historic stone floors that can put back the history in a room. There are a wealth of tile designs, fabulous wallpapers and paint colours available now that would make a Georgian country home project like that really rewarding.
What will you be working on going forward?
Building my interior design business, so lots of marketing and improving the website. I also want to start a blog to share my experiences during the two years I've been focused on the Gamekeeper's project! September is always an inspirational time with shows like Decorex and 100% Design to attend so it's the ideal time to be finding new clients, sharing experiences and ideas.
Ideally my next client would be someone who needs my project management skills including budget planning, scheduling deliveries and handling of sub-contractors as well as my interior design experience in sourcing beautiful products to complete a contemporary, country home.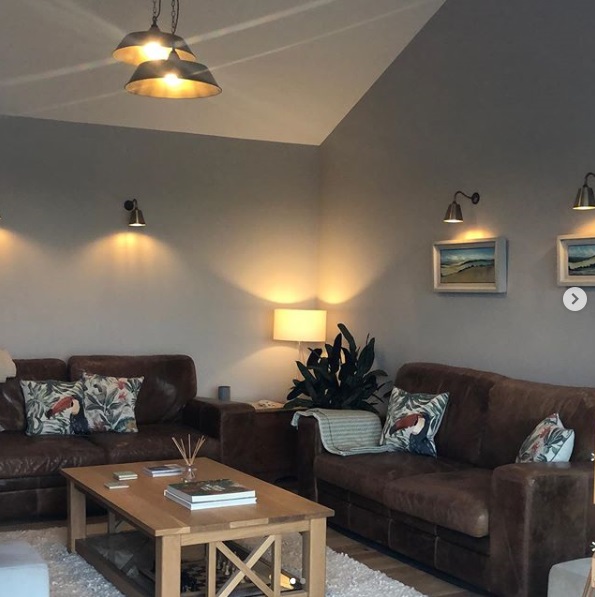 Sarah, can be contacted through her website at www.farringtons.design and more pictures of the Gamekeeper's project can be seen at www.gamekeeperslodge.co.uk. To stay up to date with Jim Lawrence, follow us on Instagram, Facebook and Pinterest. To view our full lighting collection, visit our website.


Aldgate Wall Light, Fulbourn Pendant Light, Lexington Pendant, Bathroom Lighting, Club Wall Light