An expert in carefully-curated eclecticism, we spoke to Sian from @restore_home_ about her history with interiors and her advice on layering with textures which she does so well. Tinged with vintage-look items and framed with a cool industrial edge, we've loved delving further into her home and uncovering the secrets to a successful renovation journey.⁠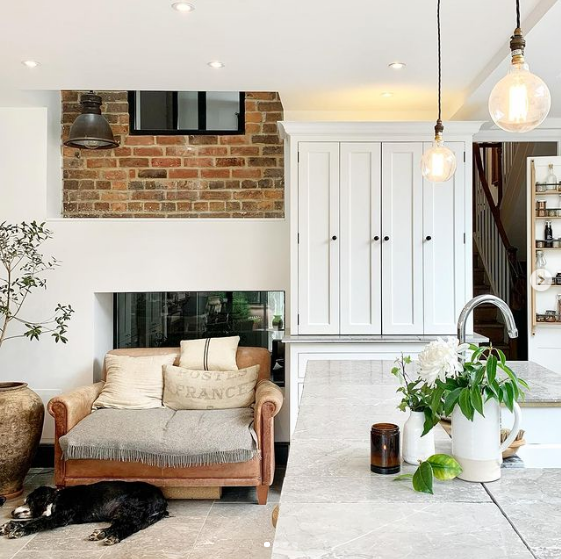 Sian, welcome to the Style Journal. Can you tell our audience how you got into refurbishing property?
I'm really just a frustrated lawyer! I wanted to be an architect so refurbish houses as a hobby to fulfil my need for creativity and appreciation of the aesthetic. I guess interiors nourish my soul whereas law feeds by brain and puts pennies in the bank!
We know older homes can sometimes present unusual challenges when renovating. What's the key to perfecting a period project?

Every project is completely different and I think no matter how many properties you renovate, there's always something to learn. Keeping an eye on the original details and remembering what you fell in love with about the house is critical. In my latest renovation it was the staircase and proportions that drew me in. In planning the extension, the ideal new floorplan would have meant removing an original window and compromising an existing staircase. I'd fallen in love with the original Georgian windows and staircase – so the compromise had to be in the extension – not the original features. As soon as the structure was up I knew that retaining the details was the right course as that's the soul of the property.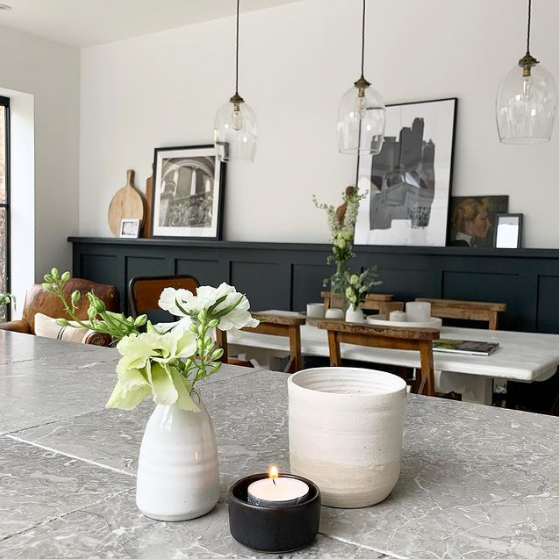 What is it that makes you choose Jim Lawrence lighting?

Elegant but edgey design, first and foremost. But it's the quality that never falters that keeps me buying it. The finish is fantastic and they only improve with age. And I've had some lamps for over 15 years and still they look beautiful and the finish looks perfect. I've honestly never been disappointed with a purchase from Jim! I've taken some risks with this property in going for real statement pendants (larger than I'd usually go for) but they're fabulous and totally make the space. There's a danger in under-budgeting for lighting. I feel it's better to save elsewhere as lighting is a game-changer in a room and instantly elevates the space.
You often opt for shade-less light fixtures, why is this?
I love glass pendants. They're timeless but importantly reflect the light, bouncing the brightness back into the room and complementing the room rather than providing a visual stop. In period properties particularly, enhancing the natural light is really important and glass optimises what you have naturally, even when the lights are off. I love pendants too but tend to use them on lamps for more ambient lighting.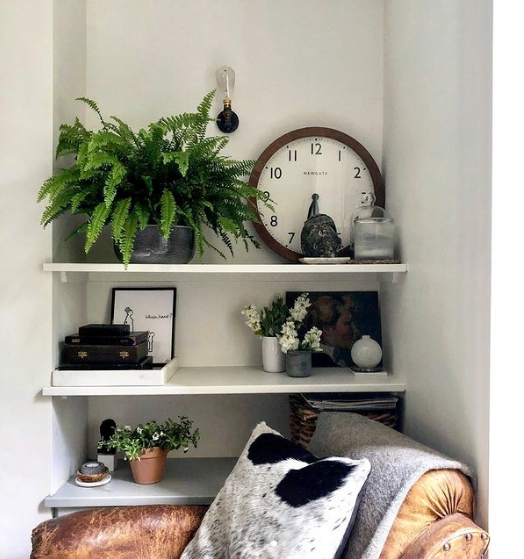 We like to think a home project is never really finished, as like our wardrobes, interiors develop and adapt for the seasons and how we feel. How do you refresh your rooms when they're in need of a 'quick fix'?
Soft furnishings are a great way of updating a scheme, with a throw or cushions in a seasonal hue, but also artwork is underused in my view. I'll often base a room around a piece of art, and then when I want something new and fresh, will add a piece that easily be switched in or out and around rooms.
After a year where many of us could only venture the world of interiors by looking online, where do you find yourself sourcing most of your home inspiration these days?
Instagram is a fantastic place to be inspired. As is Pinterest, but you can't strike up conversations and ask questions as well as you can with Instagram. It's really such a fantastic interiors community with some very talented people just posting about what they love. But I'm also an obsessive about paper: flicking through a brochure and the medium of print are really underrated now I think. I'll often use Instagram for inspiration but when creating a moodboard I need to see and feel the images, and nothing replaces a mountain of swatches and samples!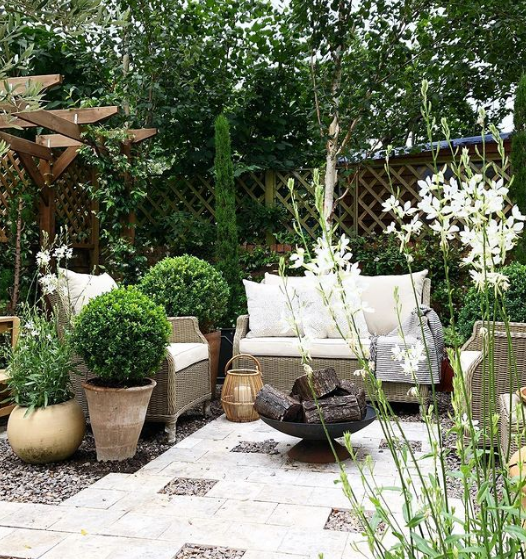 Those of us fortunate to have outdoor spaces have never been more grateful for our gardens, patios and even porches. What's the key to good (and happy!) garden design?
I think for me it's evergreen structure. I love John Brookes concepts of gardens being a series of rooms, an extension of our homes. I tend to separate my gardens into 3 zones, for terrace seating near the house, a play area for the children and animals (perhaps with a rewilding area if possible) and then a more formal area for wandering around and outdoor dining.
By having "walls" of hedges, you can create the rooms but also mask some of the not so aesthetically pleasing areas – trampolines, sheds etc. Then you can focus the planting around these areas. I'd have soft breezy aromatic plants for the terrace, such as Gaura, herbs, lavender,  evergreen structural hedges for the format and disguising like Holm Oak or Portuguese Laurel, and then formal and fragrant planting for the seating and dining areas such as topiary, jasmine and cypress.
We really love your eclectic but carefully considered styling. What are three top three tips on how to layer up display areas indoors like shelving and sofa cushions?
Groupings of three are really helpful as it provides balance and doesn't jar with the eye. Also consider height within that grouping, so there are different elevations. But fundamentally it's about harmony (which can be through shape, or colour, or a theme) but really it's about objects you just love and that speak to you.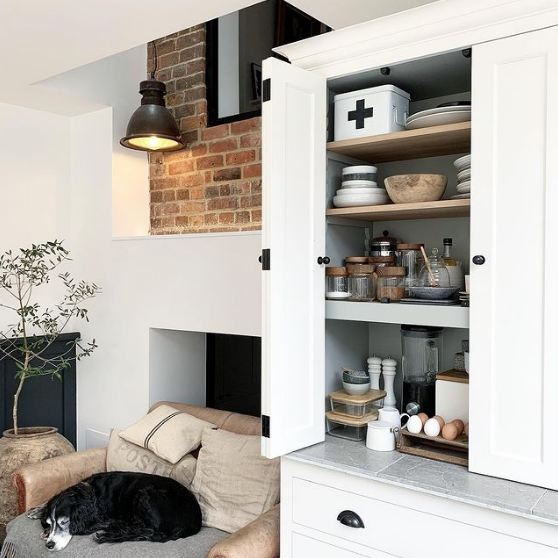 How do you stay true to your own style when choosing home furnishings?
I'm not sure I could say I stay true! I don't really have any rules, I just furnish with things I love and that draw me in. I do tend to hide purely utilitarian things in cupboards but that's about the only rule. Perhaps a new style I'm adopting is to really be intentional about what I buy, and try to buy pre-owned wherever possible. There's not much that you can't get vintage and traditional designs, be it architecture or engineering, quite often still hold up as the best. They've remained in existence for a reason!
We love your laid-back look, but you're clearly influenced by elements of traditional or vintage design. Do you have any truly unique old items in your home that you could never part with?
Yes, too many to admit! Some are family pieces which mean so much, but many are new acquisitions with stories to tell. Artwork is hard to part with, and I really love battered tan leather so that features everywhere from chairs, sofas and boxes down to my decades old trusty Filofax!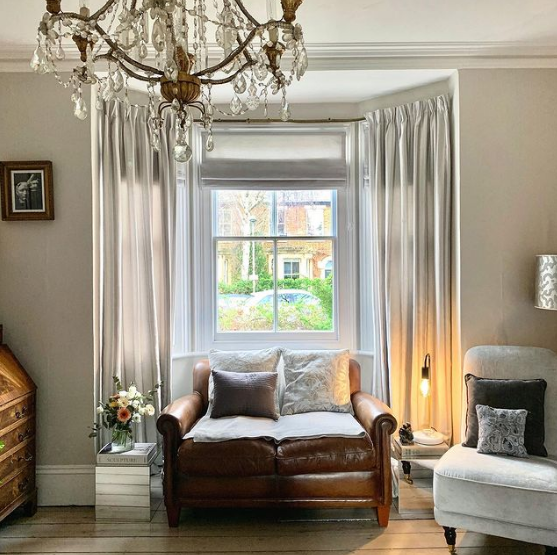 New or old, what's the staple homeware piece that every house needs?
A squashy chair for reading alone or with children (and for the dog to snooze in), a beautiful table lamp, plus an array of individual cups and mugs for morning coffee and afternoon tea.
Talk us through your plans for the rest of 2021 and beyond…
I've currently just sold my Georgian terrace in Oxford and am moving to the country to be near my son's new school. It's a change led by necessity but I think one which will benefit us all as we'll be able to get into nature more. The house has a stable with exposed stone. And looks out on to the garden and fields. I'm hoping to use it as a study and workshop for a new venture. Constantly searching for that creative outlet! But currently we're in a stone barn until the purchase on the new place completes. It's on a farm and is a wonderful transition, with huge tall ceilings, and masses of oak beams. Your pendant lighting would be incredible in this space but sadly it's rented so I have to make do with my table lamps for now!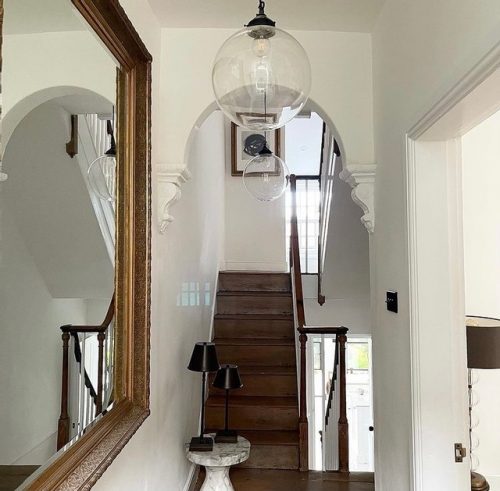 To stay up to date with Sian's Beautiful Home and to see how she styles her new space, be sure to give her a follow on Instagram. We would love to see more Beautiful Homes! Tag your images with #JimLawrenceMade or email to press@jim-lawrence.co.uk so we won't miss out. For further styling inspiration you can browse our Pinterest.


Pendant Lampholder, Walcot Pendant Light, Orwell Table Lamp, Globe LED Filament Bulb, Thorpe Wall Light