All Jim Lawrence metalware starts off in the workshop where it is forged, welded and cleaned ready for finishing. We stock our products in the finishes that we feel suit them best. From traditional antiqued metal effects, to bold contemporary paint colours, our products are available in a fantastic variety of hand crafted finishes to perfectly suit your home's style.
Our painted options include colours like our Old Gold, Clay, Slate Grey and Matt Black to name a few. These unique-to-us colours are created by painting the items in a powder coating process that creates a smooth, hard-wearing surface which is suitable for both indoor and outdoor use. We use hand-held paint guns to spray every product with powder paint that bonds to the surface electromagnetically. It takes a lot of skill and practice to make sure the colour is sprayed evenly over the surface to produce a uniform tone and colour, and we thought you might like to see a glimpse of the talented team behind the products you take home.
Responsible for running our painting department is team lead Carrie Drake. We caught up with her in the workshop to ask a few questions…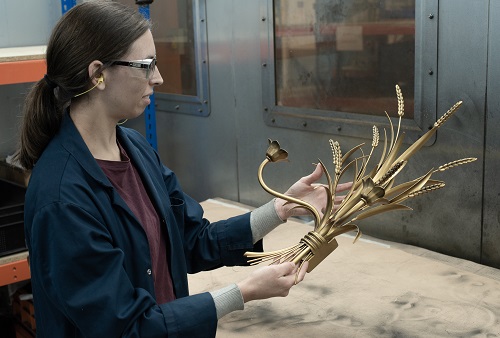 First of all, who makes up the team?
We have a small group of skilled craftsmen who are able to work across different sections of the Jim Lawrence foundry depending on where they are needed most. There's Gary, Karl, Marcel, Wally and Tim.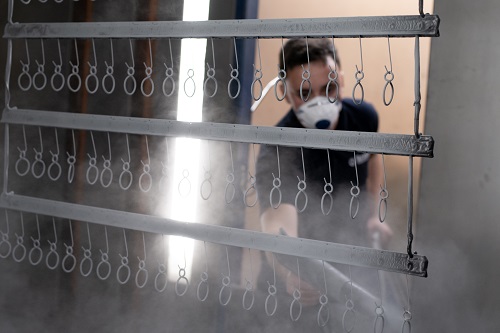 What does a typical day look like?
Most of us start early at 7 or 7.30am so we can get prepped for the day. We sort out the paint shop tasks ready for our daily meeting at 9am when we decide on the products been painted that day and chase up any products that have been held up in the workshop.
The paint line is generally in full operation between 10am to 12noon with us doing the majority of spray painting then. The afternoon is then spent quality checking the days' paint jobs, doing any wet spray painting, cleaning down the equipment and prepping for the next day. Most of the team head home by 3.30pm but I stay later to experiment with new colours and finishes that we may be considering for new products.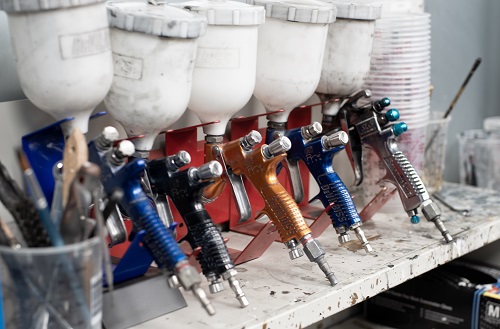 You get to work with paint all day, do you have an artistic background?
Art was always my favourite lesson at school and I did a degree in model making and effects, so yes I love working with my hands. I couldn't imagine doing anything else! After uni I worked in the film industry making sets and props for films and advertising. I worked on Disney's Beauty and the Beast and The Favourite with Olivia Coleman among a lot of others, but after a good few years I found the long hours, commuting and intense deadlines exhausting. I moved back home to Suffolk to look for a change of direction and found Jim Lawrence.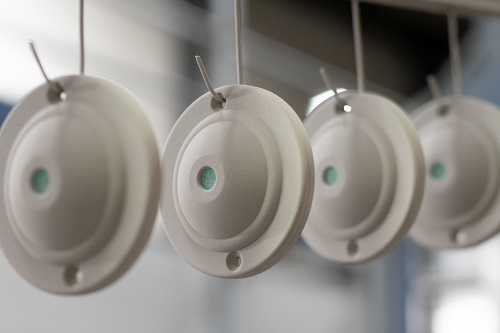 What do you love most about your job?
I enjoy the calmness of having a routine, of being able to plan my day as I like and of the freedom I get working with the design team to experiment with new colours, finishes and products. I also love wet painting our old gold and old ivory products in particular, as it is a very 'painterly' process that involves building up layers of paint and hand touching the embossed details to make them stand out.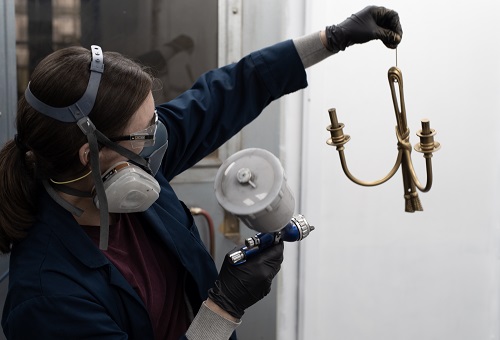 What is the most challenging product to work with?
Products with a slate grey finish and/or gloss white interiors are the is the most difficult to paint because they are a gloss finish which is really unforgiving and shows up any kind of mark. They are also incredibly static so draw any specks of dust to them. The paint room has to be spotless before we start painting, and no one is allowed in or out, or else you get dust or pieces of fluff stuck to them!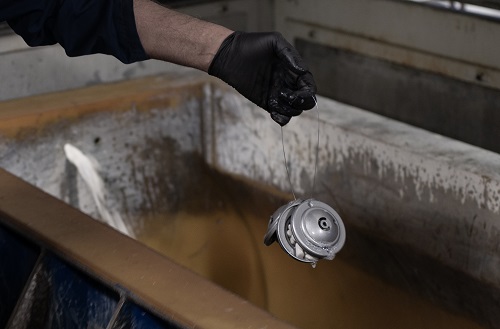 What is your favourite product?
It has to be the Sussex wall and pendant lights as they are such a beautiful pieces. They really are works of art. They are incredibly tactile, so are wonderful to handle and take the old gold finish so well. The black seeps into all the nooks and crannies so when you overpaint them with the gold it looks amazing, it really shows off the leaves and sheaves of wheat.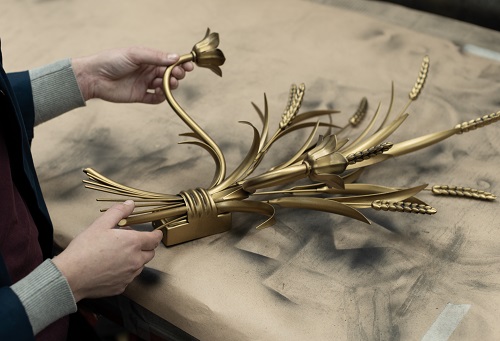 How do you enjoy being part of the Jim Lawrence family?
I love the fact that we're a small company where everyone knows one another and are very approachable. We work hard but are calm and relaxed. People are always respectful of the skills you have and are open to ideas and, unlike the film industry, which was always chaotic, I enjoy having a routine and the freedom to get creative. My brother also works at Jim Lawrence. He's in the machine shop so we'll often have lunch together!
You can browse all of our hand forged and finished products on our website. Don't forget to tag us in your own imagery on Instagram and Facebook – we love seeing our products in their new homes. To learn more about our painted finishes and what might best suit your home style, visit our product finish guide.

Working with us means joining an ever-growing family of talented artisan craftsmen and business influencers. Having such a cross section of skills and talents under one roof gives us the chance to offer a fantastically broad range of new challenges throughout our staff, and our exciting career development programmes are tailored to help you grow and make the most of every opportunity within the business.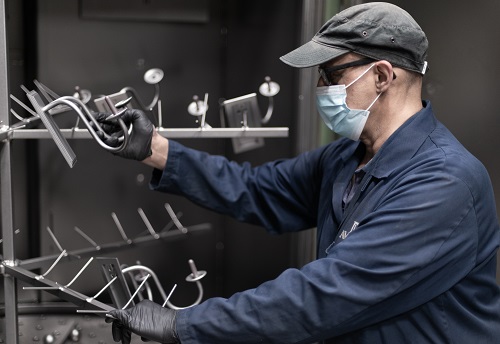 At the heart of this company we still have a 'roll your sleeves up and get it done' mentality that means everyone pitches in and helps no matter what the challenge – there's no corporate boardrooms here! People tend to stay…we have an amazingly high staff retention rate (averaging 90% annually) which is testament to a genuine belief that our business is only as strong as the links that bind it.
So, if you are looking for an interesting job that challenges and stretches you, in an environment where it's not unusual to be greeted by a friendly dog (or two) at the door then we are the company for you! We are always keen to hear from new talent, even if your perfect role isn't currently listed above.
If you would like to apply or request further details on any of the roles, please email us your CV to recruitment@jim-lawrence.co.uk