As much as we love seeing our products styled and in use, we really enjoy seeing customer photos of our packages arriving and products being unwrapped. We all know the feeling of tearing open a parcel or package in anticipation for the goods within (particularly as we near the festive season!), and we truly get as much of a thrill as you do seeing Jim Lawrence lights and accessories in your home.
The events of the past couple of years have given us all more confidence when it comes to shopping online – and though a world of convenience has many merits – we still think it's vital these products are made the best way they can be. Often, that means by hand and with great care. This means they must be packaged with care too.
As we approach Christmas, what could be more fitting than a tour through our packing and dispatch department? Between the time you click 'order' and the sound of your doorbell announcing their arrival, we have a cohort of staff ensuring everything goes smoothly behind the scenes. We caught up with Jane Stace, our Packing and Dispatch Team Lead, to share the goings on during the busiest time of the year in our very own Santa's workshop…
Welcome to the Style Journal Jane. Who makes up the team in our busy packing department?
First off there is Karen our manager – she's head of Customer Fulfilment – then there is the packing and dispatch team, me, Chloe, Kiera, Ryan, Michelle, Freya, Tally and Richard. It is our job it is to get our customers' orders ready to send to them.
What do you do in packing and dispatch?
There are two sides to the job. The first is the 'putting', where we put all the products that have been made in the workshop and packed into boxes into storage in the warehouse so they can be found later to fulfil a customer's order.
The second part is 'picking' or fulfilling those customers' orders. When a customer places an order, it is our job to collect all the products in the order from the warehouse and get them ready to be packed into boxes and dispatched for our couriers to deliver.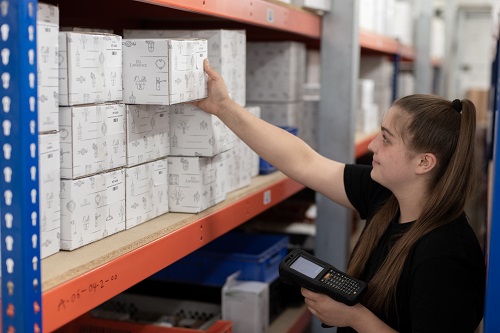 What does a typical working day look like?
I start at 8am and most of the team are here by 9 and we finish at around 5.30pm. First thing Karen and I will go through the orders and sort out the internationals and get the 'picks' (the list of products that are in stock and ready to pack) ready for the team to start collecting.
I then meet with the rest of the team to sort the other jobs that need doing that day. We need someone doing the fabric swatch orders, someone to assemble the curtain pole packs, and someone to send out the brochure requests. We also calculate the cost of international shipping for our customers abroad, sort out orders and contact customers who want to collect their orders from the showroom, and sort out the 'waiting to go shelf' for orders that need to be held back for a specific delivery date.
We decide who will be on picking – getting products together for an order – and who's packing – wrapping products up and packing them into our boxes – so the rest of the day is spent doing that.
After lunch, one of us will go onto dispatch, that is our machine that logs consignment numbers and prints out delivery labels that are stuck onto each box and scanned by the courier when the vans arrive from 2pm onwards.
How many orders/deliveries do you deal with in a day?
We try to dispatch as many orders as we can on the same day the order is made, or the next day at the least, so that our customers get them as quickly as possible. On average, we send out between 200-300 orders a day – that's 4 fully loaded vans that the courier drives away!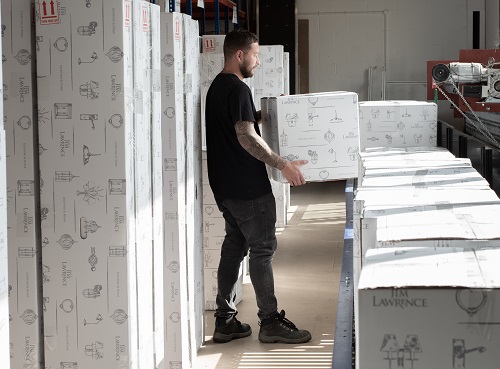 We have many sturdy products, but some truly fragile ones too! How do you handle such a variety of items?
Most products are packed into boxes when they come off the assembly line, so we never see them. All we need to do with our lights for example, is pop a bulb into the box. Of the smaller items we pack, the heavier ironmongery like window stays or curtain pole accessories are the best as they are hardwearing so you don't worry about them being damaged in transit.
The trickiest things to pack are shades because they are so fragile. They dent very easily in transit, so you have to take a lot of care to get the packing right – just enough room to allow for a little movement – but not so much that they bang around inside the box.
We are all very aware of the need to be as ecological as possible when it comes to reducing waste and using sustainable products, how has this affected packing?
As a company we are constantly reviewing the way we work and the materials we use to see if there is a 'greener' way of doing it.  In our department, we always reuse any packaging that it sent back to us via our Returns Department, or from our suppliers. And now, even better, we've completely done away with plastic, so all our packaging is made from recycled paper and is reusable.
We have a Tiger Roll machine that produces beehive-style packing paper that wraps tightly around an object, so we use it around all our glass. We no longer use plastic air pillows or bubble wrap to cushion products, instead we use Geami Wrap, a machine that 'scrunches' up brown paper to fill out the space in boxes, and we've swapped plastic bags for vintage-style paper envelopes to send out small items like curtain rings, screws or fasteners.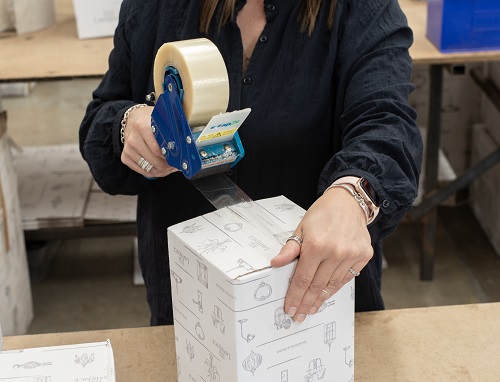 What is the best part of working with Jim Lawrence?
I love everything about my job. We've got a great team, they're hard working and fun. We have a laugh. They're all quite young, so are full of energy, although I do feel like their mum from time to time! I enjoy being on my feet, moving around all day, it keeps me fit and the day goes so fast.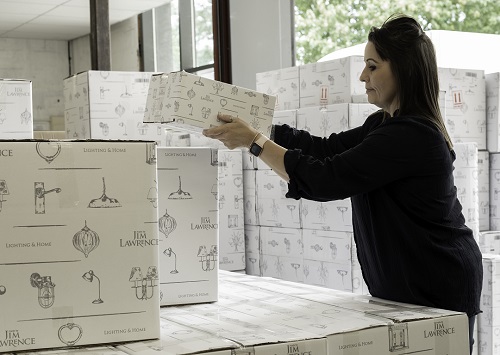 It's quite a skill to be able to judge the right size box needed for packing up an order, especially when it comes to international orders because you have to calculate the cost of shipping depending on the quantity, size and weight of the boxes. You get a real sense of satisfaction when they're done, seeing them loaded into the van and travelling to their new homes.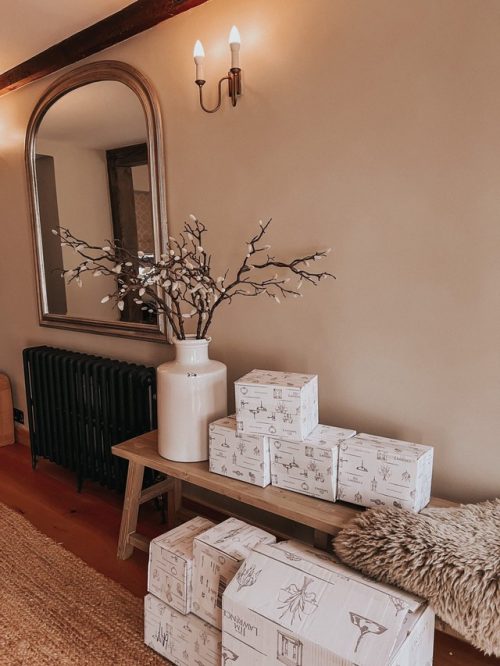 We simply love seeing where your orders end up. Follow us on Instagram, Twitter, Pinterest and Facebook @JimLawrenceMade and be sure to tag us in your home updates.

Working with us means joining an ever-growing family of talented artisan craftsmen and business influencers. Having such a cross section of skills and talents under one roof gives us the chance to offer a fantastically broad range of new challenges throughout our staff, and our exciting career development programmes are tailored to help you grow and make the most of every opportunity within the business.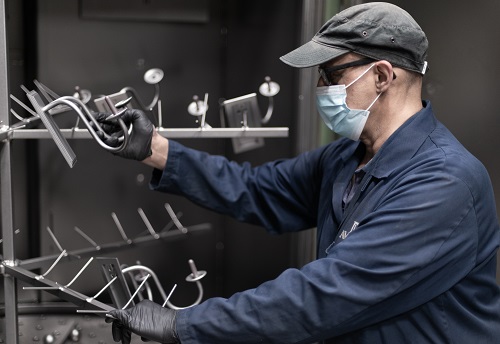 At the heart of this company we still have a 'roll your sleeves up and get it done' mentality that means everyone pitches in and helps no matter what the challenge – there's no corporate boardrooms here! People tend to stay…we have an amazingly high staff retention rate (averaging 90% annually) which is testament to a genuine belief that our business is only as strong as the links that bind it.
So, if you are looking for an interesting job that challenges and stretches you, in an environment where it's not unusual to be greeted by a friendly dog (or two) at the door then we are the company for you! We are always keen to hear from new talent, even if your perfect role isn't currently listed above.
If you would like to apply or request further details on any of the roles, please email us your CV to recruitment@jim-lawrence.co.uk.