Searching for that wow-factor light for your renovation or revamp? Or perhaps just in need of something bold and beautiful to refresh a stale interior? Look no further. We are delighted to showcase some of our favourite statement pendant lights for your home.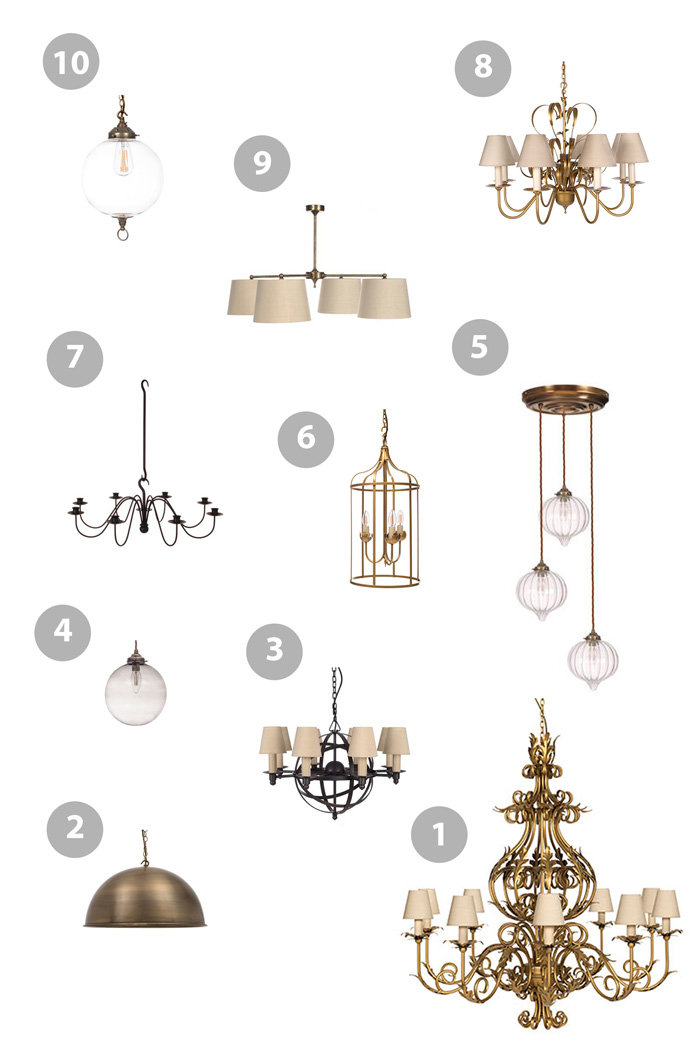 No longer made with just function in mind, lighting can double-up as artwork, helping to tell a story and tie your scheme together. Each of the following designs make for a striking feature with a variety of shades and fixtures to best suit your home style.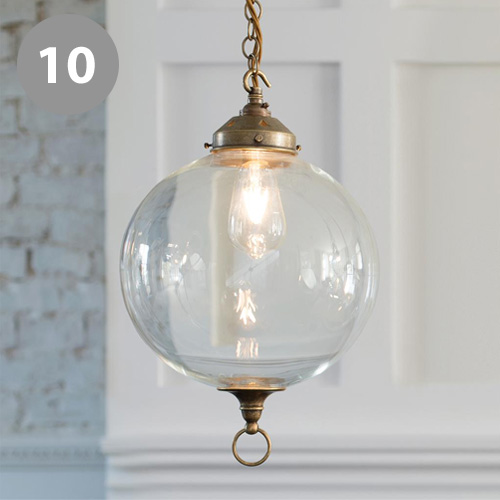 The Bloomsbury Pendant is a smart choice for living spaces, dining areas and studies, dressed up with a hand finished collar up top and ring beneath, framing the expertly hand blown glass shade and drawing the eye to whatever is situated beneath. The transparent quality of its handblown glass shade allows you to create a stunning focal point without losing any sense of space. To add to its heritage feel, try pairing it with our Squirrel Cage LED Bulb.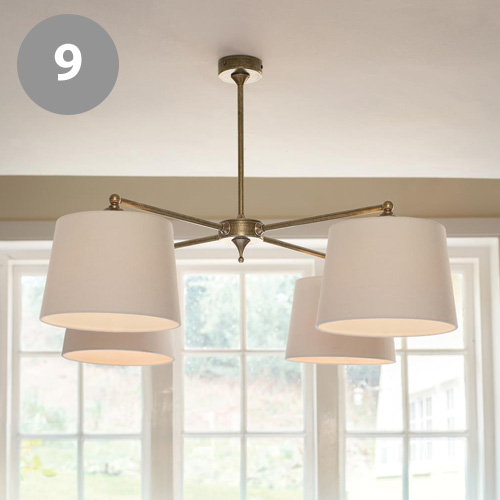 If you are looking for a modern alternative to a traditional chandelier then our beautiful Arlington Pendant will fit the bill. Designed with four arms dropped on a slim stem, this pendant brings a sleek contemporary feel to the room.⁠ The Arlington is a lovely choice as a centrepiece hanging above a bed, a dining room table or as the main lighting source in a living room where the fabric shades will soften any overhead glare.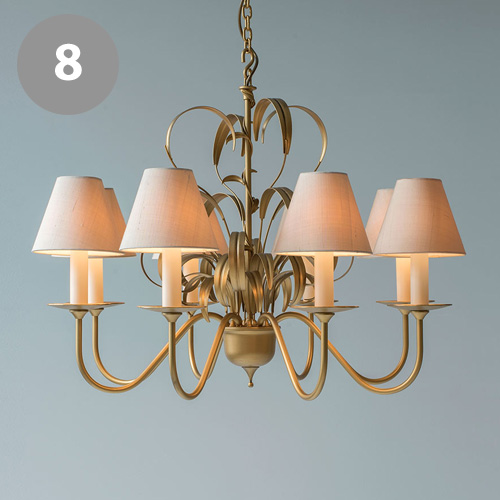 One of our most beautiful chandeliers, the Romana Pendant Light is sure to create a talking point in your home where its intricate leaf frond design and subtle old gold sheen will make a statement wherever it is hung. It looks wonderful taking pride of place in a large hallway, sitting room or fitted above a long dining room table. In its design we were inspired by the abundant reed beds that line our lovely Suffolk waterways, such as the rivers Stour, Orwell and Deben that feature in so many famous paintings. The Romana has eight shade arms and ivory candle tubes and a central 'fountain' of gently curling reed fronds that will bring a decorative touch to your lighting scheme.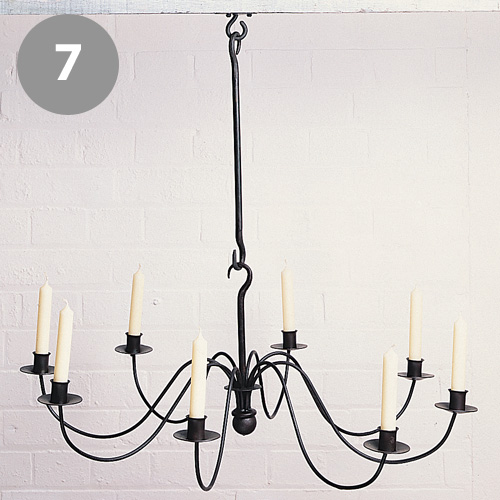 Evoke the romance of bygone days with our wonderfully graceful, eight-armed, Wickham Candle Chandelier. Lovingly forged from solid steel, the Wickham has been designed to create instant atmosphere in your dining room bringing the warm, gentle flicker of candlelight to your evening meal or dinner party. Choose from Matt Black or Beeswax to illuminate your home with our most authentically traditional pendant yet.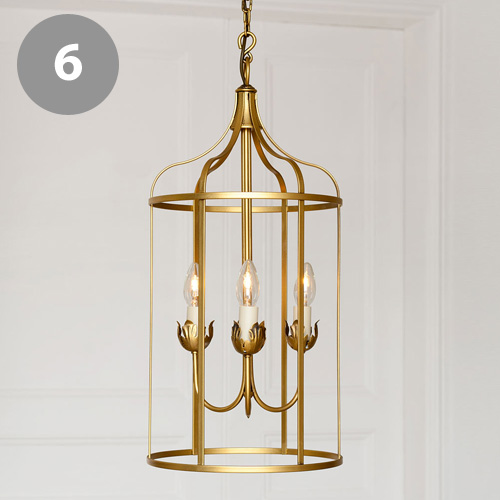 Our decorative cage-style Lucie Pendant Light is a perfect choice for a centrepiece in hallway, lounge or bedroom, where its three candle arms with their tulip detail will add lovely layers of light to your scheme. Its design is inspired by the Tudor style turrets found at many stately homes around the country, yet it comes with a modern twist in that it has no glass, making it an excellent choice for those houses with high, hard to reach ceilings that can't always be dusted. Also made in our hand-dipped Beeswax finish for those who prefer the monochrome.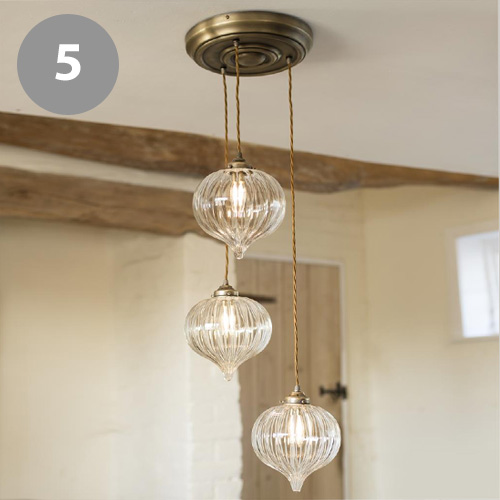 Create a talking point in your home with our stunning handcrafted Ava Triple Pendant on a striking circular rose. We have taken our most popular individual pendants and created this new and beautiful multi-pendant design to really showcase the quality of the workmanship and beautiful reflective nature of hand blown glass. Our triple roses are designed to sit above a breakfast bar or dining table or to take centre stage in a large hallway or sitting room where they will softly bounce light around the room. Prefer the Holborn's and Fulbourn's? No bother. View all of our multi pendant lighting here.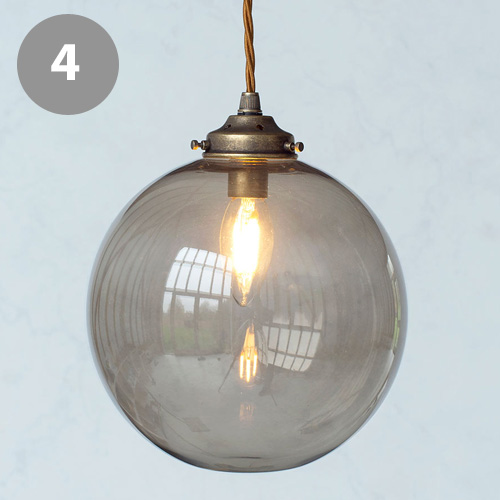 If you love our classic glass ceiling pendants but want your lighting to pack more of a punch then these are for you. The smokey grey glass of our Charcoal Holborn Pendant is perfect for adding a subtle hint of colour to your room without losing too much light output. We also make these pretty pendants in other styles and colours so you can get a little more playful with your lighting design.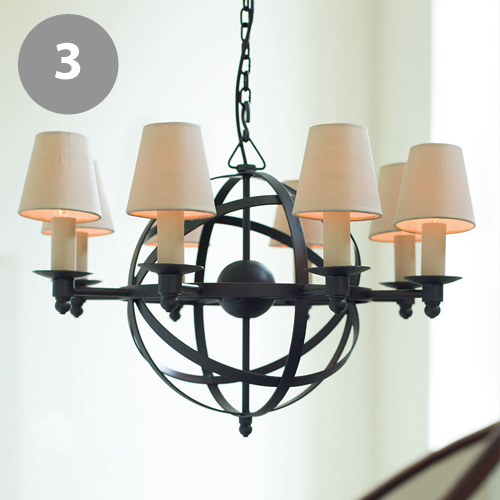 The Globe Pendant Light in Beeswax is designed to create a dramatic statement with its intricate, intersecting metal bands and globe centre. Reminiscent of Gothic architecture and handcrafted from high quality forged iron, this is a pendant sure to make an impact within your interior. Also available in Matt Black and Polished for a subtley different look.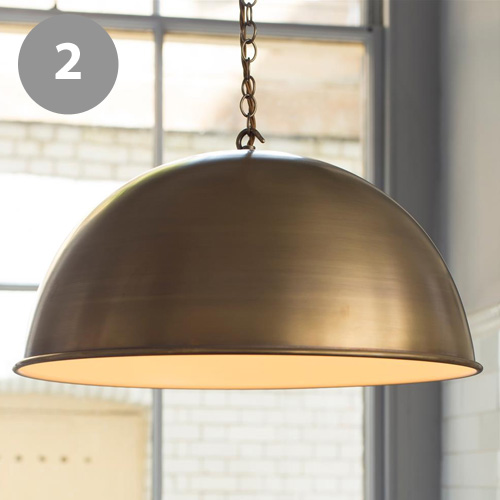 ⁠
This is our Leiston Pendant. Complete with its co-ordinating braided cable, chain and ceiling rose, it's a bold choice for a kitchen, living or dining space thanks to its distince 'pudding bowl' spun shade. We paint the inside of our Leiston Pendant Lights ivory to beautifully reflect the light, but we offer alternative versions in Antiqued Brass, Clay and the beautiful new Heritage Copper that are self-finished throughout for a uniform look. The choice is over to you…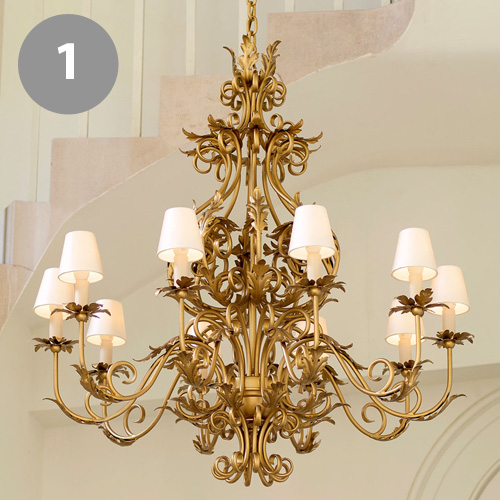 With Regency style weaving it's gilded thread into the cultural fabric of today (hello, Bridgerton!) it felt like the right time to share our most dramatic pendant light: The Montgomery. We are known for our hand crafted and hand finished detailing, and we wanted to create a product where we could truly showcase the standard of our craftmanship. Our largest light to date, the grand proportions of our ten arm Montgomery create a dramatic focal point in open plan living spaces. Perfect for high or vaulted ceilings in either a town or country home, the Montgomery enhances a period interior with its dramatic but delicately made qualities.
MADE BY US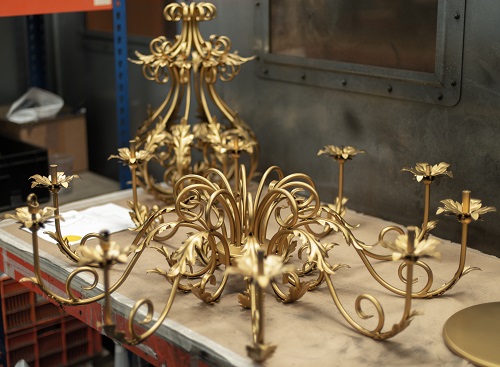 Named after the town of Montgomery in Wales, this Baroque design was influenced by the nearby Powis Castle, a medieval castle, fortress and country house now cared for by the National Trust. Housing an extensive and magnificent collection of paintings, sculpture, furniture and tapestries, there is a wealth of inspiration for all interior lovers.
Our workshop Technical Lead Lee Saxby says the Montgomery is his favourite light to make. " It's a challenge", he says, "but it's far more interesting to work on than a light with a simpler design. I love welding the component parts together. The detail is beautiful and it feels great building all the parts so that it comes together." Read our Behind The Design feature all about the creation of our largest and most spectacular statement chandelier.
LOVED BY YOU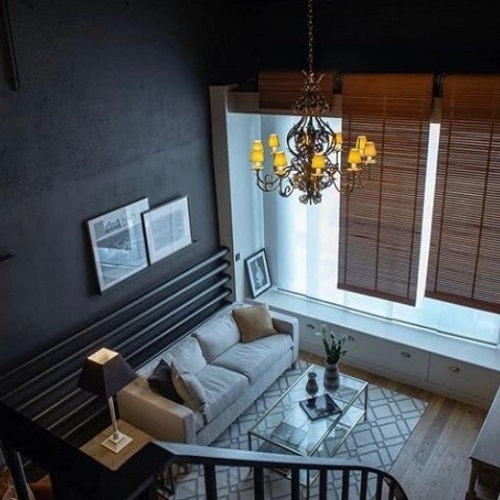 Do you want to see more? We are very proud of the quality of our workmanship and designs that we feel highlight the skill of our workers and their ability to make products that suit both contemporary and period properties. To view all of our home accessories and lighting visit our website.
For even more home interior ideas, keep up to date by following us on Instagram, Twitter and Facebook. Don't forget to tag us in your home updates– we love seeing our products in their new homes.