Cheshire-based interiors practice Jojo Bradley have a simple ethos: to translate individual taste into an interior that is comfortable and elegant, while sympathetic to the building and its period. Offering a professional and personal design service to residential and commercial clients nationwide, they've curated some of our favourite and most striking restaurant decor using our lighting and accessories.
Most notably is the gorgeous coastal-rustic interior of the Potted Lobster. With restaurants in Bamburgh and Abersoch, this is relaxed seafood dining finished with a luxury look. Featured on BBC favourite Hairy Bikers for it's delicious menu, the Potted Lobster has also garnered favour on Instagram for its visuals. Pairing our Antiqued Brass fittings with natural wood, traditional beachy blue hues and statement furniture, Jojo Bradley have created the perfect environment for our coastal-inspired designs to thrive. We spoke with Design Assistant Amy to find out more about their practice and seeking inspiration for the home.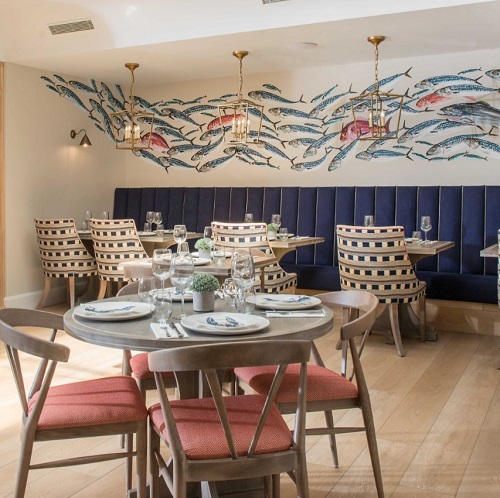 Firstly, your team have recently been nominated onto the entry list for the Restaurant and Bar Design Awards for your design at The Potted Lobster in Abersoch, Wales. Congratulations! Can you give us a little background about the company?
Jojo started the business 8 years ago in her spare bedroom with her upholstery hammer and a sewing machine. Since then, Jojo Bradley Interiors has flourished into a wonderful team of 8 consisting of Interior designers, Interior Architects and accountants.
How would you describe the Jojo Bradley style?
Elegant, fun and timeless to ultimately create beautiful yet functional spaces.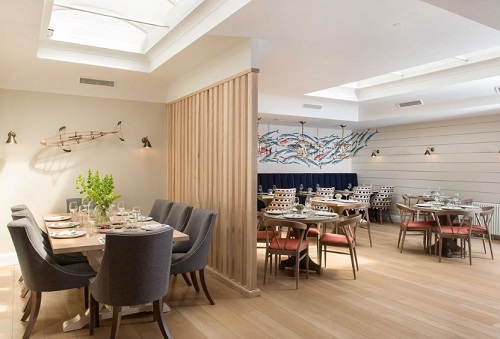 We adore the decor at the Potted Lobster restaurants. Of course we love your lighting choices, but can you give us some insight into how you developed the rest of the décor?
We worked closely with the client on this project to create a luxurious coastal restaurant. Using inspiration from the beautiful Welsh coast, we developed the soft furnishings scheme using a mix of navy, soft blues and a hint of orange as a subtle nod to 'The Potted Lobster' branding. We knew from the word go we would be incorporating bespoke murals by the very talented 'Florence Super' which we developed closely with her and this was a huge inspiration to the rest of the interior design scheme.
We often take inspiration from hotel and bar design, but it tends to be a little more daring than most of us might implement in our own homes. How does the planning for restaurant design differ from a residential project?
Commercial design offers us the opportunity to add more conceptual elements to the design for instance incorporating sea murals and ash wood slatted walls to fulfil the 'coastal' brief. It often means we can be a little more playful and bolder with our designs.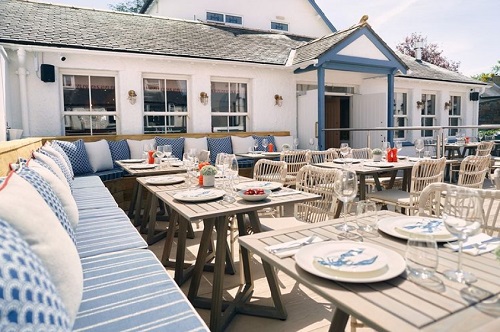 Naturally we believe lighting is at the core of a well-balanced scheme. When designing a room, at what stage do you consider the lighting?
We consider lighting from the very beginning of the design process. Good lighting design is imperative to creating the right ambiance to a space, so we work closely with our trusty electricians to ensure this is implemented perfectly. A mixture of high-level and low-level lighting is important to any room, so it works for the user in both the daytime and evening. At The Potted Lobster we used a mixture of club wall lights and lanterns with a chandelier style light to create a 'glow' with no harsh direct light, to ensure the space is comfortable for the diners.
As a business, do you have a favourite style or era of property to work with?
We often work with period properties but we particularly love working with Georgian. The large proportions, ceiling height and symmetry are a delight when creating a design scheme and room layout.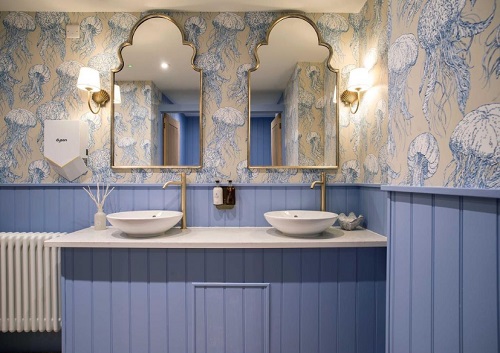 Can you give any tips to our audience who might want to transform their interior style but on a tighter budget?
Be stringent with your budget, plan in advance and decide early on the key pieces you want to spend the bulk of your budget on and work the remainder of the room around this. For instance, we always recommend to our clients to spend more of their budget on higher spec lighting as this always give the look and feel of a more luxurious space. Other items such as accessories can easily be upgraded in the future.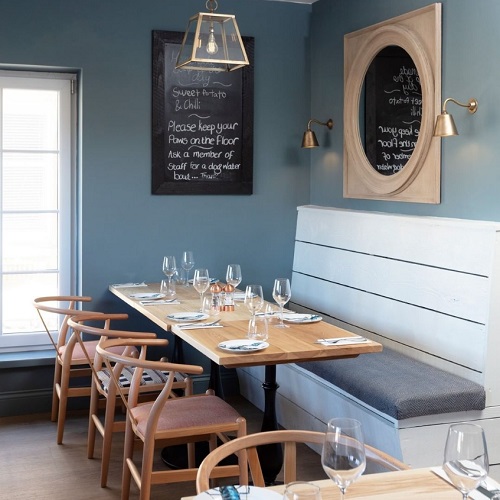 A few quick-fire questions…
What are your top tips for making a house a home?
Hone in on your own personal style and do not fall down the Pinterest hole, as often these trends are short lived and do not stand the test of time. Take your time adding the personal touches such as artwork, as creating a home is a labour of love that doesn't happen overnight.
Is there a staple homeware piece that every house needs?
Artwork personal to the family whether this be an inherited piece of art or a family photograph.
Your favourite Jojo Bradley project so far?
Although we love all our projects, both residential and commercial, 'The Potted Lobster' in Abersoch sits high on our favourites list.
Finally, your favourite Jim Lawrence product?
The Antiqued Brass Club Wall Lights are an absolute go-to for us. Whether used on joinery, a utility or any other room of the home, they create a beautiful ambiance.
If you too are inspired by Jojo Bradley Interior Design, enjoy more of their portfolio at @jojobradleyinteriors on Instagram. To visit either of the Potted Lobster restaurants book here. To stay up to date with Jim Lawrence, follow us on Instagram, Facebook and Pinterest. Browse our website to see all of our hand forged and finished lighting and homeware.
GET THE POTTED LOBSTER LOOK AT HOME

Boathouse Wall Light in Antiqued Brass, Hunstanton Velvet Cushion Cover in Navy, Stanton Pendant Light in Antiqued Brass, Hunstanton Velvet Cushion Cover in Burnt Orange, Ship's Wall Light in Antiqued Brass