Bathroom décor needs a special touch. Choosing what you like and what you actually need in a bathroom setting can sometimes be a compromise…but not with Jim Lawrence. We've created an extensive collection of bathroom lighting and matching accessories to ensure your bathroom interior is as stunning as the rest of the house. There are many things to bear in mind, but we are confident you will find what need AND what you love with us. So here are a few bathroom décor ideas to help you refresh your space this Spring…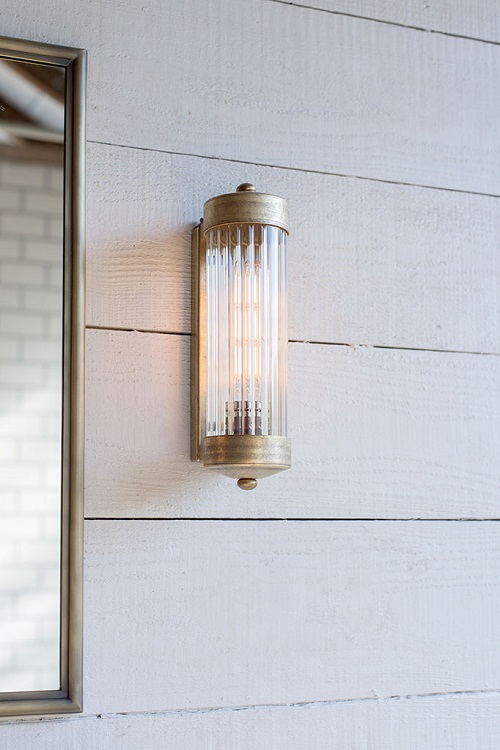 Our IP rated brass bathroom lighting blends old and new in perfect harmony. Our popular Cheltenham's encapsulate a simple, old-fashioned utility style that blends seamlessly with both period and contemporary bathrooms.  At Jim Lawrence we thrive on recreating classic designs and giving them a new lease of life with modern twists. For the vintage lovers we recommend the Cheltenham Wall Light to line your mirror for a warm, art deco inspired glow.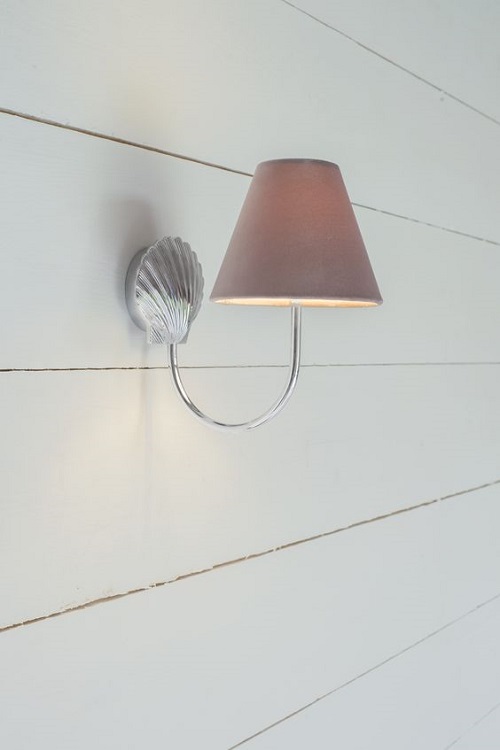 Embrace coastal character with our Saunton Wall Lights. Choose from Antiqued Brass or Nickel for this shell-shaped Wall Light. These innovative wall lights have been cleverly designed with a sealed glass cover over the bulb to ensure they are waterproof and fully functional in a bathroom environment.
These lights are inspired by Jim & Sheena's holidays to the West Coast of Scotland, where fresh scallops were always on the menu and finding shells on the beach was a favourite past time. Wonderfully tactile and ideal for those after a laid back, beach house feel, it offers the perfect opportunity to add a pop of colour too with one of our bathroom candle shades.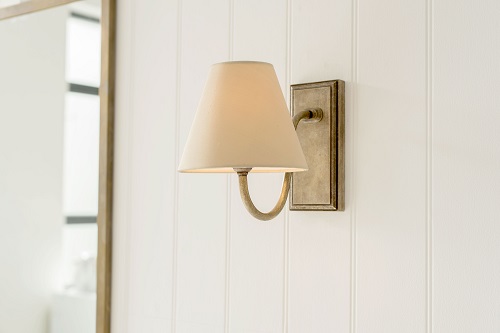 A classic design with a modern rustic finish for more traditional country spaces. The Single and Double Malvern Bathroom Wall Lights will bring a compact elegance to your bathrooms, ensuring your favourite country style reaches every corner of the home. Choose from our variety of Bathroom Candle Shades to pair with your light.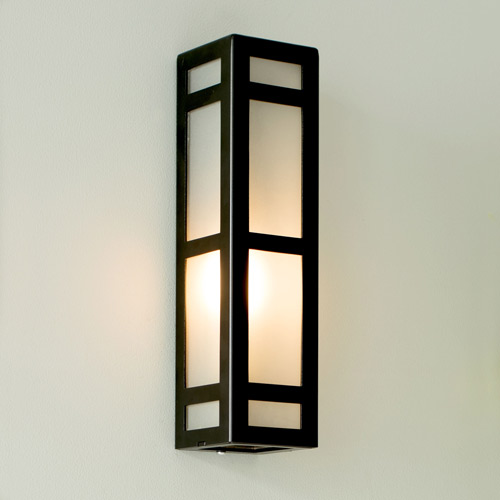 Our lovely Hinton Wall Light has a handcrafted contemporary chic that will add a designer touch to any room. In our Matt Black finish, the Hinton adds arhcitectural lines and a striking contrast to modern white bathrooms.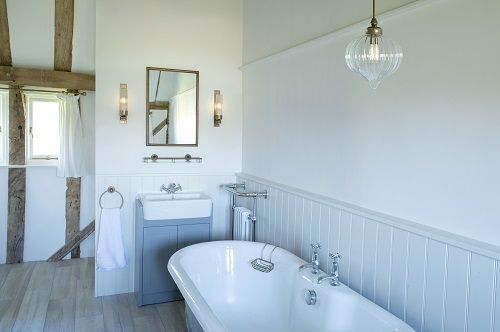 Great care must be taken when selecting a bathroom light as all bathroom lighting must conform to the current regulations which are designed with safety in mind. Bathrooms are considered to be a special location for electrical installations because they have an increased risk of electric shock for the users, due to being so close to water.
Everyone knows the types of electrical products that are found in bathrooms: lighting, showers, fans, heaters, shaver sockets and towel rails. All of these are governed by rules for installation and contractors must follow them, using certified products, and make sure they comply with the regulations.
Electrical contractors will make bathroom installations as safe as possible by carefully following wiring and building regulations, choosing specially designed equipment and employing a good "splash" of common sense (if you pardon the pun!).

Light fittings are given a two digit number known as an IP (Ingress Protection) number or rating. The rating indicates the standards are used to define the levels of sealing effectiveness of electrical enclosures against intrusion from foreign bodies such as dirt and water.
The first digit stands for the level of protection that the enclosure provides against solid bodies like dirt and dust particles and ranges from 0 for not protection to 6 for total protection.
The second digit is the one that is important in bathrooms and it relates to the degree of protection of the equipment inside the enclosure against water and ranges from 0 for no protection, up to 8 for a light that will be totally submerged in water.
Our bathroom lighting range has been carefully designed and constructed with safety in mind. All our bathroom lights are IP rated for zones 2 & 3, so you know exactly where in your bathroom it is safe to install. We do not supply lights for zone 1.
If you are unsure that your light is suitable for the zone, always consult an electrician.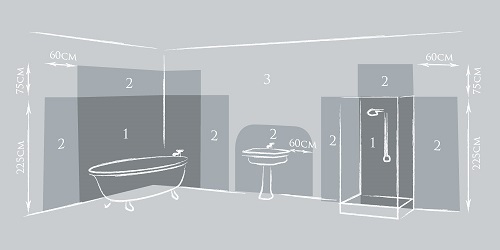 For safety purposes, bathrooms are divided into zones and the IEE (Institution of Electrical Engineers) wiring regulations indicate what types of lighting can be installed safely in each zone.
Each of the bathroom electrical zones illustrated below has specific requirements regarding the electrical equipment that can be installed and used in that zone.

This is inside the bath or shower tray itself and any light here must be low voltage and rated IPx7 (the x is used here because the degree of dust protection does not apply to bathrooms and any number will be ok). Lights rated IPx7 will provide total protection when immersed in water.

Is above the bath or shower to a height of 2.25 metres above floor level and a light fitting with a minimum of IPx4 is needed here.

An area stretching to 0.6 metres outside the bath and above the bath or shower if over 2.25 metres. A light fitting of at least IPx4 is needed. Zone 2 also includes the area above the sink in a radius of 0.6 metres from the taps.

Refers to the area beyond Zone 2 and was previously known as Zone 3. There is no longer a specific IP number for this area and any light fitting can be used unless it is specifically marked as not for use in bathrooms.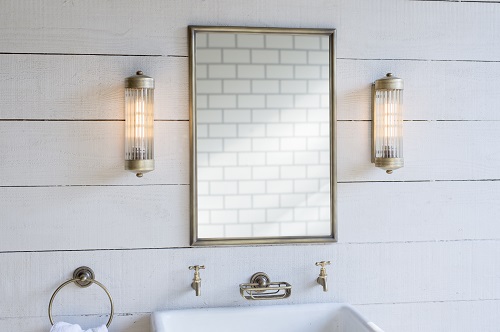 Once your lighting is chosen, you can select your shelving, soap dishes, mirrors and more. Our popular Bletchley Bathroom Collection is the perfect choice for an effortless and stylish bathroom update. Vintage styling is easy with us: we've treated the range with lacquered antiqued brass to make sure they stand the test of time physically as much as they do aesthetically.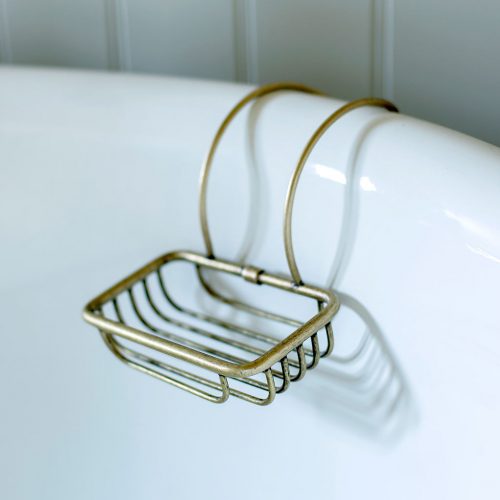 A simple 'add on' for your bath, the Bletchley Roll Top Soap Basket is as useful as it is beautiful – a lovely alternative to the usual chrome of many bathroom accessories.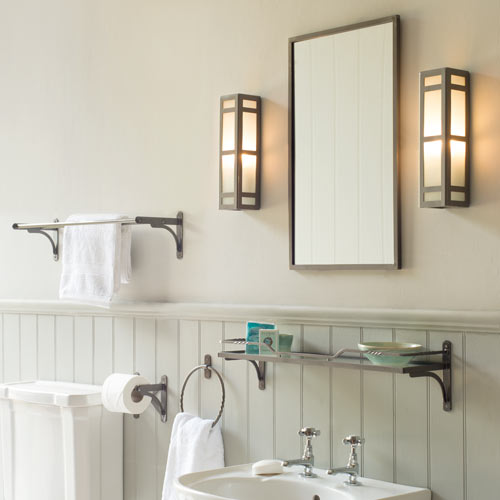 Grey is always an interior go-to, and our gunmetal/pewter hued Polished finish is no exception. Our Pembroke bathroom range will give your room an elegant industrial luxe finish, bringing a stylish utility inspired look to the table.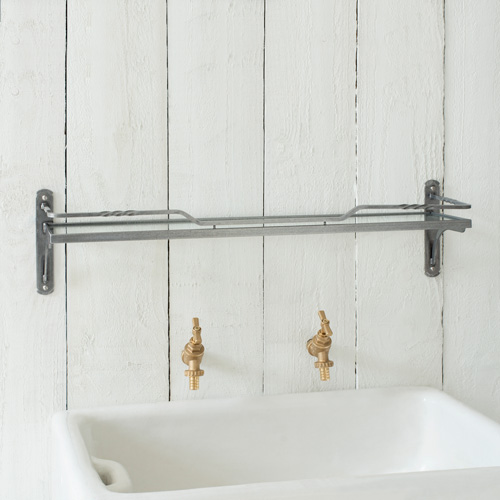 Why not incorporate a hand forged steel bathroom shelf from our Pembroke range into your room? It is a practical size for a family bathroom and the glass is easily removed for cleaning. The glass is supplied clear unless frosted glass is requested for an additional cost of £15.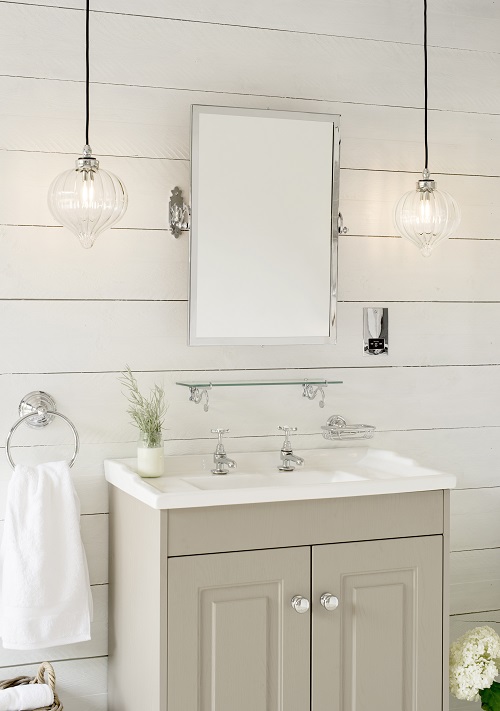 The Stratford range will bring a touch of period charm to any traditional or contemporary bathroom with it's decorative cursive brackets and flash coating of glossy chrome.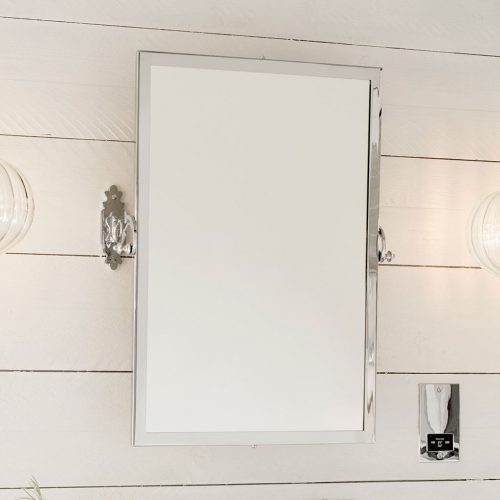 We are particularly proud of the beautiful Stratford Mirror – which you can style hand either portrait or landscape – an ideal choice for achieving a modern country cottage look.

For those taking a monochrome approach, our Matt Black Hatton range is lovingly forged from solid steel and painted with a powder coating process that creates a smooth, hard-wearing surface. Though an all important essential, your toilet roll holder can be stylish too.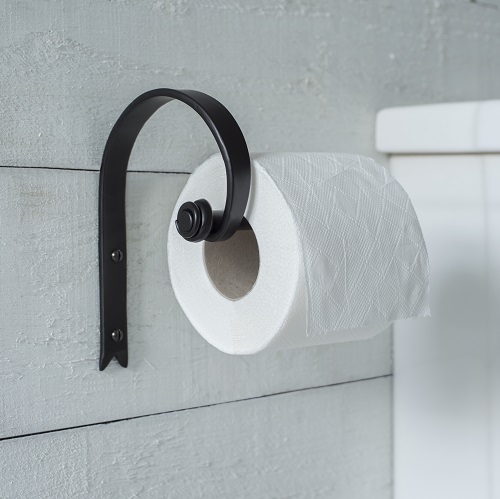 The Hatton Loo Roll Holder features a ribbon pointed bracket and fluid metalwork that has a quality and charisma which can only be produced when they are handmade with care.
That's our bathroom decor ideas all wrapped up…now it's over to you to choose the beautiful designs that you love. Browse our bathroom lighting and bathroom ranges on the website to find your match. For more information on lighting, bulbs and more FAQ's head to our Knowledge Base. If you have any questions about fitting your lights, we are always happy to help, so give us a call or drop us an email and we will do our best to meet your needs. For even more home interior ideas, keep up to date by following us on Instagram, Twitter and Facebook. Don't forget to tag us in your home updates– we love seeing our products in their new homes!