For many years now we have teamed up with Lovat Mill, based in the Scottish Border town of Hawick and known as the Home of Tweed; where the artisan craftsmen follow in the footsteps of generations of tweedmakers to create beautiful, contemporary tweeds.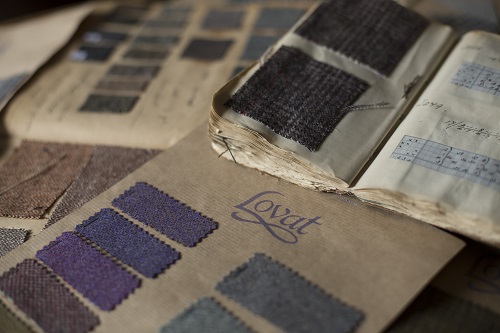 Taking inspiration from the rich colours of the surrounding countryside, Lovat Mill design and weave estate and country tweeds of the highest quality. Incorporating between five and forty individual colours to produce a range of specially selected herringbones and checks that will add subtle reflections of the natural world to your home interior.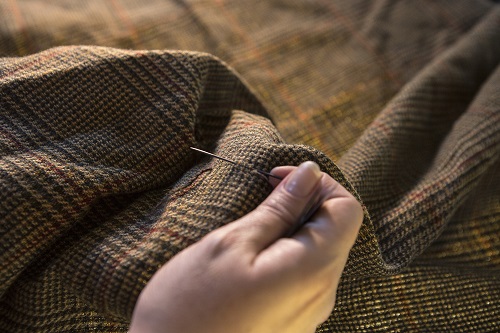 THE HOME OF TWEED
It is an iconic brand with a global reputation, rooted in the land that inspired it. Tweed may be one of Scotland's great gifts to the world, but it has never cut its ties with home. In the Border town of Hawick, which gave this most versatile of cloths its distinctive character and name, its far-reaching success is a source of pride. At Lovat Mill – the home of tweed – it is a daily, ongoing passion.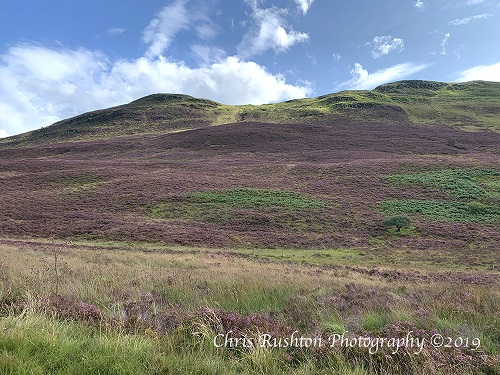 As the only remaining tweed producers in the town, Lovat Mill's artisan craftsmen are custodians of a cloth-making tradition that dates from the dawn of the industrial age. They embody the spirit and ingenuity of their Hawick forebears who, in the 18th century, transformed textile production in the town.
HERITAGE ROOTS
Today, Lovat Mill directors Stephen Rendle and Alan Cumming maintain a keen sense of tweed's rich heritage. Rendle, like Cumming, is keenly aware of the complexities and craft of textile production: "For us, it's all about following in the footsteps of previous generations of tweed makers."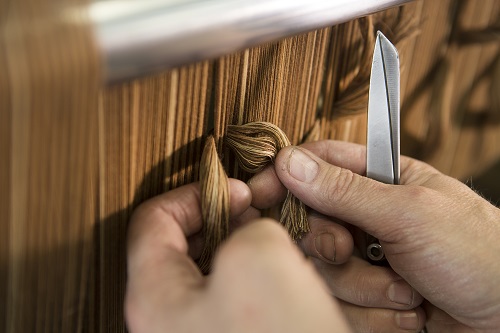 NURTURING TRADITION
You know we are passionate about nuturing traditional skills when it comes to manufacturing, so to have the opportunity support another heritage craft is very important to us. Tweed making remains the ultimate craft industry, partly a work of art and partly a feat of precision engineering. At the design stage, things move slowly and precisely.
Colours are chosen with reverence, yarns twisted with care. Each thread entwined is a labour of love, bringing you the beautiful materials that we use to make shades, curtains and blinds here at Jim Lawrence.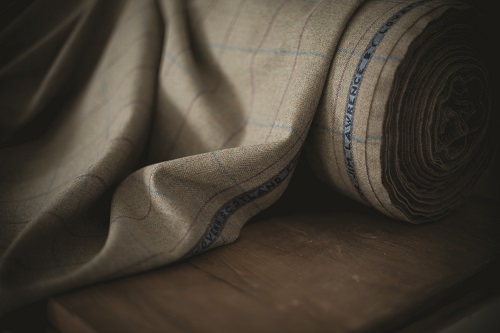 BRINGING THE OUTSIDE IN
We offer a collection of wools and tweed from the Lovat Mill in rich earthy colourways: tones that are pulled from expansive lochs, cairns and the heather of the vast hillsides.  Infusing these colours into our inventory of products was an inevitabilty. An almost mythic beauty lies between the mountainous terrain of the Scottish Highlands, which has always captured our interest and been something we longed to weave into our design.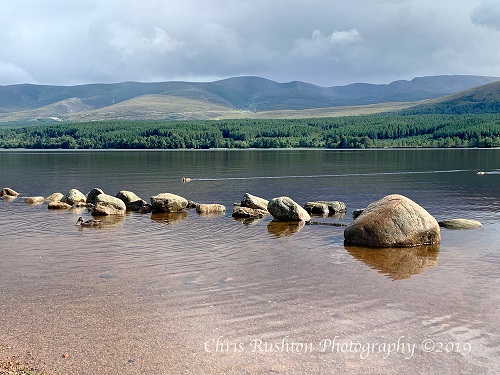 With each fabric incorporating between five and forty individual colours, the end product is always a unique work, blending all our favourite elements of the landscape into one. We are thrilled to continue working with the mill to produce a range of specially selected herringbones and checks that will add subtle reflections of the natural world to your home interior.
STYLING AT HOME
For a soft grey influenced by the smoky quartz of the Cairngorms, our Limestone Tweed and Stirling Lovat Check are both wonderful for inviting a cool neutral into your scheme.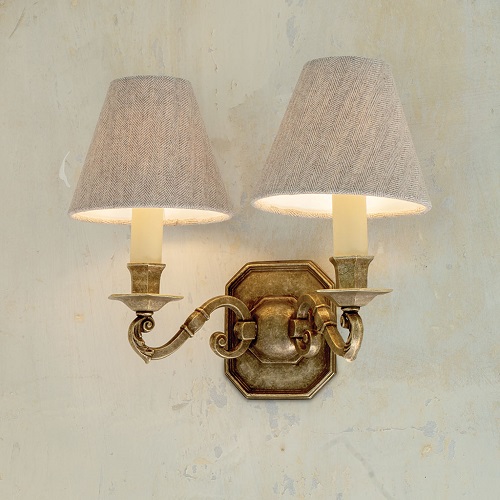 Pictured here on our Double Gainsborough Wall Light and Small Porter Table Lamp, both fabrics have a gentle modern rustic appeal for adding subtle texture to your lighting.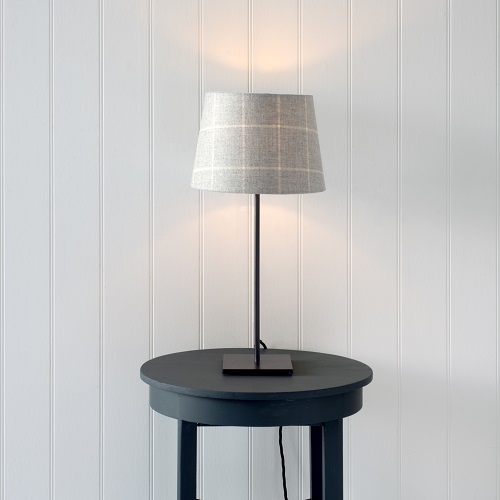 To conjure the uniquely soft purple tint that sweeps across the moorlands and mountains, the aptly named Herringbone Tweed in Heather can be paired with Talisker or Angus Check – two traditional earthy greens. The Heather Candle Shade is photographed with our Grantham Wall Light. Together with the decorative turnings on the candle arm and its elegant length, the Grantham's are a noble choice for more traditional settings that need a classical touch: the perfect platform for a heritage tweed.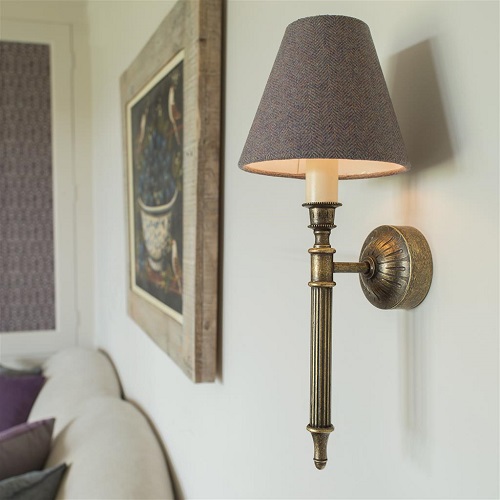 Featured with our Double Gosford Wall Light, the Candle Shades in Angus Lovat Check paralell the aged patina of the brass, offering a harmonious country style ideal for cosy living spaces or cottage bedrooms.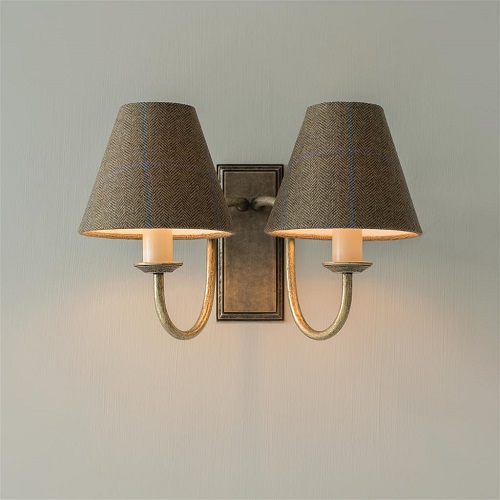 Our two remiaining Herringbone Tweeds in Blue and Granite mirror the surface of Scotland's most magnificent lochs: bringing a dusky sky and grey-blue tones into your decor.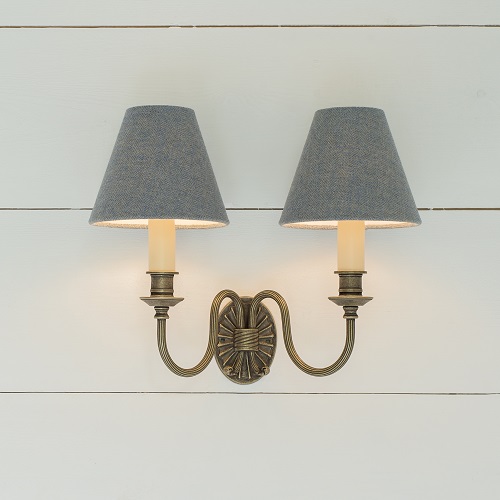 Our Reeded Wall Light is a pretty choice for a traditional period home, particularly paired with a powdery blue and an off-white paint or panelling. For a daintier shade that still packs a stylish punch, our Tapered Candle Shades in Granite are a keen choice for smaller wall lights like the Single Rowsley.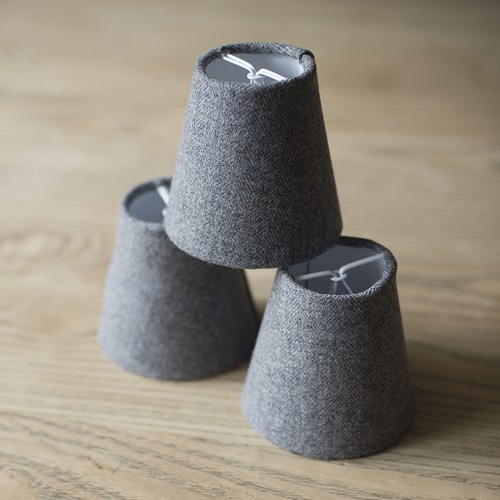 MADE TO MEASURE
Our expert team of seamstresses create beautiful made-to-measure curtains & blinds from our collection of over 60 elegant country style fabrics. From sophisticated elegance to delightful country cottage styling, our range of handmade curtains and blinds are a stunning addition to any home. The first step to measuring for new curtains is to measure the length of pole you will need to hang them. We will then need to know how long you would like your curtains to hang. Please visit our Guide on the website to learn more.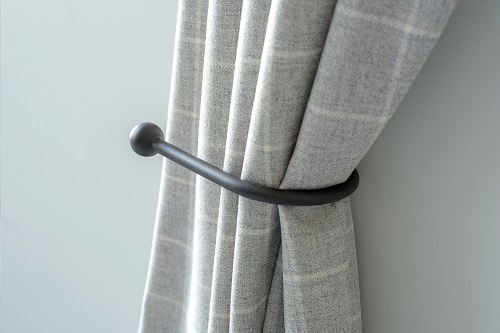 Jim Lawrence has worked hard over the past 20 years to build up an international reputation for producing classic, high quality products. All our shades, curtains, cushions and blinds are hand made by our talented soft furnishings team here at our Suffolk workshops.
Do you want to see more? We are very proud of the quality of our workmanship and designs that we feel highlight the skill of our workers and their ability to make products that suit both contemporary and period properties. To view all of our home accessories and lighting visit our website. For even more home interior ideas, keep up to date by following us on Instagram, Twitter and Facebook. Don't forget to tag us in your home updates– we love seeing our products in their new homes.
SOURCING MORE HOME IDEAS