Set alongside the River Gavenny, the 17th century Little Mill boasts a unique interior with a charming vintage appeal. The Welsh Mountain views and wild swimming spots on the doorstep are enough to entice you, but the rustic walls, a folky colour palette, and antique furniture are bewitching in their own right. Unpretentious in its approach, the Little Mill embodies cosy cottage styling in its most authentic sense. Unique in its simplicity, the house is dressed with traditional wool blankets and bedside candles, whilst colourful door frames and flooring adds a playful edge to whitewashed walls. We caught up with host Hayley to find out more about this historic Welsh hideaway.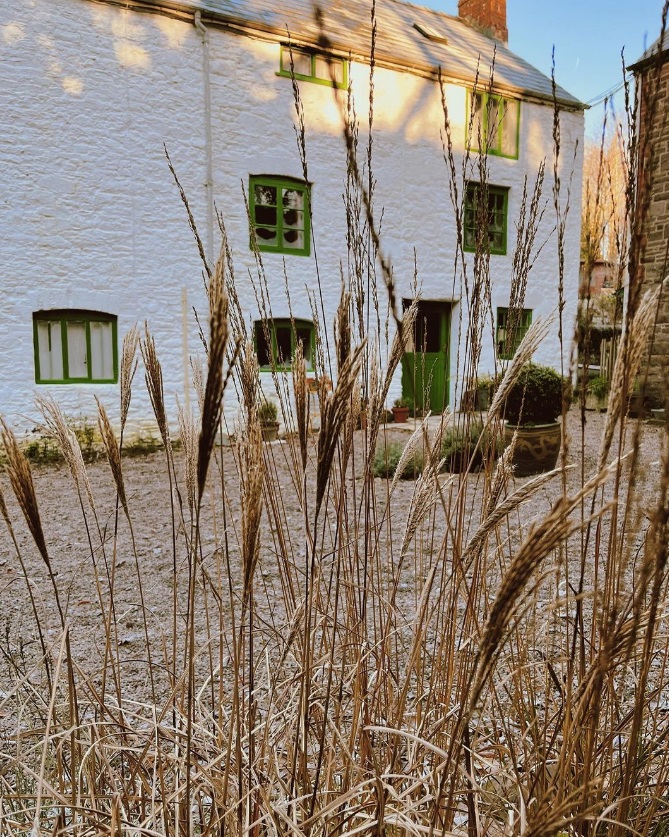 How did you come to be the custodians of this beautiful property?
We were actually renting the property next to it, when it came up for sale. We had been looking for nearly one and a half years, so it felt like fate.
The Mill has incredible bones, can you tell us about the history of the home?
It is a late 16th century corn mill, sat next to the river Gavenny. I believe it was one of two mills in Abergavenny. At one point it was owned by the local Pen-Y-Fal Psychiatric hospital that loomed on the hill above. It produced flour for the people interned there. After that it was purchased by the NHS, and the local Doctor used to live next door. It fell into disrepair in the early-mid-19th century until it was purchased in the 90's by two local musicians who began the works of restoring the old building.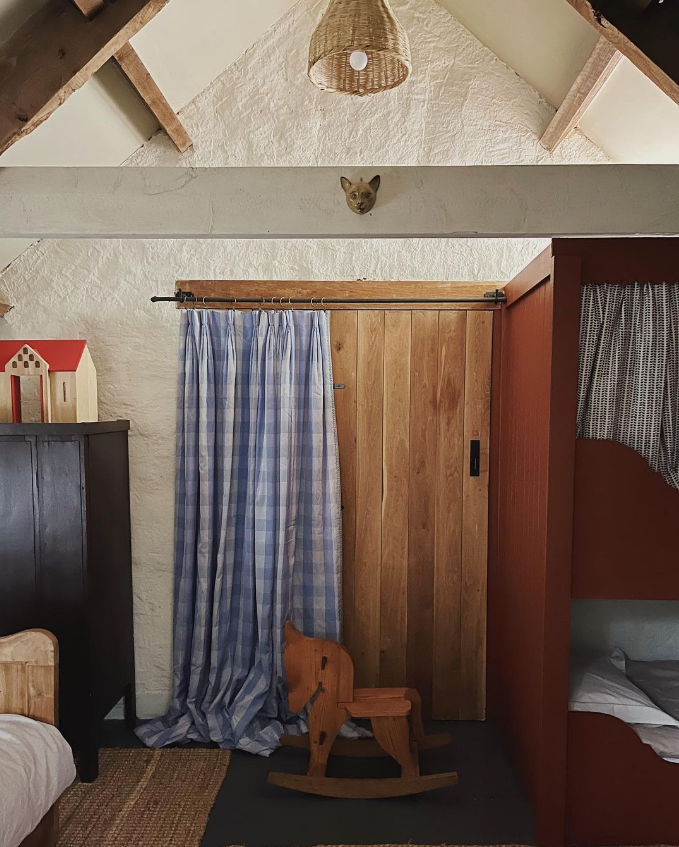 Have there been any big surprises on your renovation journey? 
Too many to count! Some good, some bad. I love discovering the history of the building, so I was thrilled when we uncovered the old miller's handwriting all over the lime plaster walls. We found the old mill stone in the undergrowth in the garden as well. I have no idea how we are going to move it, as it weighs a few tonnes! We have a lot of the old machinery including two large mill wheels and a 17th century staircase still in situ.
Your decor choices are intentional in their gently folky rusticity. Where does this influence stem from, do you have a background in design?
I did not grow up in the countryside or in cottage style homes but have always loved the aesthetic of a rustic country kitchen. I think it stems from my grandma describing her childhood in rural Estonia. It was a very simple aesthetic from her description, with a lot of handmade textiles, wooden furniture, and endless blankets in the winter. She grew up in a mill, so it is rather serendipitous that I have ended up living at one too.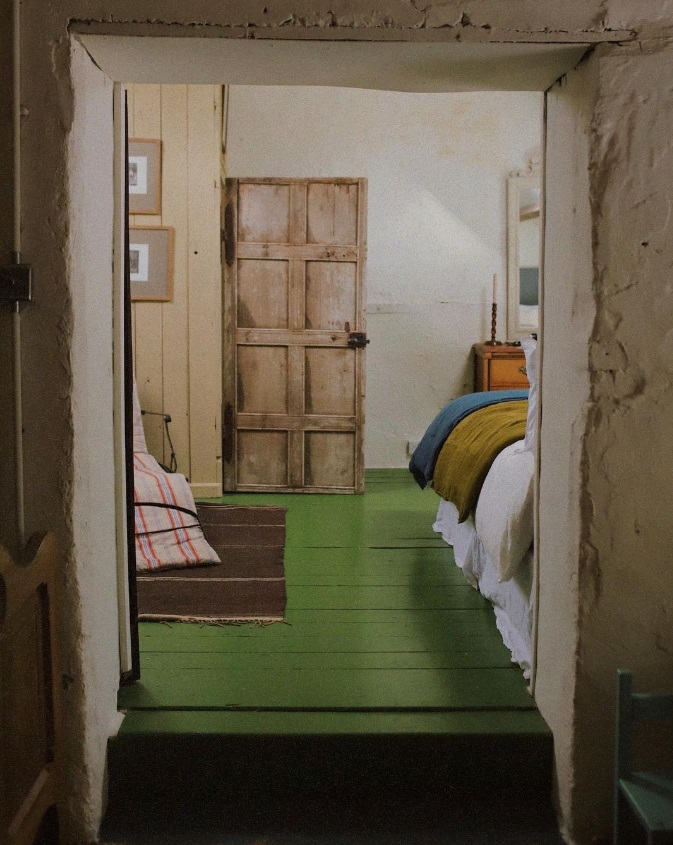 What inspired the colour palette of your painted doors and floors?
As we were working on Little Mill, I went through so many colour changes, but one colour I always knew I wanted was the sorrel green floors upstairs. The colour is very saturated but without being garish and reflects the real natural tone I find in the garden in spring.
You've chosen to feature our beeswax ironmongery throughout, how easy have you found it to find new items that are sympathetic to the era of the house?
I love the beeswax finish. It is the right level of industrial and beauty that fits the mill perfectly. Brass finishes felt too showy for the rustic aesthetic. I have spent hours trying to find products to complement the building. Some felt to purposely 'olde' and others too new and shiny. I found the Jim Lawrence simple designs and finish worked in harmony with what was already there.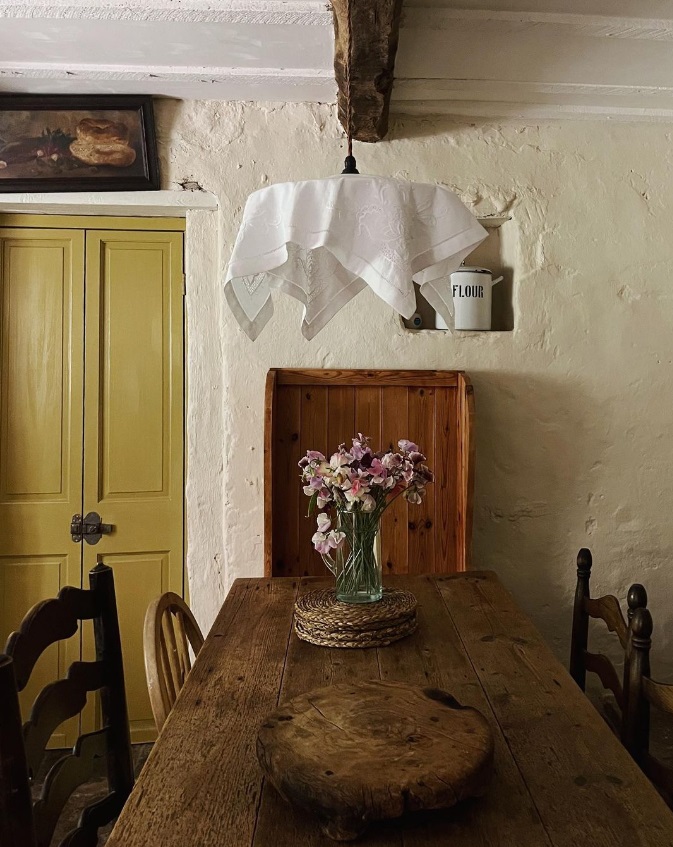 We're interested in your sourcing secrets as a whole…where is your favourite place to gather antiques and other homely treasures?
I am an auction room addict. I don't often get to attend them, but I am always looking online.
We love your dedication to 'slow living'. Not just in terms of the aesthetics of the Mill, but the fact there is a vegetable garden to pluck from, no television, and a focus on enjoying all the nature on your doorstep. What can visitors expect when they book to stay with you?
We really want our guests to relax and step back from the day-to-day stresses when they visit Little Mill. There is a calmness in the space, which guests often remark upon, and the constant sound of the river rushing past can be very hypnotic.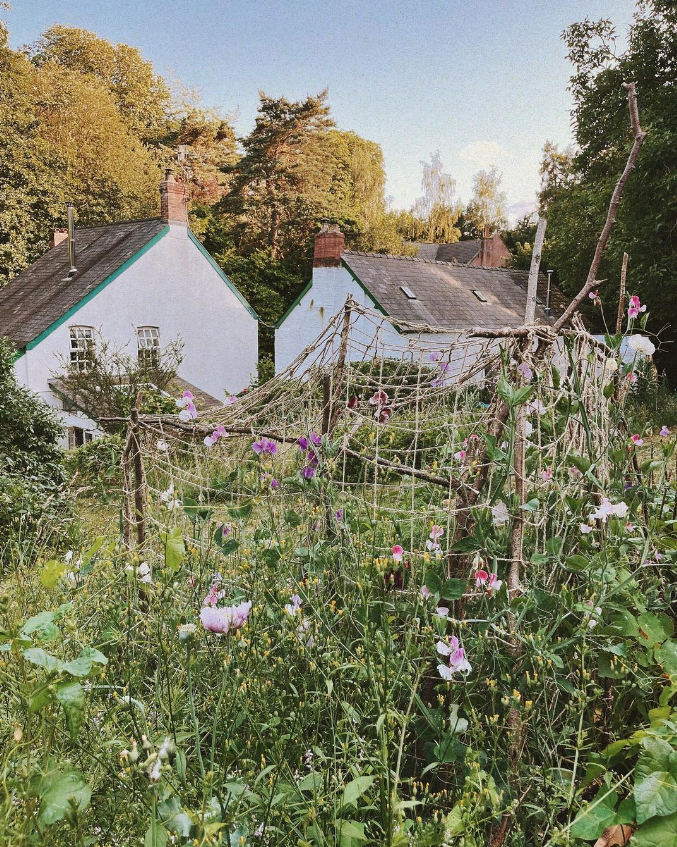 Do you have any advice for others who wish to implement a simpler, more thoughtful approach to decorating their own homes?
Take your time. Don't feel the need to finish everything in one go. Sit with a patch of colour for a while. Live with a painting in a certain spot, and don't be afraid to change your mind the next day. Simple handmade items (whether it is furniture or textiles) always bring me so much joy. I have tried to allow Little Mill to breathe and tell its story, without feeling drowned in too much clutter.
What are your plans for the Little Mill going forward?
We are opening up the second half of the Mill in October which is really exciting. It has been a real labour of love and I can't wait to have her finally open. We will also launch our artist residency in 2024.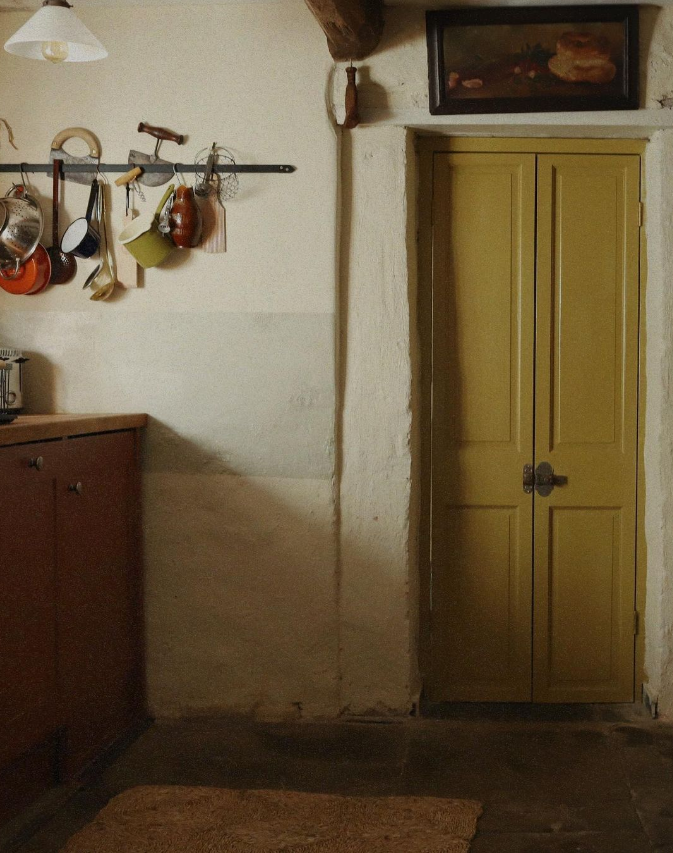 Finally, a few quick-fire questions…
Three words to summarise how you want your guests to feel when they step through the front door?
Calm, quiet, informal.
Three words for when they leave.
Nourished, content, settled.
What's the staple homeware piece that every house needs?
Wool blankets and beeswax candles.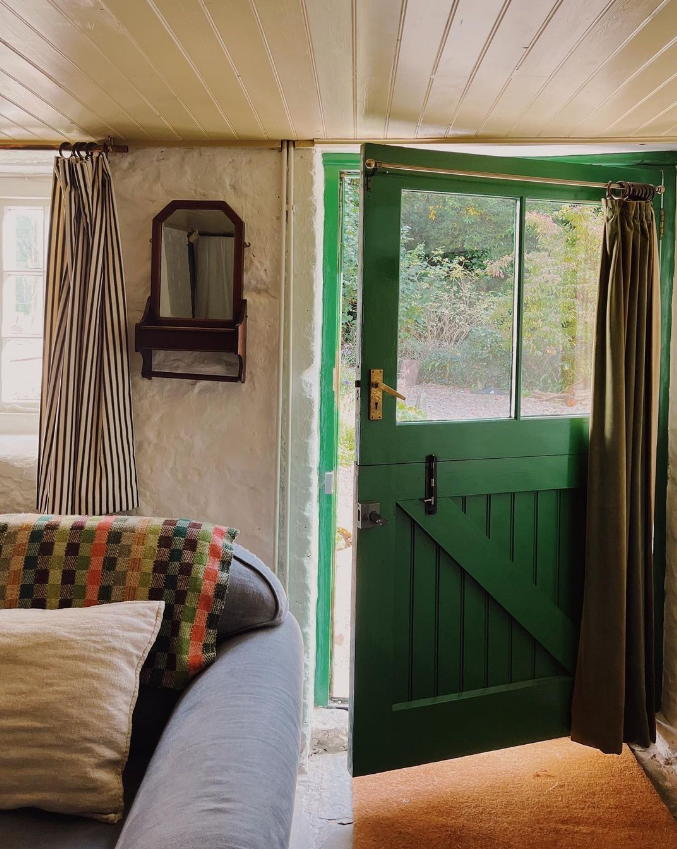 Follow the Little Mill on Instagram (@little_mill_abergavenny) for more enticing interior shots and visit littlemillabergavenny.com to book your stay. To stay up to date with Jim Lawrence, follow us on Instagram, Facebook and Pinterest. Browse our website to see all of our hand forged and finished lighting and homeware.
GET THE LOOK

Suffolk Latch in Beeswax, Pendant Lampholder, Self-closing Portiere Rod, Beeswax Door Hinge