Are you seeking the perfect lighting for your living room? Discover how carefully considered lighting can completely transform your space. Our collection of living room lighting features wall lights, stylish floor lamps and ceiling lights will help you dial up the cosiness and prioritise comfort. When your home is prepared with perfectly balanced lighting and accessories you'll be ready to hunker down and enjoy the season at its finest.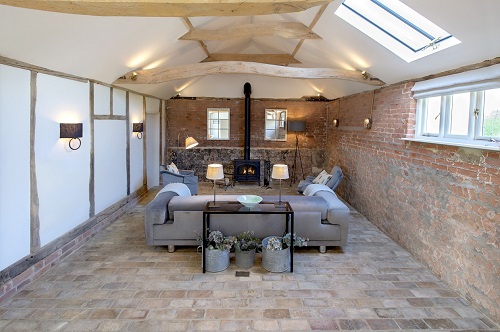 This beautiful exposed brick room started its life as Jim's old bull pen at the farm. Now designed as a sitting room or snug, it was vital to layer this rustic space with pools of light from different sources to ensure it radiated comfort and calm. Balancing the traditional and contemporary in a modern rustic interior is important for creating a sphere of cosiness when the night draws in.
LAYER WARM BRASS DETAILS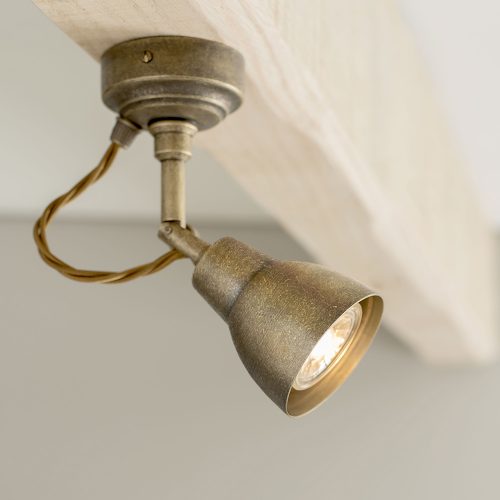 Combine the old and new for a stylish modern rustic interior. The Single Edgeware Spotlight in Antiqued Brass was designed as a stylish and functional solution to boost the lighting in specific areas of your room, particularly useful in hard-to-reach areas of period homes like these beams. Our Edgeware Spotlight incorporates an elegant brass shade with an exposed braided cable that gives it a cool industrial look.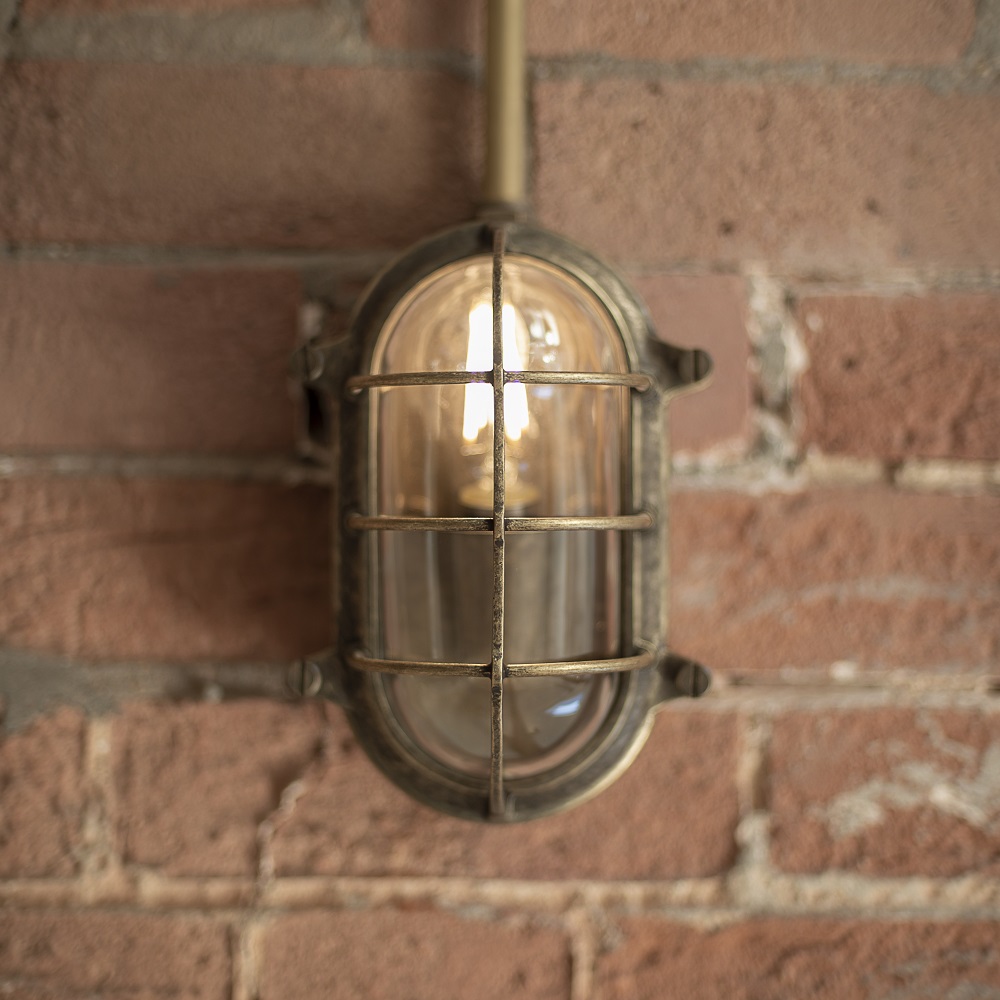 The Bulkhead Outdoor Light is a handsome, retro-style garden wall light with a robust and practical styling that is reminiscent of shipping and industrial days gone by. There's no reason you can't enjoy it indoors too, and we knew it was our first choice to pair with the original exposed bricks. Hand cast in solid, natural brass, this light has a wonderful weighty quality that adds warmth and texture to your walls – bolstering the modern rustic feel.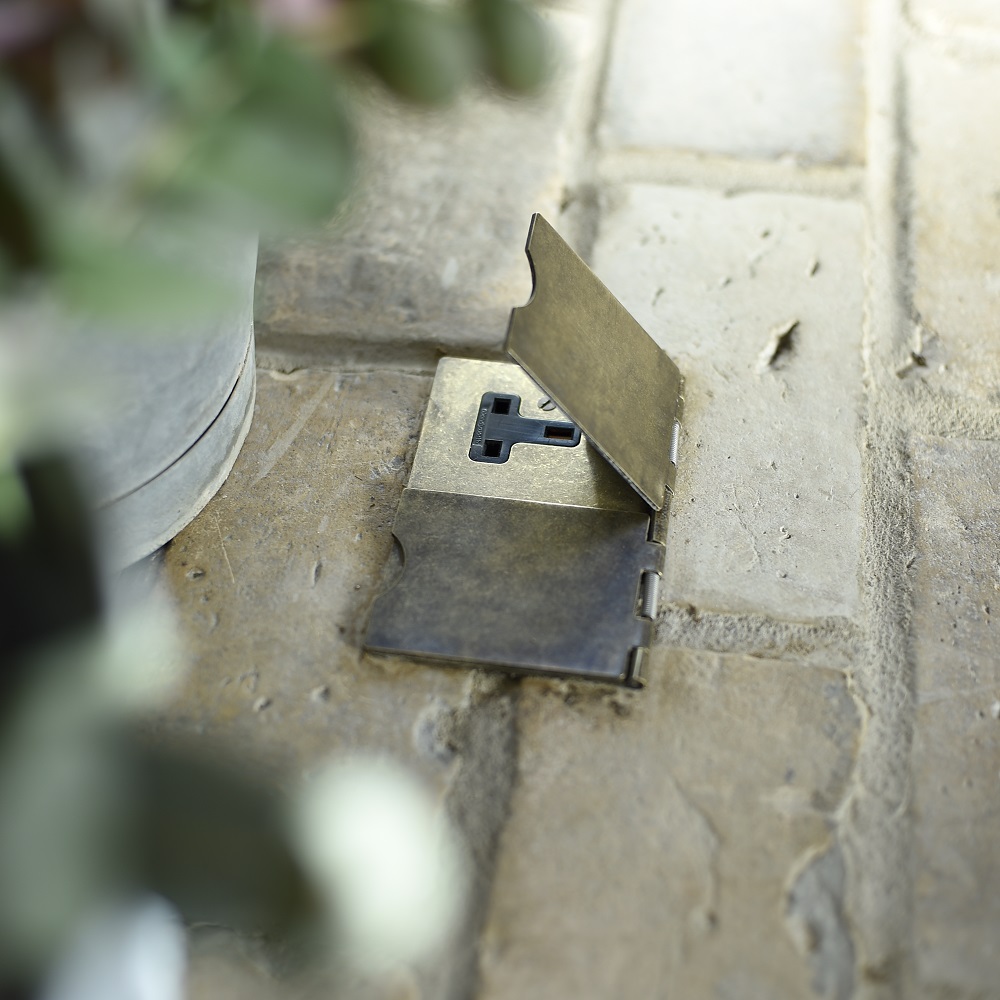 A hinged design that fits into the floor, this 2 Gang Floor Socket is the dreamy modern rustic detail you might not have thought of. A great solution when you don't want wires stretching around the room. View all our sockets and find the perfect match for your room in a range of finishes.
CLEAN LINES & SILHOUETTES


A Matt Black or Beeswax finish ensures clean lines and stylish silhouettes, celebrating the traditional use of metalwork in Great British country homes. The Harrington Wall Light is practical and stylish in its simplicity, sitting close to the wall and creating interest with it's circular detailing. Paired with a Half Shade in Elephant Linen, this light is strong against the bright white walls when framed by beams. A perfect tether between the styling of new and old. Explore our huge range of wall lighting and stylish lampshades to pair them with.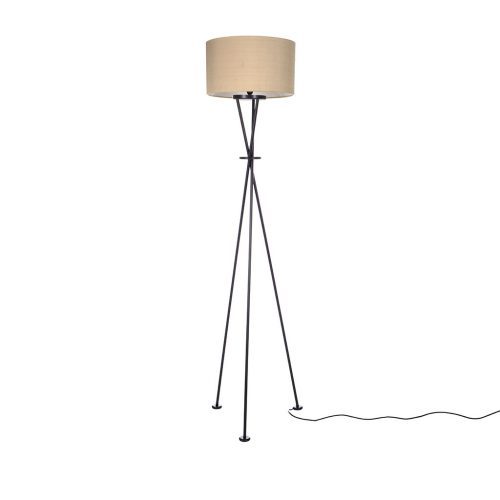 A stylish, contemporary floor lamp with a slim tripod stand, the Adler will bring an understated elegance into your room. This contemporary floor standing lamp is a wonderful choice for dialling up ambience in your dining room or living space when entertaining with family and friends. Discover more of our bestselling floor lamp designs.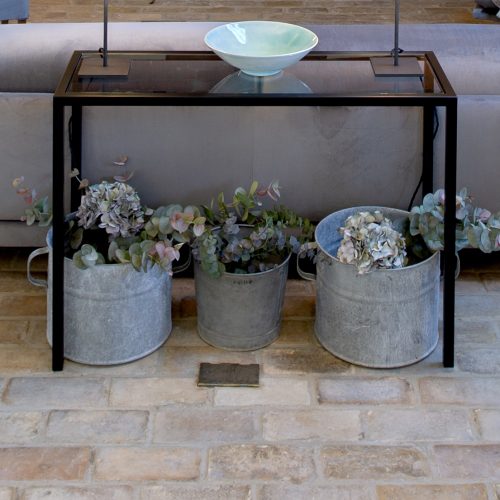 The slim architectural lines of our Cromer Console Table helps to balance the warm and cool tones of the room, providing ample space to rest your hot drinks or glasses of wine… See more of our forged iron tables here.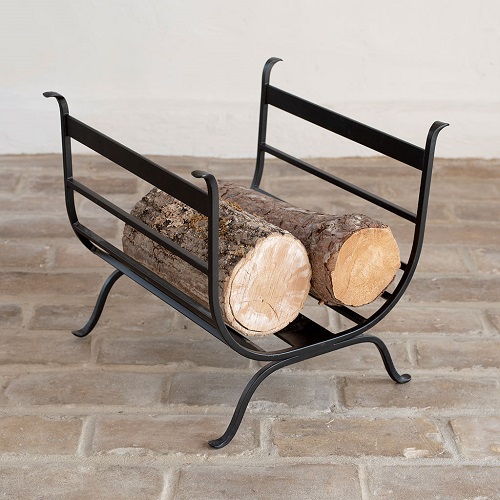 A must have autumn/winter accessory, the Chappel Log Basket is just right for your hearthside firewood. Sturdy and supplied in our durable matt black finish, it's a staple for homes with wood burners and fireplaces. With the dimmers in place and resting on our soft cushions, the added glow of a real log burner is sure to help you unwind on blustery evenings.
SOFT FURNISHINGS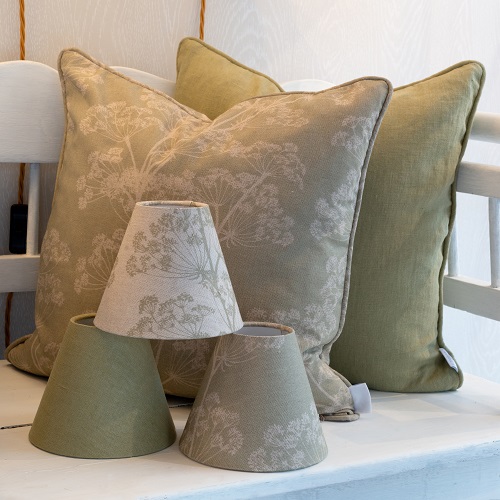 Soften your space with plush cushions. Our collection of luxury cushion covers come in a range of colours and fabrics, from sumptuous velvets, textured linen, classic cottons and heritage tweeds.
SHOP BY ROOM
We've curated a shopping guide to help you find exactly what you need in one easy-to-navigate place. We would love to see how you translate these ideas into your own home this season, so don't forget to tag us on Instagram and Facebook. For a wealth of home décor and interior inspiration, view our Pinterest page.