Before we explore the 'rules' it's important to bear in mind there is no such thing as the wrong shade. If you love it – it's the right shade. Experimenting with lamp shades in new fabrics, shapes and colours is a simple ut effective way to instantly update your home's style. However, with so many options to choose it's helpful to have a guide to follow to help you get started.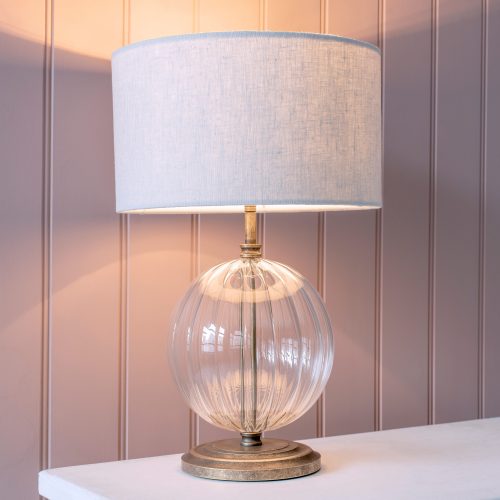 Our shades come in a huge variety of sizes from 9.5 cm width for our Tapered Candle Shades (measured across the widest point on the shade) and go up to 50 cm styles, so choosing the right dimensions can feel like a bit of a minefield. Though by no means set in stone, here is a rough guide to help make things easier…

Wall lights are generally best partnered with Candle Shades, which are available in a variety of shapes and sizes, normally measuring between 15-20 cm across the widest point of the shade. We do have a variety of wall lights that might require a Half Shade such as our Thorpe, Omara and Millfield lights to name a few.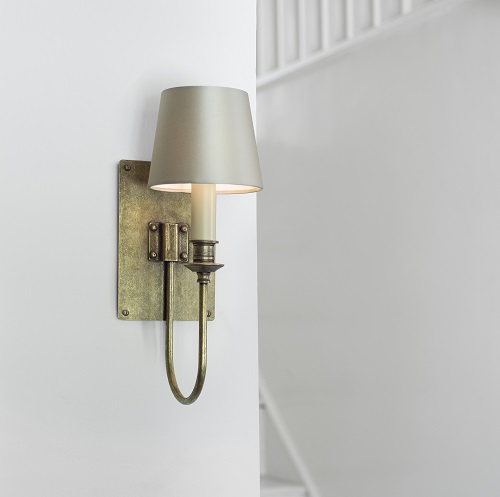 Generally speaking, for table lamps you should be looking for 15-20 cm wide shades for a smaller lamp base like our Small Porter Table Lamp, between 20-35 cm for an average lamp base like our Harleston, and anything up to about 50 cm forsomething larger such as our Seymour Lamp.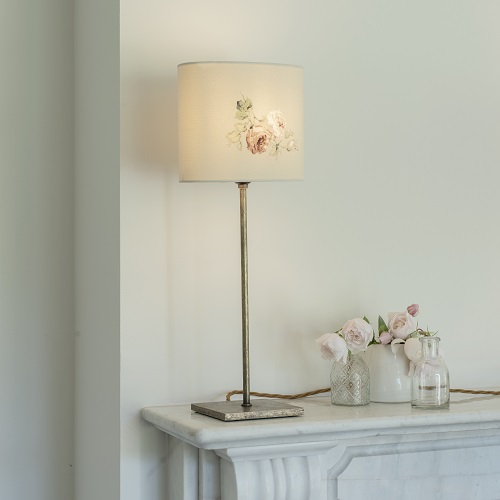 Standard lamps are a bit simpler. The rule of thumb with standard lamp sizes is if your lamp is a normal sized standard lamp, you will need a shade somewhere between 40 and 50 cm wide. If your standard lamp is a bit smaller (like our Nayland Adjustable Reading Lamp) anything between 30 and 40 cm may fit better. We advise our range of Empire Shades for our reading lamps, and a selection of Cylinder and French Drum Shades for our other, taller Floor Lamps.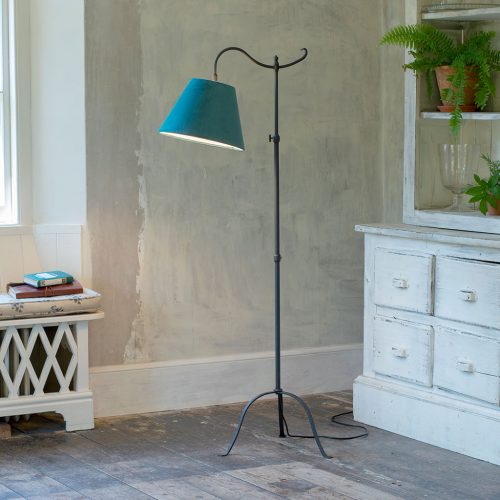 Many of our lights are supplied with either a metal or glass shade, however lots of our designs require a fabric shade to complete the look. Customers have found that between 40 and 50 cm sized shades work well as central statement pendant in a room. Whether you opt for a multi-armed pendant like the Gloucester or Arlington , or choose from our variety of Pendant Lampholders, we have a wide range of shades above 20cm that can be fitted with a pendant frame to fit your light.
With over 70 fabrics at Jim Lawrence, we are pretty confident we have the right fabric for your perfect shade…
Both the colour and fabric of a lampshade influence how it diffuses light. Historically, lampshades were white or neutral in colour as these are the most effective at spreading light through a room, while a dark shade directs light downwards creating pools of light. In order for your light fitting and shade not to compete for attention we find that with lampshades, opposites attract. An ornate or busy lamp base will generally look better with a plain shade, while a simple base gives you the chance to really go to town with your shade. Be bold with one but not both.
Before choosing between a translucent or opaque fabric for your lampshade, think about the purpose of the lamp. If it is for reading or to shed ambient light, you should choose a translucent shade as it will allow light to escape through the sides of the shade, diffusing it evenly across a space. Opaque shades are made from material that prevents light from escaping from the sides. Instead, it is emitted from the top and bottom of the lamp creating pools of light that give a sense of drama to a room. If you're using the lamp as accent lighting and don't need a lot of light in the room, an opaque shade is ideal.
Remember the fabric will effect the brightness of your lamp. With all the patterns and lovely imagery available it's easy to forget the practical aspect of the lamp – one final slightly cautionary note to remember , your fabric will change the luminously of the light output, so for areas that need a brighter effect choose a lighter shade fabric. We strongly recommend that you order a swatch before ordering any of our fabrics to help you decide if it is right for you. Once cut to length, our fabrics are non-returnable unless faulty.

If fabric isn't your thing, give any lamp a beautiful brass treatment with these solid brass lampshades, designed to match our Antiqued Brass lights and lamps, these shades are also lightly antiqued for an elegant, aged finish.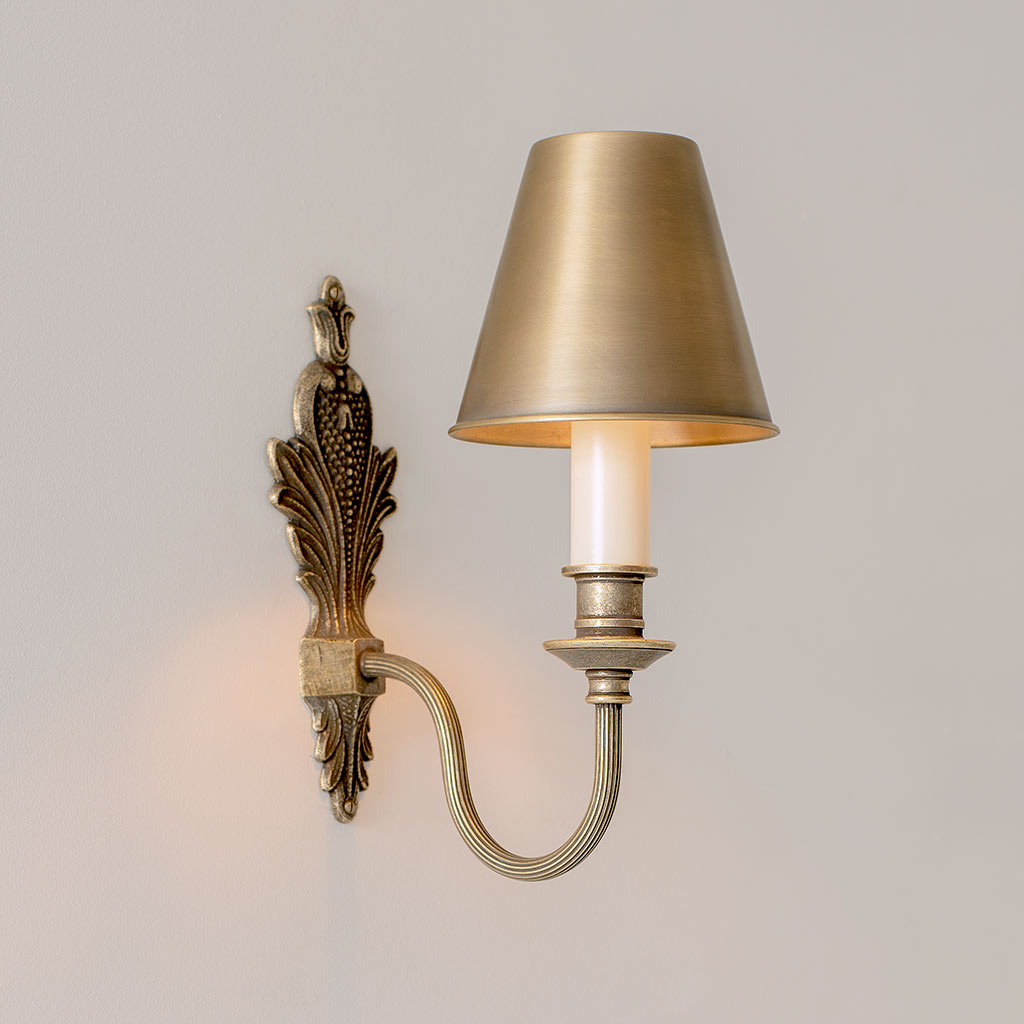 Lampshades in the UK generally come with two types of fitting; they are either made with a shade ring that screws onto the lamp base beneath the bulb fitting, or they have two wire loops that are called a 'butterfly' or candle clip fitting that you gently pull apart so that the shade sits directly on top of a candle shaped bulb. We supply shades with both fitting styles. To keep it simple: all our Tapered and Candle Shades have candle clip fittings, while our other shades have shade rings.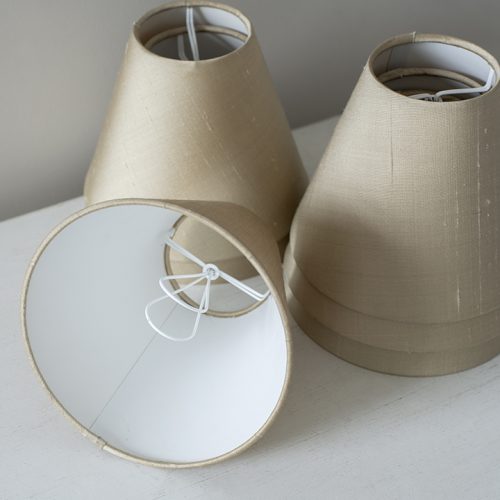 This is another name for a shade ring. In order to make our shades as versatile as possible, the majority of our shades are sized to take an E27 screw in bulb which is 27mm wide at the base – the largest size available and commonly used throughout Europe. But, because we in the UK generally use a narrower B22 bayonet bulb that is 22mm wide, we fit each shade with a reducer – a plastic 'C' shaped ring that sits inside the metal shade ring – to make it narrower. That way you can use the shade with the reducer if you have a light with a bayonet bulb or remove the plastic reducer if you have a screw in bulb.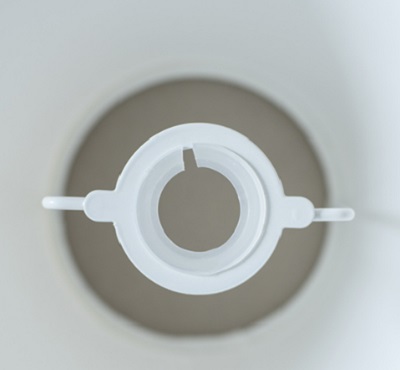 In the majority of our shades, the shade ring sits 4cm up from the bottom rim of the shade (or 4cm down from the top if it is a cylinder shade being used as a pendant). Our smaller shades have different measurements so you will need to call us to confirm the height.

A diffuser is a semi-opaque disc that is perfect for disguising the glare of a light bulb and are most commonly used over dining room or kitchen tables. They sit inside the bottom rim of a pendant shade and draw your eye to the lampshade not the bulb. Our diffusers are only suitable for cylinder shades. In order to fit a diffuser, you will need to be firm, but the frames on both diffuser and shade are quite strong. Push it up through from the bottom and tilt it slightly before pushing down from the inside to make sure the frame/diffuser rings touch and it sits level.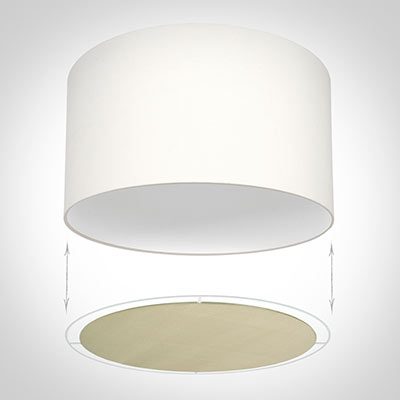 We create every lampshade by hand at our Hadleigh workshops from our fabulous collection of fabrics that are hand picked for their quality and suitability for the very best soft furnishings. We can therefore offer a bespoke lampshade design service. If you can't find what you are looking for in our extensive 'made to order' range why not contact our sales team to discuss your unique lampshade requirements? Obtain a free quotation on 01473 826685. Please note all bespoke shades need to use one of our existing shade frames.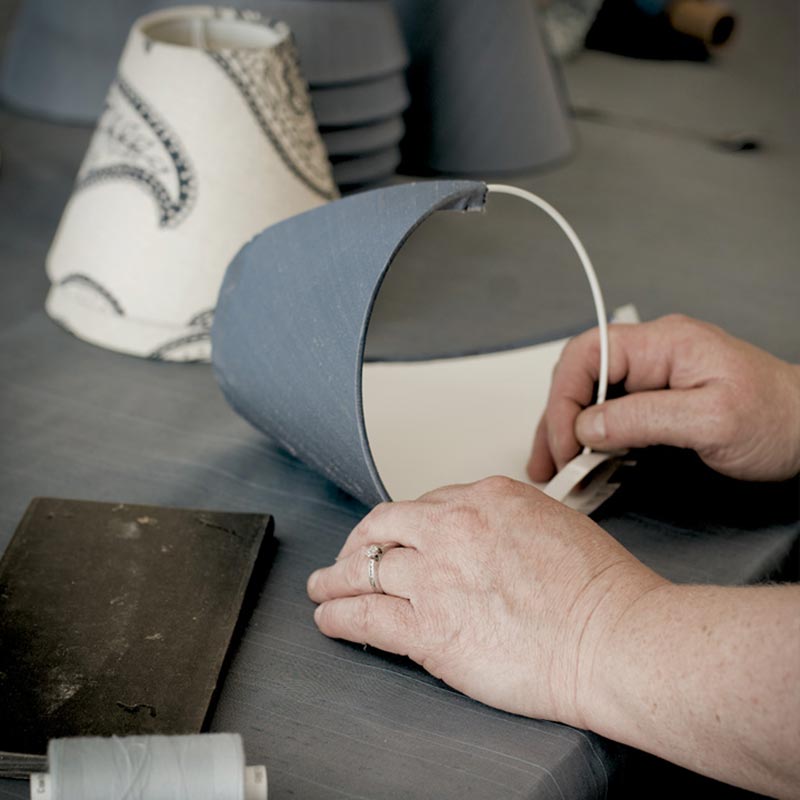 And there you have it: how to choose the right shade or even create one unique to you. Still have any questions? You can find further information about all of our products in the Knowledge Base. View all of our lampshades here – you can easily filter by colour, diameter, material, pattern and fittings to find the look you love. Don't forget to tag us in your Jim Lawrence interior updates, we love seeing your products in our new homes! You can find us @JimLawrenceMade on Instagram, and follow us on Facebook, Twitter and Pinterest.