We're looking forward to embracing autumn and the cosy late afternoons and evenings that are to unfold with the season. Think golden sunsets, russet tones in the leaves, the lingering of bonfire smoke on knitwear and scented candlelight. Autumn can prove mulchy, frosty and sometimes damp, but when your home is prepared you'll be ready to hunker down and enjoy the season at its finest.
Layering your lighting with table lamps is essential for that sought after seasonal feel of nesting, so we've compiled a collection of our best selling table lamps. A requisite for comfort and calm, creating pools of light from different sources is the key to a balanced interior. Fortunately with us there's ample choice and an extensive catalogue of fabrics to bring a little texture and colour to your room.⁠..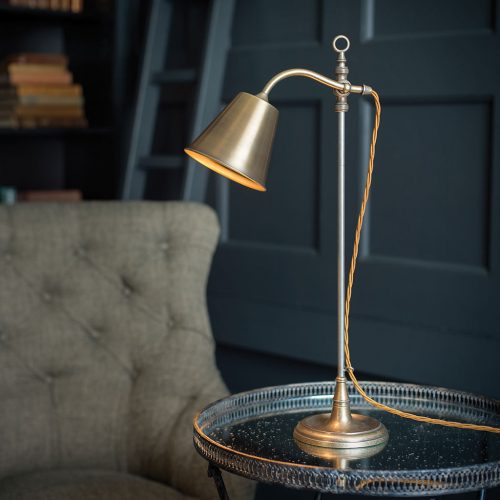 One of our most popular table lamps, the Abercrombie has a heritage look that will hit the spot for those after a vintage look in the home. Incorporating a spun brass shade and base with a contemporary steel stem, and our beautiful, braided cable, the Abercrombie will sit as comfortably in a modern setting as it would a period one.
A simple, understated desk lamp that will bring a classical touch to your study or bedroom, our Studio Desk Lamp combines practicality with its classic good looks. Handcrafted from solid, natural brass with a spun brass shade, the Studio moves on an elbow joint so you can angle light where you most need it. Also avaialble in Matt Black.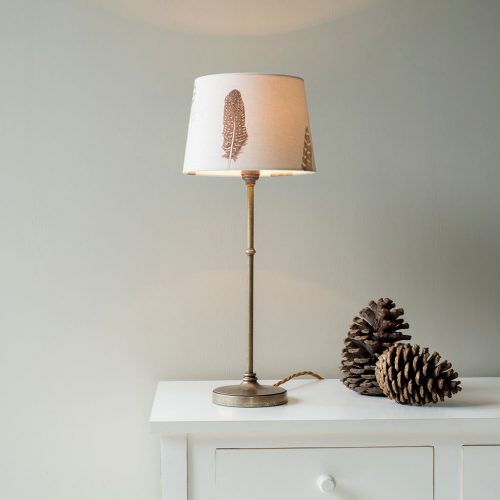 Our handsome brass Hendon Table Lamp is traditionally designed and stylishly simple so you have scope to get a little more creative with your shade choice. Featuring roundel detailing on its column and a spun brass base, it has a clean silhouette that will brighten up any sideboard, bedside table or console and fits seamlessly into a living room or study. Pictured with our Featherdown fabric in Stone on a 20cm Medium French Drum Shade.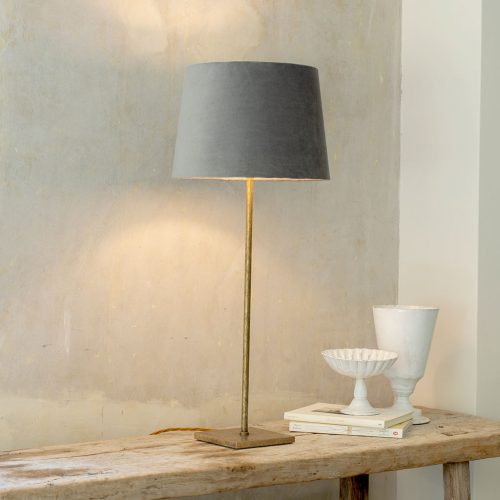 You'd be hard pressed not to be able to merge this simply elegant lamp base into any interior scheme, but we feel it's the best option for a modern home that might need a subtle period accent. The simplicity of the Porter Table Lamp's design means it will suit any shade shape that is around 30cm in size. We think it looks particularly good with a Medium French Drum Shade as pictured above. Available in Beeswax, Clay, Matt Black and Polished as well as a smaller base size.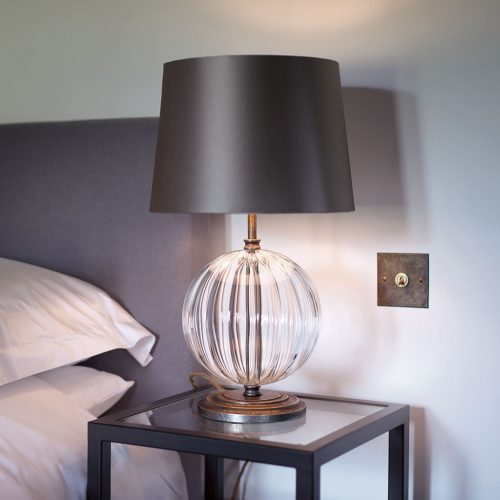 If you are looking for a beautifully reflective glass lamp for your lounge, hallway or bedroom, our fluted Harleston should fit the bill. Handblown here in Suffolk, it sports an eye-catching, fluted glass ball base that surrounds the central stem, ensuring it becomes a focal point in any room in your home. Choose from Fluted or Plain handblown glass accompanied by Antiqued Brass, Polished, Beeswax or Nickel hardware.


So how do you size up a shade for a table lamp? Before the 'rules' it's important to bear in mind there is no such thing as the wrong shade. If you love it – it's the right shade. Experimenting with lamp shades in new fabrics, shapes and colours is great way to instantly update your home's style. Table lamps come in all shapes and sizes so it is important to keep the shade proportional to the size and shape of the base . You don't want your look dwarfed by a huge shade or unbalanced by a small one. A perfectly fitting shade should hide the bulb holder underneath without encroaching on the lamp base itself.
Lamp shades are sized by measuring cross the diameter at the bottom of the shade – so if the shade diameter measures 25cm across the bottom, then it is known as a 25cm shade. As a rule, you should be looking for 15-20 cm wide shades for a smaller lamp base, between 20-35 cm for an average lamp base and anything up to about 50 cm for a larger lamp base.
A rough guide to working out the size of shade you require is to measure the height of your table lamp from the bottom of the base to the top of the lamp stem just below the lamp holder. The shade you select should then have a diameter of plus or minus 5cm of this measured height. So, if you have lamp that is 40cm tall, you should choose a shade that is 35 to 45cm wide. Visit our Knowledge Base for further technical information.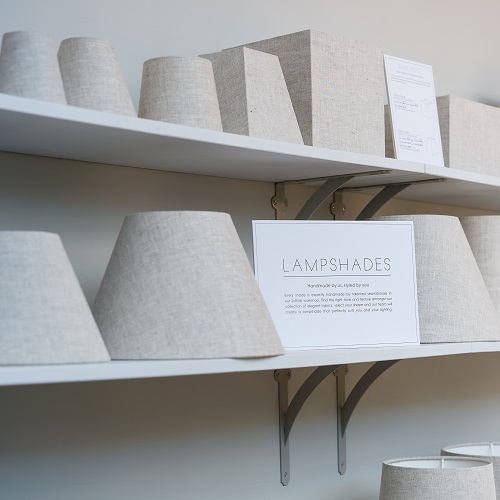 As a rule of thumb, we say the shape of the shade should reflect the shape of your lamp base. If the base is straight, square or rectangular, a similar shaped shade that mirrors its lines will look better than a round one. If your lamp base is round or tapered, a sloping or straight round shade such as an Empire, French Drum or Oval shade will suit it.
All of our lampshades are made in our Suffolk workshop by our talented team of shade makers from our range of beautiful fabrics that have all been handpicked as a perfect partner for our lighting range. A new lampshade will instantly refresh your room by breathing new life into your light fittings by helping to tie together your decor with colour, texture and ultimately character. We've curated a wonderful collection of cotton, wool, linens, silks and velvets for you to choose from.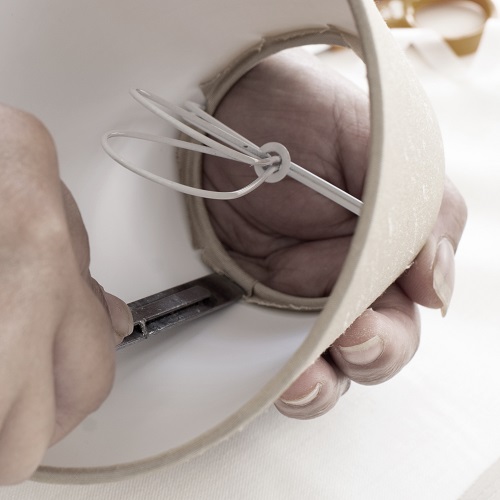 It has never been easier to click and order items straight to the door, and though a world of convenience has many merits, we still think it's vital these products are made the best way they can be. Often, that means by hand and with great care. We invite you to join us on on a journey behind the scenes to embracing the hand made quality of our lampshades. See our shade making process from start to finish here.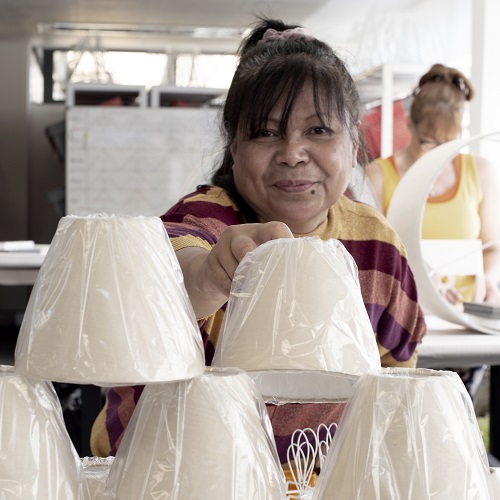 Introducing the talented Soft Furnishings team who make your Jim Lawrence lampshades in our Suffolk workshop. All Jim Lawrence lampshades that you see online are individually handmade, including any ready made designs and made to order styles. This means every one that we lovingly send out to you is that bit more personal, which is why we want to introduce you to the lovely people behind them. We catch up with Supervisor Julie to ask a few questions…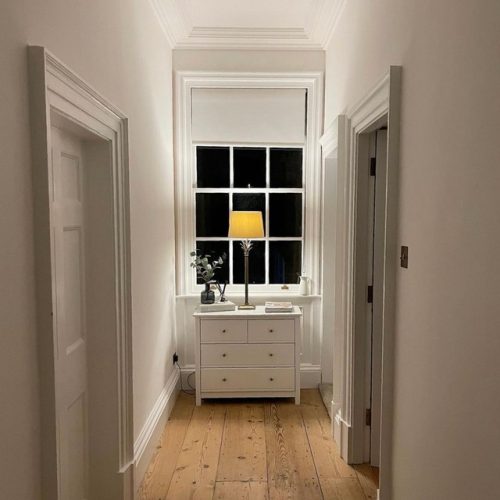 We would love to see our lampshades and lighting in your homes. Follow us on Instagram, Twitter, Pinterest and Facebook @JimLawrenceMade and be sure to tag us in your home updates.