All of our lampshades are made in our Suffolk workshop by our talented team of shade makers from our range of beautiful fabrics that have all been handpicked as a perfect partner for our lighting range. A new lampshade will instantly refresh your room by breathing new life into your light fittings by helping to tie together your decor with colour, texture and ultimately character.
It has never been easier to click and order items straight to the door, and though a world of convenience has many merits, we still think it's vital these products are made the best way they can be. Often, that means by hand and with great care. We invite you to join us on on a journey behind the scenes, embracing the hand made quality of our products, and to enjoy what goes on in our workshop once we have all closed the tab or put down the phone. For our first ever How It's Made, we've chosen to share the journey of our popular Royal Osyter Silk Dupion Candle Shade.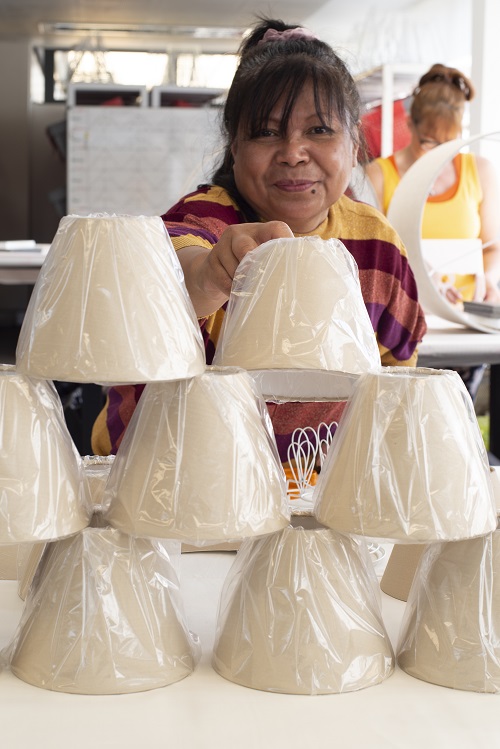 Pure silk dupion is a uniquely beautiful fabric that has a luxurious textured quality and richness that cannot be reproduced in other materials. Not surprisingly, it is the most popular silk in the world thanks to its fabulous natural sheen and distinctive weave, making it much sought after in both period and contemporary homes for soft furnishings and bedding. The fabric is made using raw silk yarns that are turned into a fine thread which is tightly woven together to produce a crisp fabric with a highly lustrous surface and a prominent textured slub that is irregular in appearance. This disctinctive grain and gorgeous colourway is what makes the Royal Oyster a go-to for pairing with the warm patina of our Antiqued Brass metal finish.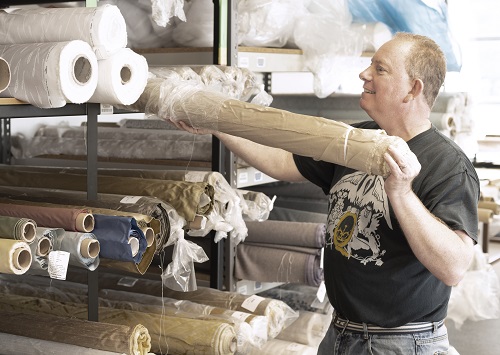 These petite lampshades are made to mimic an empire-style shape with tapering sides that are designed to fit the majority of our wall lights.They have a candle clip 'butterfly' wire fitting that you gently pull apart to sit the shade directly on top of a small bayonet (SBC, B15) or screw in (E14) bulb.
We offer two styles of candle shade – our standard Empire shaped Classic Candle shade that is 15cm wide at the bottom – and our French Drum style that has straighter sides and is a little narrower at 13cm wide. You can also choose from Cylinder, Tapered and even Metal Candle Shades. We have even created Bathroom Candle Shades for our IP rated 44 Bathroom Lighting. We've done our best to offer as much versatility as possible, so in turn you can get as creative as possible…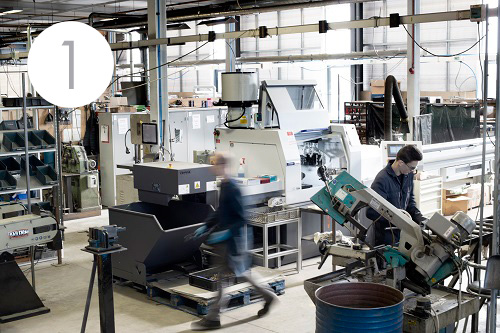 Before we even think about fabrics for all of these shapes and sizes, the wire for all our frames must be cut to length and welded together in the workshop. These frames are then put onto the paint line and painted a crisp white before being stored in the warehouse for our shade makers to 'pick' when your shade order comes through. As soon as you have selected which fabric and colourway you are choosing for your home – in this case our Royal Oyster dupion silk – the roll taken off the shelf and cut by hand making sure that the slub or pattern of the material is straight.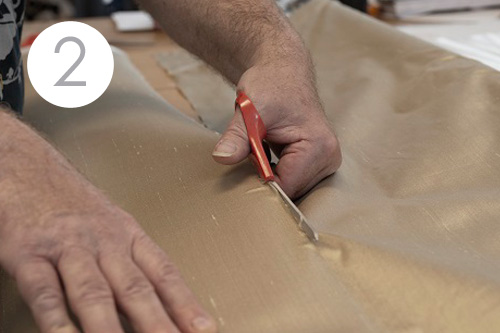 It is then carefully stuck to double sided adhesive laminate or card panels. The panels are run through a laminator which softens the glue to strengthen the bonding and flattens out any tiny air bubbles that might have been caught.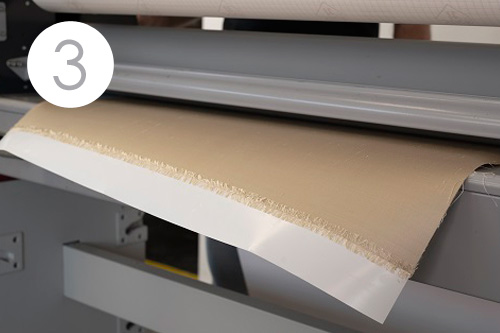 They are then put into our Zund, a digital flatbed cutting machine, that is pre-configured with all our shade measurements and is programmed to cut out the required shape of shade and quantity needed.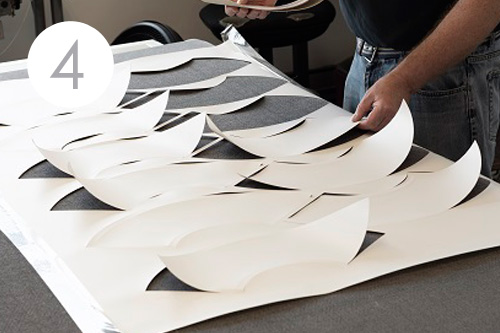 Our shade makers collect the panels for the shades they are going to make that day and at their workstations, pull off the adhesive along all the shade's edges and stick double sided sticky tape along the exposed fabric.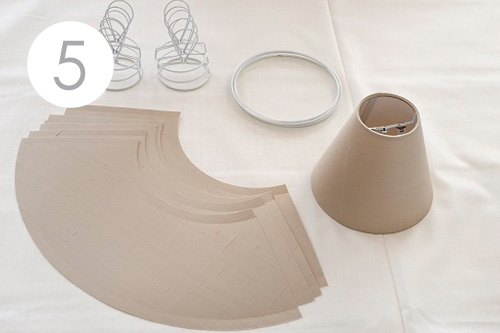 First the fabric along the seams is folded over the panel and glued carefully into place. The seam is then brought together and stuck down with superglue before being weighted down for a while for the glue to take.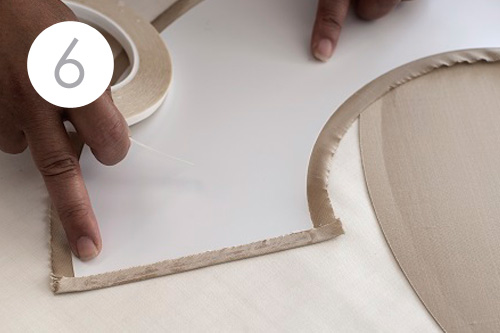 After 15-20 minutes, the weight is removed and the candle clip wire fitting is placed into the top of the shade along the top rim of the adhesive panel. Holding the fitting in one hand, our shade makers gently fold the stickly taped fabric edge over the wire frame, make sure there are no creases, and using whatever they like – their thumb, a blunt knife or file – they tuck the fabric in behind the wire making sure there are no frayed bits of fabric left loose.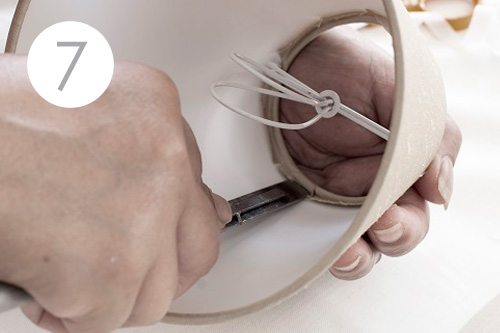 When complete, glue is neatly rolled along the newly folded edge to keep it neat and 'seal in' the fabric. Once dry, the finished candle shade is ready to be placed safely in a sealed and labelled bag, ready to be passed on to our dispatch team.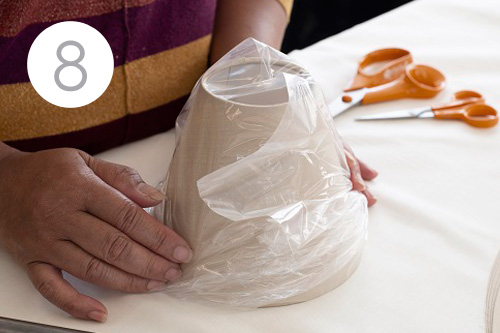 The Royal Oyster Candle Shade is now ready to be packed, sent to you via our courier and paired with your lovely Jim Lawrence lighting.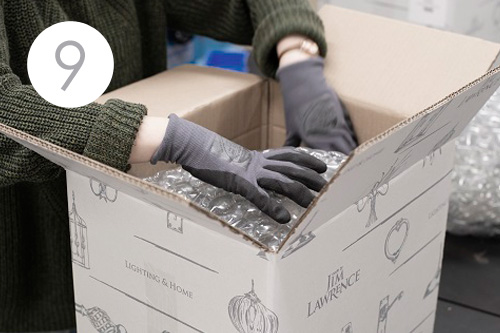 The finished product, in pride of place atop one of our many hand crafted, hand finished wall lights. If you need a helping hand on choosing sizes and shapes, visit our helpful Knowledge Base for lampshade FAQs, size guides and information on bespoke requests.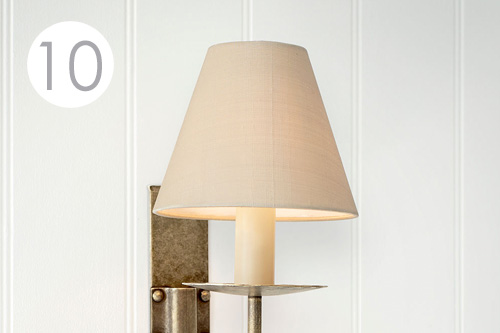 We would love to see our lampshades and lighting in your homes. Follow us on Instagram, Twitter, Pinterest and Facebook @JimLawrenceMade and be sure to tag us in your home updates.


We've met several makers on the blog, but think it's high time we introduce our own. We want to start with our talented Soft Furnishings team who make these lovely shades day in and day out. Becasue all of the items are hand made, every one that we lovingly send out to you is that bit more personal, which is why we want to introduce you to the lovely people behind them. We catch up with Supervisor Julie to ask a few questions…