It's no wonder that the Club Wall Light is one of our most popular designs. With its simply striking look and vintage inspired elegance, it's a staple for many interior styles. Our take on the traditional lighting found in gentleman's clubs, this classic design produces lovely subdued pools of light that are ideal for tasking. The Club is made for creating cosy corners out of alcoves, archways and other architectural nooks, but is also extraordinarily apt at creating pockets of light in larger rooms for boosting the ambience where needed.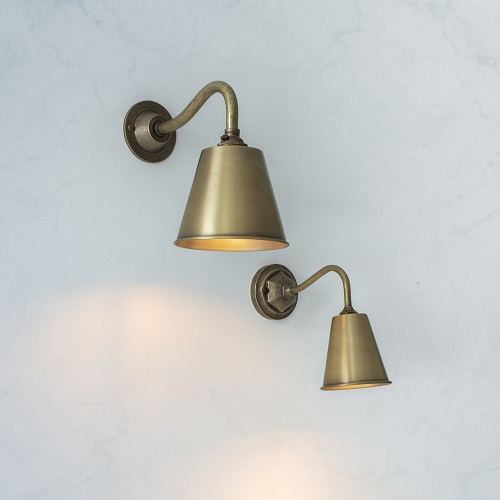 We have many items that you can recognise quickly as a Jim Lawrence design, but with over 8,000 products there's plenty that you might not know you needed. We've collated some perfect partners to the Club Wall Light, or some daintier alternatives if you adore the look but are short on space. Our highly skilled metal workers have created a whole family of products with timeless quality, all available to be used in your gorgeous interiors. If you like the Club Wall Light, then you'll love these…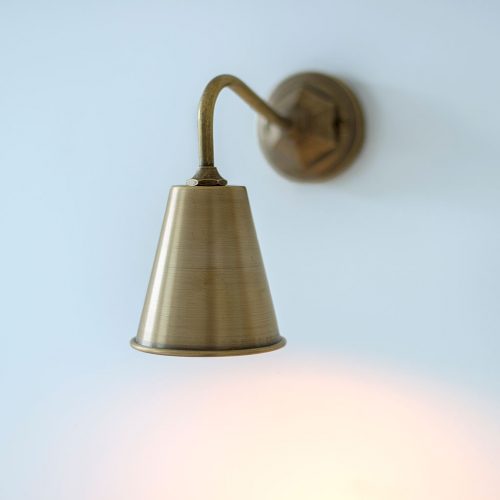 With its dainty proportions and simple lines, the Holt Wall Light is ideally suited to a smaller space. Very similar to the Club, it is cast in solid natural brass with a spun shade but features a pretty hexagonal detail on the backplate. Whether fitted solitarily or in a row of three or more along a hallway or landing, the Holt has a gentle art deco appeal that is perfect for task or accent lighting.
A curvier option than our popular Club and wearing the beautiful spun shade of our Barbican Pendant, our new Hoxton Wall Light is a softer take on industrial lighting. Choose from Antiqued Brass, Clay or Slate Grey to enjoy the rusticity of warehouse style with our signature luxury look.
A traditionally styled, hand crafted, single spotlight, our Curtis Wall Light combines the practicality of a spotlight with the beauty of our Club Wall Light, with which it shares a similarly shaped shade. The Curtis is ideally suited as a down lighter for your kitchen, bedroom or living room. It's pretty spun shade, raised edge and visible braided cable, gives it a retro feel that would suit a contemporary home as much as it would a period one.
The Curtis is scaled to work in a small space as well as a large one and features a head that can be angled through 90 degrees and rotated through 350 degrees so you can focus your light wherever you want it.
If you like the backplate of the Holt but are attracted to the delicate nature of hand blown glass, the Fisher Wall Light is for you. The light from the Fisher is softly diffused through the fluted shade, helping to create a gentle atmosphere for the home.
The Salthouse Wall Light is the first light we have designed that puts its bulb centre stage. A Jim Lawrence take on industrial lighting styles from the 50s and 60s, we recommend pairing this retro inspired light with an oversized bulb for maximum effect.⁠
⁠
What the dainty Salthouse lacks in size it makes up for in character. With its simple lines, spun metal shade and tilting head that can move through 90 degrees, this light packs a stylish punch despite its dainty proportions. Choose from Antiqued Brass, Matt Black, Clay or Slate Grey to best complement your interior.⁠ Do pay close attention to the measurements of this little light.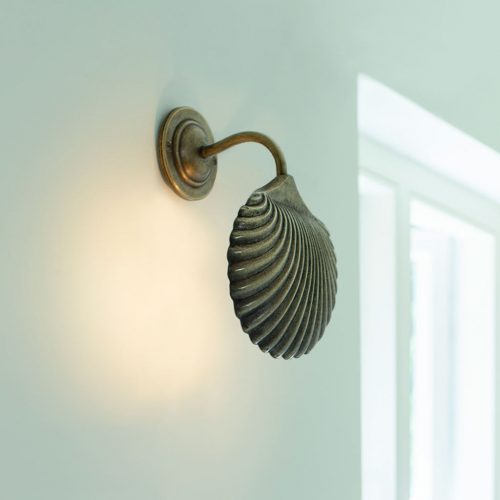 The Coastal look is an interior style close to our hearts with the stretched out sands of the Suffolk and Norfolk coasts a stones throw away from our head office. We love the laid back feel and how we can include elements from the landscape into the decor.⁠ A sizeable wall light with a unique shade, the Scallop is carefully designed to combine a decorative shade with a subdued backlight, perfect for creating mood lighting whilst making a statement. Also available in Nickel and Old Ivory.
For those of you who love the look of a spun shade and already have one of our wall lights that takes a candle bulb, our Solid Brass Candle Shade is a wonderful choice for turning up the luxury in a room.
If you would like to know how best to maintain your Jim Lawrence products, then we have created a selection of guides for you to follow which will help you clean and look after your hand finished items making them look just as good as new for years to come. Visit the Knowledge Base to find out How To Clean Your Brass Shade.
We would love to see our lighting in your homes. Follow us on Instagram, Twitter, Pinterest and Facebook @JimLawrenceMade and be sure to tag us in your home updates.