Penned as Leeds Castle's best kept secret, this privately owned medieval manor house in Kent has been beautifully refurbished by designer Francesca Rowan Plowden. Reimagined with a gently modernised period elegance, Battel Hall features five bedrooms with ensuite bathrooms, three reception rooms and a large dining area.
Francesca shared her delicious design updates with us, featuring many Jim Lawrence fittings and accessories. Naturally we were thrilled to see our products in such prestigious company, and jumped at the chance to share the images with you too.

If you're looking for a luxurious escape to the countryside – look no further. Whether celebrating a wedding, reunion or an anniversary Battel Hall provides the perfect setting, with the added benefits of the castle estate nearby. It's a step back in time with a romantic, eclectic twist that we are desperate to enjoy first hand. Just look at these beautiful walls and headboard combined with the soft glow of our Hanson wall light. The latest private owner, a 1930's American Heiress named Lady Baillie, had a love for birds, which is echoed throughout this room in the Lewis & Wood Dove wallpaper. It has an almost fairy tale feel – a perfect escape to dream the night away.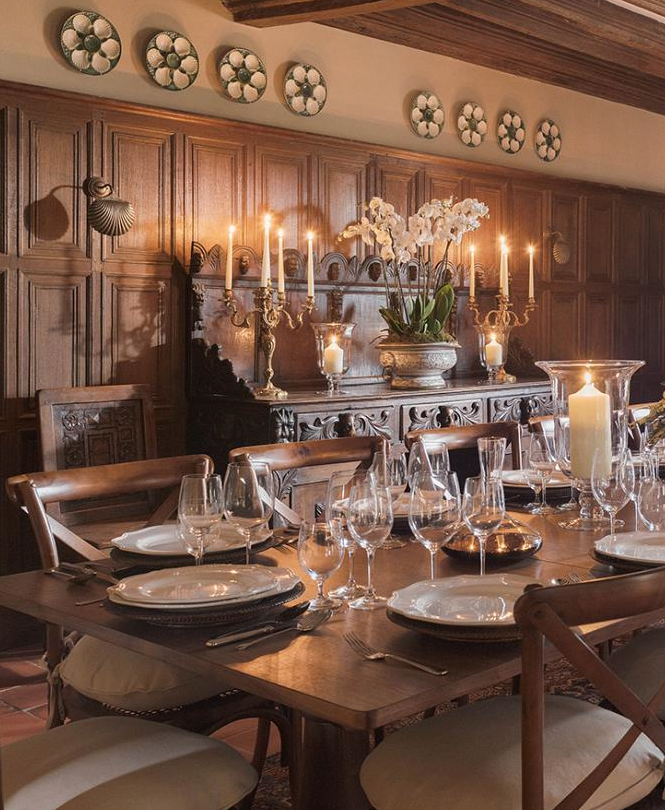 The oak panelled dining room seats up to 14 people, conjuring the images of royal feasts and banquets of times gone by. Our Scalloped Wall Lights are not only a nod to the art deco era of Lady Baillie, but they create a soft and mellow atmosphere: just what you need alongside candle light, an open fire and the gentle clinking of glass and cutlery. Antiqued Brass is a strong and stylish material to sit against the oak – a material which originally came from the castle itself.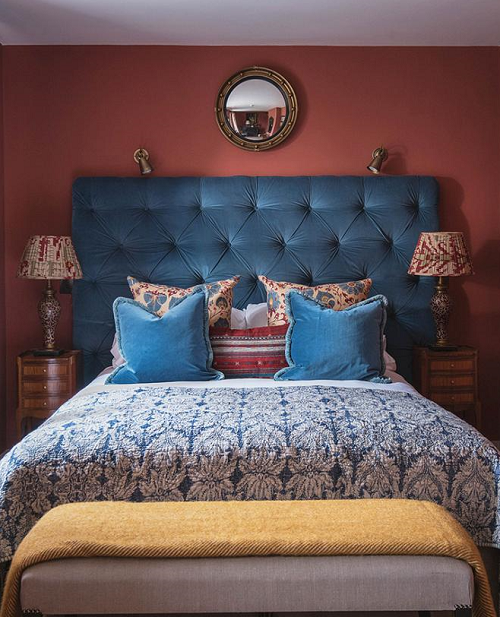 Ideal for angling as a bedside reading light, the Single Curtis Spotlights sit beautifully in this colourful space. We love the symmetry combined with loud patterns and colour clashes. Farrow & Ball's Book Room Red creates a dramatic backdrop for our Antiqued Brass finish, and a perfect palette to pop with peacock blue.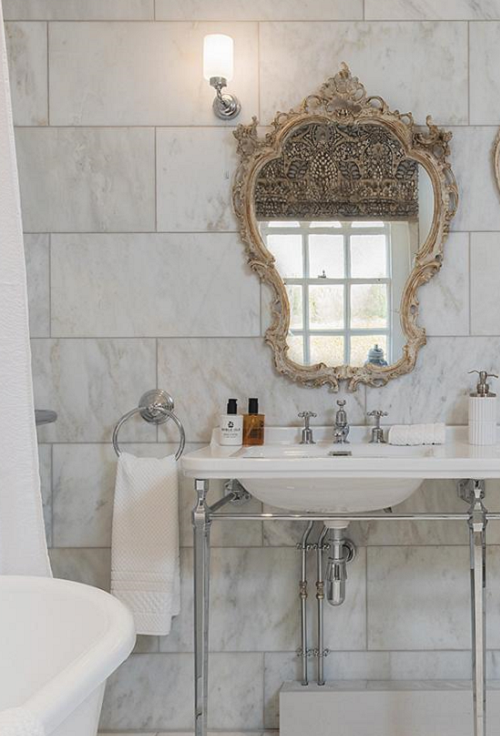 The Wisteria Suite brings a touch of modernity, its namesake the stunning sprawl of purple flowers that climbs all over Battel Hall. Spot our Stratford Towel Ring? A perfect example of how to incorporate nickel into your bathroom with style.
Clockwise from left: Hanson Wall Light in Antiqued Brass, Priory Door Lock in Antiqued Brass, Stratford Towel Ring in Nickel, Bromley Backplate with Reeded Door Handle in Antiqued Brass, Curtis Spotlight in Antiqued Brass, Scallop Wall Light in Antiqued Brass.
A thoughtfully designed interior that is respectful of its heritage – something we truly appreciate! For a closer look and a stay at Battel Hall, visit the Leeds Castle website. You can also follow designer Francesca Rowan Plowden on Instagram to see more of her work.