Spring cleaning is not just about taking out a mop and duster. At a time of year where our outside spaces are changing and growing is also an opportunity for our interiors to blossom too. Rather fitting for the growing season, earth tones are a focus right now. Organic, relaxed and with a focus on comfort, turning to natural neutrals for Spring is one way to transform your home from somewhere you might be tired of into a sanctuary you can continue to enjoy.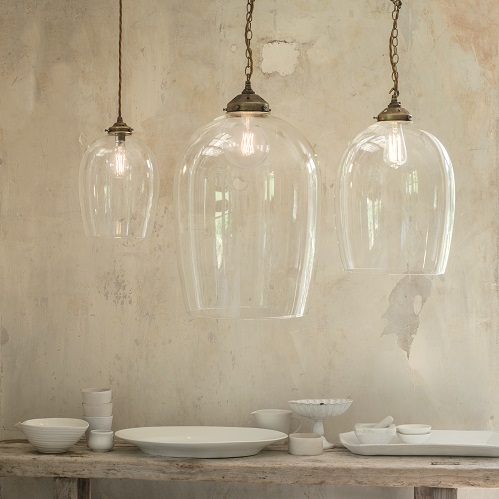 Does it get more organic than that? We can't always rip out our interiors whenever we want a change, but there are plenty ways we can enhance what we already have. It's amazing what a bit of elbow grease can achieve. Our Antiqued Brass products are created from natural, un-lacquered solid brass that have been treated with antiquing solution to speed up the natural tarnishing process and create a lovely aged look that will darken naturally over time.⁠ In the trade this finish is often referred to as a 'Living' finish because of the natural oxidisation process that occurs to the brass over time leaving it to dull down to an authentic antique look. This darkening and dulling is accelerated outdoors or in damp environments.⁠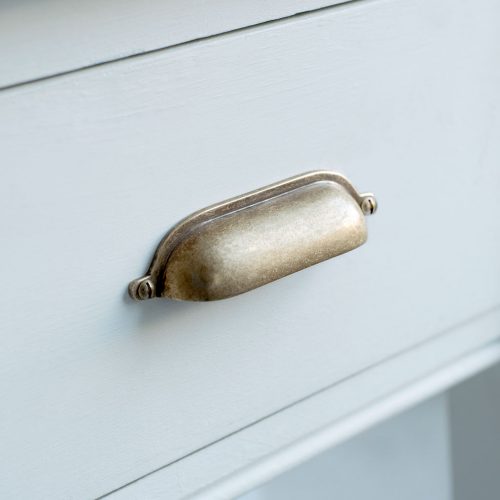 ⁠With more time spent indoors over the past year, there's no doubt there's going to be a little more wear and tear. Overhaul the forgotten parts of your home; lightly wash down your switches and handles, for example, instantly freshening up the room. Don't forget to spend time taking care of your light fittings – take a look at our Knowledge Base to find out how best to take care of your Jim Lawrence product finishes. A buff and a wipe down will make your existing Jim Lawrence products sparkle like new. Take a look at our cupboard and drawer pulls like the Larder Pull above and the Napier Knob below.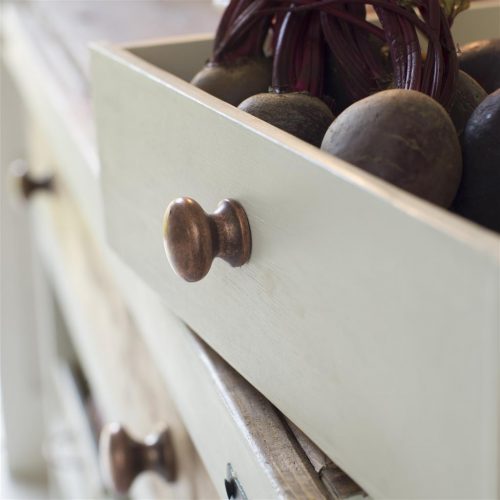 You can also choose our Heritage Copper finish, made using a similar technique to create a warmer blush tone. Match your drawer and cupboard handles to your switches and sockets – elevating the details makes a huge impact on the room as a whole.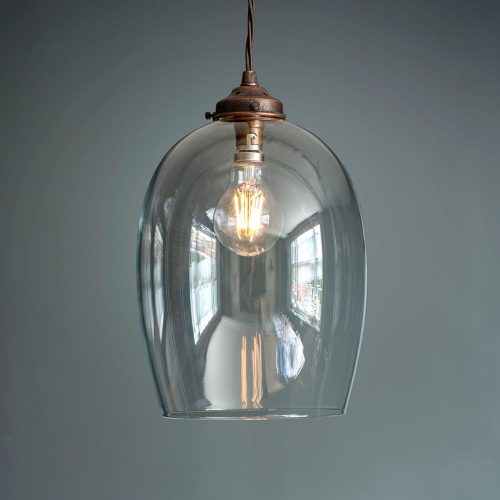 Paired with the copper finish and vintage-style braided cable, this Glass Walcot Pendant combines the best old fashioned styling with modern trends for warm metallic fittings in kitchens and dining space. A simple yet impactful way to invite a more rustic feel into your room.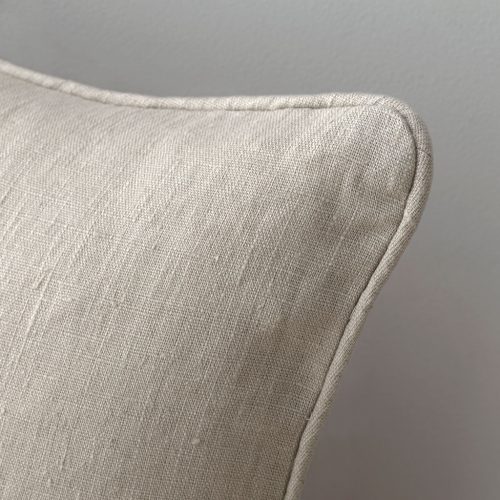 Linen is a beautifully leightweight but hardy fabric made from flax, often used in soft furnishings and clothing for its breatheable, luxurious quality. A textile traced back to the times of ancient Egypt, linen has always been used within the home and out, but has become synonymous with our decor. 'Bed Linen' is an umbrella term for sheets and covers in our bedrooms, whether made from linen or not. There's no questioning that this dreamy fabric is a interior staple. We're fortunate that it's an easy way to update our homes with  modern rustic and earthy tones using cushions, throws and shades. We love the grain of linen when lit up as a lampshade, highlighting the sought after textured weave whether in its natural oatmeal hues or dyed a soft colour to match your decor. View our full soft linen available to buy as a cut length to get creative with, a ready made cushion cover or one of our luxury lampshades.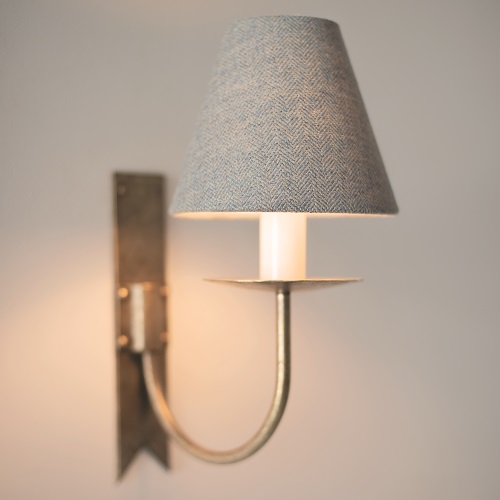 When it comes to talking about natural fibres, we have to wax lyrical about our heritage wool and tweed collections. Historically Tweed has always been in earthy colours since the 18th century, used for hunting, shooting and fishing. A hardy close weave, the fabric is as tough as it is attractive, both rugged and refined – a perfect amalgamation for country style.
We've teamed up with Lovat Mill, based in the Scottish Border town of Hawick and known as the Home of Tweed; where the artisan craftsmen follow in the footsteps of generations of tweedmakers to create beautiful, contemporary tweeds. Taking inspiration from the rich colours of the surrounding countryside, Lovat Mill design and weave estate and country tweeds of the highest quality. Incorporating between five and forty individual colours to produce a range of specially selected herringbones and checks that will add subtle reflections of the natural world to your interiors. Understanding the provenance of our products is crucial to appreciating their quality, so knowing the rich background of these products makes them all the more beautiful… Adding texture and colour to your home decor in this way doesn't get much better than that.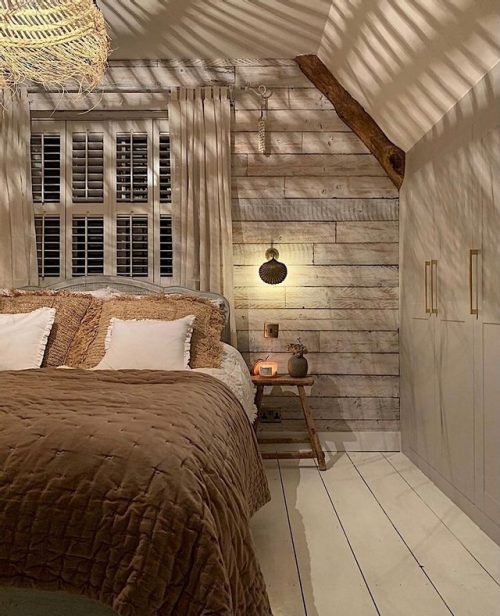 We love a textural, rustic coastal-inspired room, and @beech.tree.cottage has served up everything we adore on a plate…⁠⁠ The Scallop Wall Light in Antiqued Brass is a winning choice in this space, inviting a perfect glow for the bedside. Weighty brass adds depth to the lattice of shade thrown onto the walls by the distressed threads of rattan.⁠⁠ Layering up with different textures adds depth to any room, but in a largely stone-coloured space this really lifts the area from potentially plain to multi-dimensional. Match your soft furnishings with your window dressing for the fully finished look – find out more on how to order our made to measure curtains and blinds.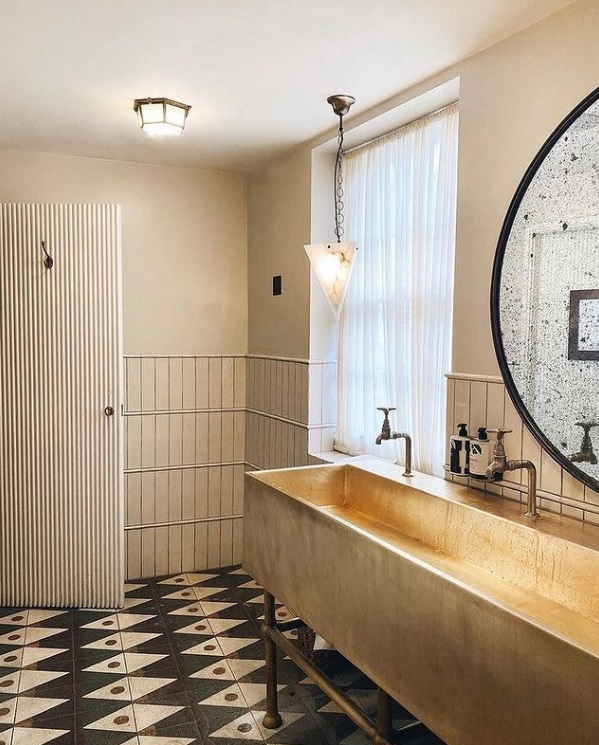 Natural neutrals in the Greek Street @sohohouse as photographed by @mad_about_the_house. We've long loved distressed vintage glass alongside brass, and this bathroom has taken that pairing and run with it, supersizing the look with a trough basin and railway inspired mirror. Our flush fitting Gladstone with frosted glass panes adds further architectural, Art Deco lines and vintage inspired function to this room.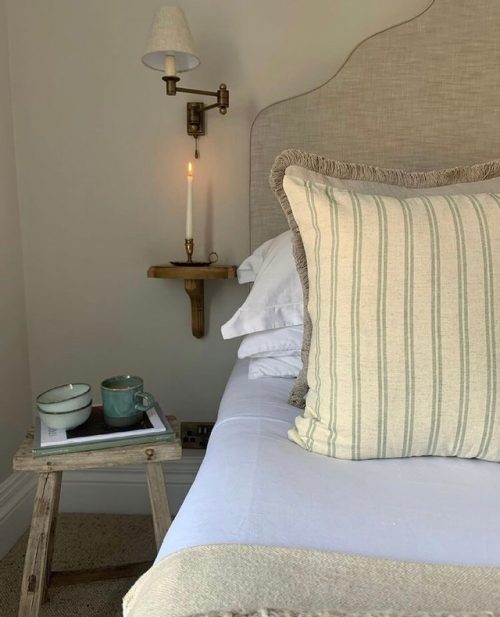 Proof that details DO matter. Everything in this image from @gladyscottage compliments the item before and after it, creating a considered but organic homely country cottage feel that we could just sink right into. Our Hanson Wall Lights look gorgeous topped with a linen candle shade, matched to more rustic oatmeal colours throughout. Look at our Waterford Cushion Covers and layer Limestone and Grey for a similar look.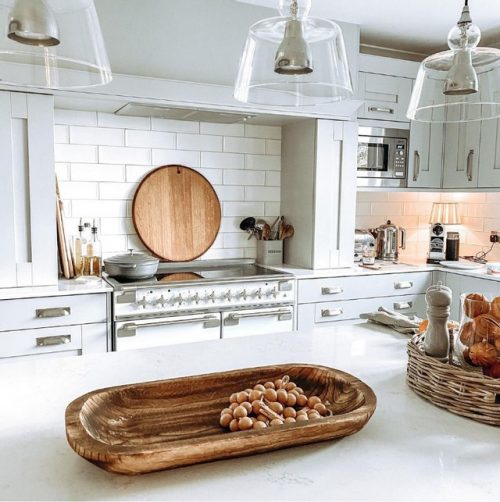 If you can't re-do your room entirely, incorporating smaller details is a sure way to enhance what is there. We adore this kitchen from @the_english_lodge, showing exactly how to blend old and new in a balanced and forward thinking way. If you want to add depth to a white room, using warm wood is a tried and tested way to make our other finishes sing. If you prefer to opt for a more contemporary metal finish like our Lovell Pendants here in glossy Nickel, bringing in vintage inspired woodwork will help you weave together this sought after modern country style.

Jim Lawrence is a truly family business, still run by Jim and Sheena and employing up to three generations of local families. By focusing on quality of materials, craftsmanship, outstanding customer service and the well-being of the Jim Lawrence community, our mission is to create stylish, designer quality fixtures and fittings for the home made with natural materials. It is our belief that by selling directly to our customers, we can guarantee that every product we sell meets the exacting quality control standards we have set and for which we are renowned.We have come a long way since our farm days and you may no longer have to bump down a track to find us. But our ethos remains the same: to provide individually handmade products and the highest possible levels of customer service. Read the whole story here, and view our full collection of products.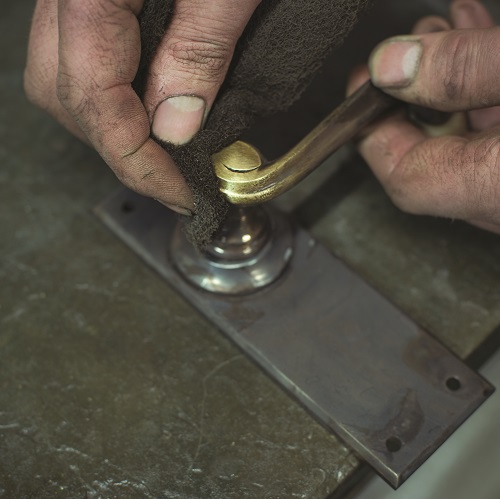 Have any questions? You can find everything you need to know including styling tips and technical information about all of our products in the Knowledge Base. Pop up on our live chat via our website if you need any more advice. Alternatively you can email us on sales@jim-lawrence.co.uk for quotes and order enquiries, or ring us on 01473 826969 Monday to Friday 9.30-5pm and speak directly to a member of our helpful sales team.


Don't forget to tag us in your Jim Lawrence interior updates, we love seeing your products in our new homes! You can find us @JimLawrenceMade on Instagram, and follow us on Facebook, Twitter and Pinterest.