Though colour trends may come and go, we are confident you will find a beautiful match for your kitchen in our hand finished metal colourways. Whether Matt Black, Antiqued Brass or a glossy Nickel there is a whole spectrum of beautiful colour out there to offset or blend with our products. Looking for the perfect kitchen cupboard handles is a task in itself, and with so much inspiration our there it can be overwhelming trying to decide on a paint colour they will match with. At Jim Lawrence we feel our products work best when paired with another quality product, which often means made by a UK family business with an ethos just like ours. This is where Edward Bulmer comes in, helping to make those all important styling choices feel effortless and finished with a genuinely natural touch.

Edward Bulmer Natural Paints are designed, created and 'homemade' for you by the interiors expert, Edward Bulmer. Edward is passionate about every colour they produce, how it has been made and the raw materials used to make it. When you decide to use natural paint, you are making more than a colour choice, a paint choice, a fashion choice or even a lifestyle choice – you too are choosing to make a difference. This resonates with us deeply and we know this matters to you too. Not only are you taking home individually handmade products and the highest possible level of craft, you are championing Great British craftmanship as a result.⁠ Pair the two and you've got yourself a winning combination.
FINDING YOUR PERFECT MATCH

Emma Diaz is a Colour Consultant for Edward Bulmer Natural Paint, working with clients to pair gorgeous tones with their interiors to create harmony in the home. We have long admired Emma's styling of our products in her Cotswold cottage renovation and were thrilled to collaborate and create the perfect colour combinations for your kitchen cupboard handles.

With her guidance, we've selected the best of the Edward Bulmer Natural Paint Collection to marry together with our range of product finishes in a kitchen setting. If you want to see more, Emma documents her home styling, colour consultancy and other interior projects on her Instagram account @byemmadiaz.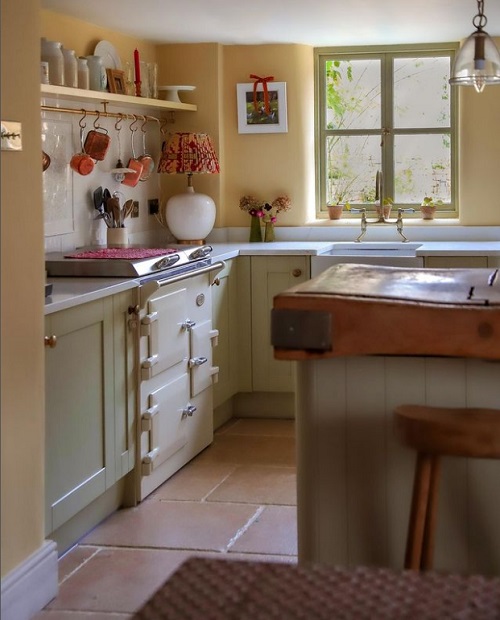 COMBINE ANTIQUED BRASS
WITH EARTHY TONES OF DUSKY RED OR SALMON PINK


The trend for using brass in modern kitchen designs shows no signs of slowing. Made from solid, natural brass that has been gently distressed and antiqued for a subtle, aged appearance, our brass kitchen cupboard knobs and handles have a beautiful patina that brings instant warmth to a room. Incredibly versatile, brass works with almost any colourway, suits modern as well as traditional kitchens and looks wonderful with natural building materials. Pair this deep earthy Red Ochre with our Larder Drawer Pull, a slim yet wide pull that offers subtle vintage charm to your kitchen design.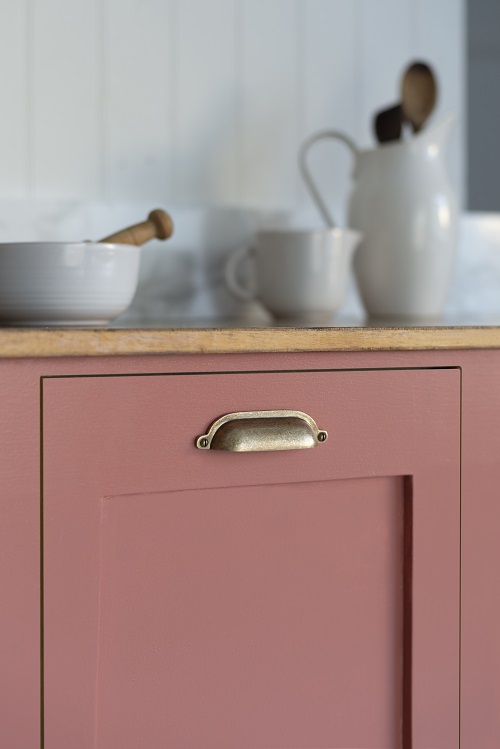 "A favourite colour of mine, Red Ochre with Antiqued Brass is a wonderfully traditional pairing, creating a homely, traditional look. This red is not bright, but deep and earthy, so it doesn't dominate a space. It was often used in old country kitchens. The brass compliments it beautifully, bringing out the warmth in the shade and making sure the traditional country kitchen look is right up to date. "
PAIR POLISHED LACQUER
WITH SMOKY SHADES OF WOODLAND GREEN

Handcrafted from high quality steel that is polished to a deep gunmetal grey colour, our Polished finish really showcases the stunning patina of the metal which is then sealed with a high gloss lacquer to give it added durability. A dusky colour like Drab Green is a wonderful choice for this brushed steel effect. These lovely Large Napier Cupboard Knobs are perfect for those of you who want to steer towards a more modern country look without the bright lustre of a contemporary chrome finish. Possibly our most versatile cupboard handle, our Napier Knobs are universally loved, bringing a classic look to any style of furniture that need reviving.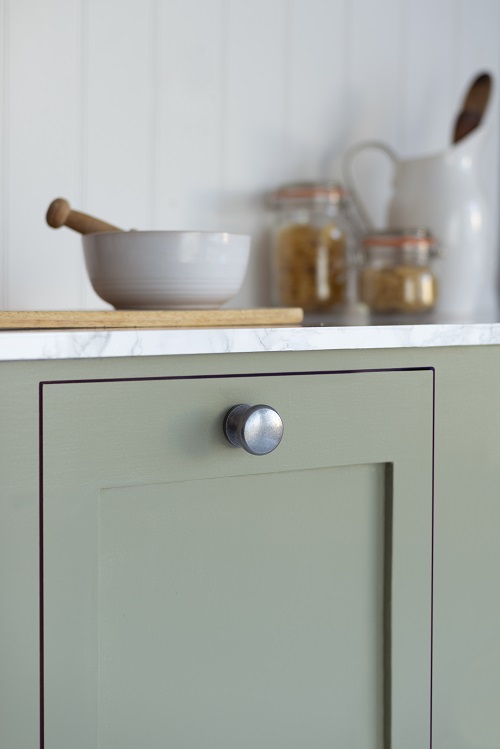 "Create a truly heritage look by using Drab Green with the Polished Drawer pull. Green is always a popular choice for kitchens, yet this one's differences come where it is not too pale, nor too dark. Use it all over (including walls) in a pantry with wooden worktops and panelling for a real heritage look, or on cabitery for a brighter, more modern country kitchen feel. It is a shade of green that is extremely versatile and easy to live with, no matter the age of your property."
MATCH MATT BLACK
WITH CREAMY WHITES & NEUTRALS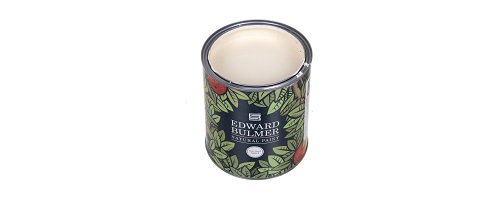 Black won't ever go out of style, but in our home sanctuaries it can sometimes feel safer to opt for softer and lighter colour schemes. Whilst many of us adhere to this and are partial to more natural neutrals, a contrasting black is a sure way to offset these softer tones and create striking monochrome accents in any interior. A clean uniform finish, our Matt Black finish is created by applying  paint with a powder coating process that makes the smooth hard-wearing surface you take home.⁠ Pair Edward Bulmer's Milk White with our Cook's Drawer Pull in Matt Black for a gorgeous take on traditional country cottage decor.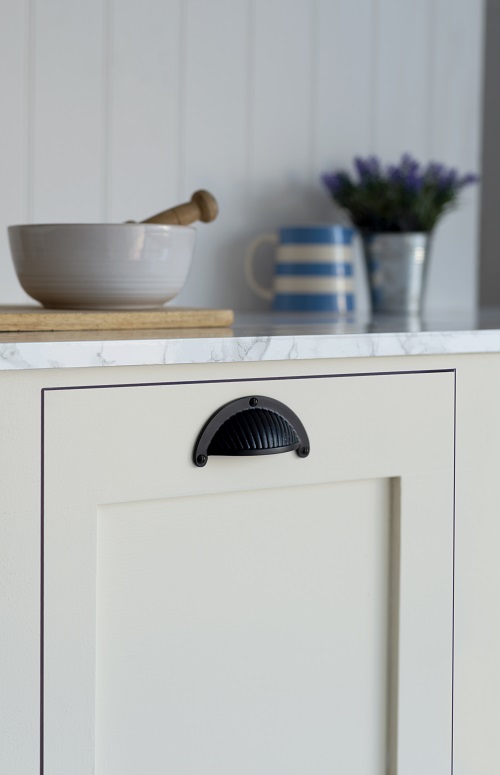 "This pairing is perfect for a wonderfully fresh kitchen space. I love this white because it's warm and strong enough to stand alone as a cabinetry colour. The addition of matt black for the cupboard knobs and handles can create a traditional, or modern monochrome style. Use this pairing with wood in a kitchen to give it a warmer, more rustic feel, or combine it with a white or black counter top for more modern, minimalist monochrome style."
COMPLEMENT HERITAGE COPPER
WITH SAFFRON OR MUSTARD YELLOW

Heritage Copper is a natural durable metal with a stunning patina that will turn up the modern country dial with little effort. Persian is strong brown yellow akin to a mustard, perfect for pairing up with the rustic blush hue of our copper Gilby Drawer Pull. Think vintage jelly molds and antique pots and pans…beautiful against classic white and an earthy yellow like this one, it's hard to imagine a true country kitchen without it. Achieve this vintage look using distressed Heritage Copper tones, adding warmth for that lovely lived in feel. Give your kitchen cabinets, cupboards and drawers an instant update with our handcrafted Gilby Drawer Pull: made with a quality you can appreciate with every touch.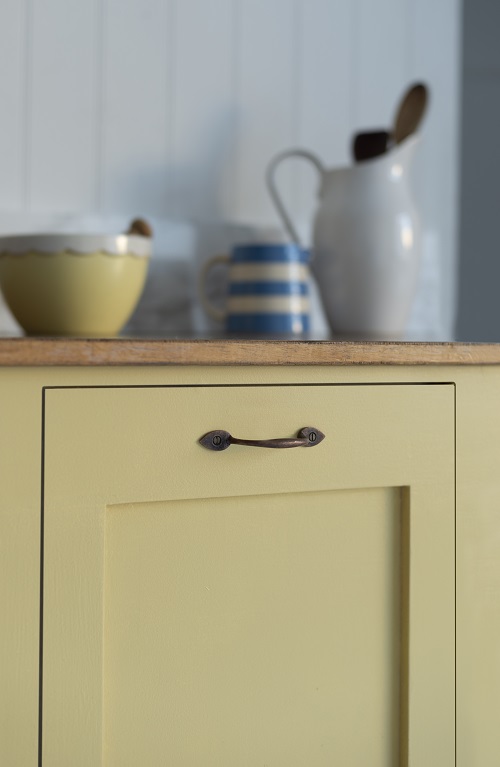 "Yellow kitchens are very on trend at the moment, and this colour is warm and bold whilst staying earthy. The Heritage Copper handles complement the warmth of this optimistic shade to bring it all together beautifully."
CONTRAST OUR SILVERY NICKEL
WITH MOODY BLUES & OCEAN GREENS

For contemporary styling in your kitchen, you can't do better than Nickel. It has a bright, silvery quality that looks fantastic against Bulmer's Vert De Mer. Our Nickel lustre is created by plating solid brass with highly polished nickel and finishing it with a flash coating of chrome for further durability. This shiny finish is delightful on our Schoolhouse Drawer and Cupboard Pulls, giving their utilitarian style a charming update for the modern home.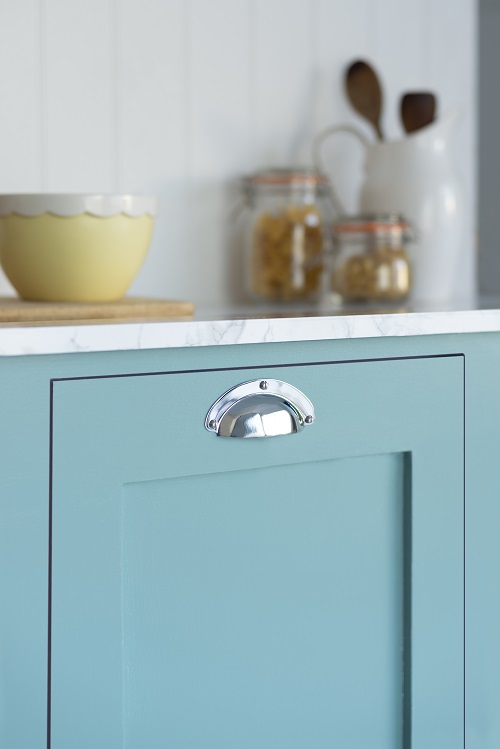 "This is a pairing equally at home in a modern country farmhouse kitchen as an on-trend London apartment. Vert De Mer is a rich, timeless blue that is beautifully emphasized by the freshness of the Nickel finish in this scheme. Pair with limestone floors for a country feel or quartz or marble worktops for a modern touch."

FURTHER INSPIRATION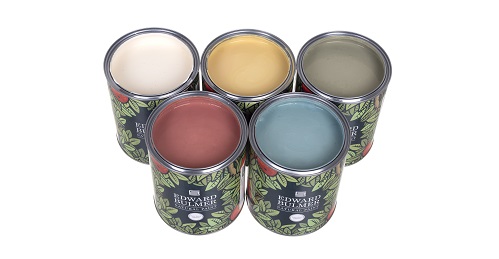 Browse some more winning combinations of our kitchen cupboard handles paired with these stunning natural paints in our Kitchen Colourways Style Guide. To browse all of our lighting and homeware collections, click here. Don't forget to follow us on Instagram @JimLawrenceMade and tag us in your interior updates – we love seeing our products in their new homes!
MADE BY US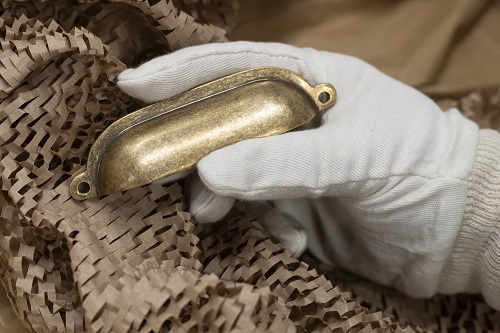 Before our products arrive at your door, there's a long process to get through. The journey begins when a product is a mere twinkle in the eye as an idea forms. Once we've scribbled down plans and sketched a design the manufacturing process begins. From welding to forging, metal spinning to hand finishing and lampshade making to wiring our lights, we do it all. Even the careful packing of your product into our boxes…when you buy from us, you help keep so many traditional British skills alive.⁠ To find out more about our heritage roots, read the Jim Lawrence story.