We can sing all day about how wonderful our products are, but it means nothing without the support and feedback from our customers. With this in mind, we thought we would identify and highlight the items most popular with you, showcasing the most loved and 'in demand' lights from our collection.
We've compiled a list of our best selling lights, celebrating the products our customers return to again and again. This is our list, recommended by you…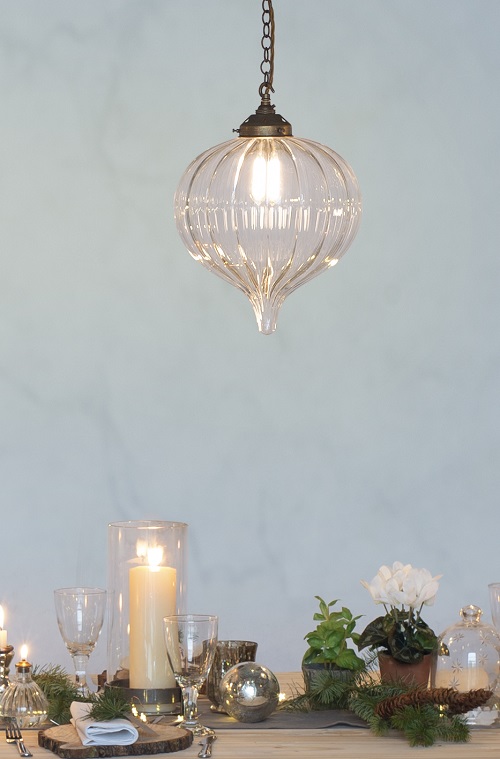 If you've had the pleasure of seeing this Orla Pendant in person it's no surprise she is a top seller. Like her smaller sisters, the Ava and Mia, our Orla features a beautiful tear drop, fluted glass shade so you can enjoy its delicate hues wherever it is hung.
Designed to sit perfectly above a kitchen island, breakfast bar or dining table, the transparent quality of the hand blown glass allows you to create a stunning focal point without losing any sense of space.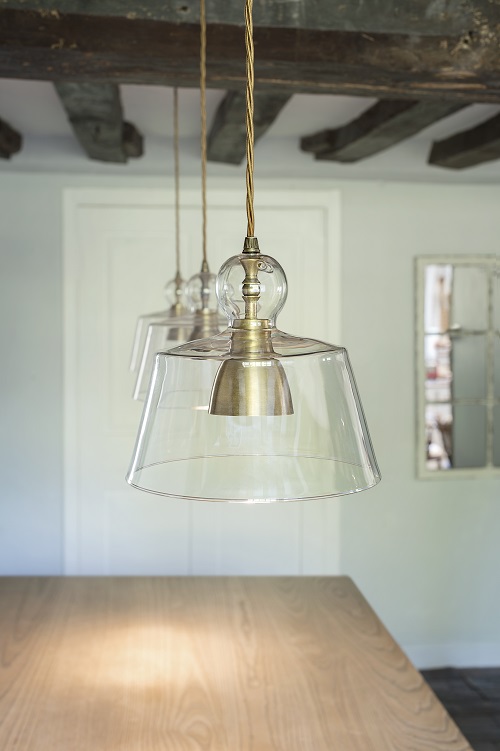 The Lovell's hand blown glass shade has a clean contemporary shape, while its antiqued brass fittings, heritage-look brown braided cable and Georgian ceiling rose are all reminiscent of vintage lighting.
An ideal pendant for kitchens, we've found the Lovell looks best hung in a trio or pair over an island. The clear glass shade enables you to see the internal brass fittings which gives it a touch of industrial chic that will suit any modern home and makes it an ideal choice for updating a traditional one.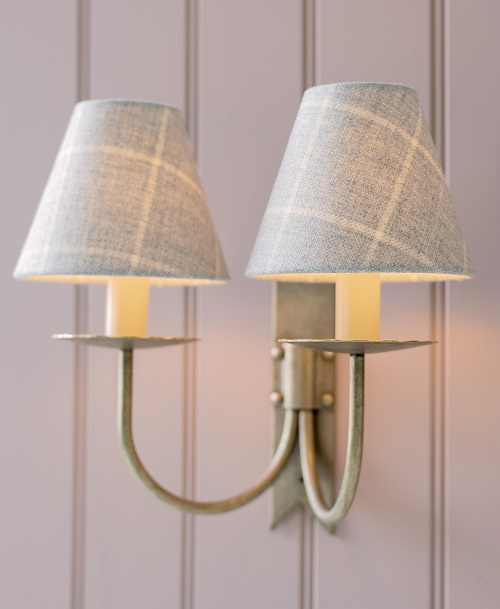 One of the first lights we designed at Jim Lawrence – and still one of the most popular – our Double Cottage Wall Light has a strong, unfussy design that is ideal for country modern interiors and lends itself for use in bedrooms, kitchen diners and living rooms.
Its fine proportions, beautiful ribbon detailing and generously sized drip trays exudes an elegant simplicity. Lovingly hand forged from solid brass that has been lightly antiqued for an aged look, the Double Cottage Wall Light is an excellent choice for anyone wishing to update their interior without losing any sense of period charm. It goes in just about any room, always looking right at home.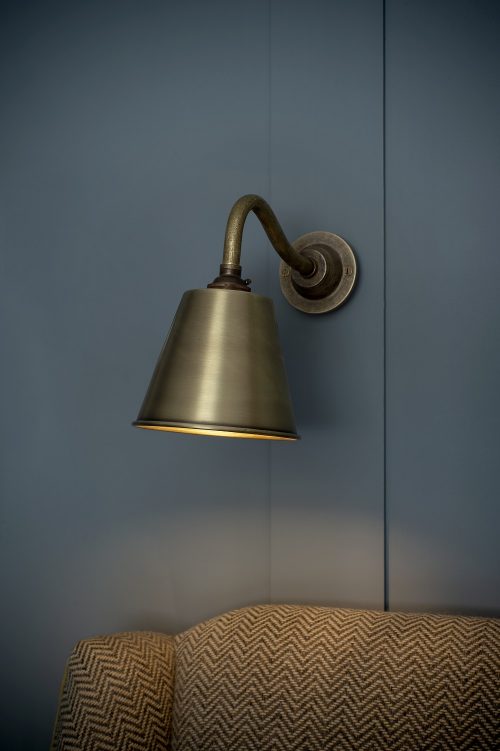 Our take on the traditional lighting you find in gentlemen's clubs, the Club Wall Light has a neat unfussy, vintage presence that produces a lovely pool of light for a subdued atmosphere in a large room or for tasking if placed over a kitchen unit or a console table.
Hand forged from solid natural brass and featuring a spun brass shade which directs its light downwards, the Club Wall Light is made here at Jim Lawrence using traditional brass working techniques highlights the skill of our metal workers and their ability to make lights with a timeless quality.
Our lovely vintage style Raydon Wall Light oozes an industrial chic that will add a designer touch to your bathroom, loo or shower room. IP rated for use outdoors or in a bathroom, it looks fabulous hung either side of a mirror and sits as comfortably in a modern setting as it does a traditional one.
With its slightly opaque, tubular, fluted glass shade and unadorned backplate, the Raydon has a personality that is reminiscent of the factory lighting schemes that prevailed during the interwar years when modernism was in vogue and designers were looking for new ways to make products with an emphasis on simplicity and function. They fit perfectly within our Stratford Bathroom Range.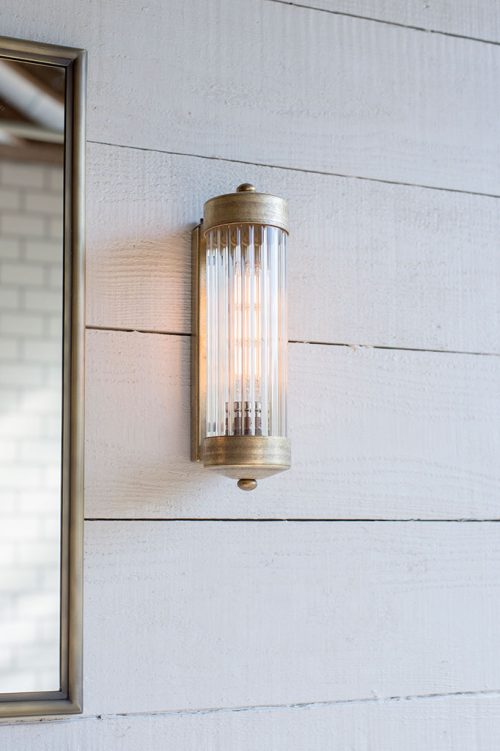 A favourite with interior designers, our Cheltenham is a stunning wall light handmade from solid natural brass that combines the very best of period styling with modern technology to produce a beautiful yet robust light with a smack of industrial chic about it. With its beautifully fluted, slightly opaque, individually hand blown glass shade, it is reminiscent of art deco styles that were popular during the 1920s when designers looked to modern architecture, ships, motor cars and trains for geometric patterns they could recreate around the home. We love seeing the myriad ways the Cheltenham is styled by both designers and customers on Instagram – it really goes to show how versatile this little light can be.
Click here for our guide to safe bathroom lighting.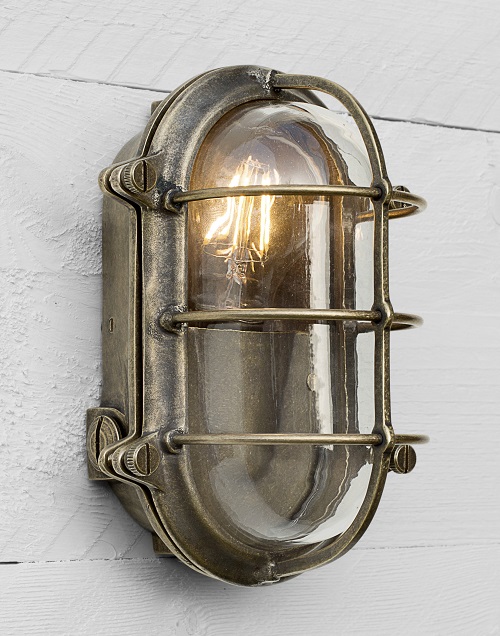 The Bulkhead Outdoor Light is a handsome, retro-style garden wall light with a robust and practical styling that is reminiscent of shipping and industrial days gone by. A fabulous addition to our garden lighting range, it has been hand cast in solid, natural brass which gives it a wonderful weighty quality that will brighten up your exterior walls, porch or outbuildings.
This light was originally designed with Jim's family farm in mind as he wanted to create a stylish and practical outdoor light that would conceal ugly exterior wires on his outbuildings. It's a fantastic example of British design and manufacture and was even shortlisted as 'Product of the Year' at the RHS Chelsea Flower Show.
Featuring a hand blown, clear glass shade, set in a vintage-style brass cage with a deep backplate and decorative screw fixings, the Bulkhead will weather any storm and is the perfect finishing touch to any garden design. Its IP44 rating means it's also suitable in bathrooms for an impactful punch of industrial luxe.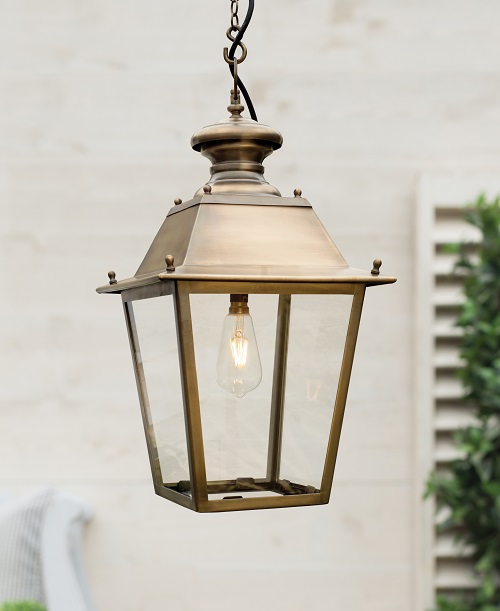 Our solid brass Canterbury Lantern is a stunningly handsome outdoor pendant light that will instantly create an impact switched on or off thanks to its robust quality and grand proportions.
In its making, we were inspired by the beauty of Georgian and Victorian carriage lanterns that we have reimagined in a more contemporary and practical style for today's homes. Our Canterbury is hand forged from solid, natural brass that has been lightly antiqued for a subtle, aged appearance and is IP rated 33 to ensure it will withstand everything that the British weather can throw at it.
Each of these lights bring a unique design to the table, and as they're always hand forged and finished by us, the quality never wavers either. We are thrilled that our customers choose to come back to us for these reasons. We never forsake style for function, and love that these Jim Lawrence favourites are now a staple in your homes. If you'd like to find out how your favourite lights are made and see behind the scenes in our Suffolk workshop, read our Meet The Makers interviews.
To see more of our lighting and find your new favourite, please visit our website. For more home interior ideas, keep up to date by following us on Instagram, Twitter and Facebook. Don't forget to tag us in your décor updates– we love seeing our products in their new homes!
If you have any questions at all about installing your lighting accessories or perhaps how to take care of your Jim Lawrence products, don't hesitate to get in touch. You can drop us an email at sales@jim-lawrence.co.uk, or call us on 01473 826685.