Black and distressed metals are hot on this years interiors agenda, but the Luxe Metallic trend doesn't have to be reserved for contemporary or industrial spaces. We've collected some of our favourite interiors and exteriors that bring both matt black and tarnished metal to the fore in a way that can be effortlessly translated into your modern country home.
These trends aren't always built to last, but we think this year's big look of using a sophisticated metallic colour palette within your home is a timeless classic. Our antiqued brass, forged iron lights and matching accessories help to add a luxurious metallic finish to any room. When looking to the exterior, there's no need to forsake style for function. Create graphic silhouettes for elegance outside as well as in with a hand finished matt black. Combined, bold black and tarnished gold tones create a touch of luxury to both contemporary and traditional interiors.

It's easy to understand the enduring appeal of Matt Black door furniture. This hard wearing, durable finish is the perfect choice for creating a timeless and sophisticated look – all you need to make a lasting impression. Your front door is the first thing yourself, your guests and potential buyers might notice. A well lit porch is a good start. Statement outdoor lanterns are an inviting addition and define the entry to your castle. We love the use of a single Boathouse light to brighten up this bold black doorway belonging to @thisoldcottage.

The kitchen is not just a space for food preparation. It's a meeting place where you and your family cross paths at breakfast, lunch and dinner. Sometimes it is where you share coffee with friends, pour a glass of wine after a long day and where the kids sneak into for a midnight snack when they have sleepovers… It's a room where memories are made. Without a thoughtful approach to the lights these rooms can end up feeling the opposite of how they should – which is inviting, relaxed and looking delicious. It's a multifunctional space that needs multifunctional lighting.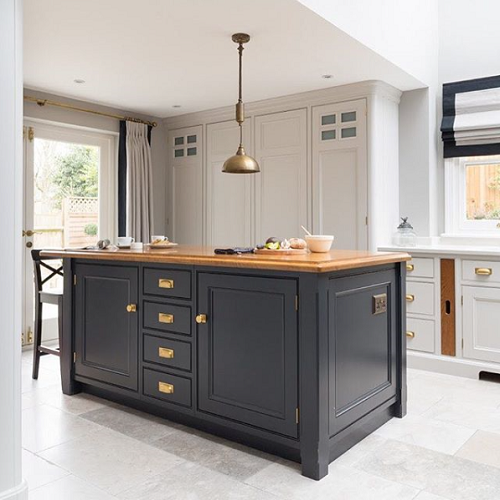 We love a statement pendant over the island. The Butler Rise and Fall is our go-to show stopper, styled above by Humphrey Munson (photographed by Paul Craig) and matched with brass details. Seemingly small details like door pulls and knobs make a real impact when chosen carefully. Chalky 'off-blacks' and grey blue tones also encourages the brass to pop, making the whole room design feel considered and cohesive.
Continue reading