Neha Shah is the founder of NS Interior Design, a Hertfordshire based studio. Characterised by bright spaces and warm accents, NS Interior Design specialises in a timeless style by offering spatial planning, interior design, and design management services. We've loved watching Neha fine tune her design with perfectly placed Jim Lawrence lights and are delighted to welcome her to the Style Journal.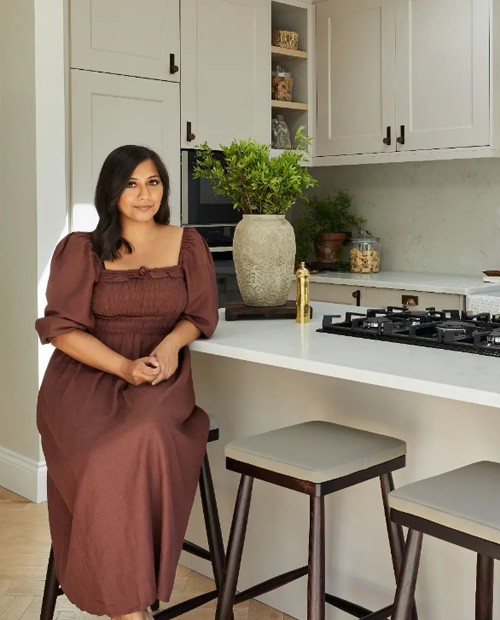 When did you begin your journey into interior design?
I carved my own footsteps in the industry 4 years ago, in 2019. Having worked for other established interior design firms within London for 10 years, I was ready to take the big leap and go it alone.
For us, your styling has a relaxed, comfortable appeal which is elevated by elegant detailing. Can you tell us about your design ethos?
One key design statement I channel is creating interiors that have understated elegance and timeless feel. I naturally gravitate to neutral and calming colour palettes throughout and tastefully injecting subtle colour through items the client could easily change themselves in years to come. It's key to get the right balance between style and function.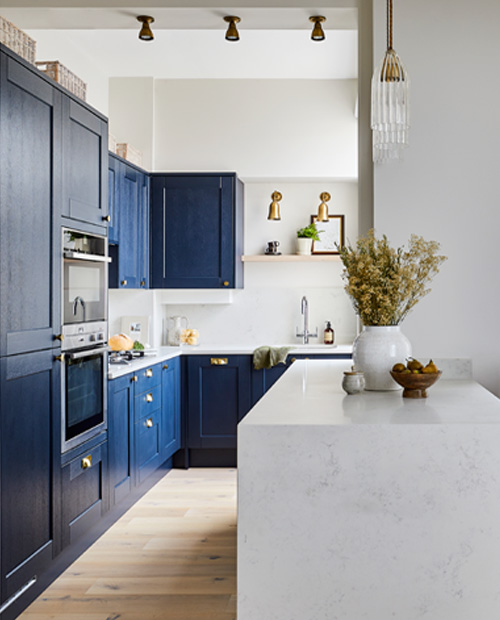 We initially connected over some images of your Little Venice project, a dainty property where maximising on space (particularly in the kitchen area) was key. In your experience, how important is lighting in helping to make the most of smaller areas?
That's right. With that project in particular, lighting was important especially with regards to creating zones for the client. As I reconfigured the space to a single large open plan area, it was important we catered to each area and get the right balance of decorative lighting as well as practical lighting. Pairing the Edgeware Flush Mount Ceiling Lights with the Thornton Glass pendants is a great example of this.
Other than introducing bigger changes such as lighting and perhaps painting, what are the most effective ways to transform a room?
Once you have considered the fitted elements of your home, the next phase is the furniture and soft furnishings. This will truly complete the transformation of a room. It's important to first ensure you establish the furniture layout before executing this with your choices. This allows you to ensure items are proportionate to the room.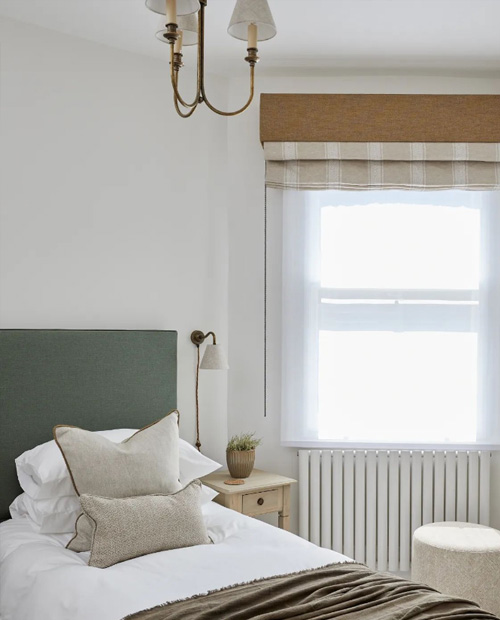 Our favourite project of yours is your recent Maida Vale holiday home which weaves laid back neutral tones with swathes of warm brass. It is so welcoming and fresh. What are key pieces of styling advice for creating inviting bedroom and living areas like these?
For me personally and as you pointed out, spaces such as these in my opinion should be kept calming and comfortable. The choice of colours you place within a room, be it on the walls or furniture have an impact on how you feel within a space; how you're able to relax within a space. Really think about the intensity and tone of colour you insert, as well as how much.
How can we all refine our own personal style?
It is so easy to get carried away with looking at inspiration online and say, "I'd like this, this and this in my living room" and assuming it will look amazing and cohesive. It's important to really sit down and think what truly works, and what works well together based on your preferred aesthetic. Putting a mood board together to assist you will allow you to visually see it all together or always consult with an Interior Designer to assist in this.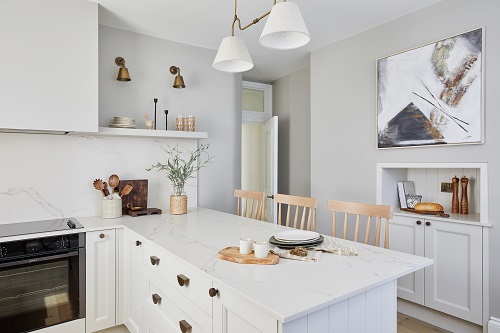 You work with a variety of properties, but we know older homes can sometimes present unusual challenges when renovating. What's the key to perfecting a period project?
I suppose there are two parts to this question if you're considering a renovation project in its entirety. Structurally, be realistic and always expect more works are required than you imagined. Typically, older properties are built differently internally with weaker structures that may not withstand the renovation. They also usually require rewiring to ensure they are up to current standards.
Visually, I would say try your utmost to retain any period features. These elements provide character and charm to a room and can really elevate what may appear a clinical space to a warm and tastefully designed room. I love the juxtaposition within classic details and contemporary clean lines.
What advice can you give to those passionate about interiors but not quite knowing where to start on their own home re-design? Do you have a go-to for sourcing new ideas and inspiration?
Having an Interior Designer on board is just as important as considering all other trades for your project, whether you're quite confident in what you're creating or haven't a clue where to begin. The first request I always ask of clients is to spend some time on platforms such as Pinterest or Instagram. This steppingstone allows me to visually understand their vision too.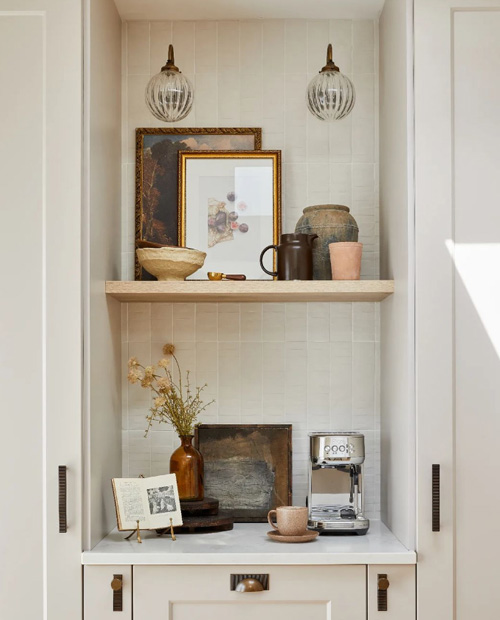 A few quick-fire questions…
What are your top tips for making a house a home?
It is all in the layering; once you've considered all the fitted elements, think about the furniture, followed by soft furnishing, artwork, mirrors, decorative lighting and so on.
What's your favourite room to design?
Usually, a bedroom or lounge. But then I love the kitchens I've designed recently!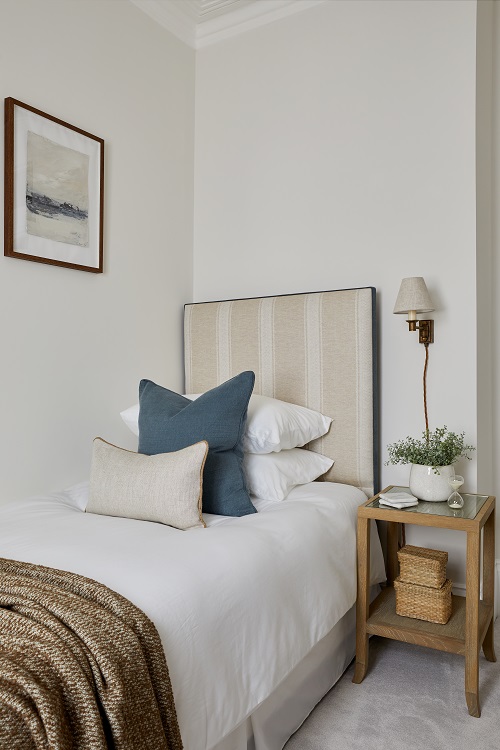 What's the staple homeware piece that every house needs?
A good quality made bespoke sofa!
Your favourite Jim Lawrence product?

Tough question and I'm struggling to choose as there's so many classic timeless pieces in your collection. Can I choose two? For a while I was hoping to use the Barchester and Arlington pendants and so glad I got to in the Maida Vale Holiday Home). They are realty timeless, and I feel in 10 years' time they will still make the interiors feel fresh.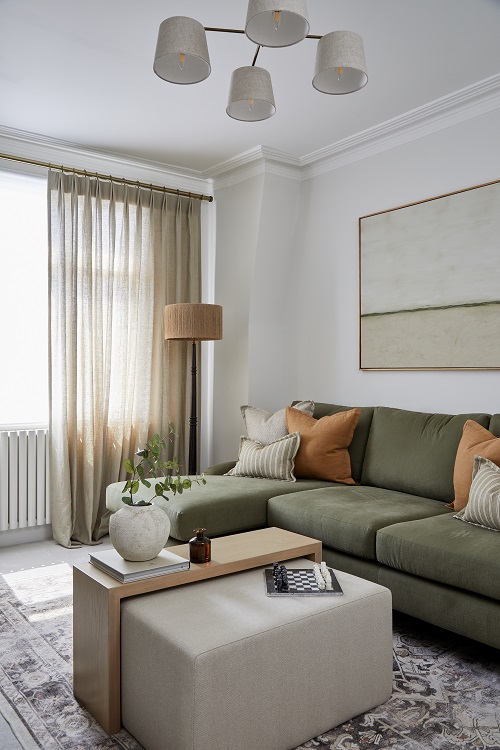 Follow @ns.interiordesign on Instagram for further images of her beautiful homes. If you're in need of a design revamp, visit  www.nsinteriordesign.co.uk to browse the portfolio and discover more about Neha's services. Interior photography featured by Christopher Snook who you can follow @snookphotograph.
To stay up to date with Jim Lawrence, follow us on Instagram, Facebook and Pinterest. Browse our website to see all of our hand forged and finished lighting and homeware.
GET THE @NS.INTERIORDESIGN LOOK


Edgeware Mounted Ceiling Light, Thornton Pendant, Carrick Plug-in Wall Light, Carlisle Three Arm Pendant, Dulwich Wall Light, Putney Wall Light