You'd be forgiven for stumbling across Dani's Instagram profile and assuming your eyes were scanning the beaches of South Africa, the vast wildernesses of North America or another far-flung location. But, as her username '@the.devon.good.life' perfectly reveals, the bulk of her beautiful imagery and video content captures life on the Southwest Coast of England. Between renovating a 19th century coastal cottage and pulling on a wetsuit to paddle board with seals, we caught up with Dani to discuss the concept of home and why nature is key to that good life feeling.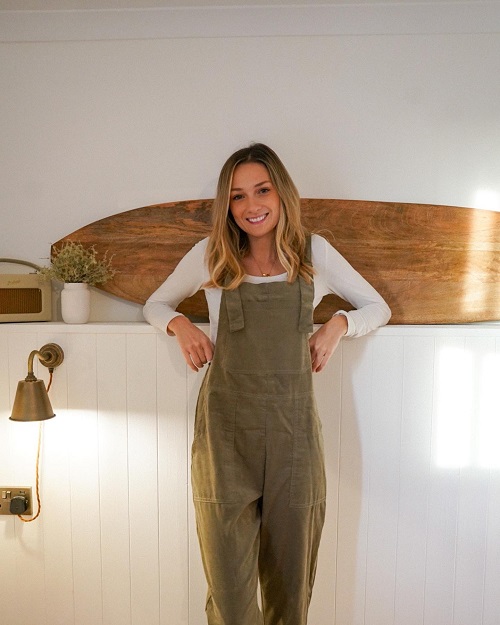 Tell us about your move away from city life, what made you take the plunge? 
I had lived in London for coming up to a decade and whilst I loved it for the most part, the city lifestyle had started to wane just before Covid hit. I'd always grown up in a countryside setting and I was craving space, nature and a slower pace of life. I was also desperate to make a home. With soaring property prices in the city, I'd had years of moving from one rented room to the next. I think city life can cause an element of instability, some people thrive from that kind of challenge, but not me. When the pandemic changed the ways of working, I was suddenly able to do my job remotely and it was a chance to make a completely different lifestyle change that I knew I couldn't pass up. So began the quest of finding a country cottage to renovate, which had always been a dream of mine to do.
Why Devon? 
Devon has always been a special place for me, it's where I was born and where my family are from. The thing I love most is just the variety that this one county brings, I feel more than any other. I can start my day hiking the tors on Dartmoor National Park and finish my day with a sunset at one of our many beautiful beaches. There's so much wildlife and marine life, and because it's so big there's always new places to explore. Now I'm here, I realise there are more and more younger people moving here, looking for this way of life, so it's lovely to be surrounded by such like-minded people.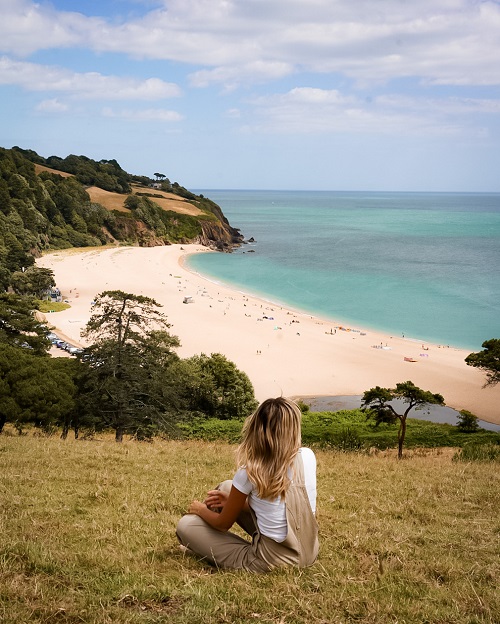 Working for a travel company and documenting new locations for your Instagram page means you are often on the move! How do you ensure your home is a sanctuary that you always look forward to coming back to? 
As we are mid-renovation that's an interesting question because sometimes it's hard to look past the mountain of jobs still to do which can be a bit overwhelming. I'm proud of what we have achieved so far though, doing the majority of work ourselves which does give a real sense of satisfaction at the end of the day. For me, it's about making my home as light and spacious as possible using neutral colours, and then utilising as much natural texture as possible; woods, limestone, and linens for example, to make it cosy and warm. Nature and exploring new places is soul food for me, so if the inside of my home can remind me of what's outside beyond it then that gives me a lot of joy.
Do you know much about the history of the cottage?
I believe it dates to around 1890 and over the years has had many alterations. In the last two decades, I understand the previous owner of next door was in some financial difficulty, so kept selling off sections of his house and garden to the previous owners of my cottage. My cottage looks quite small from outside first impressions, so I do enjoy seeing people's reactions when they come in and the layout is always different to what they expect.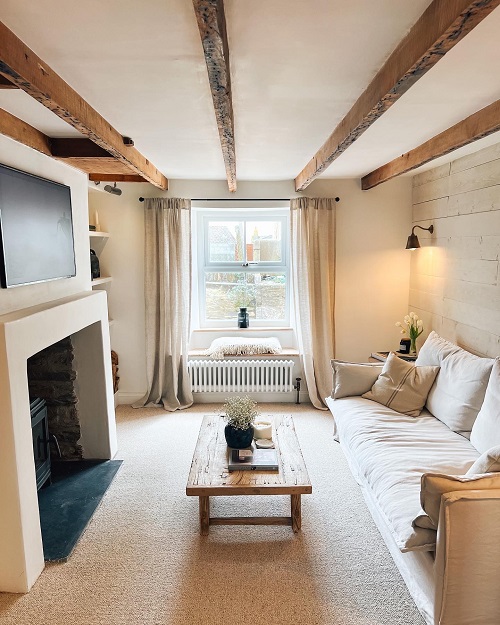 What has been your most unexpected discovery when getting stuck into the DIY side of things?
This is my first proper renovation project and so far, I'm thankful that we haven't had any disaster discoveries like you see on all the renovation programmes. We managed to reveal what I think has turned out to be a beautiful fireplace which was always a hope of mine. We also paint stripped all our wooden doors and they ended up being so beautifully rustic that they're now a favourite feature of the house. Over the years, some of the character has been removed so my aim is to really add that back in.
We are here to talk interiors, but what is it about being outside that you find so inspiring? 
For me, the outdoors and creativity go hand in hand now. Shortly after moving to Devon, I picked up my camera and finally felt like I had reason to use it every day so it's lovely that one passion has completely sparked another. I get so much excitement from exploring somewhere new and seeing places for the first time, but once you move somewhere, there are less and less new places to find. For me, it's inspiring because whether it's the change in seasons, or that one sunset is always different to the next, the outdoors can give you a totally different experience, whether somewhere new or old. Time in nature is humbling, it provides me with a mental reset and a perspective on what's important.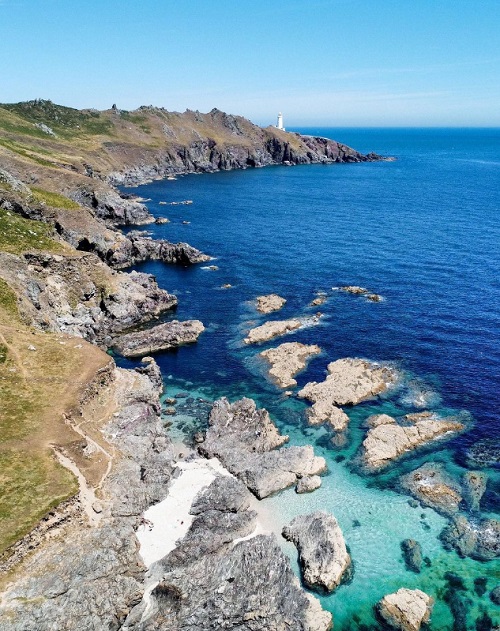 Your interior style appears to focus on pared-back natural materials. Does your love of nature impact the design choices you make?
Oh absolutely! After living in a city, I wanted a lifestyle that meant I had nature on my doorstep. For me, your home absolutely contributes to that lifestyle, and reflects your personality so for me it all goes hand in hand.
Where else do you seek ideas for the home?
Instagram and Pinterest are firm favourites, the ease at which you can consume and save inspiration is something I love. But I also find I get really inspired when I travel, especially places like Canada, the USA, and Europe. I've never been to Australia, but I know I would LOVE the interiors over there. That's where interior coffee table books are also such a favourite of mine as there is often inspiration from all over the world. A couple of my favourites are the Surf Shack series by Nina Freudenberger and Still: The Slow Home by Natalie Walton.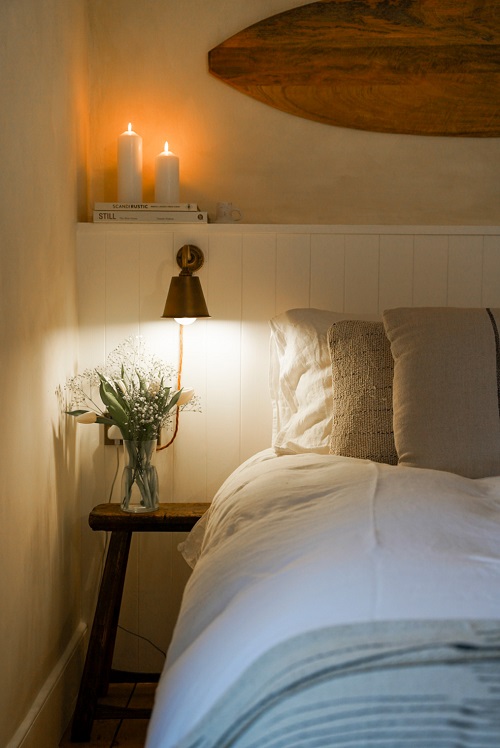 Do you have any advice for those seeking out their first property?
Location is everything. It's tempting to move for a house, but in my opinion it's not enough. Loving where you live is so important, and you can change pretty much everything about a house, but not where's located. If you're moving to a completely new area like I did, I would really recommend renting before buying. By doing that, you can see what different areas are like at different times of year, how different locations and amenities would impact your lifestyle and in doing so, save yourself a lot of time, stress, and money, by having to move again.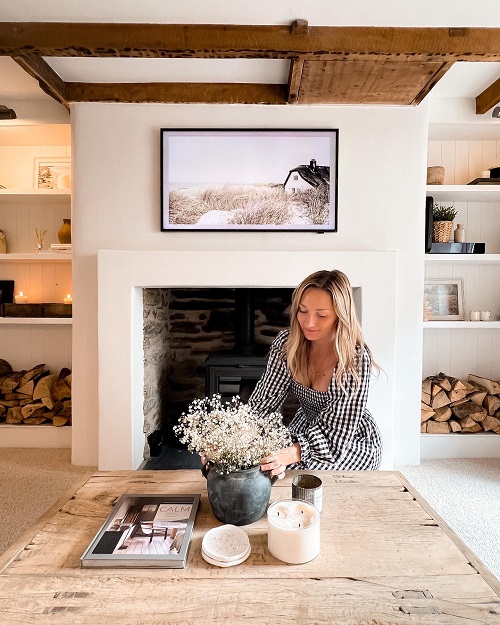 Finally, a few quick-fire questions…
In three words, what does 'the good life' mean to you?
Nature, Contentment, Home. Or…work life balance!
Where's next on the list to visit? 
Hiking in the Italian Dolomites or Norway.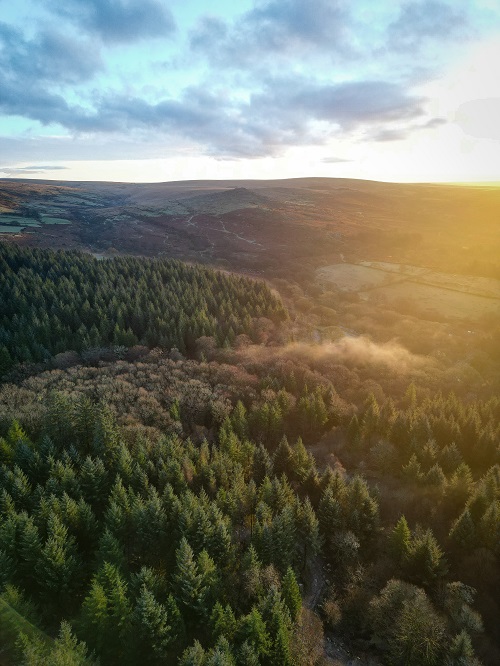 What's the staple homeware piece that every house needs? 
A comfy, stylish sofa!
Your favourite Jim Lawrence product?
It's got to be the Club Wall Light; I just love them.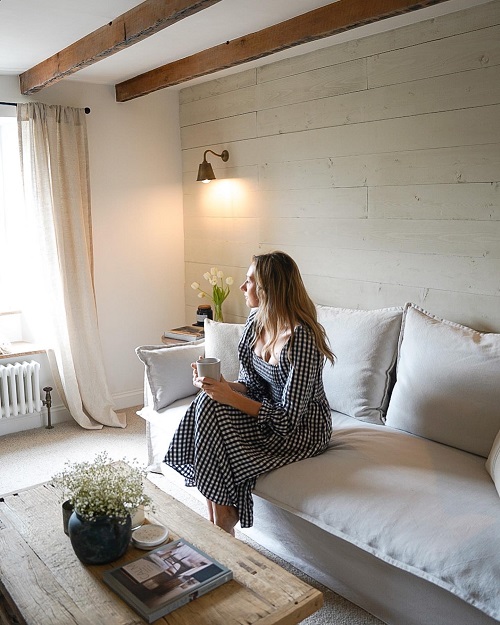 Follow Dani's journey on Instagram (@the.devon.good.life) for a feast of beautiful travel and home photography. To stay up to date with Jim Lawrence, follow us on Instagram, Facebook and Pinterest. Browse our website to see all of our hand forged and finished lighting and homeware.
SHOP DANI'S LOOK