Our heritage outdoor lighting designs work beautifully when paired with rustic exteriors. All of our lights are skilfully made in our Suffolk based workshop, using traditional metal working techniques to create the quality product you take home.
Our outside lights will transform the look of your garden, entrance or outbuildings, making the most of architectural features and the natural beauty of your building materials. Choose from period splendour or simple country cottage styles to find your perfect outdoor light.

This is where we like to get industrial. Whether a shed, garage, workshop or barn, we trust our industrial-inspired favourites will suit your needs. Try our Brittania Ship's light with its beautiful  brass top and cage. A small outdoor lantern that makes a big impact, this lantern is hand cast in solid brass which will enhance your home with its nautical good looks.


Your porch and front door is the first thing yourself and your guests will notice when arriving. The Peacock Lantern is a classic design with a Jim Lawrence twist. The Peacock lantern is all you need to define the entry to your home. Because solid brass does not rust, it will stay a gorgeous entrance for years to come, with subtle ageing for the perfect vintage look.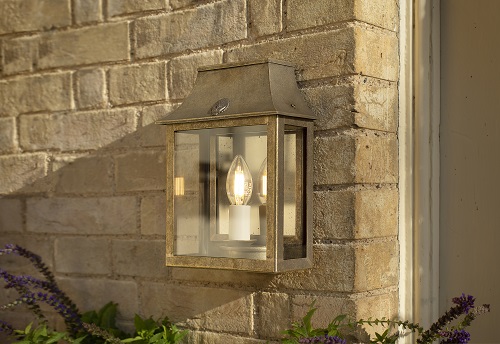 The shapely arch of the Stable Light adds a subtle countryside charm to your outdoor lighting scheme, which can be flat mounted like this, or corner mounted for hard to reach places. Hand finished in natural solid brass, the Stable Light has a lovely long, vintage-style swan neck that was originally designed to keep out of the way of stable doors and horses heads – now designed to be a stylish and practical statement in your outdoor space.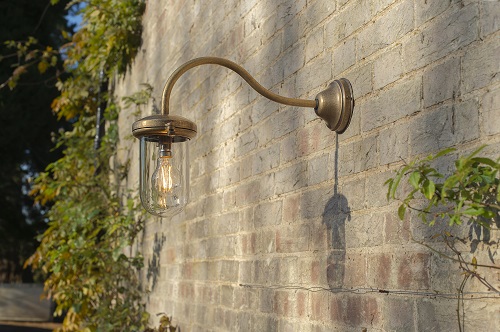 Something a little different for a central source of light and an authentic rustic feel… Our hand cast iron Fire Bowl creates a stylish focal point for outdoor entertaining, as well as a great source of warmth and light on those cooler evenings. A simple addition to your garden that you can easily move about according to your needs.
There are many solutions to lighting your outdoor spaces to make the most of the spring evenings as they roll into summer nights. To browse all of our outdoor lighting, click here. Now you've got the exterior lighting inspiration, take a look at our lighting guide for period properties for our indoor lighting solutions. Don't forget to follow us on Instagram @JimLawrenceMade and tag us in your home updates – we love seeing our products in their new homes!