'Restoring Lansdowne' is a stunning, dramatic Instagram account documenting the renovation and styling of Kristine Hall's London home. The Victorian townhouse, first built in 1901, exudes contemporary scandi glamour thanks to Kristine's stylish touch. After spotting our favourite Holborn lights in her grey and antiqued brass tinged bathroom, we simply had to get in touch to further explore this unique home.
We spoke to Kristine about her beautiful restoration and what it takes to find your own individual style.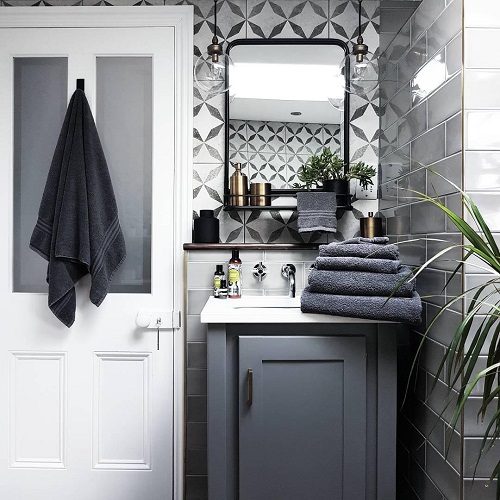 At first sight we loved your bathroom, then fell head over heels after viewing the rest of the house. How would you describe your interior style?
Thank you! Our home is a mashup of lots of different styles that I love – midcentury modern, a slight industrial edge, scandi monochrome minimalism, maybe a little 70's glam thrown in for good measure. My style probably leans towards a more masculine look in general…well, apart from the pink dressing room. I suppose that one's pretty girly.
I enjoy trying out different looks from one room to the next, but I hope that by carrying certain elements through the house I've kept it all feeling cohesive – velvet upholstery, rich wood tones, dark greys, black and brass accents. It was also important to me that the design was sympathetic to the age of the property, so we restored or reinstated original features wherever we could, from the wide pine floorboards, plaster coving and cast iron fireplaces to restoring the original panelled doors and skirting boards.
I'd like to think that when someone walks in they find it calming, sophisticated and comfortable, with lots of interesting things to look at.
What encouraged you to document the restoration progress online?
Well everyone loves a good before and after, don't they? I was initially encouraged by a good friend to set up an Instagram account to document the project and I'm so glad I did. When your 'kitchen' has consisted of a microwave and kettle in the corner of your lounge for two months and you're washing dishes in the bath, or there's rainwater gushing into your freshly decorated bedrooms during a loft extension …being able to look back at how far you've come at those moments helps to keep you sane.
There's also an amazing community of renovators and interior design lovers on Instagram, and it's been a great source of inspiration and DIY know-how. When the going gets tough, it's amazing having access to so many ultra-talented people with beautifully renovated homes who know exactly what you're going through.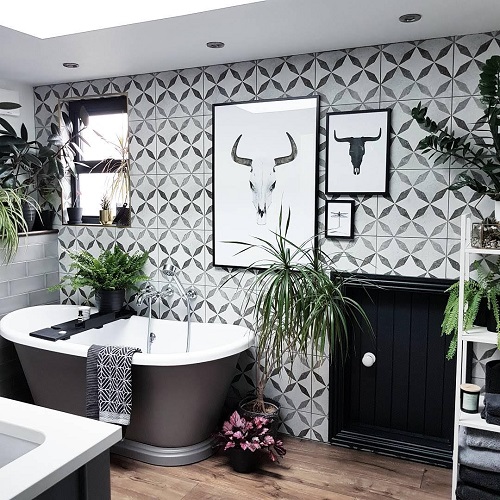 We like to think an interior design project is always evolving, because personal tastes and needs also ebb and flow, but how long has it taken you from starting the restoration to where you are now?
Although my husband always looks slightly panicked when I say this, our home definitely will continue to evolve and that's the joy of it really. But the hard graft is definitely over for us on this property. It's taken over 5 years to get to this stage because we did as much of the work ourselves as possible, and renovated in stages as time and budget allowed. We first renovated the bedrooms one at a time at evenings and weekends, and then brought in some professional muscle to overhaul the kitchen. Some of the most time-consuming tasks were the stripping the original staircase and woodwork, and doing the painting/decorating – at this point I'd be quite happy not to see another paint brush for a very long time.
Where do you source most of your inspiration?
My starting point is always the space itself – how we want to use it, how we want to feel when we're in it, the architectural features and natural light. I find inspiration in the usual places like Instagram, Pinterest and magazines, but also tend to find unique pieces that I love – lighting, furniture, art – and then design a room around them. It's really important to me that our home is practical for our lifestyle. So the challenge is always to make it fit for purpose and beautiful, within budget.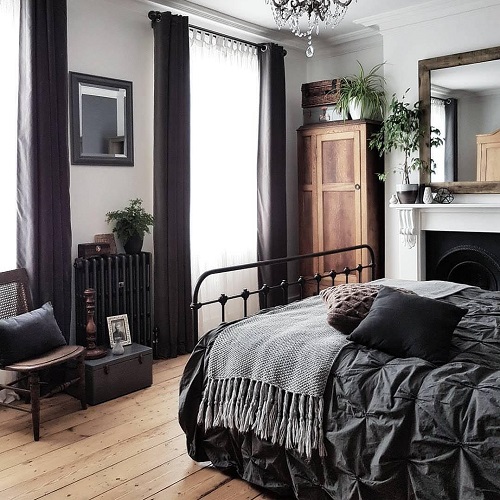 With interior trends expanding and changing with a turnover as fast as fashion, how do you tap into adding your own personality into a home?
I think some of it comes down to patience and waiting until you can find (or afford) really special pieces that you absolutely love, whether it's furniture, lighting or accessories. We had empty corners and battered old flat-pack furniture for years because I wanted everything we bought for the house to really add something, to earn its floor space. I found a tiny 1940's wardrobe online that's a perfect fit for our master bedroom alcove. It's really simple but has great lines and a lovely patina. It wasn't expensive but everyone comments on it and it really completes the room. And I try not to impulse buy – if I still love it in a month or two there's hope I'll love it in 5 or 10 years too.
Your hashtag #sassyhomestyle occupies many a style bloggers' caption. In your opinion, what are the key ingredients for a 'sassy home'?
Yes, it's great fun co-hosting the #sassyhomestyle hashtag alongside three super talented fellow interior design lovers. For me it's about creating really unique spaces and being totally unapologetic about it. It's brilliant seeing the creative solutions that people come up with, whether it's tiny spaces, tight budgets or rented properties that can't be permanently altered.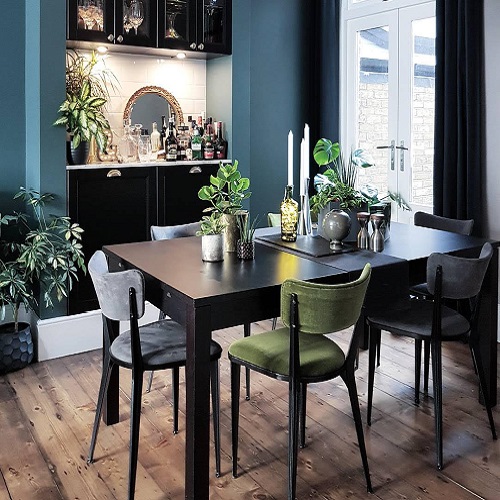 Greys and petrol blues aren't for the faint of heart! You haven't held back when decorating the rooms in dark colours. What tips can you give to our readers thinking about making the leap to the dark side?
There's no easier way of adding drama than with some dark paint. We are fortunate to have lovely large windows and a good amount of natural light – sunshine on a dark wall can be so beautiful. But equally if you have a room that doesn't get much light, sometimes going with it and choosing a dark colour can work better than trying to fight it. I find muted, dark colours really soothing and it's also a great way to add instant character to a room that doesn't have many features.
In most of our rooms I've paired dark walls with lighter (or white) ones as I like the contrast. For example, at the end of our kitchen I used some leftover dark grey paint in the alcoves – it adds another dimension and emphasises the interesting shapes and roof line, without making the room feel any darker.
Renovating a house is a tall order! What drew you to this house in particular?
My husband already owned the house when we met, but I loved it as soon as I saw it. It wasn't appealing on the surface…at all! But I could see the potential under the swirly 70's shag carpet and the opportunity to essentially start from scratch and really make the place our own was the dream. It had some beautiful original features like sash windows, cast iron fireplaces and lovely proportions, and the option of building up into the loft spaces was a draw too. And I had been living in a flat in the City so the idea of having a garden was exciting.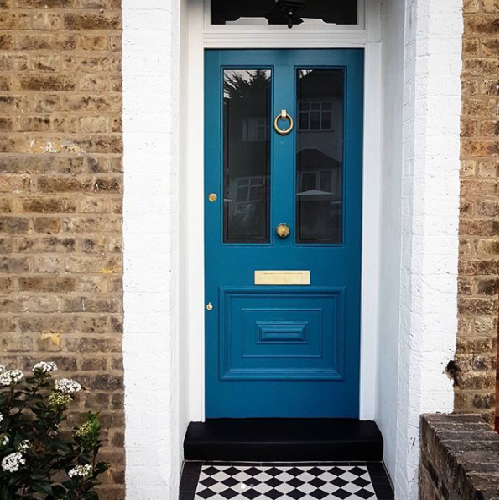 If you could go back and give advice to yourself before starting up the project, what would it be?
I'd give myself a better idea of what to expect of a long-term renovation and recommend having a plan for managing the stress of it all. Sleepless nights, diet and exercise routines out the window, financial pressures, minor building disasters, dust and noise, thousands of decisions – it's a lot to take on and it can really put strain on relationships too. It was 100% worth it, but if I had more realistic expectations of the day-to-day realities from the start, maybe it would have been a little less overwhelming.
Last but not least, what is next for you and Lansdowne in 2018?
I'm in the process of setting up my own interior styling business, so that's pretty exciting. We have a few small things yet to do on the house, like alcove shelves, and I'm looking forward to spending some time on the garden in spring. We're also going to build a bin shed. Glamorous, I know. But otherwise 2018 is all about enjoying the home we've created, now that it's finally finished. I'm sure we used to have some hobbies so I'll probably try to remember what those were!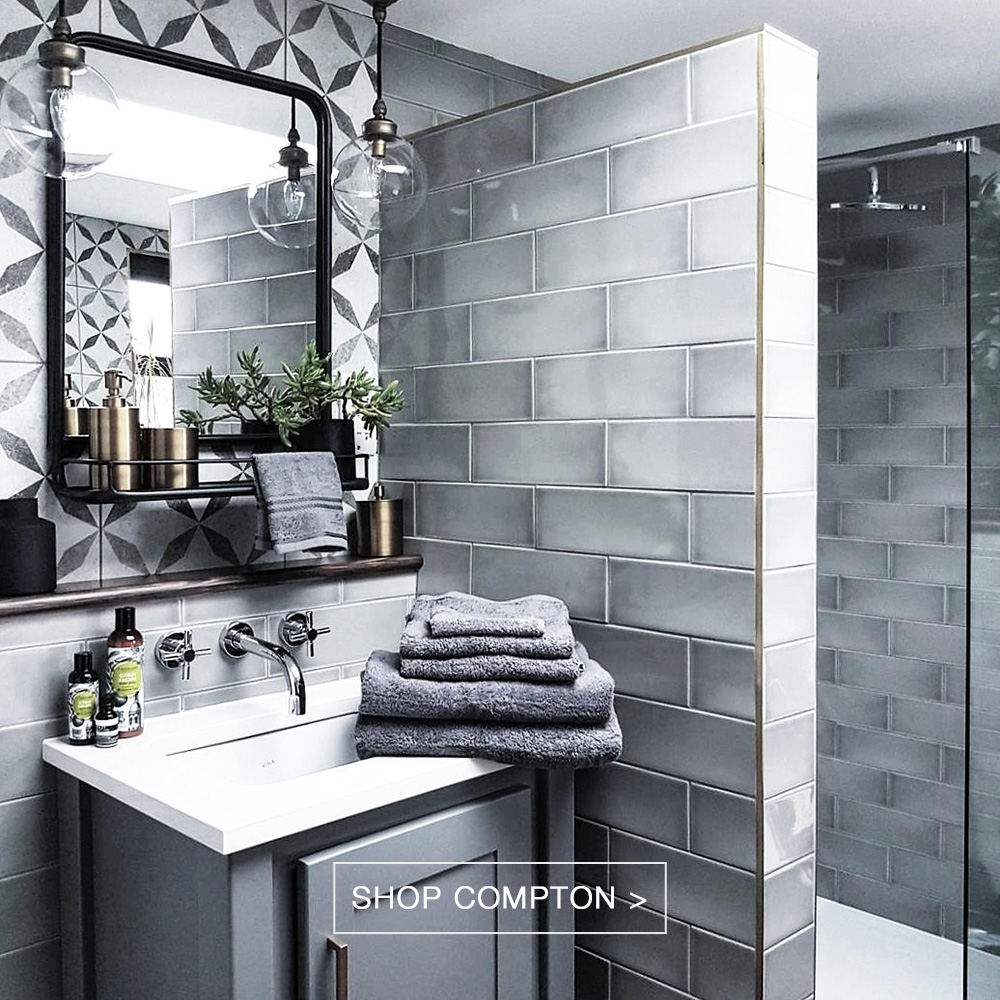 Follow Kristine's interior transformation on Instagram at @restoringlansdowne. To see more of our unique bathroom lighting, browse here.