The Old Piggery in Broom, grazing the edge of the beautiful Cotswolds, caught our eye on Instagram thanks to its cosy modern country vibe. We were thrilled to spot our cottage wall lights featured in this delightfully cosy barn conversion, and even more excited when host Vanessa Taylor agreed to feature on the blog. The open plan kitchen/dining/sitting room has a vaulted ceiling with original exposed beams, an oak floor and a log burner for those chillier days. A perfect country getaway.
Believed to date back to the 16th century, this period space with its carefully curated décor is available to enjoy on Airbnb. We spoke to Vanessa to find out where her love for interiors originates from, why she started up the project and what it takes to be a great host in your own home.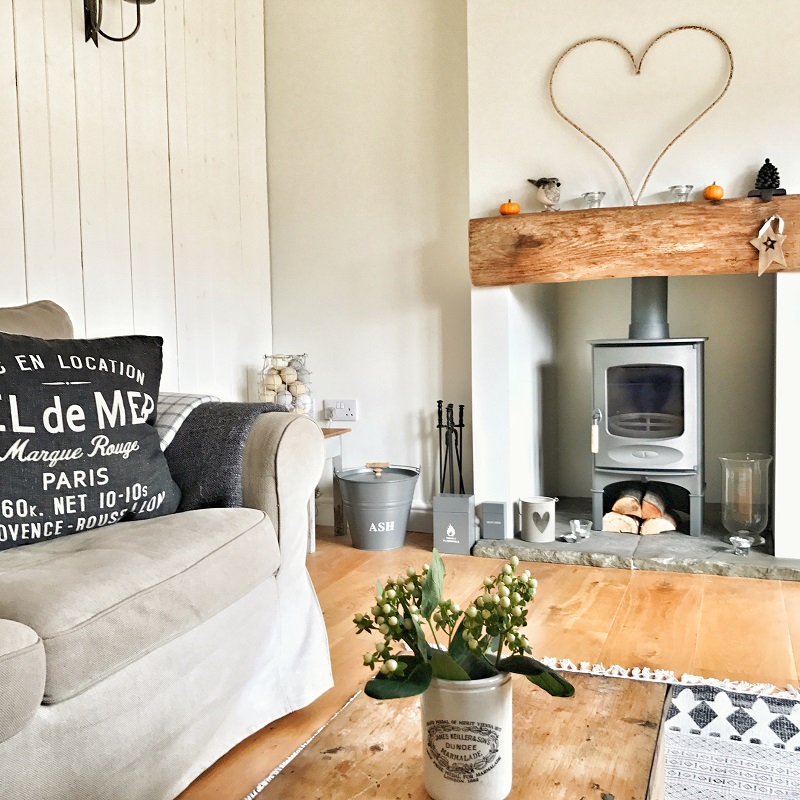 Hi Vanessa, we were so pleased when we saw you had featured our cottage wall lights in The Old Piggery. When it comes to choosing homeware, where do you start?

I usually start with one key piece in mind – something I love – then I choose items that will blend with it in colour. I naturally find myself drawn to a neutral colour palette, but I do like to add little pops of colour to lift a scheme, with cushions, pictures and accessories. That way if I change my mind I can easily modify the look with just a few changes.  Once I have made the key decisions like wall colour, flooring and larger pieces of furniture, I find the room evolves quite quickly. I love to blend vintage or handmade pieces with new items, and also some budget pieces with a few quality items. This keeps the room fresh and individual, but also helps me stick to my overall budget.
Personally, I can be quite indecisive (much to the annoyance of my husband), so I like to take my time with decisions and mull over ideas, especially if it's going to be an expensive purchase. If I am still not sure, I create a mood board on Pinterest to help visualise all the items together. This is particularly useful if I'm starting a room from scratch, as I can play around with different combinations to see what looks best.
How would you describe your interior style?

I would loosely describe my style as 'modern country' although there are definitely some Scandinavian influences. I love to create the 'hygge' feel to rooms using a tonal colour palette and by incorporating lots of different textures, throws, rugs, candles and mood lighting. I tend to buy things that suit multiple rooms so I can move things around from room to room and create a fresh new look, that way I never get bored.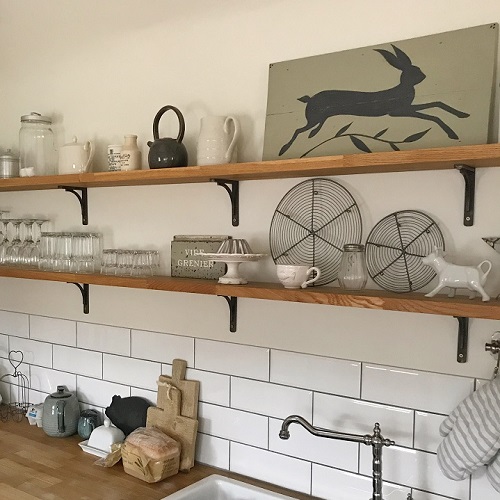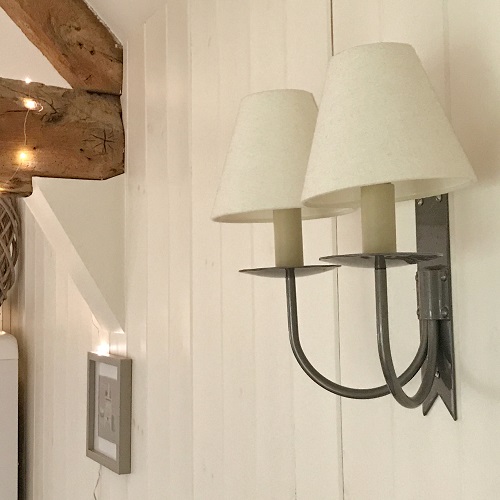 Where do you source most of your inspiration?

Most of my inspiration comes from home interior magazines, Pinterest, Instagram, and spending time leisurely browsing antiques centres and country brocantes. However, inspiration can also come from places I visit, including; hotels, holiday cottages, shops and cafes.
A renovation is a big job. What state was the barn in before you revamped it?

The barn was originally converted into a habitable space back in the 1970's, long before we owned the property, so the building was water tight (or so we thought, more on this later…), but it was very basic, the walls had no insulation and there was a suspended ceiling covering the beams. It also had delightful polystyrene ceiling tiles in the makeshift kitchen area. Basically there were no visible signs of character at all.
When we converted The Old Piggery in 2014 into holiday accommodation, quite a lot of work was required to bring it up to modern building regulations. We had to strip the plasterboard off and dig up the floor to properly line and insulate the property. It was quite a surprise when we could see next doors shed through the back wall!! Part of the oak frame had completely rotted away due to a leaking gutter, so this had to be repaired. We also reconfigured the space, exposed the beams (believed to have come from old ships and approx. 300+ years old) and worked really hard to find an acceptable insulation that still allowed the beautiful purlins and oak A frame to be exposed. We are delighted with the results!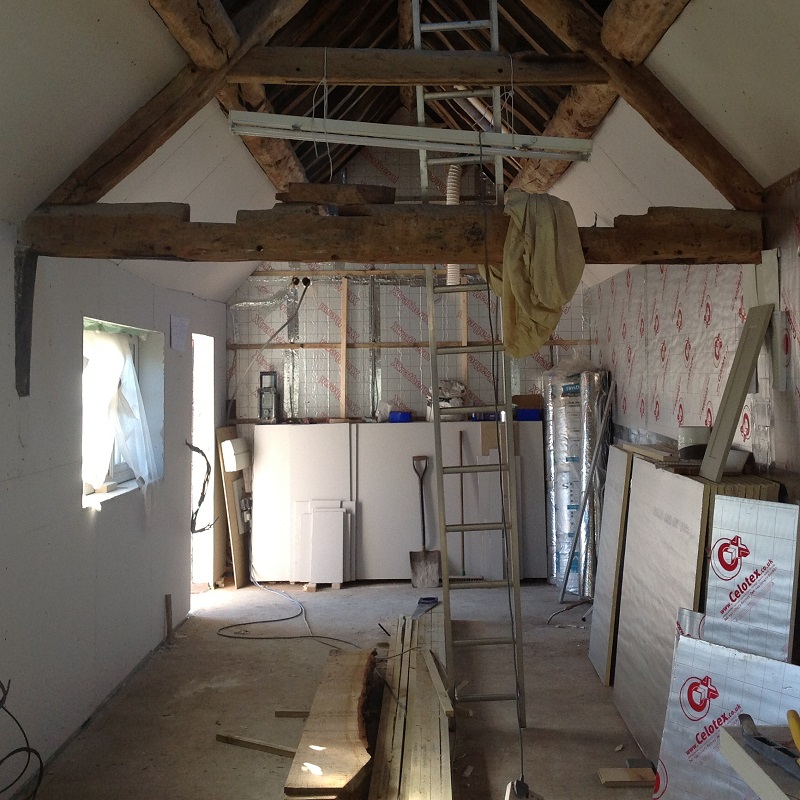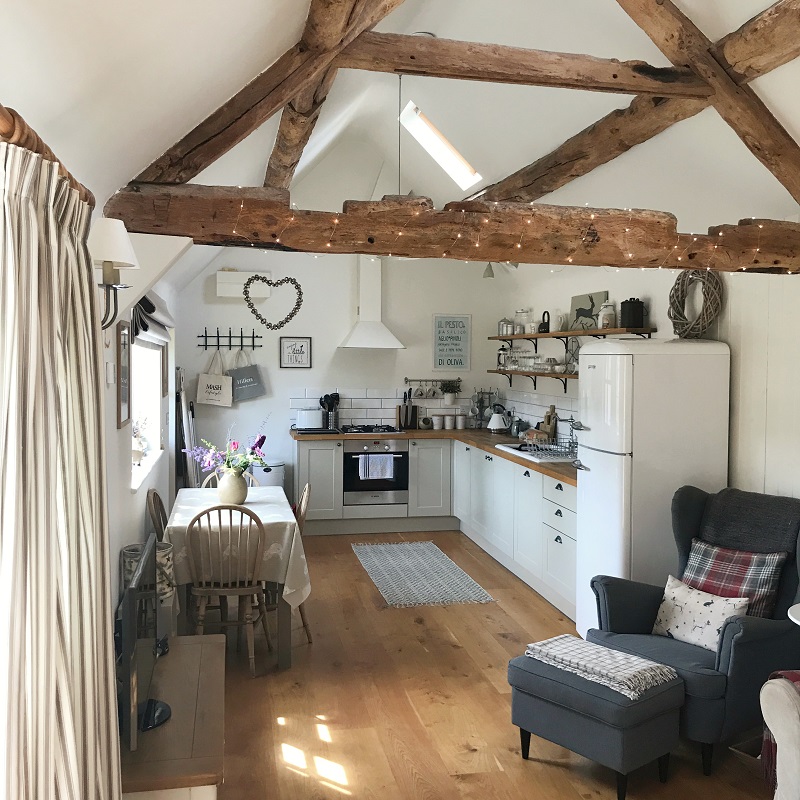 Was the intention always to start up with Airbnb?

We always intended to offer the space as holiday accommodation, but it was only during a chance conversation with someone we met on holiday in France, that we discovered Airbnb. I love the fact everything is so flexible, arrivals don't have to be on set days and the duration of the stay can be tailored too, we offer anything from 2 nights to 1 month.
We like to think that we should treat our own homes a bit more like hotels. We believe that luxurious soaps, bedding and accessories shouldn't be reserved for holidays only! Do you try to treat yourselves like guests in your own home?
Absolutely, I always love to have good quality liquid hand soap, and I am ashamed to say I am a sucker for beautiful packaging, it reels me in! I love accessorising too, my home doesn't feel complete without fresh flowers, (sometimes picked from the garden), a few scented candles dotted around and fairy lights all year round.
If you could go back and give advice to yourself before starting up the project, what would it be?

To think about the details as much as possible in advance, for example; where you want the sockets and light switches and what style, skirting board designs etc. otherwise you have to make lots of quick decisions which can be stressful when tradesmen are waiting! So I would say, 'be ready', plan all the finer details in good time! Fortunately our project was fairly seamless, but I think this was largely due to choosing an excellent builder from the outset, who had an eye for detail and an architect that really understood our vision.
Last but not least, what is next for you in 2018?

In terms of property, this year we are planning to do some maintenance to our own property and later in the year, I am launching a home and lifestyle blog. Personally, for me, this is really exciting as it will provide me with a creative outlet to share my passion for home interiors, as well as my love for mooching around antique centres and country brocantes. So watch this space…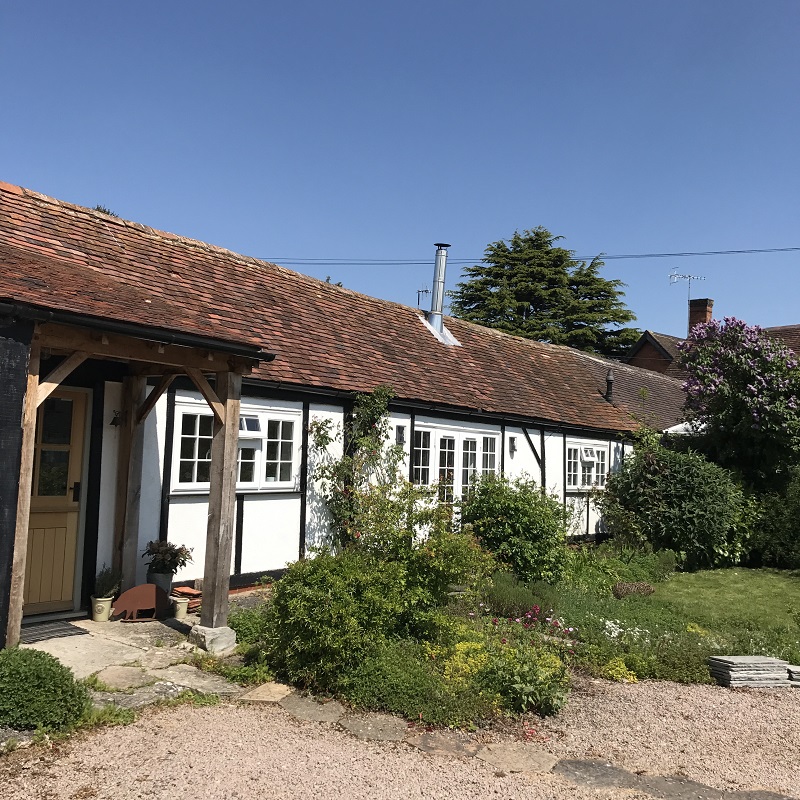 We can't wait to read your blog, Vanessa! If you want to see more of the property and even book a stay, take a look at The Old Piggery's Airbnb page. You can follow the Instagram over  at @theoldpiggery_broom and Vanessa's personal account @nessmaytaylor for even more modern country inspiration.