When the owner of Le Manoir des Impressionnistes contacted us via our Facebook page, we couldn't resist taking a little peak at their website. There we found some wonderful images and were thrilled to spot some Jim Lawrence products amongst the decor. This hotel is located in a beautiful area of Northwestern France, near the old port of Honfleur, and we just had to share some of the images with you.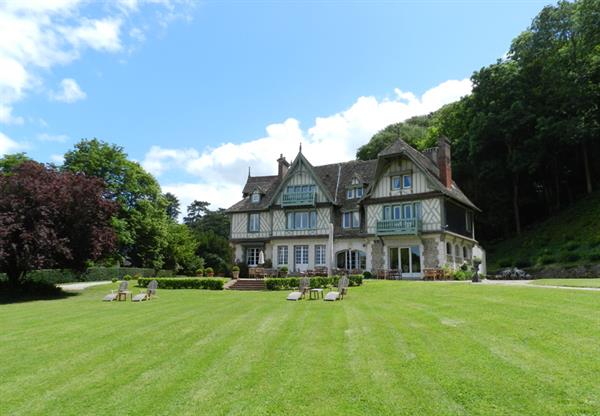 Le Manoir des Impressionnistes
The highly detailed fireplace is well suited to the simplicity of the Millbrook Table Lamp in our Old Gold painted finish. Paired with a 40cm Sloped Square Shade in Gathered Ivory Silk, this lamp pulls together all of the details in this room's decor.
We love the quirky tiles of this fireplace as we adore our canine friends here at Jim Lawrence. The elegance of the Seymour Table Lamp in Antiqued Brass with a Deep Aubergine Mock Suede 40cm French Drum Shade looks lovely against the wooden carving and patterned tiles of the fireplace.
​Our Portabello Lamp with Aubergine and Silver Chatsworth Damask Cylinder Shade (left) and Regency Table Lamp with a Gathered Empire Shade (right) suit the glamour of this room. We especially love the relaxed, comfortable feel of this room with a touch of something special introduced by the two detailed lamps.
The Portabello Table Lamp looks especially lovely against this floral curtain with its botanical detail and spiral stem. The neutral colour of the  Ivory Chatsworth Damask Empire Shade with its elaborate patterning suits this scheme well and is a nice way of adding more pattern to a home that already has bold designs.
Spa facilities at Le Manoir des Impressionistes
The spa facilities at the Le Manoir look especially luxurious and our products have found their way into there as well. The Single Smugglers Wall Light in Polished looks lovely with a Tapered Candle Shade in Cream Killowen and suits the tranquil atmosphere of the spa. The Scrolled Handle matches the wall light nicely.
Another spot in the spa is the Linden Coat Hook in Polished –  this hook has a spiral design with a diamond backplate that would suit any scheme.
We think Le Manoir des Impressionnistes is the hotel from dreams, encompassing views of the Seine Estuary, with the luxury of being snuggled on top of a wooded hillside. Built in the 18th century using materials from the 14th and 15th century, this hotel has unique character in a magical location. Now with a restaurant that overlooks the sea serving local fresh produce, and beautiful spa facilities, this is the perfect location for some respite.We would absolutely love to take a visit – if you have been there we'd be interested to hear how you got on.
As always, it would be wonderful to see your images of our products in their new homes. Please get in touch: clare.mayhew@jim-lawrence.co.uk
FEATURED PRODUCTS: