Handcrafted stylish switches and sockets are the perfect finishing touch to any period or contemporary home. Our range of colourways and designs allow you to think creatively so you can highlight your wiring accessories instead of hiding them. When decorating a room it is sometimes easy to miss the little extras that can add the design flare your room was missing. A white plastic switch is a sight I'm sure we are all familiar with. But, switches and sockets don't have to be boring or unoriginal!
When we've got hundreds of hand finished switches and sockets to choose from, it can be hard to pick which combination is right for you. We thought we'd make it a little bit easier by highlighting a few of our favourite designs…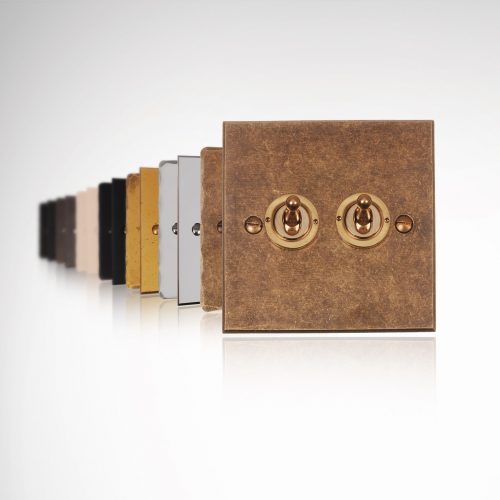 From traditional antiqued metal effects, to bold contemporary paint colours, our products are available in a fantastic variety of hand crafted finishes to perfectly suit your home's style.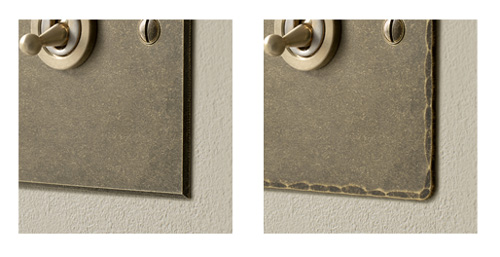 Our hammered edge is where the switch plate is cut with a sloping, or chamfered edge that is hammered to produce a subtle, rustic aged look. Our bevelled edge is where the switch plate is cut with a straight, slightly sloping or chamfered edge for a slimline, contemporary look.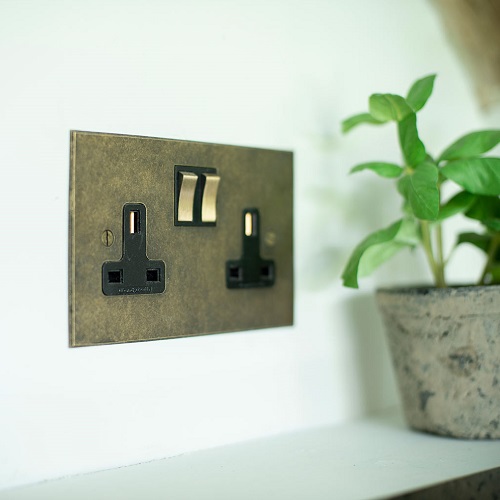 A beautiful, hand forged double plug socket made from solid natural brass and lightly antiqued for a classic, aged look. This Antiqued Brass Bevelled Plug Socket combines a 2 gang, 13 amp switched, slimline design with black inserts and antique brass rocker switches to create a simple sleek look to suit modern and traditional homes.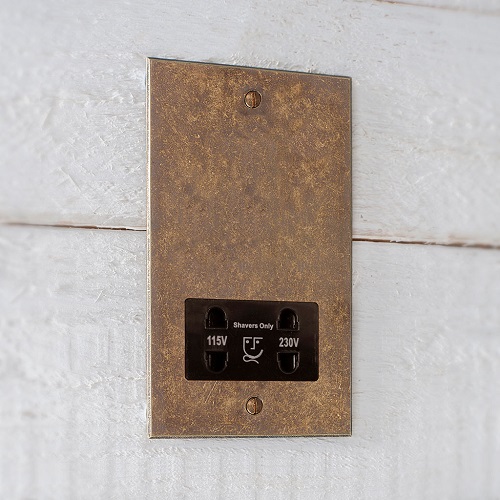 Though it's a bathroom essential, a shaver socket might seem like an afterthought when you're dreaming up your desired bathroom décor. Wall colour and lighting may come first, but our Shaving Sockets are a practical AND pretty solution to make sure every element of your bathroom is up to scratch.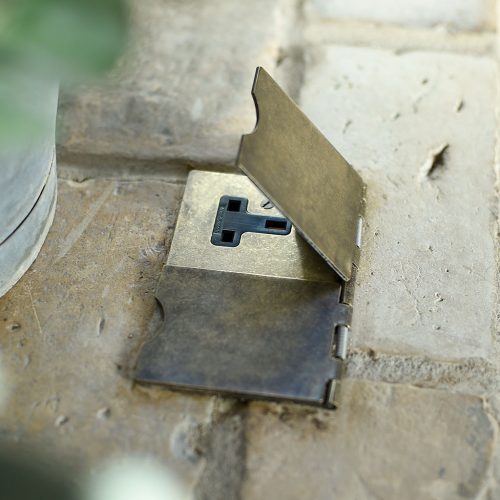 We have found that making a feature out of the quirks of period homes is often the best way to enjoy them. A hinged design that fits into the floor, this 2 Gang Floor Socket is the dreamy modern rustic detail you might not have thought of, but now know you need! A great solution when you don't want wires stretching around the room or have limited wall space, you can enjoy floor or table lamps in more central spots around the room, or use them for other portable accessories.
Our range of colourways and designs allow you to think creatively so you can highlight your wiring accessories instead of hiding them.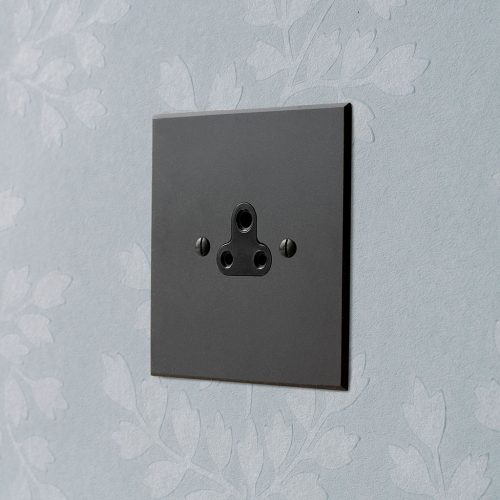 Take a look at our 2amp and 5amp round pin sockets for something a little different…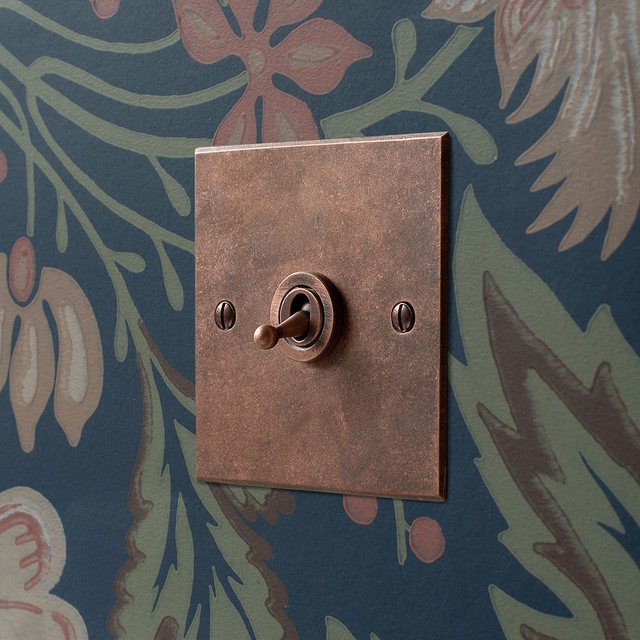 The go-to for vintage-inspired homes: the dolly switch. Shown here in our beautiful Heritage Copper, a dolly switch is perfect for capturing the spirit of your period home whilst taking advantage of modern wiring. Copper lends a subtle blush warmth to any interior, creating a lovely aged look that will darken naturally over time, much like our Antiqued Brass finish. Our dolly switches (also known as toggle switches) refer to the toggle-like button you use to turn the switch on or off. Ours are all 20 amp, 2-way.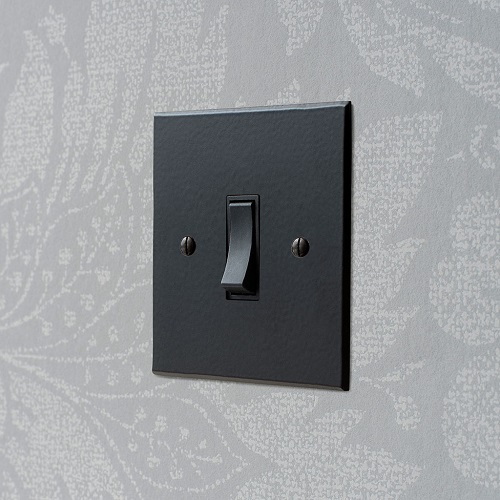 The antithesis of the standard white light switch: a slick matt black rocker switch or 'Modular Grid' Switch. This is a more modern looking sloped button that 'rocks' backward or forwards to turn a switch on or off. All ours are 20 amp, 2-way, 240V. This design adds a modern industrial look, or works wonderfully paired with other black ironmongery and accessories in a contemporary country home.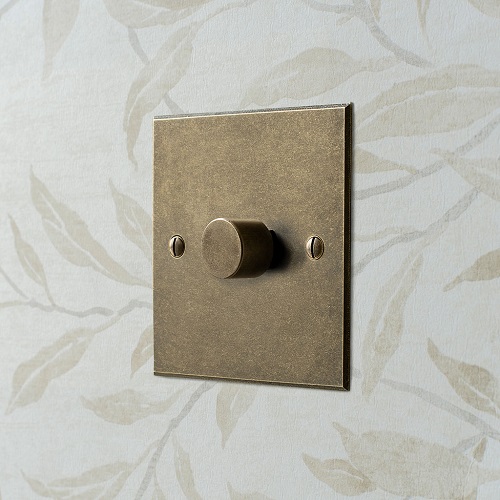 A dimmer is a button that pushes in and out to turn your lights on or off and rotates to dim the lights. You can choose from beautiful Dolly or Rotary Dimmers. Our dimmers are Varilight V-Pro 250W push On/off trailing edge dimmers. Jim Lawrence dimmers incorporate 120w trailing edge modules that are suitable for good quality dimmable LED bulbs, incandescent bulbs and dimmable CFL bulbs. They are also compatible with good quality dimmable electronic transformers. The minimum load on the dimmer module is 10w. Each dimmer switch is 2 way which means it can be used for switching lights from either one or two places. Higher wattage dimmer modules are available on request. Please call our sales team for more information.
Want to learn more? See our full guide to Dimmer Switches on the Knowledge Base.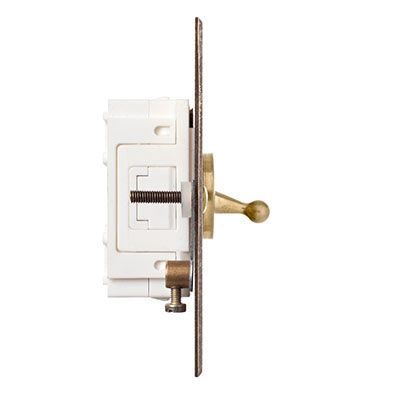 This is the plastic connector box that sits behind the metal front plate that connects your switch or socket to the mains wiring in your home.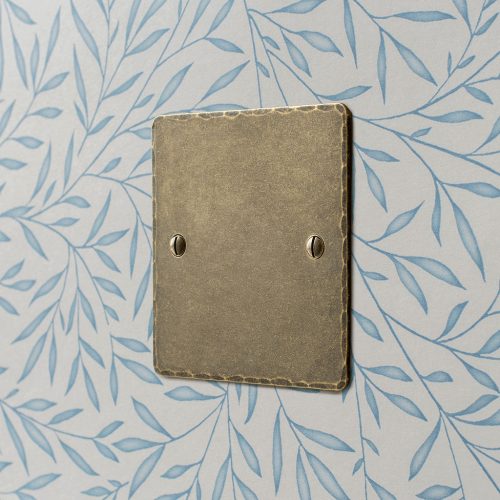 Blank plates are useful for covering unused back boxes that may remain in your walls as they are not currently required in that location.

A 1 way switch is the most common found in the home and means that only one switch is used to govern one light. All our switches are two way which means they can be used to operate lights from more than one location, such as the operating a stairwell light from the top and the bottom of the stairs or from either end of a room. If you need to operate your lights from a third location, you will need to fit your switches with an intermediate module.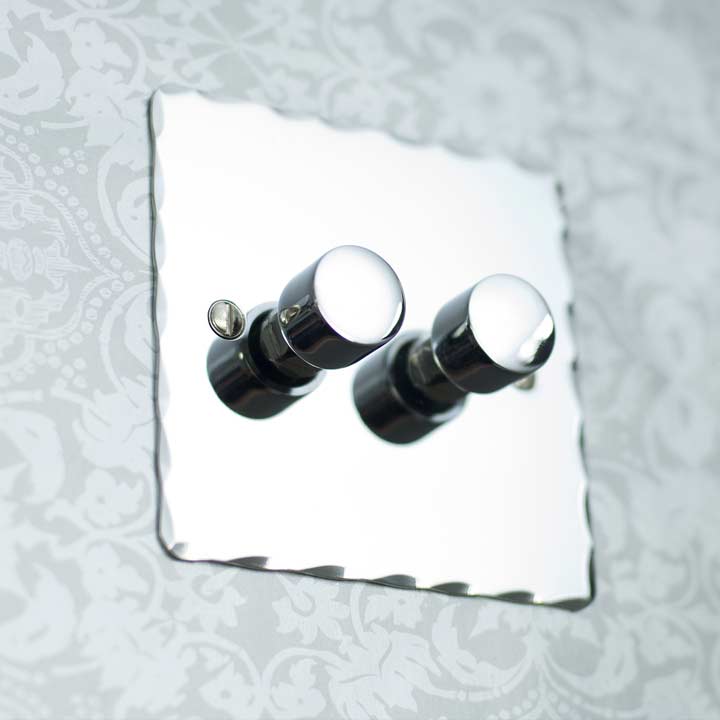 An intermediate switch or module allows you to operate your lights from three locations, so from a landing as well as from the top and bottom of the stairs in the example given above, or from either side of the bed as well as by the door in a bedroom. Intermediate switches are ideal for rooms where there are multiple entrances.
These are just a handful of our stylish switches and sockets that we have constructed to make sure the smallest details can still be the most beautiful. All Jim Lawrence products are made using traditional metal working techniques and are hand finished to the very highest standards here at our Suffolk workshop, so every part of your room will exude quality no matter how big or small. In need of advice on how to wire your switches and sockets? Our detailed knowledge base will guide you through all you need to know on installing our lovely switches and sockets. Please read these instructions carefully before you start work.
To view all of our home accessories and lighting visit our website. For even more home interior ideas, keep up to date by following us on Instagram, Twitter and Facebook. Don't forget to tag us in your home updates– we love seeing our products in their new homes!